Cast a Line: How to Catch the Best Fishing Kayak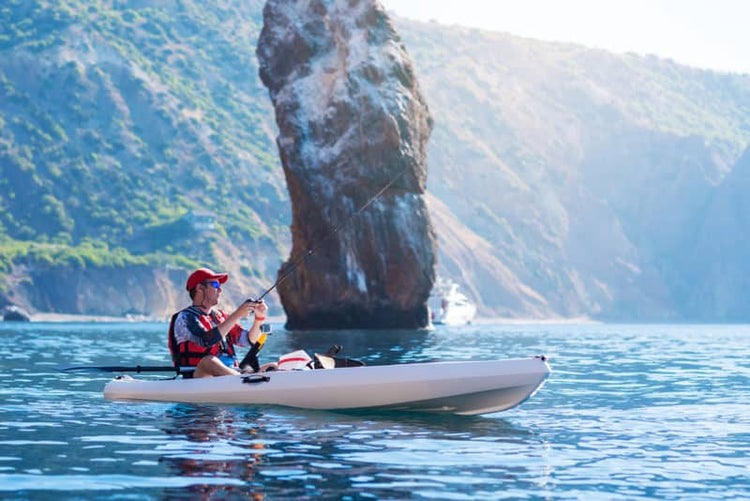 Kayaks bring to mind that classic image of a lone paddler gliding silently across the water. Maybe with a nice sunrise or sunset in the background. And maybe even with a fishing pole. 
Why? Because kayaks, whether sit-ins or sit-on-tops, make an excellent vessel option for fishing!
They're quiet, economical and easy to launch. And most kayaks are fairly lightweight and easy to carry, so all you need is water access. My favorite marina even has a separate ramp for vessels like kayaks and jet skis.
But even if you're an avid angler, you may be new to kayaking. And choosing the best fishing kayak for you depends on many factors. Read on to find out more about fishing kayaks, including our top-rated picks.
Featured Kayak Fishing Product
| | |
| --- | --- |
|      |  Sand Anchor Spike |
Check Price on Amazon - Better Boat's sand anchor spike is the perfect tool for kayak fishing. It holds well in soft sand or mud. Use it to anchor to sandbars, beaches and shallow water. 
Types of Fishing Kayaks
Like boats, kayaks come in many shapes, sizes, makes and models. Between sit-inside, sit-on-top and pedal-driven fishing kayaks, there's sure to be a type to suit your specific needs and preferences.
Sit-Inside Kayak
Since you're sitting down inside, the center of gravity is lower and there's less chance of tipping over. Due to this fact, you'll stay drier than a sit-on-top kayak.
Sit-On-Top Kayak
The rider sits on top of a molded-in seat and there's an open cockpit. It's easy to get in and out (which makes it a great choice if you have long legs or flexibility issues), as well as to fish from.
If a 
sit-on-top kayak
tips over, all you'll do is fall into the water, as opposed to potentially being trapped under the water in a sit-inside kayak. There's also lots of room for, and easy access to, gear and accessories.
Pedal-Driven Kayaks
Pedal-driven kayaks
have pedals like a bicycle. There's a propeller or fins on the bottom of the kayak that propels it forward as the rider pedals. Since leg power is stronger than arm power, you'll be able to get somewhere faster, and your hands are free to work a fishing rod or reign in a catch. This is a great option if you don't enjoy rowing or you just want to get out fast.
Motorized Kayak
Motorized kayaks have lightweight
trolling motors
. They're steered with a tiller system and, like pedal-driven kayaks, free up your hands. Worried about shallow water? Simply tilt up the motor and use a
paddle
. If you're not a fan of rowing or peddling, this is the best fishing kayak for you.
Featured Kayak Fishing Product
| | |
| --- | --- |
|     |  Mini Paddle |
Check Price on Amazon - Extra gear is always a good thing. Better Boat's mini telescoping paddle is compact and easy to store. It telescopes down from 35" to 18.75" to easily fit in a kayak, canoe, boat or jet ski for added peace of mind. 
How to Choose the Best Fishing Kayak for You
Are you searching for your first kayak? Or maybe you want to upgrade the one you already have? Either way, it's always a good idea to consider where and how you'll be doing most of your kayaking. This will help you decide which is the best fishing kayak for your needs.
Do you want to sit on top or inside? Try out a few for comparison to see which perspective suits you.
What type of waterways will you be fishing in? If you're going to be kayaking in ocean waves, you might want a motorized kayak to get out and back faster. Wavy water can also be brutal when you have to row. Glassy lakes, on the other hand, are great for traditional kayaks where you provide the power.
Where will you most often launch from? If you're not using a ramp (such as launching from the beach or along a river), you'll want something that is lightweight enough to carry.
How much gear will you carry? As mentioned above, sit-on-top kayaks usually have a bit more space for gear, tackle boxes and other accessories. If all you're heading out with is yourself and a fishing pole, you'll be good to go with anything.
Is it just you or do you plan to bring another angler? Fishing kayaks come in models that will hold one, two or even three people. If you have kids or a fishing buddy, you may want to spring for the bigger option.
Kayak Brands and Their Fishing Kayak Styles
Everybody is familiar with Hobie. But did you realize just how many companies make kayaks? Fishing kayaks range from the most basic models to the most versatile and impeccably designed vessels on the water.
Following are a few examples of different kayak brands and styles of their best fishing kayaks.
Sit-Inside Fishing Kayaks
With clean lines and a classic design, the Mill Creek 16.5 Hybrid Kit is perfect for beginners to advanced paddlers. It has a V-bottom with a hard chine, as well as a wider cockpit, which makes it sturdy and stable.
There's storage in the bow hatch and stern hatch. Shorter than a traditional kayak, it has the versatility to accommodate one or two people.
This kayak does come as a kit that you build yourself, which is great if you want the satisfaction of having built your own boat.
When Angler is in the name, there's a good chance it's built for fishing. The Argo 100 Angler is a great fishing kayak for beginners.
It has one swivel and two flush-mount rod holders. It's 10 feet long with adjustable footrests, an adjustable padded backrest and carrying handles. The storage hatches have bungee cords to keep all of your gear in place.
Lightweight and stable, the Argo 100 Angler is built of impact-resistant material and has a twin-arched, multi-chine hull.
The Huron 100 (check price on Amazon) is sleek and sporty with its blue and orange-toned paint job. It has two flush-mount rod holders, paddle holders, an adjustable foot brace system and an adjustable seat with a deluxe back and pull straps.
There are storage hatches and bungees for fishing gear, anchors, buoys, ropes, camera equipment or snacks. It's 10 feet long and 30 inches wide.
Sit-On-Top Fishing Kayaks
The Caribbean 14 Angler has the low profile and sporty outlook of a classic kayak. It weighs 50 pounds and has retractable carrying handles in the fore and aft for lightweight carrying and transporting on top of your car.
The cockpit is longer than most kayaks to accommodate taller paddlers. It has wide foot wells, a comfortable high back seat, paddle holders on both sides and lots of storage to stow fish finders, rods and other gear.
The Caribbean 14 Angler is 14 feet long and 29 inches wide. It comes in a wide range of colors. I'm especially partial to the red and white.
The Mirage Outback is designed for ocean or freshwater fishing. Designed for one person, it has an extra wide deck and seat, lots of storage compartments and four molded-in rod holders.
My favorite aspect is that the seat sits up nice and high for excellent vision. The EVA deck pads provide cushioning for standing.
There's an in-floor hatch for gear and a large carrying handle that can double as a Go Pro mount. It's 12 feet long and 34 inches wide.
The Mirage Outback is also pedal-driven, which we'll go into more in the next section.
Pedal-Driven Fishing Kayaks
The Mirage Pro Angler 12 (check price on Amazon) would be my top-rated choice for a fishing kayak. It offers stability, style and (best of all for me) no rowing! It has pedals that you operate like a bicycle. Fins on the bottom help to propel it forward.
It's powered by the Mirage Drive 180, which is Hobie's original pedal kayak drive for quick and efficient transport. The elevated seat (that can be adjusted up to five inches higher than the standard position) allows you to see more as well as move around the cockpit.
At 12 feet long and 36 inches wide, the Mirage Pro is stable enough to stand while casting (or moving about to take photos of wildlife). Anglers will appreciate the four standard horizontal and two molded-in rod holders.
The storage hatch in front of the seat features a mesh storage pocket and storage for two Plano tackle boxes, which are included.
Native Watercraft's Slayer Propel 10 is lightweight with a super large and sturdy cockpit. You can stand and move about as you please.
The Propel Pedal Drive System even has forward and reverse. Other features include an impact-resistant stern rudder, a left-hand rudder control system, padded carrying handles and storage hatches.
It also has a cool rail mount system for rod holders and camera mounts. The Slayer is 10 feet long and 34 inches wide.
Kayak Fishing Accessories
All you need is a
paddle
and a rod holder, right? Well, yes ... and also, no. As simple as the concept of a kayak is, there are some accessories for a convenient, productive and safe day on the water that you just can't do without.
Anchor:  If you want to stay in one place, an anchor or sand spike anchor is essential to your kayak gear lineup.
Paddle:  A paddle is handy to have even if you have a pedal-driven kayak. You can always use it to help turn yourself around if you get caught in shallow water.
Life Jackets:  Don't even think about heading out on a boat or kayak without a life jacket. It's the law.
Rod Holders (check price on Amazon):  Rod holders are very helpful in keeping your rod safe and in place while you're rowing, or pedaling, out into the water.
Fish Finder (check price on Amazon):  Boats aren't the only vessels that use fish finders. You'll have a more productive day if you know where the fish are hiding.
Dry Bag (check price on Amazon):  I recommend dry bags for every activity that involves water. They're essential for storing keys, wallets, fishing licenses and other important items.
I hope you've found some useful tips for picking out the best fishing kayak. Keep in mind the features that are most useful to your style of fishing and you can't go wrong.
---