Unroll and Unwind With the Absolute Best Floating Water Mats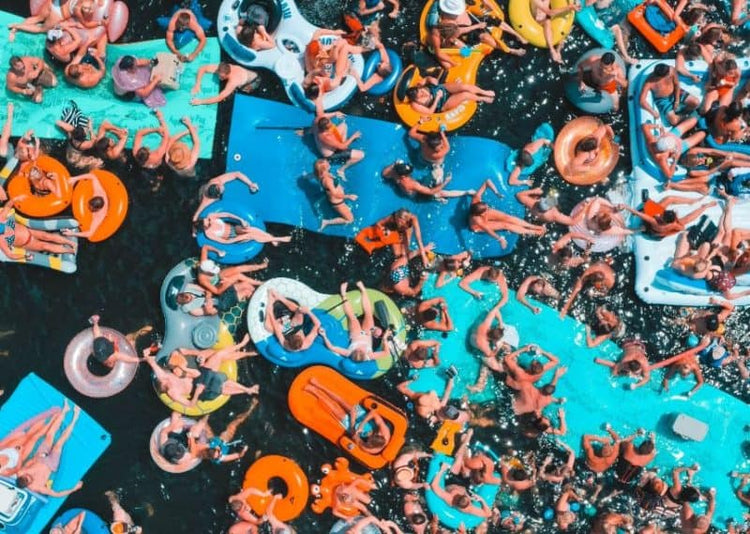 Time for a break? I don't mean a 15-minute coffee break, but something really and truly relaxing. Sounds nice, huh?
More often than not, I'll take my boat, get as far away from civilization as possible, unroll my water mat and just float, relax and let my worries melt away. Sometimes, though, I'll even bring a marine wi-fi extender in case I need to get connected again or want to listen to some tunes.
But what is a floating water mat? Think of it like a waterproof carpet you can simply roll out onto the water. No inflation and no assembly required (at least in most cases). All you need to do is unroll and unwind.
It's the perfect water toy for when you don't want to break a sweat, or if waves make you queasy, or if paddling isn't your game. That's why I believe a floating water mat (and floating cooler to match) is the best investment to make for relaxation on the water.
Choose the Best Floating Water Mat For You
With so many options and sizes, how do you pick the best floating water mat for your boat? Here are some of the main considerations to take note of if you want to add one of these fun toys to your boat gear arsenal.
Capacity How many people do you want spending time on your mat? This is going to determine which you go with, specifically if you plan on using it solo, with a couple of friends or hosting a party. Go with the right size, or your dreams of walking on water might end up at the bottom of the lake!
Durability The right quality materials help make the most out of the best floating mats. Typically, mats are made from cell foam, which means you don't have to worry about ripping or tearing. Keep an eye out for how they're made because quality matters.
Portability This all comes down to size. While a floating pad for that lake trip is definitely more portable than anything else you might have to otherwise inflate, it's good to know the best size to have on your boat, kayak or whatever!
| | |
| --- | --- |
|   |   Boat Soap |
Check Price on Amazon - Better Boat's boat soap keeps your boat, gear and toys clean and shiny. It rinses clean and residue-free, is 100% biodegradable and won't harm the marine environment.  
Using Your Floating Water Mat
Choosing the best floating water mat for your boat and for you often comes down to how you're going to use it and where you're going to use it. Here are some things to consider:
Location: I would typically advocate for using your mat on calm waters. Think: lakes (like some of the best you'll find in the south), rivers or even a section of the ocean that is closer to shore. These options ensure that, as durable as your mat may be, you're not going head over heels on it.
Depth: Depth is also a key concern. You'll want to make sure that folks can get onto your mat (and even back onto your boat). A pretty safe bet is not to go deeper than seven feet, which is especially true if you have children around. After all, you can't have fun on your floating mat if you can't reach it!
Security: When it comes time to unroll, position your mat away from your boat, but make sure to keep it secure. This can be done by tying a rope or dock line to it and then tying the other end to an anchor rope, a boat fender, an anchor buoy or anything else to keep it from drifting away. If you find yourself having a quick nap on your mat, you definitely do not want to wake up in a different zip code.  
Maintenance: Another important element is to ensure to take proper care of your mat and give it the attention and love it deserves. After each use, simply wash with a gentle boat soap of dishwashing liquid. When you get home, bust out the garden hose to ensure your mat stays fresh (especially after using in saltwater). 
Unroll and Unwind With the Absolute Best Floating Water Mats
Convinced you need a floating water mat in your life? I can't tell you how much it has changed the way I experience boating and the water.
Instead of harking any longer, here are some of the best floating water mats for boats on the market.
Broken down into two handy categories, the first section lists floating mats better for larger groups. The second table and list are more suited for solo enjoyment and small families. This way, you're covered no matter what your needs are.
Let's get started.
Party-friendly Floating Water Mats
Wanna throw a dock party and invite a bunch of people? Based on a minimum weight of at least 1,000 pounds of capacity, these are the floating water mats I trust.
Aqua Lily Pad Bullfrog
Check price on Amazon
Perfect for the ocean and less stable waters, this highly-buoyant model boasts three layers of foam that help keep it on top of the water at all times.
It also comes with hook-and-loop straps to keep it tightly rolled, ensuring it remains portable as you carry it down to the dock.
Size: 20 x 6 ft | 120 sq ft
Capacity: 1,600 lbs
Floatation iQ Oasis Lake Pad
Check price on Amazon
Designed specifically for lakes, this version is great for families of all ages because of the design. It's able to accommodate everyone with
layers of light-weight polyethylene foam
. It also comes with a
super handy tethering system
to attach it to your boat's railing or an
anchor chain
.
Size: 15 x 6 ft | 90 sq ft
Capacity: 1,500 lbs
Superday Floating Water Mat
Check price on Amazon
This Superday model is easily one of the sturdiest ones I've seen. It has one of the highest weight capacities and is likely one of the best equipped for ocean use (within reason).
It's also made of durable XPE foam, which ensures you can use it time and time again summer after summer.
Size: 18 x 6 ft | 108 sq ft
Capacity: 1,322 lbs
SOWKT Floating Water Pad
Check price on Amazon
One of the most interesting parts of this model is the inner net technology that exists within two layers of high-quality XPE foam. This is a nice touch, specifically because it helps to bind the mat to ensure that heat stays within, avoiding long-term damage.
Complete with a bungee tether, straps and a warranty, this floating water mat also gives you peace of mind to host a whole lot of folks out on the water.
Size: 18 x 6 ft | 108 sq ft
Capacity: 1,320 lbs
Rosso Water Floating Fortress
Check price on Amazon
This portable mat is one of my personal favorites because of its versatility. It's large, but not too large, and it's made out of a high-grade closed-cell foam that ensures it won't rip or tear.
It also comes with Velcro straps and a bungee tether to keep it nice and together after you're done using it.
Size: 18 x 6 ft | 108 sq ft
Capacity: 1,200 lbs
Solo and Small Family Floating Water Mats
Looking for something on the smaller side? Here's a list that not only considers weight capacity but sticks to a 12-foot and-under rule.
GoPlus Floating Water Pad Mat
Check price on Amazon
This model is specifically designed with lakes in mind. Made with a three-layer, tear-resistant XPE foam, it can easily support three to five people.
Plus, the smooth surface makes it easy to clean afterward. Honestly, this is a great option for those who enjoy fun or simply like to lounge out. You can have your pick!
Size: 12 x 6 ft | 72 sq ft
Capacity: 880 lbs
iFloats Floating Water Pad
Check price on Amazon
I suggest this floating pad option for families with children and/or for smaller bodies of water like lakes and rivers. It's ultra buoyant, so no one has to worry about getting wet or swimming too much.
The even weight distribution means that kids can have loads of fun on them. Numerous bright color options are available, which makes it easy to spot in the water. Choose from various sizes (in case you want to go big or go home).
Size: 12 x 6 ft | 72 sq ft
Capacity: 3 - 5 ppl
Rubber Dockie Floating Mat
Check price on Amazon
Here's another great option for the kids! Made out of a TUFF-HIDE outer layer, which keeps it protected and easy on the skin, this floating water mat offers some real sturdy construction.
It comes with bungee cords to help wrap it up in a hurry. In particular, though, I love the two-tone neon green and orange color. This makes it super visible for an added element of safety that's sure to give parents peace of mind.
Size: 9 x 6 ft | 54 sq ft
Capacity: up to 6 people
TRC Recreation Mat
Who could forget the solo floating mat option? This one is for those who need a little bit of time to themselves. It's durable, easy to clean and offers a cooling ripple texture to feel comfortable your entire time out on the water.
Hint: Grab this solo model with a larger mat. That way, the kids can have fun while you catch some shut-eye.
Size: ~ 6 x 2 ft | 12 sq ft
Capacity: one person
Enjoy On the Best Floating Water Mats Today
Ready to spread out and relax? Or even have some fun in the sun? With one of the best water mats floating out in front of your boat, dock or riverbank, you're all set! Just unroll it and unwind right where you belong: on the water.