When You Need a Bigger Boat: The Best Ocean Fishing Boats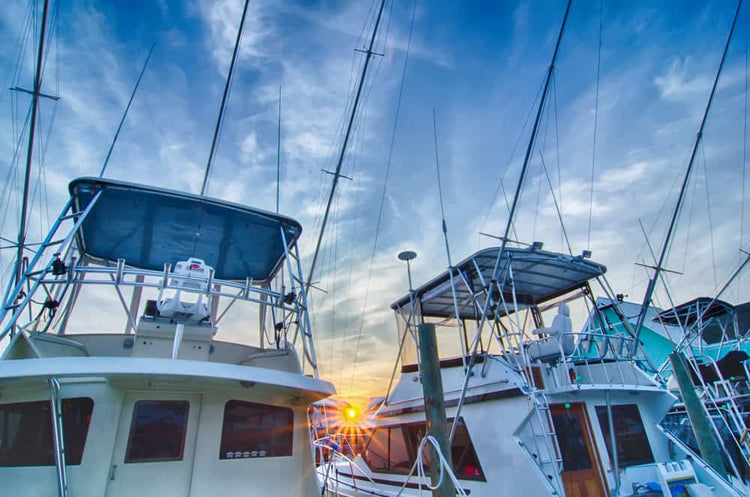 If you're a fan of shows like National Geographic's Wicked Tuna or The Discovery Channel's Deadliest Catch, you may have acquired a taste for the high-seas adventure of ocean fishing.
But before you click to purchase the first sport fishing boat you find on eBay, it's time to reel it in a bit. In order to pick the best offshore ocean fishing boat for you, it's important to consider where you'll be fishing as well as just how much fishing you'll be doing.
Unless you're into Alaskan king crab fishing, you probably don't need a boat able to take on the Bering Sea or the extreme North Atlantic. What you need is something a bit hardier than a pontoon, bass or jon boat.
Along with the traditional sport fishing boat, trawlers, center consoles and walk arounds all make excellent ocean fishing boats.
Characteristics of Ocean Fishing Boats
From fighting chairs and rod holders to transom doors, spacious decks and high-power engines, the best offshore ocean fishing boats come equipped with everything you'll need for a day of fishing. And maybe even some you won't need, but more is always better when it comes to fishing (Isn't that what we all tell ourselves?).
Built-in coolers, live wells and fish boxes: Fill with ice to store live bait and all those fish you'll be catching.
Fighting chairs: Ranging from simple chairs to handcrafted fish-catching machines, fighting chairs are bolted to the deck and allow you to comfortably and safely reel in the heavyweights. Features include rod holders, footrests, padded arms and adjustable pedestals.
Flybridge: You can get way up high to spot more fish. This is often the best seat on the boat if you enjoy scenic views with your sport fishing (or even if you're not fishing).
High-power engines: Get out faster and power through heavy chop with a high-power engine. You can also get back to shore faster if bad weather is approaching.
Outriggers: Poles that hold the fishing lines out into the water away from the boat.
Non-skid decks: Who wants to slip on sea spray and fish guts? Certainly not me. 
Rod holders: Built-in "cups" that hold the rods as well as cutting boards that fit into the holders when you're ready to filet. 
Spacious decks: You'll have plenty of room for boat gear and gadgets and reeling in fish, as well as all the friends you'll suddenly acquire after buying an ocean fishing boat.
Transom doors: These handy doors provide easier access to the boat's stern for reeling in fish.
| | |
| --- | --- |
|      |  De-Salt Concentrate |
Check Price on Amazon - Better Boat's de-salt concentrate breaks down and flushes away saltwater deposits, grime and contaminants from boats, fishing gear, dive equipment, driveways and more. It's safe for use in inboard, outboard and jet engines. If you're headed to saltwater, it's your best friend when you get back to the dock.
Locations to Use Ocean Fishing Boats
Atlantic Ocean
From Kennebunkport to the Keys, the entire East Coast offers destinations for ocean fishing in the Atlantic. I'll mention a couple of my favorite spots, but they are by no means all-inclusive.
Florida
Tarpon, sailfish and mahi-mahi can all be caught along the Atlantic Coast near Miami, Fort Lauderdale and the Florida Keys. Depending on how far offshore you're headed, you'll want a fast boat with stability to get through rough waves.
A sportfishing boat with towers, outriggers and fighting chairs is a great choice. If you're planning to be out for a while, or want the option of a liveaboard boat, choose an ocean fishing boat with a cabin that has a galley, heads and sleeping quarters. The Bertram 35 makes the top of my list.
North Carolina
You can channel your Wicked Tuna aspirations by fishing for yellowfin tuna along North Carolina's Outer Banks waterways just like the Reels of Fortune, Fishin' Frenzy and Fish Hawk.
Oregon Inlet, conveniently located where Pamlico Sound meets up with the Atlantic Ocean, has boat ramps, gear, ice, bait, fish cleaning and much more.
The Outer Banks offers several boat ramps, including Corolla's historic Whalehead, Manteo near the Elizabeth II ship and across from Pirate's Cove Marina beside Washington Baum Bridge.
The Hatteras GT45X Open and the Luhrs 340 Convertible top my list for Outer Banks ocean fishing boats. I especially like the molded-in flybridge stairs on the Luhrs. Balance is not my superpower, and navigating ladders while underway can be a tricky maneuver at best.
Maine
Bluefin tuna, mackerel, bluefish and striper can be caught along Maine's coast. North Atlantic Ocean waters can get rough, so a sturdy hull with hard chines is a good choice.
You might also want to look into a pilothouse boat as the New England weather can be on the chilly side. Check out the Boston Whaler 345 Conquest Pilothouse listed below.
Gulf of Mexico
The Gulf of Mexico is a gorgeous fishing destination. Not only is the water crystal clear and spiked with turquoise and sapphire tones, but you'll also find some of the best offshore fishing in the world.
Fishing destinations include Gulfport, Mississippi; South Padre Island, Texas; and Tampa, Saint Pete and the Florida Keys.
As with any saltwater environment, an outboard motor is an advantage because it can be lifted out of the water when not running, therefore avoiding saltwater effects. Be sure to flush with fresh water and use de-salt to keep it in prime condition. 
An outboard engine also offers more deck space because of the engine's location behind the transom. Walkaround decks make it easy to, well, walk around the deck.
My top pick for a great Gulf Coast offshore fishing boat is the Grady White Freedom 275 Dual Console or the Sailfish 320 Express.
Pacific Ocean
The Pacific Northwest is a rugged and beautiful fishing destination. Swordfish, bluefin tuna, brown rockfish and Pacific mackerel can be found in the Pacific Ocean along the coasts of California, Oregon and Washington.
With multiple livewells, insulated fish boxes, side-entry doors and a spacious cockpit, the Sea Hunt Gamefish 30 is my pick for a Pacific Ocean fishing boat.
Locations to use Saltwater Bay Fishing Boats
Virginia and Maryland's Chesapeake Bay is a popular spot to fish for flounder, rockfish, striped bass and cobia, which is apparently a challenging fish to catch.
Chesapeake Bay water conditions can range from clear and peaceful to ocean-like and choppy. I've seen pontoon boats on the Chesapeake Bay!
The Boston Whaler 270 Dauntless has multiple rod holders, twin Mercury outboard engines and livewells, as well as the reliability and durability that make Boston Whaler famous.
Locations for Great Lakes Offshore Fishing
Even though "lake" is the name, these waters show off their ocean spirit in size and scope. Lake Superior, Lake Michigan and the rest of the gang are popular playgrounds for locals and visitors to Michigan, Wisconsin, Minnesota, Illinois, Indiana, Ohio, Pennsylvania and New York.
Chinook salmon, walleye, lake trout and northern pike are just a few of the fish found in the Great Lakes.
A rugged fishing boat with some cabin protection is in order, as the Great Lakes can get quite choppy. Check out the Albemarle 32 Express below.
Best Ocean Fishing Boat Models
Whether you're looking for a strictly utilitarian fishing boat, or something with versatility for the whole family, there's bound to be a boat out there with your name on it.
Here are several of my favorites to get the ideas rolling.
The Bertram 35 combines an outrigger's fishing capabilities with a spacious deck, rod storage and a flybridge with below-deck practicality and luxury for family or crew members.
You can get offshore quickly with speeds up to 40 knots. The deep-V hull can easily take on the waves.
Luhrs absolutely wins my vote with its molded-in flybridge stair design (replacing the metal ladders found on most boats). It has a large mounted-in fishbox, a transom gate, an insulated cooler box, a livewell and a bait prep station. Besides all that, it's just a beautiful boat.
With its sleek lines, multiple rod holders and tower, anglers and cruisers love the Hatteras. I'm particularly impressed with its storage space (a great amenity whether you're stowing stuff for fishing or a day with the kids). 
I do most boating in warm weather. But in a cold climate, I'd pick the Whaler Pilothouse for its fully enclosed windshield and cockpit, hardtop and aft bulkhead.
Dual consoles are my favorite type of recreational boat. Whether cruising or sport fishing, they're great for fresh or saltwater. Sunbathers can hang out on the bow seating while the anglers cast a line off the aft deck.
The Grady White Freedom has a large livewell, a 165-quart insulated box and ample rod holders. The swim platform and transom door are great for anglers, swimmers or divers.
With a 30-gallon livewell, two tackle stations and multiple rod holders - combined with a serious high-performance hull - the Sailfish 320 Express is a great choice for saltwater bays, the Gulf or the ocean.
In addition to providing shade, the hardtop has speakers and a spotlight. Inlets in the Keys aren't always well-marked, and that spotlight will be worth its weight in gold.
Center consoles make great ocean fishing boats. I enjoy the walkaround factor on this boat style.
Features on the Sea Hunt Gamefish include an insulated 250-gallon fishbox, cockpit and bow bolsters, side-entry doors and an optional battle station leaning post.
Whalers always seem to pop up when talking about the best offshore ocean fishing boats. And with good reason. They're rugged, stable and reliable.
The 270 Dauntless has an optional hardtop with rod holders. A top cover is one of my first requirements on any boat. That sun can get hot!
In addition, under the aft seat and at the console front, there's storage for rods, buckets, cleaning products, boat fenders, gear and what-not. 
A freshwater shower is a nice feature for washing off saltwater after a day of fishing.
Outriggers, towers and graceful lines give the Albemarle 32 Express that classic offshore fishing vessel appearance.
Fishing features include a non-skid deck and cockpit, mounting for a fighting chair, a tackle center with drawers, twin 50-gallon fish boxes, a bait prep center and freshwater washdowns. 
The cabin is plush enough for a weekend or several days out on the water.
Hopefully, this has helped you decide what features you need, or want, in an ocean fishing boat. Now get out there and catch some fish!
---