Salinity Solutions: The 6 Absolute Best Saltwater Trolling Motors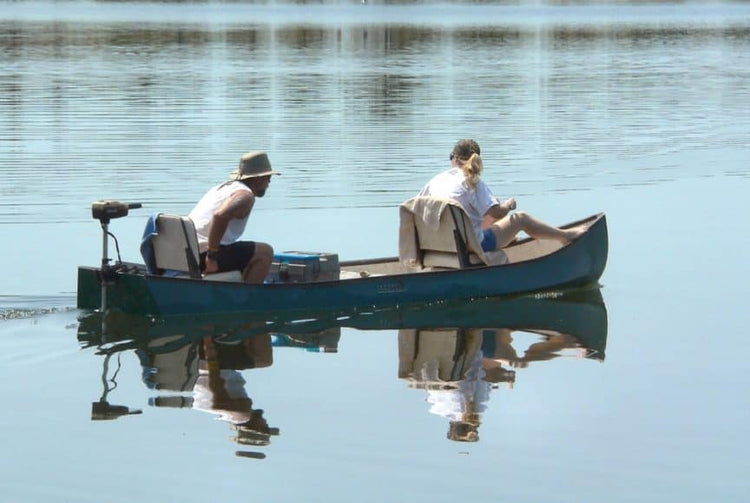 Do you have a saltwater trolling motor for your Jon boat, skiff or runabout? What about your fishing kayak or canoe?
You're probably thinking you don't need one. After all, the purpose of a kayak or canoe is to paddle, right? And most small boats have a motor. So why even consider a trolling motor?
Trolling motors are more beneficial than you might think. Read on for some reviews as well as some solid advice on why you just might want to add a saltwater trolling motor to your water-going vessel.
What Does a Saltwater Trolling Motor Do?
A saltwater trolling motor works just like a freshwater trolling motor (and without the need for de-salt flushing), but with the added ability to take on salty and brackish waters.
Stainless steel and other corrosion-resistant properties keep it from becoming a big piece of rust in saltwater conditions. As an added bonus, saltwater trolling motors can do double duty in freshwater. However, you wouldn't want to use a freshwater trolling motor in saltwater.
Here are some quick tips on how a saltwater trolling motor can help you out:
Prevent damage to your main boat propeller if you're in a shallow spot
Get in or out of a harbor in a sailboat (especially if there's no wind)
Use while fishing to get in and out of tight spaces (you won't have to start up a loud outboard motor and scare away all the fish)
Use in a kayak for faster travel when storms or rough conditions come up
Keep a small one in your jet ski for unintended strandings
Essential Features of a Saltwater Trolling Motor
Let's take a minute to go over some of the main features of saltwater trolling motors.
Motor Head:  The motor head is the part at the top. Depending upon how high-tech it is, it has controls, LED displays and navigation information.
Propeller: Just like a traditional boat motor, this propeller turns and propels the boat through the water. For saltwater boating, you'll want stainless steel and other non-corrosive materials.
Shaft: The shaft is the long pole that goes into the water and connects the propeller to the head. The length determines the level of control you'll have, but you'll want to keep a happy medium with the shaft length. If it's too long, it won't be good for shallow water. If it's too short, it won't be good for rough conditions. The size and shape of the boat, as well as the height of the stern or bow, is a good indicator. For example, a deep V-hull would need a longer shaft.
Battery Power: Battery gauges are usually located in the head of the motor. This feature alerts you to low battery power so that you know when it needs to be charged. Most trolling motors are 12, 24 or 36 volts.
Thrust Power: Thrust is the amount of strength that's needed to move the boat in the water. More thrust equals better maneuverability. However, you also don't want too much power, which can overwhelm a small boat.
Corrosion Resistance: One of the most important things to search for when buying saltwater trolling motors is corrosion-resistant construction. Look for marine-grade alloys, stainless steel, powder-coated paints, anodized metal and zinc dichromate armor plating.
Sacrificial Anode This small metal tab is located on the bottom of the motor. It has more coverage and protective coatings than a freshwater motor.
Featured Boat Care Product
| | |
| --- | --- |
|        | De-Salt Concentrate |
 Check Price on Amazon - Better Boat's de-salt concentrate breaks down and flushes saltwater and debris from inboard, outboard and jet engines. Use it on driveways, fishing gear, outdoor furniture, boats and jet skis. 
What to Consider When Buying a Saltwater Trolling Motor
Size of the Boat
Contrary to our boating mindset, bigger isn't always better. Like I mentioned above, you'll want to keep your saltwater trolling motor in line with the size of your boat.
Don't be tempted with super high thrust and 36 volts of power when you only have a 12-foot Jon boat.
Transom or Bow-Mounted
Bow mounts work by pulling the boat, and transom mounts push the boat. If you do a lot of fishing from the front of your boat, a bow mount is a convenient option. Bow mounts are also a good choice for large boats that are more than 14 feet.
Transom mounts are great for smaller boats. If you have a lot of people on your boat, you might enjoy a transom mount for the extra space at the bow.
Hand or Foot-Controlled
Hand-controlled trolling motors provide a fuller range of control and real-time movement.
Foot-Controlled motors allow hands-free motion, great for when you're holding a fishing pole in your hand. They're also pretty simple to operate, but they take up more deck space than the hand-controlled variety.
Some trolling motors even come with high-tech autopilot (or remote control) navigation.
Conditions Where You Normally Boat
Wind, waves and currents play a big part. If you boat in shallow waters, you'll want to make sure you find a trolling motor with a shorter shaft.
Power
If you stay out for long periods of time, you'll want a motor with a long battery life.
Maintenance
Unlike freshwater, where you can usually just "stow and go," you'll need to rinse off and flush a saltwater trolling motor with a de-salt solution after every use. It's also not a good idea to leave it submerged in saltwater while the boat is tied up at the dock.
Salinity Solutions: The 6 Absolute Best Saltwater Trolling Motors
Now that we've gone over some reasons why you might want a saltwater trolling motor, let's check out some makes and models.
Aquos White Haswing Electric Trolling Motor
Check price on Amazon
The Aquos White Haswing is a great choice because of its lightweight size, 48-inch shaft, corrosion resistance and cruise control. Yes, cruise control! This allows you to maintain a constant, and super quiet, speed while sneaking up on fish.
It's made of stainless steel and has a sacrificial anode to protect metal parts. It has a wireless remote control and a 14.7-foot cable-wired foot control. It's a bow-mount, but you can also use clamps to use it as a transom mount.
Mount: Bow (or transom with the use of clamps)
Control: Foot
Minn Kota Terrova Trolling Motor with i-Pilot
Check price on Amazon
The Minn Kota Terrova is a top-of-the-line saltwater trolling motor. GPS controls and an i-Pilot system automatically control the motor and find the fish while 55 pounds of thrust gets you where you're going. And quickly!
The Lift-Assist design allows you to easily raise the motor. No worries with weeds, grasses and seaweed often found in shallow water boating. The Weedless Wedge 2 prop cuts right through it.
A composite shaft won't rust in saltwater conditions. I'm a big fan of the large LED screen.
Mount: Interchangeable
Control: Remote Control
Minn Kota Riptide Maxxum Saltwater Trolling Motor (with Latch)
Check price on Amazon
The Minn Kota Riptide Maxxum has a rust-resistant composite shaft that's virtually indestructible. It has a tilting extended tiller and is made of aluminum, marine-grade alloys and anodized metal with a zinc dichromate armor plating.
Powder-coat paint gives extra durability. Minn Kota's Weedless Wedge 2 prop cuts through grasses and seaweed. The streamlined design is a great addition to any sailboat, Jon boat or even a kayak.
Motorguide X3 Saltwater Trolling Motor
Check price on Amazon
The Motorguide X3 Bow-Mount Trolling Motor has added features like composite stainless-steel bushings and a precision locking pin to make it extra quiet on the water.
Variable Ratio Steering gives you an accurate position even in wind and waves. It's a bit on the pricier side, but if you're looking for more bells and whistles, it's an excellent choice.
The Motorguide X3 is available in both a hand and foot-control models.
Mount: Bow
Control: Hand or Foot Models
Newport Vessels Kayak 36 lb. / 55 lb. Thrust Saltwater Electric Trolling Motor
Check price on Amazon
Looking for a sturdy and reliable saltwater trolling motor for your kayak? The Newport Vessels Kayak Trolling Motor has an aluminum motor head with corrosion-resistant magnesium, zinc and stainless-steel hardware.
The 24-inch shaft is adjustable, and it's a good size for the shallower depths used in paddling vessels like kayaking or canoeing.
It has a 12-volt marine battery, eight speeds and two blades for reduced drag and great balance. You could also use it in your freshwater adventures.
Mount: Transom
Control: Hand
U-BCOO 8-Speed Saltwater Electric Trolling Motor
Check price on Amazon
The U-BCOO 8-Speed Saltwater Trolling Motor is made of a corrosion-resistant composite for durability in the ocean, Gulf or bay.
With five forward speeds (and three reverse) and 90 pounds of thrust, you'll be able to catch all the fish. 
It has a 36-inch shaft, two blades, a battery power indicator and an adjustable handle with a smooth grip. It's a nice basic trolling motor to use on a Jon boat or a sailboat. The mid-range price point is a definite selling point. 
Mount: Transom
Control: Hand
Featured Boat Care Product
| | |
| --- | --- |
|       | Outboard Motor Muffs |
Check Price on Amazon - Better Boat's motor muffs are the perfect way to flush excess fuel, saltwater and debris from inboard, outboard or jet engines. They're double-sided, water-tight and rotate to fit different locations. 
Crank Up Your Saltwater Trolling Motor Today!
Ready to run out and buy a saltwater trolling motor after these reviews? Hopefully, this has given you some solid advice on the best type of saltwater trolling motor for your boat. Happy trolling!
---