5 Boat Steering Wheels for Sharp Steering and Style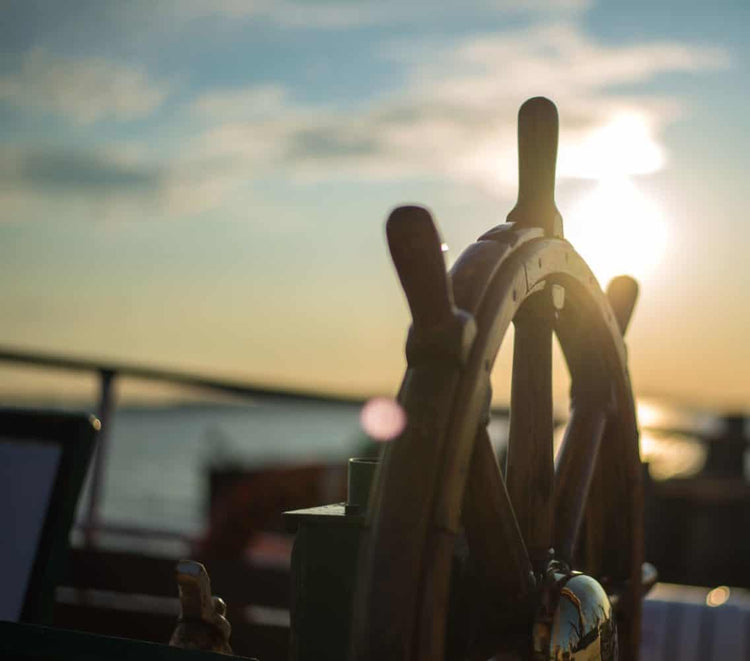 There are lots of important parts to any boat. You have the hull, the deck, the propeller, the anchor, the gunwales, the stern and so much more.  
I like to make sure there's a cooler on board, too. But without a boat steering wheel, all those other components really add up to nothing more than a fancy floating raft that you can't control. Or maybe a fancy floating raft that's careening across the water out of control. 
The Importance of the Boat Steering Wheel
Boat steering wheels are hardly new inventions. The first of the iconic wooden ship wheels, with its spoked design and position high on a sailing ship's bridge, are thought to date back to the 1600s or 1700s.
Thus, our modern boat steering wheels have seen about four centuries of use at best. That still makes the boat steering wheel a relative newcomer to the nautical world, as human beings have been plying the seas for thousands of years.
Prior to the use of a steering wheel connected to the rudder, ship and boat steering was handled using a tiller and/or a whipstaff. The latter being a sturdy beam connected directly to the submerged rudder.
These were both arduous to operate and less responsive than a rudder controlled by a wheel. I, for one, am glad that today we can control our vessels using a boat steering wheel and that we don't even have to use a massive wooden ship's wheel. 
Though admittedly that would look pretty cool tucked in front of the captain's chair of your 27-foot Catalina Platinum Cruise pontoon boat. Modern boat steering wheels are about the same size as the steering wheel in your car, and they're just as easy to use once you have a bit of experience under your belt.
Featured Boat Care Product
| | |
| --- | --- |
|      |  Leather Cleaner Conditioner |
Check Price on Amazon - Better Boat's leather cleaner conditioner cleans, conditions and protects leather and vinyl while leaving a high-shine finish. It protects against cracking, fading, aging and weathering. Remove dirt and grime from seats, steering wheels, cushions, trim and more.
How to Choose the Right Steering Wheel for Your Boat
When you got your boat, it probably came with a steering wheel. But you never know when you might need to replace it for some reason, or when you might decide to upgrade to something with more style.
For the purposes of this guide, we're focused on mid-sized motorboats like a deck boat or smaller cabin cruiser. If you have a sailboat or an ocean liner or something like that, you'll need to find a different resource. Sorry.
Size Matters
When it's time to get a new boat steering wheel - either because the hardware on your boat has become damaged or worn out or simply because you want a change for ergonomic or aesthetic reasons - chances are you'll want to select a wheel that's about the same size as the one that was used by the boat's builder.
You can probably select a boat steering wheel that's one or two inches smaller or larger than the stock unit, but don't deviate from the sizing too much. The wheel was surely designed to fit with the other gear in the area, such as the throttle, radio controls and so forth.
You'll also want to make sure the new wheel won't rub against or be bumped by your legs. In short, the diameter of the grip must satisfy your personal comfort without being too large for the space.
Material Matters
Next, consider the prospective boat wheel's material. A hard plastic or steel wheel gives a great grip when dry (and steel wheels look terrific, too), but they can become slick and slippery when wet.
If you have a boat with an open deck design that gets hit by breaking waves now and then, and/or you anticipate frequent wet boating conditions due to weather, a wheel with a textured grip or covered with an absorptive foam might be best.
And while wooden wheels look great, they can become worn and weathered much more quickly than other materials. With maintenance and care, wooden wheels can be preserved longer, but just know that care will likely be required.
Color Matters... to You
Most boat steering wheels are black. A black wheel is a good choice, as black doesn't show dirt or stains, tends to discolor less quickly with sun damage and blends with most deck and cabin aesthetics.
But if you want a boat steering wheel of a different color, you go for it.
5 Boat Steering Wheels for Sharp Steering and Style
If you're looking to upgrade to a newer better wheel or just find a great affordable replacement for an older boat steering wheel, one of these fine wheels is worth taking for a spin (See what I did there? Ah, boat puns).
1. Attwood Marine 8315-4 Soft Grip
The Attwood Marine Soft Grip boat steering wheel is one of the most affordable boat steering wheels on the market that is actually of fine quality.
It has a soft padded feel and a texture that allows for a comfortable grip whether you're resting a hand on the wheel in smooth seas or clutching it firmly in choppy waters.
The coating resists UV fading and is easy to grasp even when wet. The wheel measures 13 inches across, a standard size that fits most private vessels.
2. Dometic SeaStar Ace Steering Wheel
The Dometic Sea Star Ace Boat Steering Wheel has a soft urethane exterior that is comfortable on the hands in all boating conditions.
This wheel is suitable for use both with mechanical and electronic steering control systems. Since it approximates the look and feel of a car's steering wheel, it'll be easy to adapt to after the swap-out.
It has a mid-sized 13-inch diameter.
3. Schmitt & Ongaro Marine Evo Pro 316
This Schmitt & Ongaro Evo Pro 316 boat wheel isn't cheap in terms of price, but it sure isn't cheap in terms of materials, either.
This wheel is cast from durable stainless steel and features three soft-coated arcs that provide a good grip. Together, the exposed high-shine steel and the emulation leather black grips also present an elegant and stylish tableau.
This easy-to-mount 13.5-inch boat steering wheel comes backed by a lifetime guarantee from the brand.
4. Forever Sharp Burl Wood Wheel
The Forever Sharp Burl Wood steering wheel is great for use on motorboats, but can also be used in various other vehicles, even golf carts. It comes with an adapter that makes installation in a boat quite easy. 
This wheel measures 14 inches in diameter, only a touch larger than your standard wheel. The wheel features polished aluminum, black padded grips, and of course, handsome polished burl wood.
The materials blend beautifully, lending a handsome and classic appearance to your boat without using much wood, a material that can age poorly in the elements, as noted earlier.
5. SeaStar SW59291P Champion Wheel
The SeaStar SW59291P Champion boat steering wheel is a great choice for almost any mid-sized motorboat, from a pontoon boat to a cabin cruiser to a smaller speedboat and beyond.
It's made from UV- and corrosion-resistant materials and works well whether always exposed to the sun and seaspray or if housed in a closed cabin.
Its circumference features two areas with indented finger grooves. These are located right at the proper "10 and 2" positioning. The wheel is priced well and made to last.
A Few Words on Proper Boat Steering Wheel Use
Don't take over at the boat steering wheel until you're confident you know how to steer a boat safely. Here are the most basic tips on boat steering wheel use:
Boats Steer from the Stern: Unlike in a car, which steers from the front, boats steer from the back. When you turn the wheel, you essentially change the direction in the back of the boat is being pushed. Learn to give yourself room on the outside of your turns.
Boat Steering Is Affected by Wind and Current: Your direction is affected by the thrust of the engines and by the positioning of the wheel, but also by moving air and moving water. Keep in mind that you might need the wheel turned slightly just to move straight, or you might need to add extra rotation to make the turn you want
Watch Out for Oversteering: It's far too easy to steer past the degree to which you need to turn the boat. Don't turn the wheel all the way in one direction or another and then turn it back to neutral, as you'll almost always steer too far over. Instead, turn the wheel only as much as needed to commence a turn and then steer back to neutral shortly before reaching the intended degree.
The Final Spin
Ultimately, any good boat steering wheel that fits the dash area of your boat is going to serve you just fine.
The important thing is that the wheel is in good working shape and is installed correctly. Don't hesitate to spend a few bucks and get a professional to install and/or inspect your boat's wheel if you're not sure on any front.