11 Common Sense Boating Tips for Beginners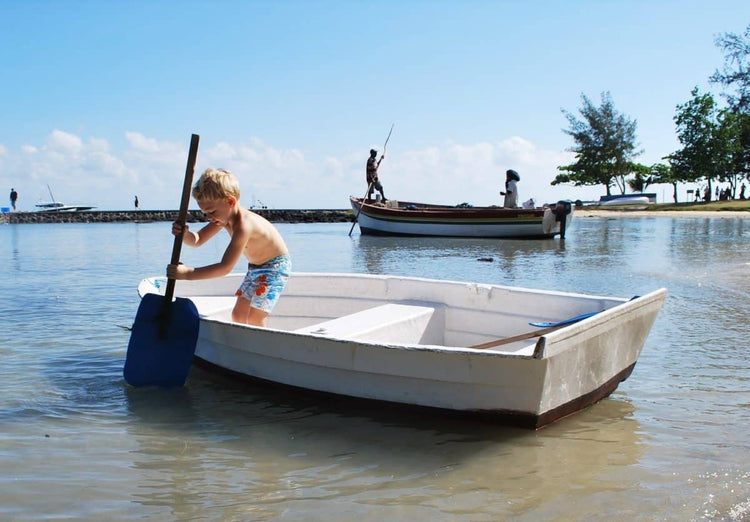 Row, row, row your boat... 
Gently down the stream... 
Well, that sounds easy enough. How hard can it be to row gently down a stream with your small boat paddle in hand? 
Merrily, merrily, merrily, merrily... 
Life is but a dream…
The whole "merrily" and "but a dream" thing starts to seem more difficult to achieve as you tussle with your boat.
As you hum this age-old nursery rhyme, you can picture yourself gliding down the calm waters of an inland stream, the wind blowing in your face, the palm fronds swaying in the wind with a clear blue sky in the background and puffy clouds floating past.
But if you're unprepared, your actual boating adventures can be much different.
Boating of any kind is an exercise that requires proper training, navigational skills and experience to make it worthwhile.
You have to combine physical fitness with analytical skills and also a bit of technical knowledge to make boating a pleasurable experience. With this in mind, here are some vital tips that help beginners take their boating trips to the next level.
11 Boating Tips for Beginners
1. Train first
You have to start somewhere, right?
Proper boating is next to impossible without prior training. It's just not an exercise that any amateur can undertake. You might be thinking that this isn't completely true. After all, how do people usually go about getting started?
Most people don't jump into a boat and take off with zero knowledge. If anything, they start with a boater-friend, guide or instructor.
Nowadays, finding someone to help you out as a beginner boater is all too easy. Just start by scouring the internet for where to learn the basics of boating. That's how you ended up here, isn't it?
A quick search will show you what establishments are available in your immediate area. There may be boating clubs, marine organizations or groups of boating enthusiasts who provide such training and support. The internet will guide you to them.
If you live somewhere close to a large water body, chances are that you'll find a boating club or Meetup with suitable vessels to train in.
The ideal thing to do is to hit the water to learn. And it doesn't matter what type of water you're hitting, whether it be a sheltered bay, a local reservoir, a lake or even the ocean.
You'll be taught the basics of boating and the specific type of boating you're looking to take up - things like terminology, wind awareness, special skills like steering, knot tying, rigging, preparing boats, safety, equipment use, gybing, downwind sailing, tacking, upwind sailing, recovery of persons overboard and much more.
After the initial training, you could also get your ICC or International Certificate of Competence for Boating.
This more formal training isn't always an option. It might actually be something you need to do in your region.
On a local scale, requirements for boater education vary from state to state, often including the completion of at least one course on boating safety. You should have plenty of options though, as online or local community courses can educate you on the basics of the process.
Don't worry, it's not rocket science! You don't have to be Michael Scofield from Prison Break to figure it out! You aren't breaking out of Fox River State Penitentiary (Well, I hope you're not). 
2. Get your license and registration
This is vital.
Consider what type of boating you'll be doing, and consider where you'll be doing it. Then ask around or do some research to figure out what's required for this to happen.
The paperwork you'll need - and the cost of obtaining it - depends on whether the boat is used on rivers, canals or other waterways, whether the boat's for cruising or living on as a houseboat, the boat's length and the duration of the license (from one day to one year). The appropriate local boating authority may be approached for this type of license.
For instance, let's say that you'll be sailing on an inland waterway. In most places, you've got to have a license and/or sailing registration issued by the appropriate navigation authority for a fee.
Some waterways have special licensing arrangements that grant exclusive sailing rights to local clubs, thus sparing club members the hassle of getting separate licenses.
Facing a fee? The money you'll pay is spent directly on maintaining and improving waterways and on providing services and facilities for boaters such as sewage disposal, water supply and electrical charging points.
It's not spent on private jets or fancy yachting trips. No one's doing this to become rich and powerful, like politicians who go into office as middle class and come out super rich.
Mooring your boat when it's not in use, ranging from basic towpath moorings to fully-equipped marinas, could also require a license, the cost of which varies based on the amenities and location.
Do the research on these boating tips for beginners and figure this stuff out before you begin boating rather than regretting it later.
3. Get to know your boating gadgets
Your boat is, after all, a mechanical device. Even the smallest and simplest little boat is going to be somewhat gadget-dependent so it can operate smoothly. Therefore, it's imperative to be knowledgeable about navigation, safety and fishing gadgets.
Technology has made it possible to have some very sophisticated navigational tools on board like gyro stabilizers, magnetic compasses, radars, autopilot systems, an ARPA (Automatic Radar Plotting Aid), automatic tracking aids, distance and speed log devices, depth sounders, an ECDIS (Electronic Chart Display Information System), automatic identification systems, voyage data recorder, GPS receivers, navigational lights, lamps for daylight signaling, pilot cards, forecastle bells and ship flags, to name a few. The list goes on.
Safety equipment includes lifejackets, anchor and line/chain, auto and manual bilge pumps, indicating compasses, smoking orange and red distress flares, fire extinguishers, electronic or paper maps/charts for areas of operation, paddles, oars, rowlocks, air horns, potable water, floating waterproof torches and a well-maintained marine radio.
You might have equipped your fishing boat with a fish finder, color chartplotter, multi-beam sonar, fixed fishing chair with safety straps for big fish and all-weather fishing gear.
It doesn't matter what your setup is like. Make sure you're familiar with everything on your boat!
4. Check the skies before setting sail
Checking the weather immediately before boating is critical.
Weather changes are highly unpredictable and an unexpected storm can catch you off guard. For beginners in particular, a sudden squall may prove dangerous.
5. Make a checklist
Don't sit around on the boat ramp squinting at the sky to check the weather or rummaging around in your boat for items.
Boat traffic can build up and you'll be called some names that you don't want to be called. You'll at least frustrate many people or have fellow boaters looking at you like you don't know what you're doing.
Prepare well in advance of launch.
Maintain a pre-departure checklist so that you're prepared for any on-water possibility. The pre-departure checklist will ensure that no precautions or safety rules have been overlooked.
For example, your checklist can remind you to keep food and water, a flashlight and first aid items on board with you.
I use my smartphone for this. You don't need another item to carry. Skip the clipboard and check off a checklist on your smartphone.
6. Dress appropriately
Since boating is essentially outdoor exercise, dress appropriately to tackle changes in weather conditions both on land and off.
Prepare for your own body's needs. Dressing in layers is advisable so that you can take off a sweatshirt if it gets too warm. I know, you're thinking that you probably don't need to bring any extra layers, especially if you'll be boating during the day in the summertime - unless you're thinking of Lake Tahoe. That lake is cold!
I normally have a sweatshirt with me no matter what when I go out on the water. What if it starts to get chillier than you thought? Or you don't make it back before the sun goes down and that cool evening breeze starts giving you goosebumps?
Apart from that, valuables like keys, cell phones and wallets may get wet or fall into the water, so keep them secured to something or stowed away in waterproof storage.
7. Float plan
Before you leave, keep a float plan on the shore so that, should something go wrong on the water, somebody onshore would know where and when to go looking for you. Here's one example of a float plan you can consult for guidance.
A float plan has saved many a life in the past by bringing back missing boaters and thus has great importance. You don't want to end up doing what Aron Ralston did, having to make an excruciating escape plan because nobody knows where you are or what could've happened to you.
8. Never forget your life jacket
You might think this is more applicable to those who don't know how to swim, but the truth is that most boating-related deaths happen because people weren't wearing life jackets.
In the summer, wearing a life jacket may be somewhat uncomfortable, and it might make you feel less intrepid and stylish. Nothing is more important than your life. Your safety at any cost comes first. When boating with anyone else, particularly someone who can't swim, you need to be extra careful.
If you swim well, it's your decision. Perhaps in a quiet lake, wearing the life jacket isn't always really necessary, but if you're in a fast-moving river or an ocean with huge swells, that's another story altogether.
Real Lifesavers: The 5 Main Types of PFD Every Boater Should Know About
9. Have a first aid kit
We don't like to think about it much, boating can be hazardous (just watch the show Deadliest Catch).
A sudden wave may cause you to lurch forward and fall, injuring yourself. You might cut your hand on something in the boat. You might get a terrible sunburn or even sun poisoning. 
Since no immediate medical aid or doctor will be available, keeping a first aid box handy is a must. That way, you can treat yourself or someone else - at least for the time being before you get back ashore.
| | |
| --- | --- |
| |  Air Horns meet Coast Guard requirements for boats up to 65 feet in length.  |
Check Price on Amazon - Better Boat's air horn is small and compact enough to stow anywhere in a boat, kayak, RV or jet ski. The powerful sound blast travels up to a 1/2 mile away. 
10. Don't leave without your tool box
Anyone who's less than handy might be rolling their eyes right now. But I'm serious! Educate yourself so that you can handle minor technical or mechanical problems while on the water.
This may range from cleaning a choked spark plug to insignificant engine trouble. Even small glitches can require having a tool box on hand. Being prepared in this way can prevent you from being stuck out there for hours on end before help arrives.
So, have the appropriate spare parts (small parts, yes, I know that there isn't always too much extra room in a boat) and basic tools available to fix minor problems yourself.
Don't Be Marooned: 17 Boat Tools to Keep on Board
11. Rely on common sense
Common sense is essential to boating. You should trust what you've learned your whole life and throughout your beginner boater training.  
Follow the rules, and follow your gut. This means maintaining a safe speed, staying alert to buoys and avoiding large vessels that have limited ability to turn or stop (though you won't see this in a lake unless you're in one of the Great Lakes or in a major river).
Designate someone who's familiar with all aspects of boat operations, handling and general safety to take over during an emergency and to steer the boat back to shore.   
Avoid alcohol when operating a boat. Its impairing effects are enhanced by the wind and sun.
Learn to swim well before you get into boating.
Find ideal boating destinations when you're just starting out, like lakes that are easily accessible and offer calm waters, extended shorelines, no current and peace of mind.  
Now that you've got these boating tips for beginner boaters under your belt, it's time to seize some opportunities for fun and adventure. Get out on the water and have some fun!