6 Excellent Kayak Seats to Save a Paddler's Stern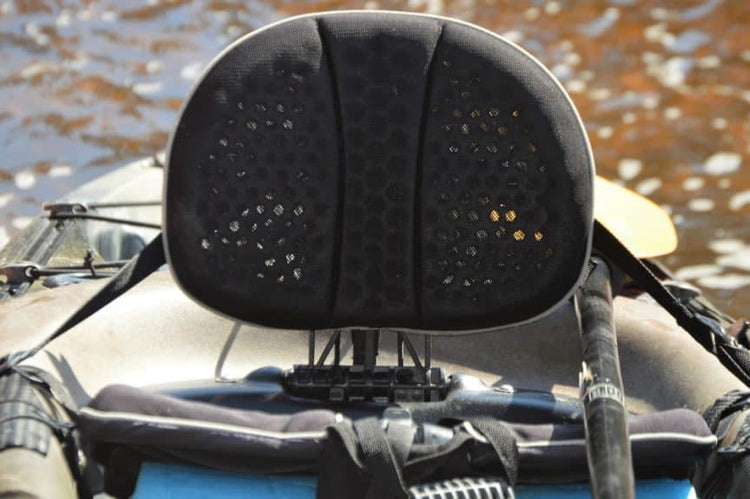 Spending hours on a kayak only to feel sore? I've definitely experienced this myself. Being on vacation, renting a kayak - and after 30 minutes  - I knew the rest of the day was going to be a bumpy ride.
After a few hours, it took all my energy to stand up from that kayak. It felt like I'd been sitting in a broken massage chair the entire time! 
Paddling accessories can make kayaking easier. And my best advice is to upgrade your ride with one of these fantastic kayak seats.
Types of Paddlers Who Could Use a Kayak Seat
Many kayaks are not comfortable enough for spending hours and hours out on the water. And sure, you can invest a nice chunk of change into a high-end kayak, but who has the money?
Whether you rent a kayak or need all-day support for longer paddle-in camping trips, there are certain paddlers who could benefit from a decent kayak seat.
The Casual Paddler: If kayaking is more of a hobby than a passion and you're comfortable simply renting kayaks, rather than owning, having an extra kayak seat will make it worth it. They're easy to use and won't leave you feeling sore (or like a sucker).
The Kayak Angler: Kayak seats designed for fishing are cushier and designed to suit long periods of inactivity (like patiently waiting for your line to finally snag that grand-champion bass you've been waiting for).
Whitewater Kayaker: A whitewater kayak seat needs a lot more stability. It should be able to move with you along fast-moving rapids. It's designed to take hits and to help you stay active and alert.
Inflatable Kayaker: Then, you also have inflatable kayaks. Super handy and cost-effective, they often don't have the same support your lower back needs to enjoy yourself on the water because they're made of air!
Kayak seats are as diverse as kayaks themselves. They can be used to serve many different purposes.
Essential Features of the Best Kayak Seats
After testing several kayak seat models myself, I can tell you about a few common features you definitely need.
Back Support: The best seats aren't simply seats, they're more like a child's car seat. Back support is crucial to help you feel sturdy and strapped in.
Molded Foam: Always seek out this material. Molded foam is perfect because it contours your body and becomes a tailored seat just for you. Avoid sharing it with anyone, though, or it might reshape!
Straps: While some more affordable seats lack straps, I feel they're a must! Straps allow you to feel fastened into your ride. The last thing you want to worry about is your seat slipping.
Resistance: Seats should be both UV resistant (ideally with some type of nylon) and corrosion resistant (whether coated or otherwise). Depending on the activity, you risk damage to your investment if you go without at least one of these. Keep your seat looking fresh for years!
6 Excellent Kayak Seats to Save a Paddler's Stern
To craft a truly comprehensive list, I put together a collection suitable for a whole host of needs and budgets.
These aren't just your run-of-the-mill seats. Instead, they're the kind you take anywhere, use any time and offer features to suit your day's activities.
This list includes high-end options, mid-range options and some more affordable options for those who simply want to avoid feeling numb and stiff after renting a kayak for an afternoon. No matter what you need, I've got you covered!
1. MSC Kayak Fishing Seat
Check price on Amazon
Let's kick this list off and showcase the perfect seat for fishers. This kayak seat is ideal with the previously-mentioned molded seats, as well as the corrosion-resistant hardware and straps (which makes installation a breeze).
This version considers everything staying still, not slipping and providing lower back lumbar support you absolutely need when fishing. I can already feel all my pain and worries slipping away.
2. Leader Accessories Deluxe Kayak Seat
Check price on Amazon
This model offers the same fantastic characteristics as the previous MSC, with some added bonuses. First, you have the storage bag built right into the back of the seat. This is a great place to store your lures, phone and anything else you want to keep accessible yet safe.
The brass straps are also a nice touch and really add a luxe feel to this seat. If you're big into kayaking, this is a great option.
3. Ocean Kayak Comfort Plus Seat
Check price on Amazon
An option for those who fall in a mid-range budget, as this is a great kayak seat for those who want comfort without breaking the bank.
Even though it appears less padded, I have to say, the back support is ideal. And the well-ventilated seats definitely help.
It also comes with straps, is made of tough nylon and even has a reflective logo for a bit of safety. These features make it the perfect seat for someone interested in longer, adventurous paddles with their kayak.
4. Surf to Summit Drifter Fishing Kayak Seat
Check price on Amazon
Another safe, mid-range budget option when it comes to kayak seats, this Surf to Summit Drifter has an elevated seat to specifically help fishermen and anglers.
While it's stable and the additional height offers a pretty strong vantage point for fishers of all stripes, it does lack in comfort. The Drifter even offers a detachable tackle pack for all your tools, which is a very nice touch if you ask me.
Overall, you can't go wrong with this kayak seat, even if it's not the most comfortable on the market.
5. Ocean Motion Ergo-Fit Kayak
Check price on Amazon
This kayak seat is specifically designed for sit-on-top kayaks. The major difference between these types of seats is just how much more rigid they need to be.
The back support needs to be much, much stronger to avoid slipping and guarantee comfort. That's what makes this one great! The non-slip technology offers safety, while the plush backing feels good while providing ample support.
It's also important for your legs to get propped up on a sit-on-top kayak. This seat does a great job of that, making it absolutely ideal for any sit-on-top expedition.
6. Lixada Kayak Seat
Check price on Amazon
Not looking for frills? Need something simple to grab and go down to the dock? The Lixada is a pretty good option, which provides basic comfort and support.
Even if it's lacking when it comes to truly supporting your back, this is a great option for a leisurely morning or afternoon ride. While it's lightweight and shock-absorbent, I'm skeptical of the straps and would take it easy on this one.
Featured Boat Care Product
Check Price on Amazon - Better Boat's boat soap keeps your kayak, boat, canoe and boating gear clean, shiny and protected. Simply rinse off with a garden hose and nozzle for a non-slip finish. Use a microfiber cloth for set-in stains. A chamois mop head and an extension rod get those hard-to-reach places.  
Try a Comfier Kayak Seat Today
A kayak seat is an easy way to elevate your ride and to feel good about it, without having to spend the next week on bed rest. Trust me, I know!
Finding the right kayak seat isn't easy, but when you find the perfect one it's totally worth it!
I hope this breakdown provides you the information to find the right seat for your needs. And, let's be frank, your butt's needs too.