What's Up, Doc? 6 Classic Styles of Lake Docks (with Pros, Cons and Considerations)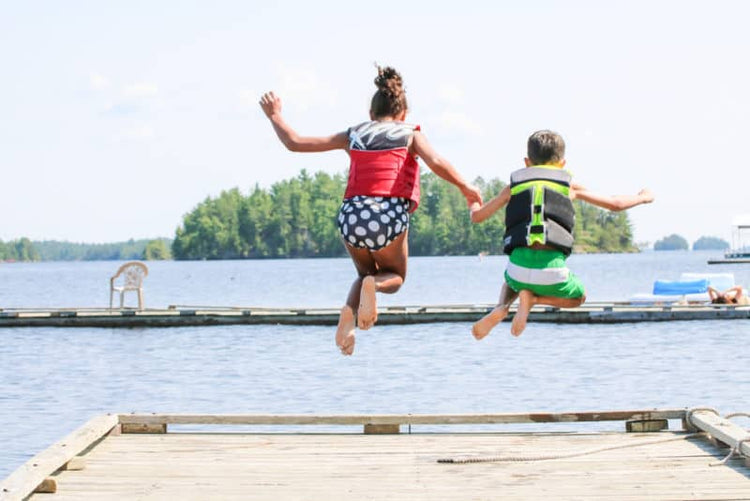 Lake docks are synonymous with summer. Whether it's the sight of a sailboat-filled marina or a picture of a kid walking down a dock with a fishing pole in hand. 
For me, June, July and August would be incomplete without seeing a dock. I've seen floating docks, concrete docks and wooden docks. I've seen docks next to lakeside cottages, beckoning someone to jump in the water. I've seen marinas with main docks and finger docks filled to the brim with boats.
I've intentionally and unintentionally dived off docks (thank you, little brother), seen manatees and sharks swim by docks, tied up boats to docks and docked boats at docks.
Have waterfront property you're looking to build a dock on? Or are you just interested in learning more about lake docks? Here's a guide to help first-time dock buyers or DIY'ers find the dock they're looking for.
Lake Dock Pastimes: Their Fun and Various Uses
Mooring: A dock's main use is to allow a place to secure your boat so it doesn't float away. Some docks allow boats to be moored for long periods of time, while others may only let boats tie up for a short while for loading and unloading purposes.
Swimming: There's nothing more fun than cannon-balling off of a lake dock into refreshing water on a hot summer day. However, not all docks are meant for swimming. Sometimes there's a high amount of boat traffic, or electrical currents running through the water, or too shallow of water. You may even find signage forbidding swimming. Make sure swimming is permitted before diving in for your own good!
Fishing: I'm no angler. I'm pretty squeamish when it comes to using live or dead bait, and I do not have it in me to gut a fish. Eating freshly caught fish, though...an entirely different story! Fishing off a dock is a fun pastime for young children, people without access to fishing boats and even serious fisherman. It's relaxing to sit on a warm dock waiting for a fish to bite especially if you get someone else to bait your hook!
Entertaining: For us boaters, it's hard to imagine docks as anything other than the place to tie off boats. But some docks are designed purely for entertaining. And, why not? We know the water is beautiful, peaceful and rejuvenating. A dock is a perfect place to sit with friends or have a party.
Installing Your Own Dock? Here's What to Consider
Law and Ordinances: Like with any sort of building project, you're going to need to get permission. Before beginning to put your dream dock in the water, make sure to research and find what is required by the city, county and state where you live in regard to installing a dock.
Lake Bottom Sedimentation: Before you choose a dock style, be aware of what the bottom of the body of water is where you want to put the dock. Is it flat and sandy? Is it rocky? Is it mucky? This will influence what type of dock will work best.
Shorelines: What does the shoreline look like? Is there a steep descent into the water? A gradual descent into the water? Is it rocky or sandy or grassy?
Fluctuating Depths: It's important to know about the depth of the water where you would like your dock to be. It's also important to know if this depth changes. For example, is there a steep drop-off?
Water Levels and Currents: Lake docks do not have to deal with changing tides like docks on the ocean, but the movement of water is still something to consider. Do you have a strong current or a lot of boat traffic creating large wakes? Some lakes are even manually drained from time to time. Water levels can still change in lakes, so pay attention to this as well.
Featured Boating Product
| | |
| --- | --- |
|     |  Sand Anchor Spikes  |
Check Price on Amazon - Better Boat's sand anchor spike is strong, keeps your boat in place and is easy to transport and store. It's made of hot-dipped galvanized steel with a non-slip grip handle and a quick-connect tie-down loop. It's the perfect anchor for beaches, sandbars and shallow water while out and about on canoes, kayaks, jet skis and boats.
6 Classic Lake Dock Styles (with Pros, Cons and Considerations)
1. Piling Docks
Piling docks are permanent structures consisting of wood, concrete or steel pilings, which are driven into the ground for support. The piles are driven deep into the ground at a depth three times their width.
On top of the piling foundation, a steel framework is constructed for the wooden dock's walkway, which is then covered in wood, concrete or composite decking.
If your pilings are wood, experts recommend keeping them in good shape by using wraps or chemicals to prevent wood rot. Pile caps can also be used to protect the wood grain from potentially damaging outdoor elements.
As someone who wears shoes as seldom as possible during the summer, I shy away from wood docks (splinters are no fun).
Unless you're experienced, I'd suggest seeking professional dock builders when installing a piling dock. Search for local dock building companies to help with construction. Even companies such as Decks & Docks Lumber Company will ship piling dock materials both domestically and internationally.
Pros
Very stable
Don't require much maintenance
Good for deeper waters
Pilings can be used for mooring boats.
Cons
Expensive
Not good for areas where water level fluctuates
Can be damaged by movement from ice.
2. Pipe Docks
Unlike piling docks, a pipe dock's features are less permanent and are generally constructed from aluminum, which consists of pipes simply resting on the lake's bottom sediment.
Pipe docks can be built in several shapes: Straight, L-shaped,T-shaped and U-Shaped (shown in image above). Fairly eco-friendly, they allow more sunlight to reach the aquatic life and have a minimal environmental footprint (unlike other types of docks).
They can (and should) be removed during the winter months, which means you'll need to consider your boat's winter storage.
Pipe docks are best used in shallow water. Some sources suggest pipe docks should be used in waters of at least 8 feet of water, while others recommend never having a pipe deck in water deeper than the dock is wide.
Due to the nature of the pipe dock, a firm and even lake bottom is recommended. Pipe docks are fairly easy to build yourself. You can even find lots of materials and dock accessories offered by Tommy Docks(Shop Available on Amazon).
Pros
Affordable
Can be removed for winter and re-installed in spring
Environmentally friendly.

Cons 
Can't be used in deep water
Not equipped for mooring larger boats
Not suitable for fluctuating water levels.
3. Floating Docks
A floating dock is exactly what the name says suggests: A dock that floats. But the floating device can be one of two ways: either modular floating pieces or a frame work sitting atop floating barrels.
Floating docks can be a project for DIY savvy boaters. Alternatively, you can purchase a modular system from dock manufacturers such as Candock and EZ Dock.
Pros
Suited for all shorelines and lake sediment types
Rises and falls with water levels
More affordable than permanent docks
Cons 
Not as stable as other docks, especially in rough waters.
4. Lift Up Docks
Lift up docks also called articulating docks are akin to a one-sided drawbridge. During the winter months, the dock is lifted out of the water as a drawbridge would be. This is a great feature if winter conditions and local ordinances prohibit keeping docks in the water.
Thinking of installing this type of dock? Check out The Dock Doctors.
Pros 
The cables and gantry used to lift the dock out of the water can be hidden away during the summer months.
Simple to raise when they need to be put away for winter.

Cons
It may not be aesthetically pleasing once raised in the air.
5. Double Decker Docks
A double decker dock consists of an upper deck, sometimes more! The lower level usually has a boat slip or two, while the upper decks can be used for entertaining, slides and even jump platforms and diving boards (for deep lakes).
Like other docks, double deckers are made from a variety of materials, but they're also permanent features.
As with piling docks, it's a good idea to contract out a local dock builder to help with your double decker project. Check out Wahoo Docks for more dock options.
Pros
Lots of entertaining space
Overhead coverage and protection for boats.
Cons
More expensive
Takes up more space.
6. Crib Docks
Crib docks are another permanent dock structure style that's fairly expensive. The name comes from the large crate-like cribs, which are placed in the water.
The cribs are filled with rocks and spaced a few feet apart from each other. They're used as the foundation for the rest of the dock to lay on top.
These are traditional dock styles you often find supporting those heavy covered boathouses. While they're not always supporting an entire structure, crib docks are still labor intensive, and you'll need to find a local contractor to help with construction.
Pros
Very sturdy and strong
Don't need to remove it seasonally.
Cons
Difficult to DIY
Expensive
Cause the most environmental impact.
And That's a Splash!
So there you have it, everything to get you started in your lake dock search. And don't forget all the dock accessories you can add: life rings, ladders, lights, cleats, dock boxes, fenders and more. The list can go on and on. You can even install a boat lift!
Need more ideas? Check out the DIYNetwork show Docked Out. And if you feel like tackling a DIY dock, check out Max Burns' The Dock Manual (Available on Amazon), which offers lots of maintenance advice and step-by-step how to's to guide you toward designing your own floating dock paradise.
Now, jump on in! The water's fine!