Liveaboard Dive Trips: Hop On, Dive in and Stay Awhile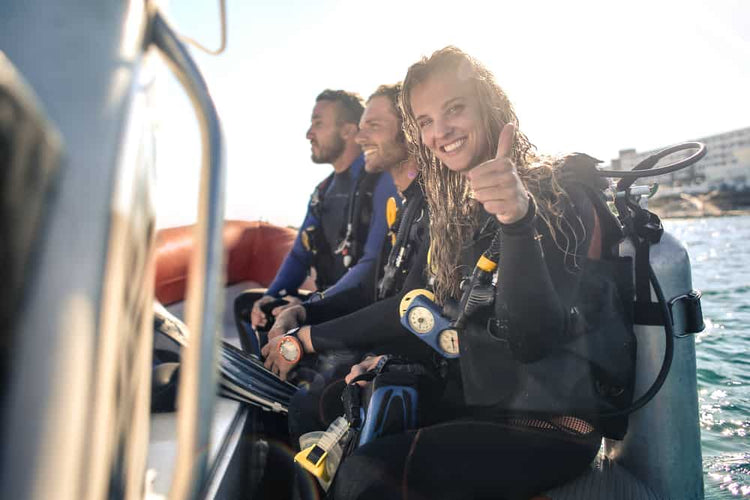 From whales, manta rays and sea turtles to colorful coral, sponges, shipwrecks and underwater statues, diving takes us to underwater adventures. And if you ever dive these gorgeous environments, you become addicted. 
But how do you see so much in so little time? The answer is a liveaboard dive trip! 
What Is a Liveaboard Dive Trip?
Much like bareboat charter trips, liveaboard dive trips mean you'll live aboard the boat while traveling to reefs, wrecks and other dive spots.
Available for experienced divers and beginners, liveaboard dive trips are actually a great way to immerse yourself in the learning of a new activity. In addition to SCUBA diving, snorkeling and underwater photography are other reasons to take a liveaboard dive trip.
Liveaboard dive boats range from strictly utilitarian vessels with a basic cabin and galley to quite plush living quarters. Technically, any liveaboard boat could function for an extended dive trip, but catamarans are often used.
Sailboats and powerboats can also be used. For a trip focusing mainly on diving, you'll appreciate the extra features like large decks, swim platforms and storage areas for tanks, gear, anchors and dock line.
Benefits of Liveaboard Dive Trips
Why live on land when you can live on a boat? That's always been my theory. Obviously, liveaboard dive trips aren't for everyone, but they do offer a variety of benefits that typically can't be found on a traditional day dive trip.
If you're a die-hard diver or snorkeler, you've probably wished for some of these scenarios.
The ability to do multiple dives in one day
With a traditional dive trip (where you book a charter with a dive company), you can often only get in one or two dives. Factors like schedules and time constraints (and, of course, Mother Nature) limit the number of dives.
On a liveaboard dive trip, you're already out on the water and can choose what you want to do and when you want to do it.
Flexibility to visit another site if the conditions aren't right
Say there's a strong current, low visibility or rough waves… you can simply pull up the anchor or mooring buoy and head out to a different location.
And, if you don't find it right away, hang out on the boat and wait awhile. Sea conditions are always changing. 
More exploration of a particular area
On the flip side of leaving an area with less-than-ideal conditions, you can stay in an awesome area for a longer amount of time.
Meet fellow divers
One of the best things about diving (besides cool coral and friendly fish) is the camaraderie between fellow divers. You'll meet like-minded enthusiasts and become part of a community.
Unpack once and you're done
Since you'll be living on your dive transportation, you can unpack all of the gear and equipment once. No more schlepping dive bags, wetsuits, regulators and air tanks to each dive site.
See more of the destination from a local perspective
Chances are, the captain of your liveaboard dive boat will be a local. He or she can introduce you to great dive sites, local lore and historic facts. 
Professional and experienced instructors and guides
Liveaboard dive guides do this for a living. They'll be well-trained and knowledgeable. This is an excellent way to learn new skills and techniques, as well as brush up on the ones you already have.
Also, they'll know how to fix the prop, tune the engine, pump the bilge or adjust the sails if anything goes awry. That in itself can be worth its weight in gold.
Featured Boat Care Product
| | |
| --- | --- |
|      |  Marine Metal Polish removes dirt, grime, salt, tarnish, surface rust and oxidation from boats, RVs, motorcycles and appliances. |
Check Price on Amazon - Better boat's marine metal polish cleans, polishes and protects hardware, rails, ladders, cleats and more. Use a small amount on a microfiber cloth to polish to a gleaming shine. 
Companies Who Offer Liveaboard Dive Trips
Speaking of professional guides, I've collected a few liveaboard dive trip companies to get you started on your journey.
Important Things to Consider When Planning a Liveaboard Dive Trip
In addition to remembering to pack all of the necessary gear, embarking on liveaboard dive trips require additional planning that a typical vacation doesn't. A couple of the main things to consider include …
There's a 24-hour no-fly time after your last dive.
Unless this is a SCUBA training trip, you must be certified for diving through organizations such as PADI, ISO, NAUI, SSI or CMAS (to name but a few).
Dive insurance is often mandatory.
Some companies require a minimum of 60 logged dives. So keep that logbook up-to-date!
How Much Liveaboard Dive Trips Cost
A liveaboard dive trip is not going to be cheap. Most likely, it's going to be one of those "bucket list" trips you'll want to go all out for.
You'll definitely want to travel with an experienced captain, crew and instructors, so this is one trip to avoid cutting corners (And get the travel insurance. Always get the travel insurance).
Just for fun, I looked into a couple of itineraries:
A two-day/two-night Florida liveaboard dive trip starts at $660 and includes various amenities such as a dive guide, a variety of dive sites, meals and comfortable sleeping quarters. This one is on the budget-minded side and sounds like a great way to ease into liveaboard life if you've never done it before or are wanting to sign the diver's logbook.
For the ultimate dive trip, a seven-night Bahamas trip is in the $2,000 range (not including airfare). This includes full board, 25-26 dives, airport transfers, island tours, dive guides and more.
I found another week-long Bahamas dive trip for $995, including meals, dormitory-style rooms and up to 19 dives.
A six-night British Virgin Islands dive trip, aboard the gorgeous Cuan Law catamaran, is $2945.
Liveaboard Dive Trip Destinations
Perhaps the best thing about being a diver is all of the destinations available to the sport of diving.
I probably don't have to mention this, but I had a lot of fun researching this next section. I may or may not have filled a virtual shopping cart somewhere out on the world wide web.
Australia
The ultimate liveaboard dive trip for any diver has to be Australia's Great Barrier Reef. Swim among loggerhead turtles, reef sharks, moray eels and giant grouper, as well as underwater caverns and hard and soft coral.
Popular dive sites include Cod Hole, Flynn Reef, Bougainville Reef, the remote Ribbon Reefs, Osprey Reef and the coral polyps in the Coral Sea.
Belize
The Belize barrier reef system is one of the largest in the world, and divers can catch sight of parrot fish, cow fish, trigger fish and hammerhead sharks.
The massive and world-famous Blue Hole, located at Lighthouse Reef, is a popular site for divers in Belize.
The Turneffe Atoll Reef has mangroves, snappers and black-tip sharks.
Bermuda
Pink sand, colorful fish and crystal clear water make Bermuda a paradise for SCUBA enthusiasts of all levels.
Called the "Wreck Capital of the Atlantic" for its more than 300 shipwrecks - including the Mary Celestia, Constellation and Montana – Bermuda also offers a colorful variety of parrotfish, barracuda and angelfish.
British Virgin Islands
Soft sand, swaying palm trees and sapphire shades of warm waves make the British Virgin Islands my number one choice for a dive trip.
Sail around Tortola, Jost Van Dyke and The Baths of Virgin Gorda while slipping into turquoise-toned underwater worlds. Dive sites include the RMS Rhone shipwreck, Norman Island and Blonde Rock.
You'll probably get the chance to visit famous beach bars like the Soggy Dollar and Foxy's. That's just a bonus in my book.
California
Sea lions, moray eels, sea caves, shipwrecks and pink and purple coral can be seen along the Southern California coast. Southern California dive sites include the Channel Islands, Catalina Island and San Clemente Island.
Florida
Florida's Atlantic coast offers a large reef system full of parrotfish, brain coral, eels, sea turtles and other marine wildlife. You'll also find shipwrecks such as the USCG Duane and the Eagle.
Florida dive trips take off to the reefs and underwater statues at John Pennekamp Coral Reef State Park, Carysfort Reef Light and the Emerald Reef near Key Biscayne and Miami.
Dive sites in the Florida Keys include Pillar Coral, Snapper Ledge and Molasses Reef.
Mexico
With sea lions, barracuda, whale sharks, dolphins and cenotes (underwater caves), the Sea of Cortez beckons dive fans.
Dive sites include La Vela, the wall dive at El Arroyo, Los Islotes and the caverns of El Lavadero.
Turks and Caicos Islands
Grace Bay, The Black Forest and Coral Gables are just a couple of the popular dive sites around the remote Turks and Caicos Islands. Stingrays, lobsters, tropical fish, unique black corals, sea fans and giant elephant ear sponges can be seen.
Whether you're into cave diving, reef diving or just love being under the water, I hope this has helped you decide to take off on that liveaboard dive trip you've been dreaming about (or at least get the planning started).
Happy diving!
---