Hoist Those Sails and Hold on Tight: How to Choose the Best Sailing Gloves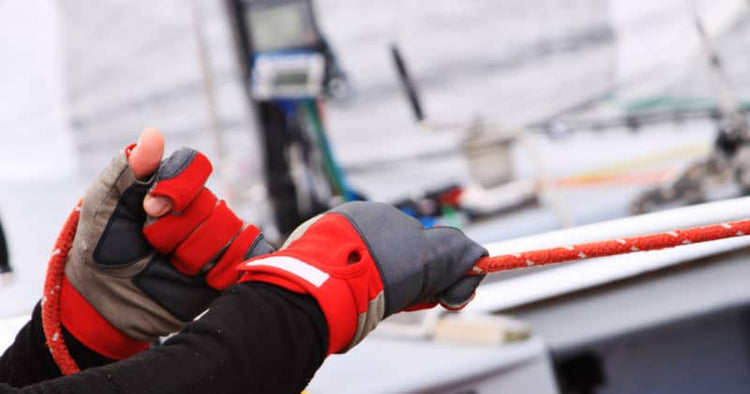 Sloops, cutters, ketches and catamarans, all sailboats have one feature in common, and that's the sails and the ropes (err ... lines) that secure them.
And whenever you work with marine rope, it's best to protect your hands with sailing gloves. If you've ever gotten a rope burn from hoisting a sail or pulling in an anchor line, you'll understand (as well as agree with) this philosophy.
Along with the protection from rope burns and blisters, sailing gloves provide extra grip and padding, as well as warmth in foul weather.
I've collected some tips for picking out the perfect pair of sailing gloves to take along on your sailing adventures.
Tasks on a Sailboat That Require the Use of Sailing Gloves
I admit I was glued to the TV during the America's Cup races. The precise detail and carefully coordinated movements made those yachts appear as if they were sailing on air across the beautiful blue waters of Bermuda. It was magical to watch.
Sailboat enthusiasts, especially members of yacht racing teams, come in contact with rope, halyards, wooden booms and steel masts much more than pontoon, deckboat and sport fishing boaters.
All of these elements, in combination with foul weather, are reasons to invest in a good pair of sailing gloves.
Sailing tasks include:
Hoisting and dropping the spinnaker: Usually handled by the cockpit crew
Jibing the spinnaker: In layman's terms, this means changing direction of the spinnaker sail
Trimming the mainsail and the jib: Not to be confused with jibing, the jib is the sail found in front of the mast that doesn't have a boom
Characteristics of Sailing Gloves
Sailing gloves should protect the hands, wrists and fingers as well as provide warmth. Here is a list of characteristics and quality construction to look for when choosing sailing gloves.
Reinforced palms and fingers provide protection from blisters and rope burn when pulling in lines.
Finger less sailing gloves cover ¾ of all of your fingers. This is a great option when you need the dexterity of your fingers for things such as using iPads, smart devices and navigation equipment. You won't have to keep taking the gloves off and on.
3-finger gloves completely cover the last three fingers while the thumb and first finger are ¾ covered.
Full-finger gloves cover all fingers and the thumb.
Sticky and textured palms and fingers give grip while racing or hoisting sails.
Heavy-duty fabrics and synthetic leathers like Amara and Proton, as well as polyester, provide protection from lines, wood and metal.
Mesh inserts offer flexibility and breathability.
Double stitching in high wear areas like the palms offers a high level of durability.
Glove liners help to keep hands warm and provide an extra layer between the skin and the water.
Low-cut wristbands allow freedom of movement for racing and other tasks. You'll also have better views of your watch (often necessary in sailboat racing) with a low-cut wristband.
Long wristbands (also called gauntlets) provide extra protection and warmth.
Special Types of Sailing Gloves
With all the sails and rigging on a sailboat (not to mention those wooden booms and steel masts), sailors need specialized gloves for many of the tasks involved in sailing a vessel, regardless if they're racing or just spending a day out in the wind.
Helmsman Gloves
The helmsman, also called the coxswain, is the person who steers the sailboat (and is the head of a racing crew). Helmsman gloves have pre-curved fingers for a flexible fit, adjustable webbed wrists, waterproof liners and extended cuffs for protection and warmth.
Drivers Gloves
Per the name, drivers drive the boat. Drivers gloves are designed for power boating at fast speeds, but they could certainly be used for sailing.
Drivers gloves are waterproof and insulated for warmth while driving/sailing in wind, rain and foul weather. The palms have leather or some other durable and grippy material.
Deckhand Gloves
Deckhands perform a variety of tasks that include general maintenance, painting, assisting with safety issues and other tasks. Deckhand gloves are usually shorter than helmsman and driver gloves.
They have wraparound palm protection and pre-shaped construction for a flexible and close fit. 
Featured Boating Product
Check Price on Amazon - Better Boat's fabric waterproofing spray forms a waterproof barrier to protect canvas, polyester, nylon, leather and more. Water beads up and wicks away to prevent mold and mildew.  
Reputable Brands of Sailing Gloves
Sailing gloves are available from a bunch of reputable companies. I've collected a list of popular sailing glove brands. It's by no means all-inclusive, but it may serve as a good guide when shopping for sailing gloves.
Gill is a leading manufacturer of sailing and performance gloves. You can find a bunch of fingerless, deckhand, drivers and helmsman gloves.
If you're into racing, Gill is the brand to go with as they offer 4-way stretch for flexibility, Dura-Grip palm and finger reinforcements and pre-shaped construction to fit your natural hand shape.
Check out Gill's Championship Long Finger Sailing Gloves (check price on Amazon) as an ideal choice for sailors.
Harken products and equipment are used in events like the America's Cup, the Olympics and the Volvo Ocean Race. Harken gloves are designed for durability, protection, grip and warmth.
You can find ¾ finger gloves (check price on Amazon) and full finger gloves (check price on Amazon) for a variety of sailing tasks. The addition of double thick Black Magic palm material gives great grip for pulling in lines and performing deck side duties.
Helly Hansen is one of the top names in sailing and outdoor gear. If you've ever been to an outdoor store or boat show, you've probably come across an item made by Helly Hansen.
The Helly Hansen sailing gloves (check price on Amazon) have a weave pattern on the back and a leather palm. I really like the extra grippy padding on the palm and fingers.
Mustang gloves are available in full-finger and open-finger styles for ocean racing. Designed for rugged wet conditions, they have knuckle protection, corduroy nylon on the back, synthetic leather on the fingers and a silicon grip closure under the wrist. The wrist is cut for movement and the ability to stretch over watches.
Ronstan was formed in 1953 when Ron and Stan went into business building wooden-hulled boats and stainless-steel deck fittings. Ronstan sailing gloves come in several styles, including Sticky race gloves with cut fingers (check price on Amazon) and sticky race gloves with 3 full/2 cut fingers (check price on Amazon).
Ronstan race gloves have an adjustable hook and loop closure. The low-cut neoprene wristband allows for movement and watch access. If you're not sailing in foul weather, having that extra bit of movement is nice (especially for a racing crew). Double thick palms and fingers give lots of protection and grip. 
Zhik products are used in the Olympics and world championship sailing events. Products are combined with technical know-how and a stylish touch.
Zhik sailing gloves (check price on Amazon) are made of lightweight nylon and have a super grippy latex-coated palm. They're also flexible and thin enough to be worn as liners inside larger gloves.
Find Your Glove Size and Ride the Winds
Whatever sailing glove you choose, the correct fit is important for comfort and performance. Measure all the way around your palm at the fullest point. Check out this size guide to measure correctly and get the best fit.
Whether you're headed out to a regatta, spending the day on a sloop or channeling your America's Cup dreams, I hope you've found some helpful advice to choose the perfect pair of sailing gloves. Sail on!
---