4 Best Pontoon Boat Covers Reviewed and Compared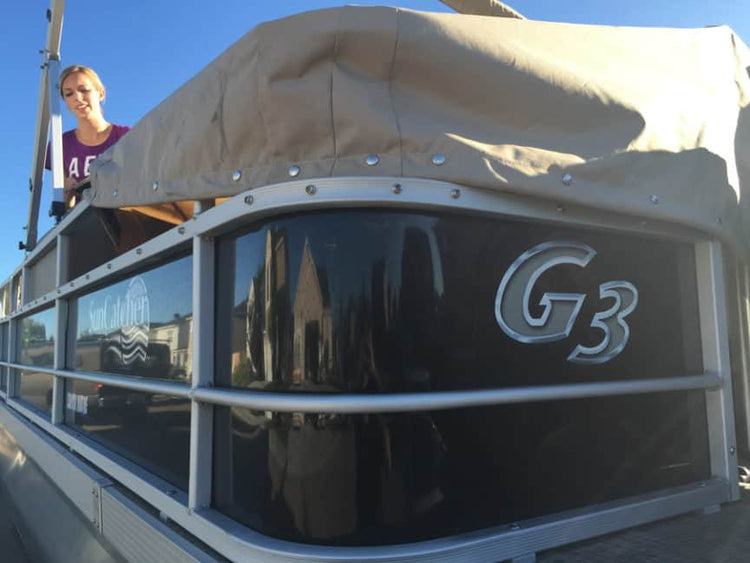 It makes me physically ill when I drive around town and see so many pontoon boats uncovered in storage. Boats are expensive, and leaving them uncovered means the furniture and other parts of the boat will wear out 10x faster. 
I do understand, though, why so many boats are left uncovered. It's a real pain in the neck to put the cover on. I find that I put the cover on much more frequently if it's easy to put on. You probably do too. 
Frankly, I prefer aftermarket covers to the custom-fitted cover that came with my boat. The snaps on the custom cover take forever to put on.
If you go to a canvas shop and get a custom snap-on canvas cover, that matches the one that came with your boat, it'll likely cost around $1,500. At least that's what I was quoted.  You can get one for far less on Amazon and they're faster to put on with ties (instead of snapping all around the boat and ratchet straps).
The other problem with the custom snap-on kind? The snaps don't fit the same in the winter as in the summer. During half of the year, I can't even get my snaps to align.
One Quick Tip for Buying a Pontoon Boat Cover
Don't be afraid to buy a cover that's a little bigger than you need. The pontoon boat covers I recommend below all fit standard pontoon boats in their universal size.
Don't worry if the cover says it fits up to a 24-foot boat and yours is a 19-foot to 21-foot boat. A longer pontoon boat cover means it often covers the top of the outboard and the front of the deck. More coverage is a plus, so don't worry about getting one that's a little too big.
4 Best Pontoon Boat Covers
1. Yescom Pontoon Boat Cover
The Yescom 600D Oxford Blue 21-24 ft the pontoon boat cover I bought for my boat and it's great! There are a lot of reasons why I chose this cover as my favorite. The material is really high quality (600d) and has a very water resistant PU coating, which makes the cover last a lot longer.
The stitching is doubled so it's a lot less likely to see seams coming up at the edges. Without a doubt, my favorite feature about this cover is that it has elastic all the way around and buckle straps to go over the top. That makes it a breeze to connect up around the boat and trailer straps!
I'd guess it takes half the time to put on this cover than the cover that came with my pontoon boat, which makes this a very good choice if you'll be storing your boat.
My only complaint with this system is that it could use a few more straps. I think it'd do fine in a windstorm, but I'm a belt and suspenders kinda guy.
The boat cover comes in a nice bag, but I never really use the bag. I just dump the cover in the garage while the boat is out and then put it on as soon as I return home with the boat. But it's nice to have. 
2. New Vortex Pontoon Boat Cover
The New Vortex Pontoon Boat Cover is another good option. It's made of similar 600D water-resistant fabric, but it seems like the stitching isn't quite as sturdy. Several reviewers of this cover have mentioned that the seams ripped in short order, but others seem happy with it.
The New Vortex cover also has elastic and straps like the Yescom cover, which makes it quite appealing, but it's also a lot more expensive.
My complaint about the New Vortex cover is that it doesn't come down nearly as far on the boat, so it offers less protection to the sides of the metal pontoon boat.
3. North East Harbor Pontoon Boat Cover
This one seems very similar to the New Vortex Cover. The fabric is again a 600-denier waterproof material with elastic around the edges and straps.
One nice feature of the North East Harbor is that it has several more straps to secure to the boat. The boat cover straps can go under the boat entirely or just under the pontoons.
However, durability again seems to plague this cover. Some people like it but many complain of ripped seams.
4. Pyle Armor Shield Pontoon Boat Cover
One of the nice things about the Pyle Cover is that it comes in a variety of sizes to fit your boat, but remember that I usually recommend getting one that says it fits a boat a little longer than your boat actually is. 
Putting the cover on seems to be a bit slower than with the other covers on this list, but I would say this cover gives the most "custom fit look" when on the boat since everything fits a bit more snug. 
Another benefit of this pontoon boat cover is that it has an extra flap at the back for the engine. The plague of this cover is complaints of ripped seams. 
Pontoon Boat Cover Support 
For a little extra help keeping your boat cover from drooping and collecting water, a boat cover support pole works wonders. The telescoping pole holds up the cover to prevent water and debris from accumulating.
It comes with a mushroom-style cap and a button snap rubber end to accommodate different styles of boat covers and works great with adjustable boat cover straps.
If you've ever pulled off the cover to a shower of water, you'll appreciate the usefulness of this handy little pole. I find it helpful to put one at the front, in the middle and at the back of the boat. 
Featured Boating Product
| | |
| --- | --- |
|     |  A Boat Cover Support Pole is the perfect "helping hand" to keep water, leaves and other debris from collecting in the boat cover. |
 Check Price on Amazon - Better boat's boat cover support pole extends from 23.5" to 56" for the perfect fit. It has a mushroom top, a sturdy base and a sturdy aluminum pole. Use with boat cover straps for a secure hold.
One Last Tip
Do not keep the cover on your boat while trailering. I've read many stories from other pontoon boat captains who kept the cover on and didn't notice a little corner flapping in the wind while they drove.
When they arrived, the cover was torn and the paint was worn off the boat in that spot from being slapped by the fabric at 60mph for a few hours.
Keep the cover off while driving. Keep the cover on when not in use.