6 Recommended Upgrades for Every New Pontoon Boat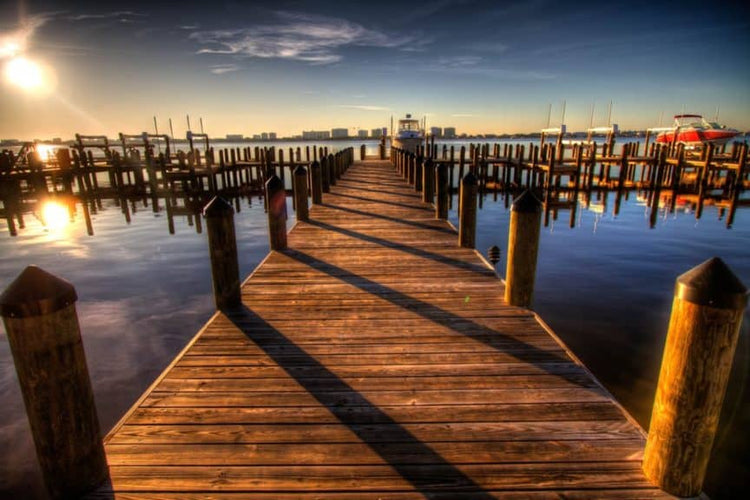 When ordering a new pontoon boat, you have tons of choices from seat colors and trailer style to audio, electronics and bimini. While it'd be nice to check every box and get all the upgrades, most budgets don't work that way.
In this post, I want to share a few upgrades that are worth the price, and a few that you can skip over to save some money.  
Don't Skimp: Dual Axle Painted Trailer With Brakes
It can be tempting to skimp out on the trailer when purchasing. Unfortunately, most pontoon boat manufacturers do NOT include the trailer in their suggested retail pricing.
I personally find that to be deceptive and unhelpful to buyers. Getting your trailer painted will not only help it to last longer without rusting, but it'll also increase the resale value dramatically.
If you're spending $25,000+ on a boat, you really shouldn't skimp out on $300 to paint the trailer. Getting a dual axle trailer and brakes are not optional because they are safety features.
When speeding down the highway around a curve, the last thing you need is for a tire to go out and cause the boat to shift off the trailer. Similarly, brakes will save your car a huge amount of wear and tear and prevent the trailer from jackknifing.
Most boats come with surge brakes only, which is probably enough for most, but some prefer to also get a full brake set.
Don't Skimp: VINYL!
Without a doubt, this upgrade is personal preference. There are undoubtedly pontoon boat owners who prefer carpet, but I believe there is a good argument for getting vinyl anyway.
The advantages of vinyl are looks, durability, easier to clean with Boat Soap and less likely to grow mold. Despite those significant advantages, some pontooners still choose carpet because it's cool and soft. I still believe that vinyl is the way to go even if you like the feel of carpet.
You can purchase a snap-on carpet for very little money. This carpet can go on the main walkway and still leave you with the quick-drying and clean vinyl in the rest of the boat.
That's not to say carpet is that hard to clean. A quick scrub with boat soap and an upholstery brush set is usually all that's needed. It's just that vinyl is incredibly low maintenance, and I for one like that. 
If you have not yet walked on the vinyl flooring options made in the last few years, you'll be surprised to find that they are now usually padded for softness and don't get very hot during the day - especially if you have people getting in and out of the water and dragging water across the deck. In my opinion, vinyl is the ONLY way to go!
Featured Boat Care Product
| | |
| --- | --- |
|      |  Vinyl Cleaner |
Check Price on Amazon - Better Boat's vinyl protectant deep cleans vinyl, rubber, leather and plastic. It removes tough grease and grime to to rejuvenate faded vinyl.
Don't Skimp: Motor
The number one regret I hear from new pontoon boat owners is that they wish they didn't skimp out on the motor. The motor likely represents 1/3 the total cost of the boat, and moving up as much as possible in the motor dramatically improves the versatility of your boat.
Moving from a 75hp engine to a 115hp makes a fishing boat a fishing/skiing/cruising boat. When you go to sell your boat, you'll find the increased price of the motor will hold value quite well.
Skip This One: Hydraulic Steering
Hydraulic steering is not necessary for pontoon boats, but it's somewhat safer and makes the drive more comfortable. You may be surprised how much skipping out on hydraulic steering can save. In my case, G3 offered to take $2,400 off the purchase price if I didn't order the hydraulic steering.
That's interesting because you can install hydraulic steering in your boat for around $600 yourself, or you can have a professional install it for around $1,000 parts and labor.
If your budget is tight, you could order without hydraulic steering and later add it in yourself if you find the need. Frankly, I wouldn't say hydraulic steering is a necessity; it's just nice.
Skip This One: Better Stereo With Bluetooth
I was shocked when I priced out marine stereo options for my new pontoon boat. Some manufacturers wanted between $200 and $500 for an upgraded stereo. This is kind of a silly upgrade, in my opinion.
If you simply order the standard included stereo, just hop on Amazon and order an inexpensive Bluetooth marine stereo for only $100 that already includes Bluetooth and other features. 
That'll save you between $100 and $400, and the install takes less than 20 minutes if you have a standard stereo hole in the boat.
Skip This One: Camping Cover / Pontoon Enclosure
A camping cover or pontoon enclosure is an AWESOME upgrade for a pontoon boat. With a full tent cover over your boat, you can bring in a heater (be sure it's safe for enclosed environments!) and boat all through the cold winter months while catching fish off the back deck and enjoying rainy days on the water.
I understand the appeal of the camping tent cover, but I often don't recommend choosing it when purchasing your boat. When I priced mine out, it cost $2,200 for a full camping cover from the manufacturer. A local bimini/canvas shop offered to make one for $1,700.
By ordering local, I can save the cost until later when I need it and when I'm ready for another expense. I can have it customized with the windows and features that I want.