10 Best 4-Person Towable Tubes Reviewed and Compared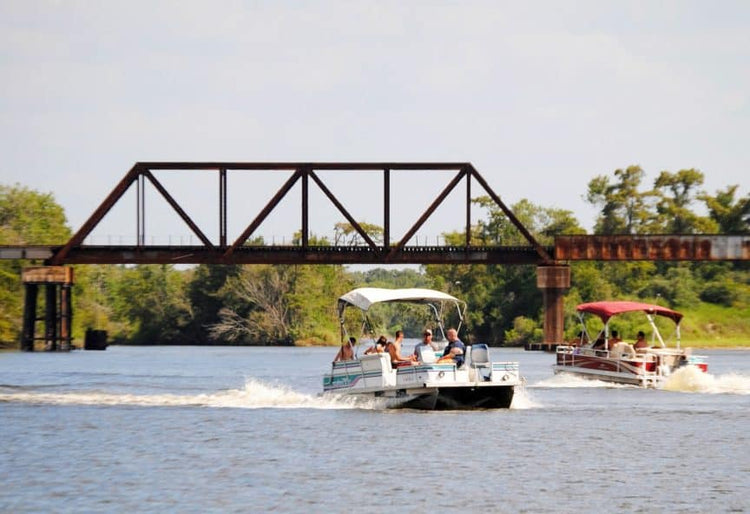 It's easy to find good one or two-person tubes, but when you have a full boat and want to entertain more riders, you'll need a much bigger tube.
In this post I want to show the very best towable tubes I've found, but first a few tips and tricks for choosing the right tube.
Unlike smaller tubes, if you cheap out too much on a larger tube, you'll almost certainly face durability problems with the tube not staying inflated for a full day on the water.
The more riders you put on a tube, the more dangerous it gets. Why? Because the biggest danger when tubing is that the heads of the riders will hit each other and cause head trauma. SLOW DOWN when you have multiple riders! Multiple rider tubes are perfectly safe, but not if you drive like a maniac - save that stuff for the one-person thrill rides.
You absolutely need a high-quality high-pressure inflator. The easiest way to ruin your new $450 towable tube is to under-inflate the tube. When you don't have enough air in the tube, the fabric drags in the water and will destroy the tube in a hurry. Get a very high pressure pump, and fill the tubes full. I recommend this inflator from Airhead.
10 Best 4-Person Towable Tubes
This is an awesome tube. It's totally unique from anything else you'll see around the lake. The design is genius and makes it, in my opinion, extremely safe compared to many other tubes on the market.
The real danger with four riders is that the riders heads collide. By separating the riders with two on the front and two on the back, it dramatically reduces that danger.
The reviews I hear from other pontoon boat owners are also very positive, and for the quality you get, it's a pretty reasonable price as well. I think what makes this tube so durable is the fabric.
Often I see tubes springing leaks at the seams where the inner tube is being pulled too tight in placees where it isn't reinforced by the fabric. This tube is made right.
For getting such a high-quality tube that will actually last, I think the price is pretty reasonable.
I'm a big fan of the Sportsstuff tubes in general (with a few exceptions), and the High Roller is an excellent addition to the lineup. I
personally consider this a pretty safe 4-person tube on the market because it is a cockpit style with nice separation between the riders. Another cool feature of this tube is that it rides very high in the water due to the hydrofoil-style shape.
This means it drags less in the water, which increases speed, helps it to get outside the wake and makes the tube more durable.
The tube is made with very high quality materials, like EVA (sorta like neoprene) pads for the knees and hands so you don't get rubbed raw while riding all day.
It also has a quality quick-connect on the front for convenient clipping and unclipping lines.
If you're looking for something inexpensive and simple that will easily handle four riders, then you probably want the Airhead Mega Slice.
I'm really surprised by just HOW BIG this tube really is. In the pictures it looks like a standard tube, but it's really quite large and easily holds four.
The durability of the Airhead tubes can sometimes be hit or miss, but I've never had trouble with them. Most of the reviewers online have for the most part had good luck as well.
It's not as good of quality as the two previously mentioned tubes, but it's also half the cost. I wouldn't hesitate to buy an Airhead Mega Slice.
It's probably the best tube out there if you're getting your first large tube. It's easy to inflate, holds a basic shape and is a safe choice.
The WOW UTO Starship is a good tube for boaters who have seen and used it all and are looking for something different and unique. You won't see a whole lot of these at the lake!
The tube is really fun because it allows multiple riders and gives a major challenge to older riders who want to try and ride the tube standing.
I do have some concerns with the design of this tube putting the heads of riders pretty close together, which could cause them to knock together.
The problem with this tube is really the price. It's a pretty steep price for a tube, and you really aren't getting any better of a build quality than some of the other tubes on this list. 
For those times when you really want to empty out the boat and get everyone on the tube, the Airhead Mega Rock Star comes to the rescue. It can handle up to SIX riders!
The design for this tube is very smart, which allows the tube to be very stable while still maintaining some degree of aerodynamics that makes it easy to pull.
Also, the sides bend up so that the tube can lean into turns well.
The Airhead Hot Dog is a very popular (and fun to watch) tube because it's inexpensive, has very little drag in the water (enabling it to go faster even with a slower boat) and kids like the design.
I own an Airhead hot dog and the little kids really do like it, but I've found that it doesn't hold air as well as some of the premium tubes mentioned above.
I usually find that I have to bring it back into the boat every 1.5 hours to refill it with air. It's a decent tube, but I personally think it's worth biting the bullet for a really high quality tube like the Sportsstuff Bandwagon 2+2, which is my favorite tube for four or more riders. You can read my full review of the Airhead Hotdog tube here.
The No Fear DropZone is made in the popular "wing" style. The wing-shaped tube really makes a lot of sense for a tube because it's more stable than a circle tube and more aerodynamic.
However, the common problem that I see on these wing-style tubes is that they are prone to having the front of the tube dive down in the water if a rider leans too far forward. This causes the tube to sink and the riders to pop off. So this one isn't my favorite design, but it's an inexpensive and decent choice.
Featured Boat Care Product
| | |
| --- | --- |
|    |  Boat Soap keeps your boat, RV and watersports gear clean and shiny. It's 100% biodegradable and won't harm the marine environment.  |
Check Price on Amazon - Better Boat's boat soap washes away dirt, grime and stains from boats, decks, hulls, fishing gear and towable tubes. Simply suds up and rinse away with a hose and nozzle. For tougher stains, use a scrub brush or a microfiber cloth.
Airhead Tremor
This tube is a moderately-priced tube that simply adds a side wall to the classic circle design. It's a nice improvement because it gives a little more variety to the normal lying-down position, but it doesn't really excite me. It's frankly kind of a boring tube. 
Great Big Mable Towable Tube
The Great Big Mable is exactly what the name says it is. It's a very large tube, and has become quite popular. I frequently see these flying around my local lake here in Caldwell, Idaho.
Unfortunately, the quality control on this tube is not great. Evidence of that fact is that 30% of the reviews of this tube on Amazon are only 1-star at the time of writing.
The problem that users are having is that they spring leaks very easily, especially at the seams. So, unless you're excited about spending hundreds of dollars on a tube with a poor track record of durability... I'd skip it.