Can You Ski Behind a Pontoon Boat? (The Definitive Answer)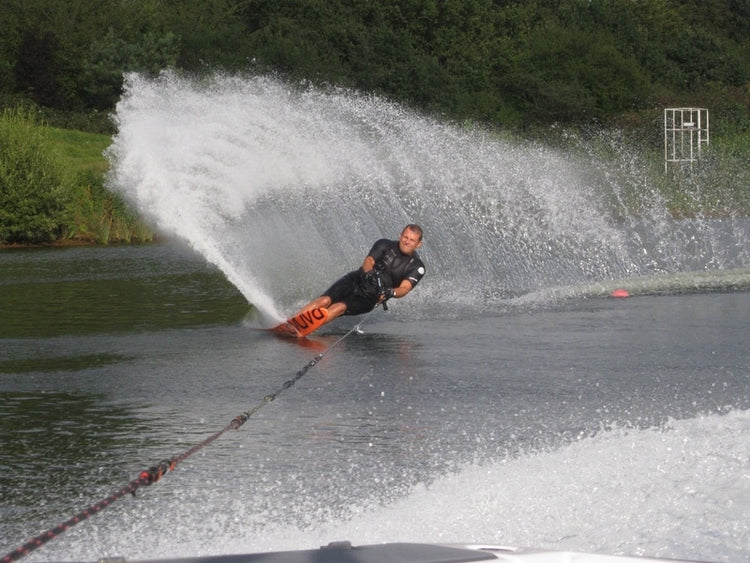 Can you waterski behind a pontoon boat? Absolutely! I do it a few times a week!
Can you ski behind every pontoon boat? No, definitely not.
Your Boat Engine's Horsepower
The biggest question when choosing a pontoon boat that you want to ski or tow a tube behind is the horsepower of the engine.
The following are three very very hasty generalizations about what horsepower engine you'll need on a pontoon boat for skiing. Each boat performs very differently, so do not take these as the gospel truth, but it should provide a good general idea for newbies.
Some factors that would dramatically change this equation are things like a tritoon that usually goes a bit faster, boats over 22' or an unusually heavy boat with a top deck. You get the idea.
If your boat has a 70hp engine, you'll probably be able to do very basic skiing and towing on tubes. If you really do some work and install something like a Water Glide, you'll probably be able to water ski just fine as long as the load is light or medium.
If your pontoon boat has a 90hp engine, you'll be able to water ski just fine. If the boat is loaded with more than 5 or 6 people, you'll feel the sluggishness and you'll be at the lower speeds necessary for skiing.
If your pontoon boat has a 115hp engine, you'll likely be able to tow tubes or ski even with a full boat. It won't be as much of fun as with only 4 or 5 people, but you'll be fine.
Okay, so we've established that you absolutely positively can ski behind most pontoon boats as long as you have a reasonable amount of horsepower driving the boat.
How Fast Do You Need to Go?
The question remains... how fast do you really need to go to successfully ski behind a pontoon boat?
Waterskiing with two skis: 21 to 26 mph is pretty normal (34 to 42 kilometers) - For kid waterskiers, it could be even slower.
Tubing: 16 to 25 miles per hour (26 to 42 kilometers per hour) - With a 115hp engine on my 22' pontoon boat, I can easily make most adults fly off the tube within 60 seconds. It's tougher than a fast traditional V-hull ski boat, but believe me you'll get a crazy enough ride to entertain just about anyone on a tube.
Wakeboarding, slalom, and kneeboarding: 16 to 26mph (26 to 41 kph) - Most wakeboarders prefer slightly slower speeds.
So if you take those numbers above and look at my notes, you'll see that most pontoon boats can easily achieve the speeds necessary for skiing or towing a tube.
Featured Boat Care Product
 Check Price on Amazon - Better Boat's marine leather conditioner cleans, conditions and protects all in one step. It helps revive colors while offering UV protection against fading, cracking and aging. Your seats will thank you. 
Limitations to Water Skiing with a Pontoon Boat
There are two major limitations to using a pontoon boat for water sports like skiing and wakeboarding:
The wake has less shape.
The boat is not as maneuverable. Serious wakeboarders and water sports enthusiasts don't like the shape of the wake behind a pontoon boat.
Where a traditional V-hull boat has a more humped shape, a pontoon boat makes a wake from the prop and two small wakes for the metal pontoons. This makes for an unusually wide wake with less of a hump in the center. That makes it tough to catch any air behind a pontoon boat no matter your speed. You'll get a little jump but not as much.
Next up is the maneuverability of the boat. Pontoon boats have a wide turning radius. Usually, it's just about right for water sports, but some people really like to whip the boat around wildly. For those people, a pontoon boat isn't a good choice.
When it comes right down to it, choose a traditional ski boat if all you want to do is water sports like tubing and skiing.
But, if you want to do water sports AND fishing AND cruising AND have a ton of people on comfy vinyl sofas ... it's impossible to beat the versatility of a pontoon boat.