Indulge the Need for Speed: Yes, Fast Pontoon Boats Exist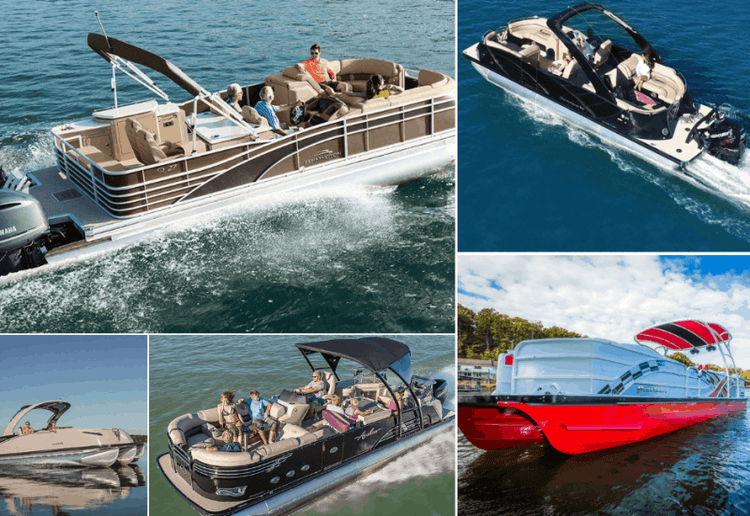 Pontoon boats are excellent at many activities and offer a wide variety of advantages. They carry lots of passengers and accessories and make a stable platform for anchoring out, fishing, swimming and relaxing. 
They offer tons of seating space, and some even have kitchens and bar areas for entertaining. And if they don't, you can add accessories like bar caddies and rod holder cutting boards to make it all yours.
The one feature pontoon boats are historically not famous for, however? Speed.
In fact, it's one main reason I no longer own a pontoon. My teen decided she wanted to go fast. Full disclosure: This pontoon boat pulled tubes, just apparently not fast enough to please the teenager crowd.
Well, don't let memories of your grandfather's pontoon boat, or my teen's need for speed, sway you from a pontoon's comforts and conveniences.
In recent years, the pontoon boat has stepped up to compete with its faster counterparts. I've been pleasantly surprised by swift-moving pontoon boats numerous times while out on the lake. Now, you can even use pontoon boats in the ocean. Yes, really. 
Featured Boat Care Product
| | |
| --- | --- |
|     |  Marine Polish |
Check Price on Amazon - Better Boat's marine polish restores and leaves a long-lasting shine on metal surfaces. It repels water on boats, cars and RVs and resists UV rays, saltwater, rust and algae. 
Characteristics of Fast Pontoon Boats
Single or twin engines: While twin engines will definitely up the speed factor, many fast pontoon boats can get up to high speeds with a single engine.
Lifting strakes: These long fin-shaped metal pieces are welded onto your pontoon tubes' sides. As the name says, they provide lift to make the boat glide over the water rather than being bogged down by it. Some pontoon boats come with them already installed. If yours doesn't, you can have aftermarket lifting strakes installed on your boat. Diehard DIY enthusiasts may want to tackle this on their own. Personally, I prefer the skill and experience (not to mention patience) of a professional.
Center pontoon: Technically making it a tritoon, center 'toons create added speed.
Aluminum windshields: In addition to being strong, the lightweight aspect of aluminum boat windshields makes it a great choice for added speed.
Ski tow bars: The mere presence indicates speed, right?
Models of Fast Pontoon Boats
Wondering exactly where to begin your search for fast pontoon boats? Here are a few makes and models. At speeds of over 50 mph, they more than qualify as a fast pontoon boat.
The Avalon Ambassador Entertainer is the luxury sedan of the pontoon boat world. Sleek and shiny, it features solid aluminum walls, chrome logos, teak-inspired decks and a sporty black Bimini top. I'm partial to the on-deck, below-deck and tabletop LED lighting.
True to its name, the Entertainer has a bar, plush seating, high-tech electronics and a state-of-the-art stereo system. Captain comforts include Seastar hydraulic tilt steering, a raised helm and a Garmin GPS.
Skiers, swimmers and wakeboarders will appreciate the ski tow bar, rear telescoping ladder and extended rear swim deck.
Three Waveglider pontoons with high-performance lifting fins help send this pontoon boat to 40+ mph speeds.
Top Speed: 40+ mph
Seats/Weight: 16/2,230
Length: 29.3
The words sleek and sporty are not often used when describing a pontoon boat. A sport fishing boat? Sure. A speedboat? Definitely. But rarely a pontoon boat. Unless, that is, we're talking about the Bennington Q27.
Plush seating, a 10-foot beam and a spacious layout make it as comfortable as it is fast. It has twin Yamaha F250 outboards and can reach 50 mph. The Elliptical Sport Package has power-assisted hydraulic steering and twin cranking batteries.
Lifting strakes on the pontoons provide stability in rough water as well as smooth turning for towing skiers, wakeboarders and tubers. A raised helm is nice for extra visibility while towing.
One super fun feature is color-changing LED lighting around and underneath the boat. The vinyl seagrass floor makes for an easy-to-clean surface with boat soap and a garden hose and nozzle. Since it's textured, the floor surface offers less chance for slippage.
I know, floors aren't exactly the most interesting boat feature, but I found the vinyl seagrass intriguing.
Top Speed: 50mph
Seats: 18
Length: 28.3 feet
Any boat with a sport arch has to be fast, right? The Berkshire Sport RFX9 3.0+ does more than just cruise the waterways with its high hp engine and entertainment features.
It has a 300hp single-engine Mercury Verado to reach 50 mph speeds. Four stepped lifting strakes combine with two outside spray rails and three 25-inch diameter tubes to provide lift, performance and control.
I'm especially fond of the Bimini top, which is mounted to the sport arch. If you're into watersports, you'll appreciate the extended stern deck, boarding ladder and Sport Ski Tow.
The arch has a combo light/tow pylon, and the raised helm has excellent visibility for towing. The jamming audio system has interior, exterior aft and aft facing Kicker speakers.
Top Speed: 50mph
Seats/Weight: 14/2,025 lbs.
Length: 25.7 feet
This is what James Bond would own if he ever ditches his Aston Martin. Seen from the side, it's hard to even tell it's a pontoon boat. 
Topping at 60+ mph, it's sure to satisfy any adrenaline junkie's need for speed (whether they're Secret Service or not).
With a sporty arch, swooping lines and a 400 hp engine, it pulls any tube or wakeboard you toss behind it. There's a center tube to provide higher horsepower capacity and a large swim platform for easy water access.
Teak tabletops, lighted cup holders, flip up cleats and under deck LED lighting are just a few amenities offered on this fast pontoon boat. Luxury features include tilt steering, plush upholstery, a bar and a wine cellar.
Very Bond-like, I must say. Now, where's my boat's invisibility cloak and jetpack?
Top Speed: 60+ mph
Seats: 13
Length: 27.2 feet
Speed, performance and a smooth ride with its twin 400hp Mercury Racing outboards. It has an X-Treme Surface Piercing Nose on each of the three pontoons. I don't know about you, but surface piercing sounds pretty dang fast to me.
It has unique U-shaped pontoons that provide lift and enhanced control. There are plenty of couches and bucket helm chairs for the whole crew to enjoy a day on the water.
Handy steps are built right into the tubes for easy entry after swimming, tubing or skiing. This feature alone makes the PlayCraft worth its weight in gold in my opinion.
Top Speed: 60 mph
Seats/Weight: 15/3,000 lbs.
Length: 27.5 feet
How to Increase Speed on Your Pontoon Boat
If you like adding some adrenaline to your pontoon outings, but don't relish the new boat price tag just yet, here are a few tips to increase the speed factor.
Purchase a higher horsepower engine.
Install lifting strakes. These fin-shaped metal pieces go on the boat's sides and bottom to create lift and allow the boat to glide over the surface.
Install a hydrofoil. Essentially a third pontoon tube placed in the middle, the Pontoon Water Glide is a great choice. It provides lift and flotation by reducing the amount of boat body in the water. The more boat treading water, the more drag. 
Whether you wanna ski, tube or just crank up your pontoon's pep, I hope this helps you in your quest for a fast pontoon boat. See you on the water!
---