5 Pontoon Anchor Winches That Make Anchoring a Cinch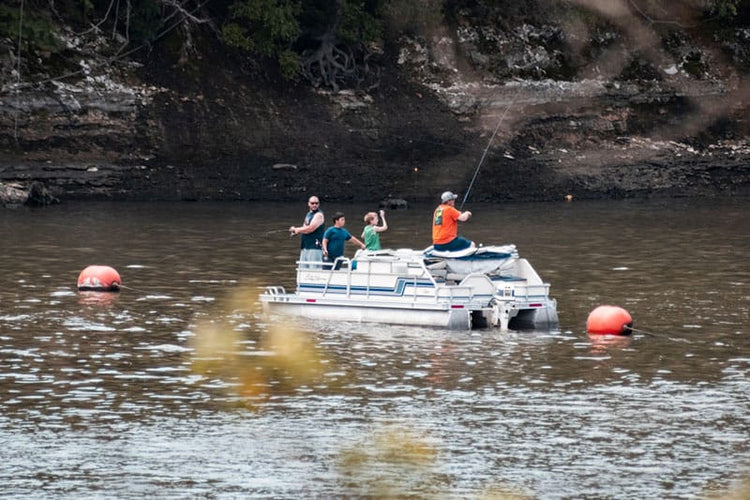 Tired of placing your boat anchor and anchor chains beneath your pontoon seats? Looking to make anchoring easier than ever? 
Pontoon anchor winches and windlasses aren't only great pontoon accessories. They're very useful for both beginner boaters and anglers waiting for a bite in drifting waters.
When your anchor isn't beneath the waves securing your boat, it'll be sitting safely in a davit off your pontoon decking. There are many anchor styles and particular anchors made to suit pontoons.
Whether you have a Fortress fluke anchor, a grapnel anchor, a box anchor or a mushroom anchor, you'll need to find a winch that's right for you and your vessel.
Featured Boating Product
Check Price on Amazon - Better boat's anchor buoy makes seeing and raising your anchor a breeze. It's made of durable marine-grade vinyl and can lift up to a 20 lb. anchor.  
The Benefits of Pontoon Anchor Winches
The main reason to have an anchor winch on your pontoon is convenience.
Anchor winches are great for those of us who have back injuries or knee injuries, as well as those who don't want to sustain one by yanking an anchor line around and those who can't lift heavy pontoon boat anchors manually.
They're also smart additions if you're boating by yourself without a buddy to spot you. Just release the anchor straight from the helm while you're still sitting in your captain's chair.
What I like best about pontoon anchor winches is that you don't have to clean the weeds and grass off before hoisting the anchor on deck and storing it beneath a bench.
Since the anchor now has its own space, you don't have to dunk it over and over to release the caked-on mud before carrying it over passengers on deck. It can also be easily released in the deeper end when you go to beach your pontoon.
It keeps your deck clean and your storage space open to other must-have items like boat fenders, lifejackets and buoys. Sounds nice, doesn't it?
Installing an Anchor Winch on Your Pontoon
1. Choose the Best Location on Your Boat
The most ideal mounting location for your pontoon winch, like most boats, is the fore or aft. Some would argue it should be the closest point to your battery so that you don't have to run a long wire. But I disagree. Just put in the extra effort and run the darn wire!
2. Add Additional Ledges as Needed
If you have a pontoon that lacks a wider foredeck platform, you might need to install an additional ledge for your anchor winch.
The anchor ledge is preferred by pontooners because it doesn't require drilling holes into your pontoon decking. This particular ledge system is also powder-coated and durable against corrosion and salination issues you need to be aware of when boating in salt water.
Anchor Accessory Mount (Available on Amazon) - If you love boat barbecues and entertaining on the water, this mount doubles to hold grills. It's made of powder-coated aluminum, making it a nice lightweight addition to your bow. This anchor also comes with a two-year replacement warranty.
If you're looking to purchase a pontoon winch, here are five popular pontoon winches that are available on the market. Below each model, it lists whether it's electric or manual, its maximum anchor weight capacity and the length of line the reel can hold. 
Keep in mind, most of these pontoon winches can be used as deck boat winches as well. Also, manufacturing hardware, ropes, lines and the boat anchors themselves aren't always included in your purchase.
Most pontoon winches can take an average anchor weight of anywhere between 12 to 35 lb. It's important to understand what types of anchors are good for your boat, but the most common anchor type used for a pontoon is the mushroom anchor.
Some winches have internal clutches to prevent free spooling.
Free spooling basically happens when your line loses traction within the winch, resulting in it running out and ultimately and sadly losing your anchor right along with it.
While most winches are electric, you can still find manual winches for those of us too paranoid of breaking gears or motors and having to find replacement parts. Sometimes simple is better, right? Now, bring on the winches.
1. Trac Outdoor Fisherman 25 Electric Anchor Winch
Check Price on Amazon This anchor winch has an anti-reverse internal clutch to prevent free-spooling. If you boat in the great blue, it comes in two different finishes for both fresh water (this model) and saltwater (the TRAC T10101 is typically hard to locate or unavailable).
If you can find it, the saltwater finish includes corrosion protection, UV inhibitors and stainless steel hardware and gears.
Winch Type: Electric
Maximum Anchor Capacity: 20 - 25 lb
Line Capacity: 100 foot of .20 inch pre-wound braid rope, 17-foot safety chain (both included)
Davit: Yes
Warranty: Yes (contact manufacturer), but voided if used in salt water
2. Powerwinch Pontoon Anchor Winch
Check Price on Amazon This anchor winch comes ready to install with 30 feet each of 10-gauge red and black wires. The finish is also built for saltwater and is UV-resistant with a powder-coated steel frame. It comes with a two-year warranty in case there's any trouble.
Winch Type: Electric, 12-volt operating power with 15 amp circuit breaker
Maximum Anchor Capacity: 32 lb
Line Capacity: 100 feet, 3/16 inch (included)
Davit: Yes
Warranty: 2 years limited
3. Trac Outdoor Products Auto-deploy Electric Pontoon Winch
Check Price on Amazon - The wireless remote features three push-buttons: Up, Down and Auto-deploy.
The auto-deploy button feature releases just enough line needed to secure the pontoon's anchorage. Anglers love this aspect because it allows a controlled drift, which means the winch releases slack if the rope becomes tighter.
It also comes with 16 feet of 14-gauge marine-grade wire to run to your battery. Unfortunately, this might not be enough for some larger pontoons if you plan to install in the boat's fore bow, so you may need to order longer connections.
Winch Type: Electric, wireless remote (included)
Maximum Anchor Capacity: 30 - 35 lb (20 - 30 lb recommended)
Line Capacity: 100 feet of 0.20-inch pre-wound braided anchor rope (includes anchor safety chain)
Davit: Yes
Warranty: 2 years
4. Minn Kota Pontoon Deckhand 40 Electric Winch
Check Price on Amazon This Deckhand Electric winch works with the touch of a remote-switch button. You simply raise or lower your anchor. It also has a system in place that can react when your anchor begins dragging, which allows only a certain amount of drifting.
The davit mounts horizontally so the boat anchor won't wing and damage your pontoon.
Winch Type: Electric, 12-volt battery
Maximum Anchor Capacity: 20 - 40 lb
Line Capacity: 100 ft (included)
Davit: Yes (horizontal)
Warranty: 2 years
5. AnchorMate Worth Anchor Reel
Check Price on Amazon - Unlike some anchor winches, this manual reel can be stopped anywhere on the line. With electric anchors, the mechanism might not land exactly where you want it or even become a bit fussy.
The handle stays in place and doesn't whip you if your sweaty or wet hands slip on a hot day. Its installation is fairly easy and good for beginner pontooners. Just mount it on the bow so the anchor can dangle over the edge without dinging the 'toons.
Unfortunately, this anchor does not include rope line or installation hardware. If you're a handy person or particular about the quality of your ropes and gears, this could be just the pontoon winch for you.
Winch Type: Manual spooling reel
Maximum Anchor Capacity: 12 lb
Line Capacity: 100 ft of 3/16" nylon braided rope (not included)
Davit: No
Warranty: N/A
Safety Measures
Of course, when it comes to heavy objects like anchors, safety should be a number one concern. There are some anchors like the Fortress flukes with hinged shanks and moving parts that can pinch fingers (if you don't handle it carefully). Trust me, you don't want to drop a boat anchor on your toe!
But that's the small stuff. More serious injuries and even deaths can occur. Getting limbs like hands and feet or even wrists and ankles wrapped in the anchor line can turn into a life-threatening situation. It can even pull a boater beneath the waves. 
While you should always be extra cautious when setting anchor, pontoon winches keep those anchors hanging over water where they belong. This also makes pontoon anchor winches an excellent piece of safety equipment.