4 Convenient Pontoon Boat Bathrooms for When You Gotta Go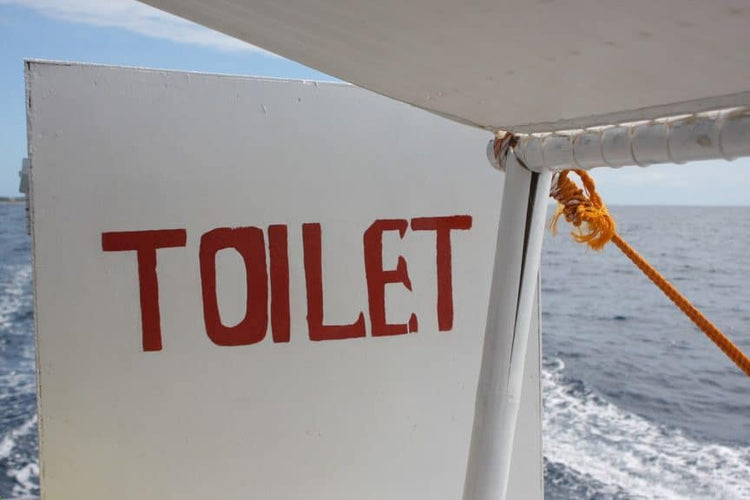 A boat bathroom is like boat insurance: You never need it until you need it.
When nature calls, many of us just decide to hop in the water (sometimes frowned upon). But then this begs the number two question (absolutely, positively frowned upon).  
So the need is obvious, but we still go on boat rides expecting that we can just hold it or wait until we're in the comfort of our homes or local marina later.
Not everyone has one, but there's a real case for keeping a portable toilet on your pontoon. There are many reasons you might want to consider a portable toilet. Here are a few that I find most important.
Why Your Pontoon Boat Should Have a Bathroom
Young Kids
It never fails. You're in the middle of a lake and the kids start squirming. You know what's up.
If you entertain young children, you know that their bathroom breaks can be a bit unpredictable. Of course, you always warn them to relieve themselves at the house or marina before you leave, but between staying hydrated and maybe enjoying one soda too many, it's inevitable that surprises happen. Also, have your kids ever actually used the facilities when you told them to do so? Congrats if they have!
Of course, this applies to big kids and adults too. Even adults know a thing or two about keeping hydrated while out in the sun and on the water. We adults may just be drinking different types of liquids.
Large Bodies of Water
On larger bodies of water and lakes, you might travel for miles and not have land anywhere in sight. In cases like this, having a portable toilet on board might be a necessity.
If you do a lot of camping on your boat, even with dry land nearby, you may not be too keen on the trowel and squat method.
A portable toilet can also come in handy when you don't want to walk into the woods in the middle of the night with only a flashlight.
Medical Issues
You might have a family member who needs the convenience of a nearby restroom at all times. It would be a real shame if they couldn't come out for a joyride for fear of needing to go and having to hold it until you return home.
I'm not only talking about people with severe medical issues, disabled persons or wheelchair users. This could extend to elderly family members and guests or even expectant mothers. Don't let pride keep grandpa from going fishing with his grandkids.
How to Set Up a Convenient Pontoon Boat Bathroom
Surprisingly, there are a lot of portable toilets from which to choose. Thanks to the variety of recreational activities and means of travel we enjoy these days - such as RVing and road trips, camping and boating - there's a throne type for everyone!
Then, there's the option of composting toilets as well. After a good hunt, here's a list of porta-potties I think are better for boating.
Choose from 4 Quality Portable Toilets
1. Camco
Check Price on Amazon Holding Tank: 2.5 gallons fresh water, 5.3 gallons waste water
Overall Size: 16.38"H x 13.75"W x 16.13"D
Weight: 11.5 lbs (with empty tanks)
Flush Method: This portable toilet is standard-sized, which means that it's the same size as a standard residential toilet with a bellow-type flush.
The tank's top half has a removable cap to fill the flush tank with fresh water. The bellow pump flushes the water into the tank for the waste removal.
Cleaning Method: Side latches secure the bottom waste tank to the above freshwater tank. On the back of the waste tank, the cap can be removed for emptying.
Extras: One nice additional feature of this toilet is the slide valve that locks in odors and protects against leakage.
It comes with a limited one-year warranty on parts and a 30-day warranty on labor.
Camco TST Orange Drop-In samples are included with your purchase, but you use can use the link provided below under Chemical Cleaners for replacements.
2. PartySaving Portable Toilet
Check Price on Amazon Holding Tank: 2.6 gallons or 5.3 gallons fresh water
Overall Size: 14"H x 16"W Weight: N/A, but guessing around 9 lbs
Flush Method: A flush pump lever and flush spout work together by adding fresh water from the reservoir into the bowl while releasing the waste.
Cleaning Method: This Party Saving toilet has a leak-free design that makes removing waste fairly simple and clean. A removable screw cap provides a secure seal, containing liquids and solids until disposal. The holding tank is detachable.
Extras: It's made with high-density polyethylene so it should be very durable. There's a waste lever to seal off anything in the holding tank.
The trade-off is that it's not a full-sized toilet seat, so it will feel smaller than the toilet at home.
3. Palm Springs Portable Toilet
Check Price on Amazon Holding Tank: 3 gallons fresh water, 5 gallons waste water Overall Size: 16.5"H x 13.5"W x 12"D
Weight: 9.75 lbs (with empty tanks)
Flush Method: This portable toilet is full-sized, just like a standard toilet. It even works just like residential toilets at home, so it's much easier for kids to use.
You simply put fresh water in the top unit, push the pump to dispense some water into the bowl, do your business and pull the lever handle that opens the valve to flush into the lower unit. It arrives at your house fully assembled and ready for business (pun intended).
Cleaning Method: Remove the fresh water top half of the unit and transfer the bottom half to a dump station.
Extras: It has a built-in handle for transporting back and forth from the boat. It's made of high-density polyethylene with a matte finish to prevent and conceal scratches. The one-piece design proves to be leak-proof. Heavy-duty side latches lock the tanks together.
4. Thetford Portable Toilet
Check Price on Amazon Holding Tank: 4 gallons fresh water, 5.5 gallons waste water Overall Size: 17…"H x 15¼"W x 17¾"D
Weight: 10 lbs (with empty tanks) 
Flush Method: This toilet has an average of 56 flushes, which is golden for longer trips. There seems to be a bit of a two-step process to flush. First, you pull out the handle. Second, you pump a bellow. Following this order or teaching younger ones to remember (especially if used once in a blue moon) may take some time.
Cleaning Method: It has an easy pivoting pour-out spout for emptying. You simply take the cap off like standard models and hose or pour fresh water through the valve.
Extras: Although Thetford makes several standard models, this is the sleekest portable potty I've seen yet. It has the normal comfortable seat height we're used to at home and a larger bowl size than most portables.
It's a bit more techy with its hidden battery-powered flush controls and a holding tank level indicator for both fresh water and waste tanks. It even has a hidden toilet paper holder (which could be an ingenious idea for keeping paper dry on a boat if you think about it).
Keep Your Pontoon Clean with Boat Bathroom Accessories
Compostable Toilet Paper
Compostable toilet paper and biodegradable toilet paper are safe to use and won't clog up your tank when you need to empty it.
    
 

Toilet Paper
Better Boat's Boat and RV toilet paper is thick, soft and dissolves quickly. It breaks down faster than standard tissue and is 100% biodegradable. 
Since you're on a boat, no one wants to wipe with a damp tissue. I recommend a simple DIY storage container (like a clean and dry coffee can) to keep it dry.
Cleaners
The Camco portable toilet comes with TST Drop-In treatments. I think these would work just fine for all the toilets above. With a citrus smell, they'll do a great job disguising any odors. They're perfectly safe for the environment, so you know you're not harming your beautiful lakes or oceans.
For the necessary chore of cleaning the actual potty, Better Boat cleaning wipes do the trick for a clean finish. They also help to prevent cracking. This multi-task product is safe for plastic, vinyl, upholstery and more. Give it a quick wipe and you're done. You can't beat that fresh lemon scent! 
Deodorizers
It may help to carry along a small deodorizer like the Poo-Pourri Toilet Spray. So that it doesn't take up much room, carry a smaller liquid (not air-compressed) bottle for spritzing, which can be refilled when it gets lower.
Enzymatic Toilet Tank Digest
   
 

Toilet Tank Digest
Check Price on Amazon - Better Boat's enzymatic toilet tank digest is formulated with natural enzymes and probiotics to break down and liquify organic waste. It eliminates foul odors and allows for easy drainage. It's non-toxic, formaldehyde-free, biodegradable and won't corrode the tank.
Privacy Partitions
Last, but not least, you'll need a privacy partition! For pontoons, take a look at our blog post on this topic for a few reviews (click here to read). It gives several recommendations for drop-down partitions you can attach to biminis, as well as standing pop-up tents for motorboats or bimini-less boats.
Keeping a portable toilet on board our boats isn't something we like to think about, but when you gotta go, you gotta go. As you can see from the toilets reviewed, none of them require getting dirty or hands-deep in soiled tanks.
It isn't intimidating and quite frankly could probably prevent larger disasters (especially with children). My niece is still learning. Should she visit, having a portable potty would be a priority!