Get Closure: 7 Favorite Enclosures for Pontoons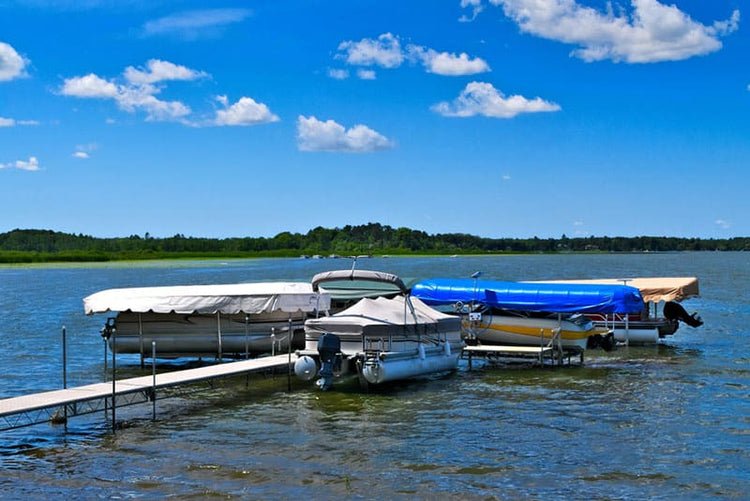 Want to have it made in the shade? An enclosure might be just want you're looking for in a pontoon boat accessory.  
An enclosure is an excellent upgrade for your pontoon. From adding a dry space for fishing off the stern to adding an entertaining porch area for guests, enclosures have a number of uses and convenience factors.
You can even bring in a heater and keep warm during winter months or have complete privacy for pontoon camping during the summer. To assist in the decision-making process, I've put together a brief buyer's guide based on my personal experience.
For those of you still on the fence about whether or not you really need this, I'll give you a few reasons why you should consider the purchase of an enclosure.
The Benefits of Pontoon Enclosures
Sun Protection
Enclosures can protect from the sun's harsh rays, which cause skin sensitivities, sun allergies and even cancer. For those traveling with babies and young children, enclosures should be required!
Aside from providing some shade for people, enclosures also shade your upholstery from damaging UV rays and prevent the vinyl from drying out. This provides a longer life span and less elbow grease with the cleaning and polishing products.
Wind Protection
Strong winds (and of course rain) make for rough waters, making it difficult to enjoy being on the water. Then there's the fact that salwater spray can harm vinyl upholstery. Investing in an enclosure can help with this situation.
Floating Campsite
I'm not suggesting to become a full liveaboard, but if you haven't taken a pontoon camping trip yet, you're missing out! Not only does it make for an inexpensive family vacation or weekend trip, but even if you just tie up to your own dock, you'll love waking up in the crisp fresh air in the morning.
Longer Seasons
With enclosures, you can enjoy a much longer boating season. Instead of dreading the end of summer knowing you have to winterize your 'toon and store it away, you might still have a few months left before really needing to pack it in.
7 Favorite Enclosures for Pontoons
1. Bimini Top
Best Choice carries a well-made top that's very easy to assemble and install. The canvas is a heavy denier and the frames are made of round double-walled aluminum.
The great thing about this Bimini top is that it's not factory-made or boat-specific. It can pretty much fit any size pontoon. On the flip-side, this also means it's not as sturdy. I wouldn't drive more than 25 mph with this set-up.
2. Rain Shield
If you need just a bit more protection than a Bimini due to rainy climates and unexpected thunderstorms, a rain shield is an inexpensive option.
Polyester webbing straps hold it securely in place. The marine-grade plastic window allows you to steer without squinting while protecting your face from stinging hard rain at full throttle. But if you're leaning towards a rain shield, keep in mind that it will attach to either an existing hard top or Bimini.
3. PlayPen Shade
The fabric on this playpen shade is a lightweight, acrylic-coated polyester that's resistant to both mildew and UV light. It's made to fit anywhere from a 22-foot to a 24-foot pontoon with up to a 102-inch beam.
It secures to a Bimini or hard top as well as the railing with adjustable quick-release buckle straps. This makes it easy to pop up in the open water. If you have kids or pets (or both), it makes a nice area to get out of the sun.
One downside to this playpen shade is that it does obstruct the captain's view and should only be popped up while at anchor. Never while driving! 
4. Gazebo Shade Top
I like this shade top because it hovers above the front bow of the pontoon like a gazebo. This means that, unlike the playpen, you can enjoy the view of the water while still staying under shade.
I wouldn't recommend using these types of shades while underway or in strong winds. They're really only meant for sun protection while anchored out.
You may notice that this top has mixed reviews everywhere, but if you pay attention to the negatives, most seem to be due to issues like the rods breaking while in motion (which we've just told you not to do anyway). 
5. Half Enclosures
A half enclosure is essentially a Bimini top but with added privacy curtains on the sides, stern and bow. Unlike a full enclosure, these can be stored away like a standard Bimini.
This type of enclosure allows the boat's bow to still be accessible for fishing while giving you a place to stay dry or camp out on longer trips. Once you start getting into enclosures of this size, you'll find it hard to purchase a one-size-fits-all product.
This is where we get into the territory of more costly, custom-made products with all the bells and whistles like windows and screens.
| | |
| --- | --- |
| | Canvas Craft manufactures custom-fitted pontoon covers made out of hand-stitched marine-grade fabric. You can also tell they put a lot of engineering thought into their designs, which include adjustable poles for water drainage, built-in vents and screens for airflow and Velcro rail mounts for a secure fit. Plus, they can fit their enclosures to a top you already own. Unlike many enclosures, they're made in the USA. |
6. Half with Bow Cover
This type of enclosure is similar to a half but with canvas stretching over the front toward the bow. If you're looking for something a bit more economical but still need to keep the bow dry for storage, this is a great option
Bow covers or playpen covers help protect the deck from dirt and debris while in storage or at mooring. These playpen areas typically come with supports or poles to lift the canvas so that it doesn't collect rain puddles.
Somewhere between this type of cover and a full enclosure is also the half with a front slant curtain. The curtain acts as a bow cover but at an angle. It has more floor space but less head room. You can sleep under it, but you can't fully stand up. 
7. Full Enclosures
Full enclosures are perfect for families who want to camp on the water. They wrap the entire pontoon, turning its living quarters into something resembling houseboat meets pop-up camper.

The full enclosure is perfect for both entertaining and complete privacy. Again, just like half enclosures, these need to be custom made by a local canvas craftsman or an online retailer like Canvas Craft.

The sleek enclosure on the left is a Canvas Craft creation. As a heads up, a full enclosure can cost you around $2000 to $4000, depending on the specifications.
Pontoon Enclosure Maintenance
Winterization
When you prepare to winterize your pontoon, take the enclosure off. This isn't something to leave on year-round and you'll still need to invest in a pontoon cover. The only exception is if you own a half, half with bow or full enclosure. These protect the interior more than a standard cover.
Marine-Grade Cleaners
Editors Choice: Boat Cleaning Wipes
 Check price on Amazon - Better Boat Cleaning Wipes are a top pick for quick and easy cleanup. They provide UV protection to prevent fading and cracking while renewing the richness and color of vinyl and plastic seating. They also smell lemony fresh, so there's that. 
There are a variety of marine grade cleaners for maintenance, but the most important one to pay attention to is what's used on PVC plastic windows or isinglass.
On these, be careful not to use harsh chemicals! Certain chemicals can eat away and destroy plastic, creating a clouded view. I recommend the IMAR Strataglass Protective Cleaner as a great cleaner; it's made specifically for this purpose.
Mold prevention
If you live in a humid climate, you're well aware that mold grows on more than just canvas enclosures. Similar to any type of canvas (like a tent), you'll want to be certain the item is as dry as possible before folding and putting it away into storage. Failure to do so can create mold growth really fast and that's just no good.
Even if you manage to wash it off, there are still spores buried inside the threads. If you find a few spores breaking out in clusters, use the Better Boat Stain Remover to remove mildew with a spray, a light go-over with a scrub brush and a rinse. It's safe for vinyl, plastic, canvas, fiberglass and more.
Conclusion
Adding this one small creature comfort of an enclosure can convince friends or family members (even those who aren't too keen on the outdoors or water) to come aboard. 
Whether you purchase a pontoon enclosure for a simple shade remedy against the hot sun or as a full enclosure against all elements, you're sure to get more enjoyment out of your boat.