An End to the Classic Pontoon Flooring Debate: Carpet or Vinyl?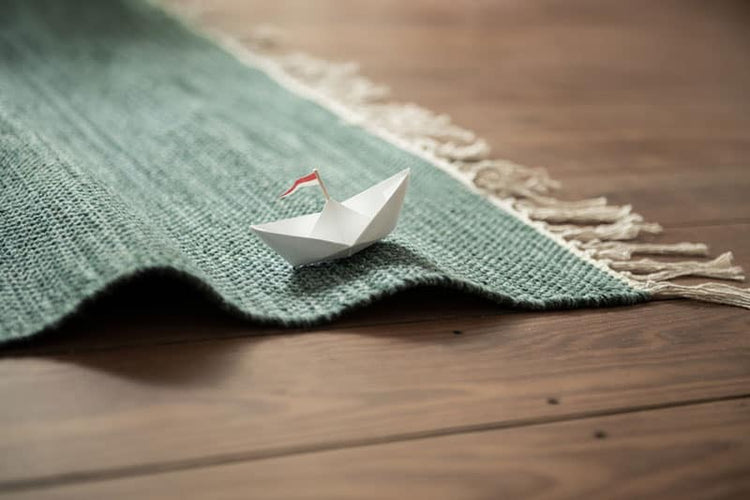 I've seen a lot of disputes arise when it comes to pontoon flooring. You have anglers who enjoy the practicalities of vinyl, which is easier to clean, and you have entertainers who wouldn't dream of anything other than soft carpet beneath bare feet.  
Though you'd be hard-pressed to convince them otherwise, I find some boaters' arguments for carpet are a bit outdated.
Today, with modern advances, I find the advantages of vinyl far outweigh those of carpet. But before I can argue my case with the advances of vinyl, I need to explain the perceived advantages and disadvantages of both materials.
Carpeted Pontoon Flooring
Carpet is an excellent option for those on a budget. If you do decide to go this route, stick with marine carpet. Marine carpeting is designed to withstand the elements and is significantly more durable than regular carpeting.
You can easily find marine carpets like this marine-grade boat carpeting in 8-foot by 20-foot rolls, which come in many colors.
Advantages of Carpeted Flooring
Acoustical Properties
I've heard some people say that they prefer the acoustical properties carpet seems to have. It's a softer step and dampens the sounds of feet stomping on deck, especially when you're waiting ever so patiently for a catch.
Traction
Yes, carpeting does offer traction! You won't find yourself slipping around on carpeting (even with wet feet). Now, there was once a time when the only other option for boat flooring, aside from carpeting, was slick and slippery vinyl that was the same as that pressed linoleum found on kitchen floors.
Fortunately, this isn't the case today. I'll go into more detail under the vinyl section.
Softer Feel
Like I said, there are certain 'tooners who love to entertain and wish for their deck to have the softer at-home feel of a living room. I can't argue with this. Who wouldn't like that?
But if this is your only reason for going with carpeting, try to think a bit more on the practical side. It is, after all, a boat. Unlike your living room floor, it will constantly get wet. Imagine that musty moldy smell of a perpetually wet carpet.
Disadvantages of Carpeted Flooring
Scalding Metal Rivets
In older boat models, there are metal rivets and snaps that if you're not careful will completely burn a bare foot on a hot day.
Sand, Stains and Fishy Smells
One of the absolute worst things about carpet is its ability to absorb. And I mean absorb anything. Dirt, sand, fish guts ... you name it!
Whether you dock near a sandy beach or a lake with earthy shores, the amount of particles that will sink through will astound you.
Even when you eat, crumbs drop and spills happen. It's inevitable! If you're a fisherman, carpet is going to absorb every smelly slimy thing you don't first trap in a cooler. Also, after a while, carpeting has the tendency to become matted.
Underdeck Rotting
When carpeting absorbs water and never quite dries, it can lead to mold and rot that harms the plywood underneath. In fact, that may be why you're here, right?
Maybe your deck is feeling a bit creaky, like there's softened wood, and you're thinking it's time for a re-decking job so you might as well replace the floor covering too. 
Well... if there's currently carpeting on top, that's most likely what's happened. Over time, the carpet will weaken the decking materials, creating a less-than-sturdy floorboard. 
Featured Boat Care Product
Check Price on Amazon - Better Boat's vinyl cleaner quickly cleans and protects vinyl, rubber, leather and plastic. It removes tough grease and grime on seats, consoles, pools and even RVS. 
Vinyl Pontoon Flooring
I used to think of vinyl floor covering for boats as the same type of vinyl flooring you'd find in homes. Bolt rolls of linoleum make your boat floor look just like your kitchen floor. But I'll tell ya, vinyl has come a long way since then! Not only is it extremely durable, but it's also much more aesthetically pleasing.
Advantages of Vinyl Flooring
Cleanliness
Unlike carpet, vinyl is much easier to keep clean. Did your line break after a giant catch and the fish flopped all over deck? Did your kids spill sugary soft drinks all over and you're afraid it'll turn sticky? Just give it a gentle wash with boat soap, spray with a hose and it's good as new.
And especially if you live in a humid environment, mold won't grow and spread when it's undercover or in storage.
Easy Maintenance
Vinyl is also much easier to maintain. All you have to do is give it a good hose down, even with a pressure washer, before or after winterization.
Just be sure to allow time for it to dry before placing and snapping on the cover. If you prefer to use a bit of solution, Better Boat's Boat Wash Soap quickly cuts through grime, stains and more. Use with a deck brush with an extension rod handle so you don't hurt your knees and back.
I notice that a lot of people who prefer carpet do so because of its noise-softening capabilities. But I really find this to be one of those outdated myths I mentioned.
Today, some types of vinyl can be just as quiet. Padding can be added beneath for an acoustical sound barrier and extra cushion beneath your step.
UV Resistance
If you're replacing old boat carpeting, take notice of the difference in the carpet's color. In areas where the sun never touched it (say, in a fold or tuck somewhere), the color is much more saturated. That's because, after a while, the sun's UV rays exposed and faded the pigments of the carpet. With modern vinyl flooring, this will never happen because most are UV-stabilized.
Better Warranty
Remember what I said about the carpet damaging the deck after long moisture retention? Well, as manufacturers have begun to realize the damage caused, they're now offering a longer warranty if you install vinyl.
Companies and dealers are so confident in the durability of vinyl. They know the vinyl will make their decking last longer than if it had a carpet covering. Also, vinyl is typically glued so heavily and securely to the flooring that it creates a waterproof seal all on its own.
Ease of Installation
Vinyl tiles are easier to install, of course. Some come in pre-glued sheets with an adhesive backing you simply peel and press, while others are pieced together by snapping the edges in line. Another option is vinyl planks, narrow strips about two feet long by a few inches wide. These can also be glued or snapped together.
Disadvantages of Vinyl Flooring
Preventing Slips (Debunked!)
Parents worry about kid safety on board. One of the worst things that could happen is having a child take a nasty fall or even tumble overboard. 
So, when kids climb out from the water and stand in a puddle, parents concern themselves over their child slipping. This is why a lot of boaters prefer the natural traction of carpet. But there's a happy medium. Let me introduce you to...
Textured Woven Vinyl
Textured vinyl can prevent kids (or anyone for that matter) from slipping by providing just enough traction underfoot. It' s still breathable and reduces mold like any vinyl would, but it adds just the right amount of friction underfoot to create a non-skid surface. 
Textured vinyl no longer comes in just tiles or planks. Instead, textured woven vinyl flooring is available for order in a variety of widths, usually around 8 feet, and go anywhere from 10 to 30 feet in length. It's also much more aesthetically pleasing. You'll find that it now comes in a variety of textures and colors. 
Conclusion
Vinyl floor covering is a commonly recommended upgrade for your pontoon. Depending on the quality and ounce weight, it will cost you around $300 to $1200 extra. So the expense is something that everyone needs to personally weigh against their budget.
However, I find that the advantages of vinyl far outweigh the advantages of carpet. From the ease of maintenance to lessened worry of underdeck rotting, textured vinyl flooring is a nice addition for a pontoon.