In the Hot Seat: 5 Top Pontoon Seat Brands Reviewed and Compared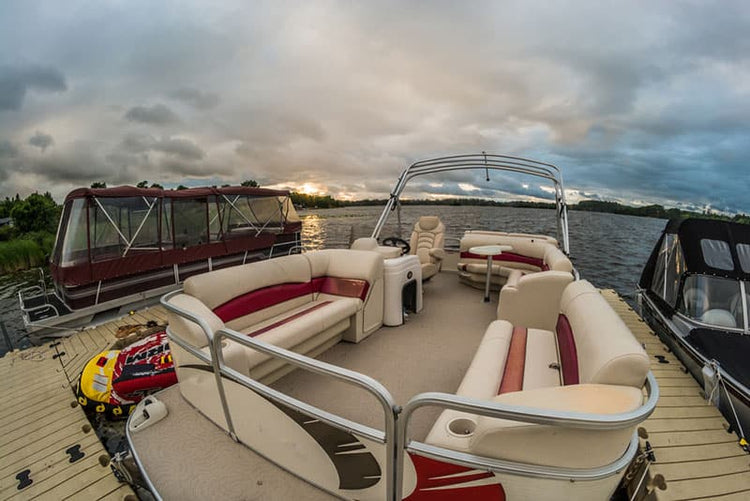 Pontoon boat seats are one of the most important parts of your pontoon boat. They're also one of the most expensive, which is why it's so important to keep them covered with a high-quality marine vinyl protectant.
Are you in the market for a brand new pontoon boat and wondering which brand of seat will serve you best? With so many different brands and price points out there, it's tough to know where to begin. 
Having done my own research on this topic, I'm going to highlight and compare five of the top, best pontoon boat seat brands. I'll help you decide which pontoon seats are the best for you.
How to Choose a Seat Brand for your Pontoon
When choosing a brand, I personally want to answer these questions:
What material is the seat made of?
How is durable is the fabric?
How much comfort does the seat offer?
How resistant is the seat to water and UV damage?
What's the cost and how long is the warranty?
Like with most boating equipment, I want to know if I'm getting the most bang for my buck in terms of durability and quality in comparison to cost. 
I want to feel like I can trust the brand I purchase and be proud of my decision while showing off my new pontoon boat seats to my friends and family. With all this in mind, I am reviewing five popular pontoon seat brands:
Wise Deluxe Pontoon Boat Seats
Lippert Components Pontoon Boat Seats
PontoonStuff Premiere Seats
Toonmate Deluxe Pontoon Furniture
Everything Pontoon Premium Pontoon Boat Seats
I'll be answering the questions above and looking at the overall quality of each product. To keep things consistent and actually compare "apples to apples," I'll be comparing the bench seats of each brand. Okay, let's get started!
Featured Boat Care Product
Check Price on Amazon - Better Boat's microfiber sponge set comes with a double-sided sponge, one microfiber cloth and two microfiber sponges as well as a collapsible 3-gallon bucket that can be used for storage. Use with boat soap to keep your boat sleek and shiny from bow to stern. 
1. Wise Deluxe Pontoon Boat Seats
I particularly like how this company has been in the business of selling pontoon boat seats for several decades, showing me reliability in its brand longevity.
Recommended Seat:
View on Amazon, (Base Required to Complete)  
Combine with:
This pontoon boat seat brand offers the above bench seat in the $500 to $600 range, making it very comparable to the Toonmate seat listed below.
This seat frame is made of plastic to prevent wood rotting or metal corrosion and is made with 28-oz marine-grade vinyl. It's also coated to protect against UV rays and mildew.
It scores high on my comfort scale with a seating depth of 17 1/4'' (which, for those who are unaware, is pretty deep). It also has a decent warranty with three years on upholstery and five years on the frame (one year less than its Toonmate competitor).
One downside is that this particular model, in comparison to the Toonmate, doesn't have cup holders, a feature I love and use all the time. Cup holders aren't on everyone's "must have" list, though.
So, if the lack of beverage support isn't a deal breaker for you, I would definitely recommend this brand of pontoon boat seat. Of course, you can always spend a bit more to add cup holders onto any Wise seating unit (check cup holder price on Amazon).
The best thing about Wise is that they've got so many of their pontoon seats and seat accessories for sale on Amazon, which makes it both affordable and convenient. The free shipping for Prime members can save a lot of dough when it comes to ordering these bigger heavier items online.
Wise Deluxe pontoon seats currently available on Amazon:  
50" Lounge Seating Group
Flip Flop Seat with Cooler
Folding Deck Chair
Folding Fishing Seat
2. Lippert Components Pontoon Boat Seats
With their humble beginnings just after WWII as a small metal fabrication shop run by one man, Gary Lippert, and evolving into a large industrial components manufacturer, Lippert doesn't just manufacture pontoon boats or marine accessories. They specialize in a wide range of components for all different types of recreational vehicles.
I love the evolution of their unique history and that they've been in business for almost six decades. They know their stuff! 
Recommended Seat: View on Amazon You can view this brand and a range of bench seat sizes and options by following the link above. These bench seats range between $400 to $600 depending on seat size.
They're made of marine-grade vinyl with a stainless steel frame. Vinyl is an excellent fabric as its sturdy and easy to clean. Simply wipe stains and surface dirt on seats, consoles and more with boat cleaning wipes. Wipes are safe for leather, vinyl, fiberglass and plastic and provide UV protection and a matte finish.
My favorite feature of this particular seat above is that it has a live well-ready compartment built into the base with proper drainage.
This means that a live well for fishing purposes can easily be installed (you can read more about fishing accessories here). It also has an awesome seat depth of 26'', which allows for a super comfortable seat when cruising.
This seat comes with a three-year warranty, less than its competitors. Not all bench models come with cup holders, so make sure you look carefully into which model you're purchasing if they're big on your list. This is another brand that can be found on Amazon.
Here's a taste of what's currently available:
3. Pontoon Stuff Premiere Pontoon Seats
Pontoon Stuff is both the seller and the manufacturer, which cuts out the middleman and allows you to deal with the company directly if you have questions or concerns.
The website features great videos of their products and highlighted features, leaving the guesswork out of buying online.
Recommended Seat: View on PontoonStuff
This seat scores high on my durability and comfort scales with its elaborate stitching and plush pillowed look. It's made of 30-oz, marine-grade vinyl and coated to a level that goes above and beyond industry standards for UV and mold resistance.

A feature I personally love is that the base of the seat has what are called drain channels, and the manufacturer claims that this increases the life of your pontoon flooring by allowing the water to escape your deck instead of being trapped in and left to soak into your carpet or decking and cause mildew.

I love the idea of this feature because the brand is considering other parts of your pontoon and not just its manufacturing business, so big bonus points from me for this!

This premium pontoon boat seat will run you over $800, which tends to be on the higher end of price points I've seen but it comes with a three-year transferable warranty (meaning if you decide to sell your boat, the warranty gets transferred to the new owner).
4. Toonmate Deluxe Pontoon Furniture
The main reason I selected this brand was for its awesome warranty. It may be cheaper but the manufacturer offers three years on the upholstery and six years on the frame, leading me to believe that Toonmate stands behind the quality of its products.
Customer reviews have also listed that installation of this brand is relatively easy, which can also help you save on the cost of hiring someone to install it for you. Always a plus, in my opinion!
Recommended Seat:View on Overton's
Priced at $300 to $400, the selected seat I've recommended is on the cheaper side, but it still looks to be a decent option for serious tooners. 

It's made with marine-grade vinyl (although the degree isn't specified on the website) and high-density polyurethane foam (the standard fabric in mattresses, car seats and furniture that's known to provide that comfy feeling).

The brand claims the seat is resistant to mold and fabric damage due to cracking. Its hardware is stainless steel, which is corrosion-resistant.
5. Everything Pontoon Premium Pontoon Boat Seats
This is my top brand because it answers all of my questions favorably while still being cost efficient (and I'm willing to forgo the cup holders). When I went searching for a cheaper brand, I was surprised to find one that not only had all the standard features I was looking for but also exceeded my expectations in having some of the features the pricier seat brands had.
Recommended Seat: View on everythingpontoon.com
This brand is by far the most cost-effective seat at a little over $400. I think it's a fabulous option given its lower price point.

Like its Pontoon Stuff competitor, it too has a mechanism that allows water to drain off the pontoon boat, eliminating mold and carpet or deck damage.

It also uses wedge cushions, which divert water off the seating to prevent pooling on the marine-grade vinyl. This helps eliminate mold and rot (along with having UV/mold resistant coating to add extra protection).

Its frame is made of plastic and comes with a lifetime warranty, something I was blown away by and that scores huge points on my durability scale.

The vinyl has the industry-standard three-year warranty.
Final Thoughts on Pontoon Seats
There you have it, five of the best, premium pontoon boat seat brands and recommended items.
As I say with pretty much everything boat-related, be sure to make your own list of questions and focus on what's important to you before choosing your seat brand. That being said, the information here should get you pointed in the right direction when it comes to choosing the best pontoon seat for you.
You'll occasionally spot items from less-well-known brands of boat furniture, such as Millennium Marine or Shoreline Marine. There tends to be fewer options from these brands, but this happens for two reasons. For one, you'll find cheaper brands with discount furniture.
The other kind of small provider is high quality but small scale, such as a small family-run American boating company. In this case, the prices shouldn't be lower than those of the big brands.
Remember to always read product reviews, as they can be a great way to learn about the product by people who have purchased and used it themselves, helping you decide what about the seat is important to you.