Considering a Solar Powered Pontoon Boat? Here's Your Helpful Guide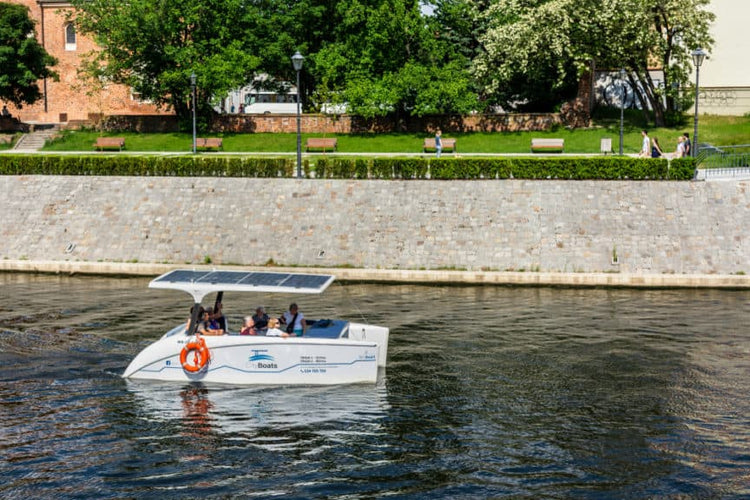 The sun is always in the sky, so why not consider using it to your advantage? Power your pontoon boat!
With rising living costs and more people downsizing for liveaboard lifestyles, it's no surprise solar power has made a mark in the boating world.
And there are countless ways to use solar panels for boats, which make for one awesome upgrade. But when pontoon boats are rarely considered live aboard options, and more leisure boats, does it actually make sense?
The 3 Important Benefits of Going Solar on Your Pontoon Boat
Solar powered pontoon boats have piqued your interest for one reason or another, but you're also probably thinking: Why on earth should I consider this option? Why go through this trouble of installing solar panels (and their mounts by bolts or adhesives) to my pontoon, when fuel works perfectly fine?
Well, this brings us to the three important benefits of going solar on your pontoon boat:
1. Financial Savings
Is your pontoon a gas guzzler?
One main reason to consider a solar powered pontoon boat is the savings on potential financial impact by saving on fuel costs.
When you're out all day on the water or taking weekend-long pontoon camping excursions, a boat's fuel costs can really add up. If you want to have a boat without the worry of how much each outing will cost, then you should think about solar power. In addition, you never have to swing by or make a detour toward the gas station before launching.
This not only saves you time getting to the marina, but it also saves your SUV's fuel when towing your pontoon.
2. Environmental Impact
Alongside the financial impact, there's also the environmental benefits when choosing solar.
One major benefit of solar-powered pontoon boats: It's a pollution-free inexhaustible energy source. The use of solar not only lowers air pollution but also stops polluting the water resources, which is beneficial to our ecosystem.
Even when we're careful, it occasionally happens. Refilling the tank, you leak some small fuel into the waters you and your family go tubing and skiing in! With solar panels, you'll never spill gas into your own waterways again.
3. Lack of Noise
Another reason to consider solar is something rarely mentioned: Silence.
Running an electric engine, which accompanies your solar-powered panels, runs virtually silent. A strong contrast to regular boat engines.
When you're out on the water, it's nice to have a break from the engine's noise. Instead, enjoy the water's peace and quiet, listening to the lap of waves against your toons.
While this may not be a strong reason to make the switch, it could be the tipping point for making the ultimate decision.
Featured Boat Care Product
| | |
| --- | --- |
|      | The Microfiber Sponge Set provides all the tools needed to keep your solar panels clean and dirt-free. Wipe away stains, streaks and more. |
Check Price on Amazon - Better Boat's microfiber sponge set includes a collapsible three-gallon bucket, a microfiber sponge, a microfiber cloth and two microfiber sponges. A boat squeegee is another awesome tool for cleaning solar panels. 
The Main Components of Solar Panels for Pontoon Boats
The are endless options when it comes to solar panel accessories, such as panel mounts and power banks.You can really go all-out with your solar power system, but here are the main components and equipment you need.
Solar Panels
I'm sure you can imagine that you might know you need solar panels. When it comes to solar power, it's usually always the solar panels that get talked about or seen. While they are a very important part of the process they need some other items to actually be able to use the solar energy they collect.
When it comes to these solar panels, you can choose one or two or you can add even more. Basically, the more solar panels you have, the more power you're going to be able to collect (and conserve).
As much as you may like to have a huge number of these panels on your pontoon, you do need somewhere to put them. It's quite common to place solar panels on a pontoon's hard bimini rooftop. If the solar panels are flexible, they can lie on top of soft bimini covers and enclosures.
They're out of the way and don't risk getting damaged.Plus, they're also in a prime location to soak up the sunshine. Look for a panel that's both flexible and waterproof, like this option from Giaride (check price on Amazon).
Mounts
Once you have your solar panels, you need to attach them to your boat, right? This means you'll need to choose the right solar panel mounts for your boat plus the nuts, bolts, tools and adhesive needed to get it in position.
Battery
Obviously, batteries are fairly standard. We know we need a battery to power a boat! Solar panels absorb the sun's power, transferring it to the battery where the energy is stored.
Electric Motor
When it comes to an entirely solar powered pontoon boat (and even down to the motor), you'll have to keep small.
If you're planning on going entirely solar for the motor (not just the battery), you'll get slow speeds that are good for trolling, which makes excellent fishing. All of this equipment is easy to find with a quick Amazon search for electric boat motor, which provides many results.
You can also take a look at Better Boat's The Ultimate Guide to Electric Trolling Motors for more ideas. One solid choice for a standard pontoon boat is the Minn Kota Terrova (check price on Amazon).
How Much Will a Solar Powered Pontoon Boat Cost?
Well, how much do you want to spend? It really all depends on what kind of work you want to do to make it happen. The more you're willing to spend, the less work you'll have to do. You can get yourself one entirely hooked up with solar power and ready to take out on the water.
If you'd like to stick within a budget, you don't have to say goodbye to the solar option. You can choose the DIY approach, but it's gonna take some elbow grease. You'll have the opportunity to customize it entirely to your needs depending on how much energy you need to generate.
Purchasing a Ready-to-go Solar Pontoon Boat
Apex Marine offers ready-to-go solar powered pontoon boats with the Qwest Paddle series that features a solar panel extension equipped with lithium-ion batteries.
Long enough to have a full day on the water, you'll get up to eight hours on a single charge. There's even a Paddle series model with a rear-mounted electric pedal option in place of an engine.
DIY Solar Powered Pontoon
If you feel like tackling a project, you can always convert to solar power through the DIY approach. But be warned: This can become quite the undertaking and may not be for those not willing to put in the work and patience. However, it's definitely an option to consider.
Since we've already talked about how it works, you know the basics of what you'll need. But the sky's the limit for how much you can spend. It entirely depends on the panel type and how many panels are being used.
In addition, you'll need to research each and every moving part, from panel mounts to the battery to the electrical components and switches.
Feel like taking on a project and saving money? Create a boat from the ground up powered entirely by solar. For some inspiration, check out Dan Baker's Firefly prototype, built for only $2900.
Is a Solar Powered Pontoon Boat Right for you?
It may be a bit of extra boat maintenance because those pieces of equipment do need some love every now and then. With this new knowledge about solar, give hard consideration for your own pontoon. Take some time to think about your needs. If these benefits weigh in your favor, give solar a shot. 
Maybe you already have a pontoon you want to mount panels on, or maybe you want to try out that DIY project. Either way, a solar-powered pontoon boat will make a lasting impact on your wallet and our waters for years to come.