Sparkle and Shine: The Best Boat Cleaners for a Ship-Shape Vessel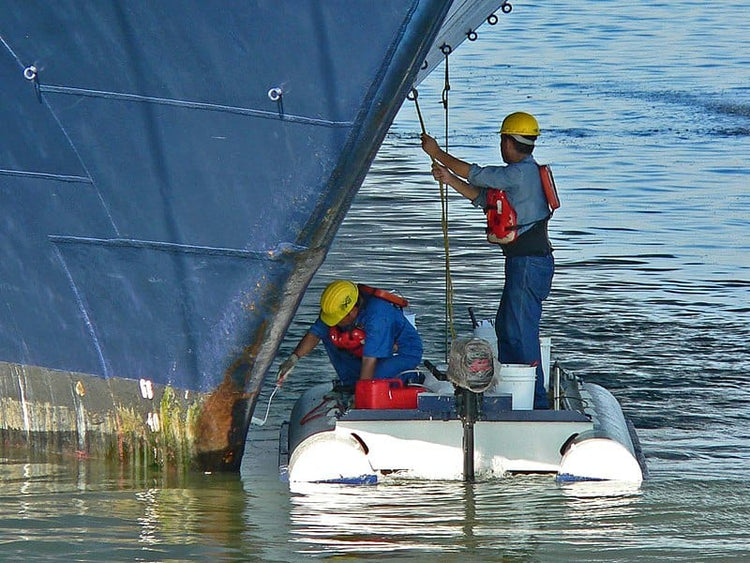 From bow to stern and starboard to port, there's a boatload of surfaces to clean, preserve and protect on boats of any size. 
Whether it's a fiberglass hull, canvas sails, Isinglass enclosures or metal cleats (not to mention caring for teak decks and the never-ending story of waxing), a little elbow grease combined with just the right tools and products make the job so much easier (meaning you can use the boat for what it was intended for getting out on the water!). 
You can do it yourself or enlist the assistance of offspring, fishing buddies or some random kid in the neighborhood (preferably one who can wriggle his way into the bilge to clean that out).
If you can't find any volunteers, bribery is a good option. We find a promise of fishing and a day on the water usually does the trick (along with a case of beer for the over-21 fishing buddies).
Let's get started on the best boat cleaners to keep your boat in ship-shape shape (pun intended).
Elements that can Cause Damage to Boats
First off, what exactly causes damage and dirtiness to a boat? After all, the boat does spend most of its time in water.
Algae, barnacles and other marine elements

Saltwater

Stains, rust streaks and oxidation

Bird droppings

Mud

Oil and gas

Dirt, dust and rock chips if trailered or kept on land
Parts of a Boat that Need to be Cleaned and Maintained
While certainly not all-inclusive (there's always something to forget when it comes to a boat), here's a look at some of the surfaces you'll need to clean and protect on a boat.
Teak decks and railings
Metal fixtures, cleats and other hardware

Fiberglass and wood hulls

Gelcoat

Canvas sails and curtains

Isinglass (Note: Don't use Windex on Isinglass; use something made for clear vinyl or plastic)

Marine vinyl such as seats, cushions and Bimini tops
Benefits of Using the Best Boat Cleaners
Along with the obvious aspect of appearance (Who doesn't want a good looking boat?), there are some very good reasons for keeping your boat well-maintained and looking snazzy.
Prolongs Life of the Boat
A properly maintained, cleaned and waxed boat will last a lot longer. Barnacles can destroy the paint and gelcoat. Water and marine animals and elements are the perfect environment for rust, corrosion and oxidation. Regular inspections and cleaning of engines, bilges and props keep your boat afloat.
Removes Stains
Remember those marine animals mentioned above? Well, birds, otters and fish can provide plenty of stains, streaks and other unmentionable detritus.
What to Look for in the Best Boat Cleaners
There are several factors to consider when choosing the best boat cleaners for your boat's hull, deck, railings and more.
Type of Surface
Boats have gelcoat rather than clear coat like a car, so you want to make sure you're using products specifically for boats and marine items as vehicle cleaning products can't be used.
Fiberglass hulls need a different type of cleaner than wood and aluminum hulls. There are products deemed multi-use, so be aware before using a new boat cleaner.
Specialized or Multi-Use Cleaner
Mentioned above, some products are conveniently made for all-over use on glass, vinyl, metal, etc.  Others are made specifically for wood or metal. Specialized boat cleaners are usually stronger than a multi-use product.
Type and how it's Used
From gels, liquids and sprays to brushes and sponges, the best boat cleaners come in a wide array of types and application methods.
Gels and Liquids

Brush-On

Sponge-On

Spray-On

Wax-On / Wax-Off
Provides Additional Protection
Along with cleaning, the best boat cleaners offer protection from rain, wind and sun damage. They also make future clean-ups quicker and easier as long as you're diligent with your maintenance and cleaning routines.
Environmentally Conscious
Boaters are known for being considerate and respectful of the oceans and waterways. After all, it's the place where we spend our free time. You'll want to choose boat cleaning products that are non-toxic and don't harm the waterways and creatures that live in those waterways.
Eight of the Best Boat Cleaners for a Ship-Shape Vessel
1. Better Boat Instant Hull Cleaner
Make grit, grime, stains, scum lines and other marine elements a thing of the past. Better Boat's Instant Hull Cleaner removes rust stains from fiberglass and works wonders on fish blood (disgusting, yes, but a given on fishing boats).
Made in the U.S.A., it's perfect for fiberglass, metal and painted surfaces. Better Boat Hull cleaner won't harm the boat's surface and makes a good prep process for hull polishing.
Just wipe it on. It begins working on contact and doesn't contain harmful acidic properties, so it's the perfect boat cleaner to use while the boat is in the water.
2. Simple Green Marine All-Purpose Boat Cleaner
Safe for glass, vinyl, fiberglass and more, Simple Green Marine is a concentrated and biodegradable (making it safe for use in a marine environment) formula that's non-abrasive and non-flammable.
Use it to remove sticky grease, fuel, oil and other messes on hulls, non-skid decks, metal and more. It's great for use on fishing gear, personal watercraft and more. Simply wet the area, apply the solution and wipe or rinse clean.
3. Collinite No. 920 Fiberglass Boat Cleaner
Let's face it, gelcoat can dry out (blame the sun). This can help. Collinite allows the wax to adhere to the cleaned surface and last longer.
It works by removing dirt, dust, rust, grease and exhaust stains from fiberglass to create a clean and smooth surface for wax (increasing the brilliance and performance of said wax). Best of all, it restores color quickly without a lot of hard scrubbing.
4. Meguiar's M6332 Premium Marine Wax
A leader in car care (but get the marine version), Meguiar's is an easy-to-use boat wax that provides long-lasting polymer protection and gives a deep gloss finish to fiberglass and gelcoat surfaces.
It helps to remove light oxidation, dullness and fine scratches while protecting the surface from further damage such as UV damage and normal wear and tear that goes along with the boating life.
It really enhances color and shine while bringing out the full richness of the surface color. Use by hand or with a polisher.
5. MaryKate Nu-Teak One Step Teak Cleaner
MaryKate Nu-Teak is one of the best boat cleaners to clean and remove stains, weathering and mildew marks on teak decks. Use it to seal, preserve and enhance the look of your teak deck floors, railings and other wooden surfaces. UV inhibitors help to resist weathering after application.
This single-step cleaner dries quickly, provides long-lasting protection and doesn't contain acids and other harsh cleaners.  It won't harm fiberglass, metal, carpet or caulking.
 6. Better Boat Boat Soap
Check Price on Amazon - Better Boat Boat Soap is a one and done product for all of your boat care needs. It removes dirt, grease and grime from above and below the deck. It's 100% biodegradeable and won't harm the environment. You can even use it on pots and pans. 
7. Plexus Plastic Cleaner, Protectant and Polish
Plastic surfaces can get dull and splotchy on boats, especially around saltwater. Plexus Plastic Cleaner, Protectant and Polish keeps new plastics looking new longer while enhancing and protecting the looks and life of used items.
Colorful plastics become more vibrant, and clear plastics retain that transparent look. Plexus was originally developed for the aviation industry for use on windshields, so you can count on its heavy-duty capabilities.
Use it on vinyl windows, laminated surfaces, mirrors and hatch covers. It works by sealing the plastic pores with a micro-thin layer of wax to protect surfaces and make them scratch and damage-resistant as well as protect against yellowing and debris damage.
The aerosol applicator prevents dripping and leaking.
8. Starbrite Sail & Canvas Cleaner
Biodegradable and concentrated, Starbrite Sail & Canvas Cleaner is one of the best boat cleaners to remove dirt, grease and mildew stains from canvas, nylon and Dacron sails (as well as other fabrics).
It cleans and brightens white and colorful fabric and won't weaken the fabric fibers. Use it on sails, sail covers, Bimini tops, boat and dinghy covers and Sunbrella fabric.
Pour the whole bottle into a half gallon of water and spot clean with a sponge or brush. For heavy soil, you may want to use full strength, then wipe it off or rinse.
There are a lot of boat products out there. Hopefully you've picked up some new cleaning tips and products to add to your boat bag (or bags, as the case usually is). We'll see you on the water! 
---