There's an App for That! 15 Best Boating Apps to Download Now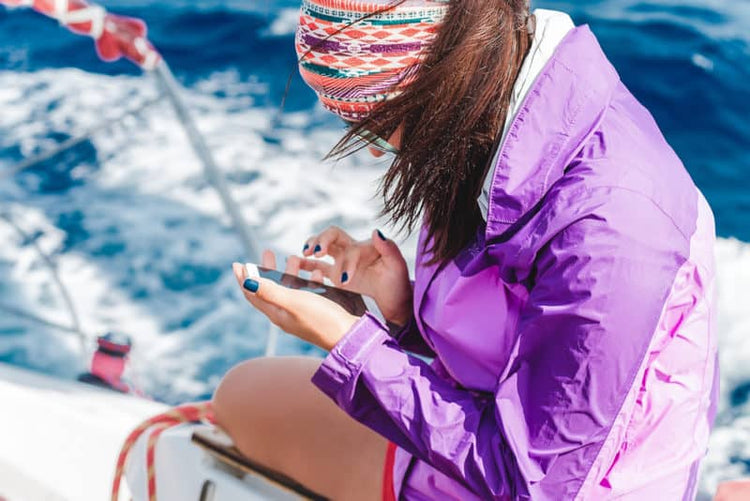 Need to know the name of a song on the radio? There's an app for that. Need to find the best rates on car insurance? There's an app for that. Want to find out where the fish are biting and the boats are launching? Yep, there's even an app for that.
With so many of us relying on mobile applications for assistance, information and planning in our day-to-day lives, it makes sense to take advantage of this same technology in our boating lives.
Whether you're a die hard iOS user or an Android addict, you're sure to find a marine boating app to suit your needs for safety, planning or fun.
Important Features of Boating Apps
Ability to Enter/Store/Download Way points and Enter a Float Plan
One of the first rules in boating is to always have a float plan, which means someone on land should have details of where you plan to be and when you plan to be there.
With a handy mobile app, you can enter your way points for your own use while providing easy access for that reliable land-based friend (or others in your cruising group).
Navigation Routes
Having sample navigation routes is beneficial if you're planning a long cruise trip like the Great Loop. It's always nice to see what routes or marinas other boaters have liked, or not liked, in their travels.
Tips like steer clear of the Dismal Swamp are not only helpful but can make your whole trip a whole lot more pleasant.
Community Integration (Sharing Information with Other Boaters)
You can use other boaters' experiences to plan trips and anchorages. Likewise, with the right marine app, you can share your own tips and favorite spots for fishing, diving, dining or just hanging out. We boaters do like to give our opinions!
Plotting
Much like a GPS we all use in our cars, a mobile app can help you plot your route out on the water. Decide where you want to fish or snorkel and enter the information. Then, all you have to do is follow along on your tablet or phone. Many boating apps will even store information for your next trip out. 
Featured Boat Care Product
| | |
| --- | --- |
|   |  Teak Cleaner restores gray and weathered teak without sanding or the addition of harsh acids that can cause corrosion. Use on indoor and outdoor furniture, patios, decks, boat decks and trim. |
Check Price on Amazon - Better Boat's Teak Cleaner removes stains like grease, grime, mold, mildew and more from teak and wood surfaces without harming surrounding fiberglass or gel-coast. Use with a stainless steel brush for great looking results. 
Boating Safety and Planning Apps
Obviously, everybody needs a good weather app when out on the water. You never know when a storm might pop up, and it's good to have as much advance notice as possible.
But who knew there were so many other useful boating apps out there? Here are just a few:
1. Boat Ramps
Before you head out for the day, you might want to find the closest or highest rated boat ramp. The Boat Ramps app even gives directions. More than 50,000 U.S. boat ramps can be found in this app. This is especially useful if you're out of town and don't necessarily know the area. It's free and available on Google Play and iTunes.
2. Free Nautical Charts
Developed by Arpeggio, this app is a great way to plan your trip. As the name implies, it has free nautical charts as well as route planning tools, buoy reports, hazards such as submerged rocks and vessels and marine map overlays.
The marine map overlay is a really cool feature as it allows you to toggle data (such as wind speeds, wave heights and water surface temperature) right onto the map for an up-to-date look at boating conditions. It's free and available on Google Play.
3. U.S. Coast Guard Mobile App
Anything with U.S. Coast Guard in the title is golden for boaters. In addition to emergency assistance, the U.S. Coast Guard mobile marine app has several features like state boating safety information, the ability to enter a float plan, navigation rules and weather updates from NOAA.
You can even report hazards or pollution in the waterways. It was designed for the recreational boater. It's free and available on Google Play and the App Store.
4. Navionics Boating
The Navionics Boating app offers navigations charts, NOAA radar, daily chart updates, dock-to-dock routes, real-time weather data and customizable chart overlays. You can even download some features for offline use.
Several regional versions are available, including boating in the Caribbean, South America, Europe, Australia and New Zealand.
Free and paid versions are available. I'm often conflicted about paying for an app, but I've found invaluable information and features with paid apps. It's all in what you want to get out of it.
Navionics Boating apps are available on an annual subscription basis at Google Play and the App Store. They do offer a free trial period.
5. Garmin Active Captain
If you already own a Garmin chartplotter, or plan to purchase one, ActiveCaptain is a great one to try as it's designed to connect with the Garmin chartplotter.
You can purchase new maps, save routes and way points and connect with fellow boaters. This marine app is free, though there are some in-app purchases. It's available at Google Play and iTunes.
6. Snag A Slip
Whether you're planning a trip or you're already out on the water, Snag A Slip lets you find marinas and reserve slips right from your phone. Marinas across the U.S. and Canada to the Caribbean can be found with the swipe of a finger.
You can store your boat's information to make booking even easier. The boating app is free for Android and Apple devices.
7. FishWeather
Serious fishermen rely on accurate weather forecasts to plan their day on the water. FishWeather provides real-time weather and wind reports from more than 50,000 stations worldwide. One really cool feature is the ability to create a favorites list to keep track of your favorite stations no matter where you happen to be.
You can access satellite and cloud maps, nautical charts and on-site reports from other anglers. It's free and available at Google Play and the App Store.
8. Celestial by Navimatics
When you don't have your sextant and really want to practice celestial navigation, this is the app to have. It has an almanac of the sun, moon, stars and planets. The star finder includes rising and setting information so you can be sure to be on deck and looking toward the skies.
At roughly $25, this is not a cheap app by any means. I would suggest Celestial Navimatics for somebody truly interested in celestial navigation. It's also a great way to teach the kids about the sky. Available at GooglePlay and the App store. 
9. Boat US
Just in case of that dreaded breakdown or prop problem, BoatUS is a great marine app to have when you need a tow. The dispatch is available 24/7 and can find your location via the GPS on your phone.
You can also check tides, weather conditions and forecasts. If you're going to have any app at all, I highly recommend this one. It's free and available on Google Play and iTunes.
Boating Entertainment, Fishing and Diving Apps
Once you've downloaded your safety and planning apps, it's time to start partying with music, water sports and fishing fun.
10. West Marine Water life on Pandora
Most everybody is familiar with the popular music app Pandora. The Water life station is fairly new and plays everything from Zac Brown and Van Morrison to The Beach Boys, Jimmy Buffett and the Bobs (Dylan and Marley). 
Even if you're doing that regular cleaning and scrubbing, some good tunes make the work go by faster.
Connect with Bluetooth speakers for a fun-filled day. Be sure to find a water-friendly one (I like this Cambridge SoundWorks OontZ Angle 3 Portable Bluetooth Speaker (Available on Amazon).
Pandora offers Premium and Plus subscriptions but is free and available on Google Play and iTunes.
11. Mixologist
When you've tossed out the anchor and are ready to start handing out the boat drinks, Mixologist  will be your go-to app.
It has over 77 cocktail recipes and photos. You can even search for recipes by entering the ingredients you have on hand. It's free and available for Apple and Android.
12. DiveMate (SCUBA Dive Log)
DiveMate works as a complete logbook, allowing you to log your dives as well as share your dives and dive sites.
It has a Nitrox MOD calculator, medical instructions and a display for depth, temperature and pressure. Best of all, it works on liveaboards or without an internet connection!
It's free and available on Google Playand iTunes.
13. Pro Angler
Pro Angler provides information on saltwater fishing such as captain and pro reports, species guides, real-time weather and location data. You can also find bait and gear information and pinpoints for thousands of fishing spots.
It won't unhook the fish and de-bone them on the cutting board, but hey, ya can't have everything.
It's free (though there are in-app purchase options) and available on Google Play and iTunes.
Boat Rental Apps
You're ready to get out there on the water, but you're just missing one essential item ... the boat itself. Well, this can be remedied with a boat rental app.
14. Boatsetter
Boatsetter has been called the Airbnb of boats. You rent the boat from a private owner rather than a marina's fleet. Everything from bass boats and canoes to center consoles, speed boats and large yachts can be rented.
This is also a great way to get a feel for the boat style you may eventually purchase. Their app is currently in development, but I recommend checking it out when it's released.
15. GetMyBoat
Looking for a boat rental or want to rent out your boat? GetMyBoat is the way to go.
You can book fishing charters, surfing lessons, diving trips and other water-based activities all from the convenience of a mobile device. It's available on Google Playand iTunes.
Now that you've plotted, charted and navigated your way through the mobile marine and boating app world, it's time to rest those fingers and put the knowledge to use. Get out there and start boating!
---