From SUVs to Trucks: Here Are the Absolute Best Cars for Towing Boats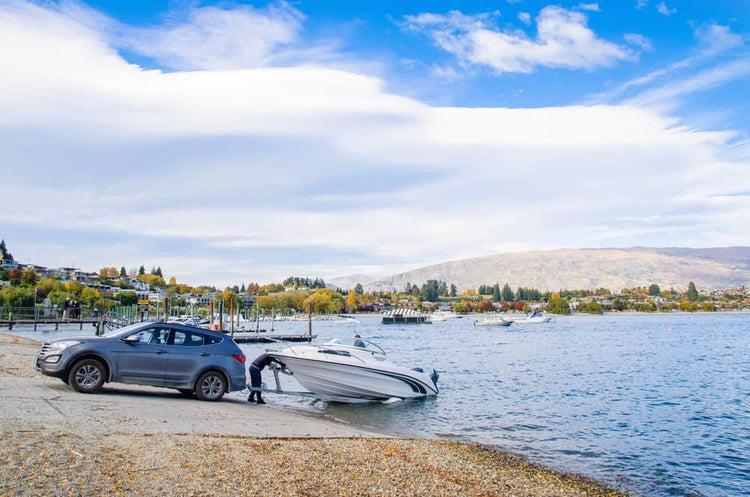 On dry land, I've noticed boats are just terrible at getting around. But hey, cars are no good in the water, so it's all fair in the end. 
Jokes aside, before you can go cruising around the earth's countless waterways, whether it's by pontoon or sailboat, you need to get your boat to the water.
To make the most of your boat, you need to get the best towing vehicle. And no, choosing a car based on its boat towing capabilities isn't silly. It's actually a good idea.
You're going to make a huge investment in your vessel, so pair it with the best car to tow it in terms of safety and ease of use. Keep in mind your specific needs, like seating and cargo capacity in the vehicle.
You won't find a Mazda Miata mentioned in this article (except for just now, that is). I mean, they're great little cars for speed, just not for towing (unless maybe you have a kayak).
A Few Words on Boat Weight and Vehicle Towing Capacity
Boats vary considerably in weight, as does the rated towing capacity of various vehicles. Simple boat weight is the first thing you have to consider when choosing the best vehicle for boat towing. So how much does your boat weigh?
Average Boat Weights
Here's a quick primer, in case you don't know off the top of your head:
Sailboats (18' - 22') weigh in at about 2,200 pounds.
Deck boats fully laden with fuel weigh about 4,000 pounds.
Cabin cruisers (smaller 25') often weigh 5,500 pounds (before the added weight of fuel and batteries).
With boats any larger, you're going to need a crane and some professional-grade assistance, not your own private vehicle.
Now, for vehicle towing capacities, things are also pretty cut and dry. There's just one thing to note before we talk about the average range of various types of automobile. And that would be the boat trailer weight.
Many boat trailers weigh well over 1,000 pounds, so you have to factor in not only boat weight but trailer weight as well when considering which car, truck or SUV is best for your boat towing needs. After all, the boat will be strapped to the trailer as one whole package.
Average Vehicle Weights
Here's your best primer on vehicle boat towing capacity:
Sedans are mostly out, with a max tow capacity of about 1,000 pounds. Though a few can tow 2,000 and a very select few can tow much more, as in 4,000, but those are sports cars with equally large price tags.
Small to midsize SUVs can usually tow around 3,500 pounds.
Full-sized SUVs can usually tow from 5,000 to 7,000 pounds, while the biggest SUVs can often haul 8,000 to 9,000-pound loads.
Pickup trucks range from 10,000 at the lower end to a staggering 30,000 pound-plus tow capacity at the highest end.
Beyond the Weight: Other Factors to Consider When Choosing a Vehicle to Tow Your Boat
Alright, so now you have a basic idea of how much certain types of boat weigh and how much certain categories of vehicle can tow. That's that, right? Well, no.
In choosing the best car, truck or SUV for towing your boat, you're gonna need to consider multiple points beyond the boat itself. Things like how many people will usually be along for the ride and all the stuff that comes along with them.
Cargo and Passengers
If you have a small boat that can actually be towed behind a car, a sedan might at first seem like a great option, but then think about cargo capacity.
Does a car have room for the family, the cooler, the fishing gear, the water skis and so forth? In fact, does a compact SUV have the space you need?
Next, think about what you will be lugging to and from the boat launch. For example, if you'll be driving with lots of fuel in cans, you should have a pickup truck so the gas is not in the vehicle with you. Likewise, if you take your motor, anchors and other such equipment off the boat when it's not in use, consider a truck.
Where Will You Tow?
Finally, think about where the vehicle needs to get the boat both to launch and to park back on your property (or in a rented lot, or at your uncle's house or wherever).
Do you need to drive off road? Then that luxury SUV might be out. Do you need extra clearance to back deep into the water? A larger pickup might be required for that.
Featured Boating Product 
Check Price on Amazon - Better Boat's cover straps keep your boat cover in place while it's stored or winterized. Straps are strong and reliable with quick-release buckles. They can also be used as tie-downs and for camping gear.
The Best Vehicles for Towing Your Boat
Ultimately, it's up to you to pick the best vehicle for towing your boat based on the vessel, your location and all the factors we've covered. Here are a few vehicles that countless boat owners agree are excellent for towing boats.
Sedans
Like I mentioned, capping at a tow capacity of about 1,000 pounds, sedan vehicles are mostly out. But there are still some sports cars quite capable of towing relatively smaller boats.
If you want to tow a boat with a sedan, go for a Volvo. Many, like the Volvo S60 and the recently retired Volvo S80 can tow 3,300 pounds, which is sometimes just enough for some boat owners.
SUVs
If you want to drive a smaller SUV to haul your vessel, there are several options boaters find exceptional.
The Ford Escape Titanium SUV crossover—with an added 2.0L EcoBoos Class II Trailer Tow Package—can pull 3,500 loads. You can also get a 1.5L EcoBoost engine tow package on the Escape SE and SEL for a maximum 2,000-lb. rating (but that doesn't even pull a pontoon, more like a kayak trailer).
The Ford Escape tow package also features sway control technology, which means it applies braking and reduces engine torque to maintain vehicle control should you need to swerve to avoid road debris.
The Chevy Equinox can pull 3,500 loads with the addition of the 2.0L turbocharged engine. When you choose this upgrade option, the driver simply needs to press the Tow/Haul mode button, which will shift the transmission into overdrive.
Jeep Wranglers are also capable of towing boats. Jeep Wranglers offer a package called the Trailer Tow and Heavy-Duty Electrical Group that provides extra towing features like a Class II receiver hitch, connectors and programmable auxiliary switches.
A great full-sized SUV for towing is another Jeep, the Grand Cherokee, which can haul 7,400 pounds. In fact, Jeep offers several models and a variety of towing packages to choose from for each model.
If you want an oversized SUV with oversized capacity, then go for a Ford Expedition, which pulls along more than 9,000 pounds with the addition of the 3.5L EcoBoost V6 engine.
Trucks
For serious towing, you need a truck. The classic Ford F-150 is a fine choice thanks to its 11,300 best-in-class towing chops. This truck also comes with extras like the Pro Trailer Backup Assist, allowing you to align your boat trailer perfectly with the ramp. It also offers a hand-dandy tailgate step (and remote tailgate release).
Or you can go nuts and get a RAM 3500 HD (Heavy Duty) and attach a load weighing 31,200 pounds. If you can take a RAM chassis and turn it into a commercial tow truck, it's no surprise they'll tow a boat.
A Few Basic Boat Towing Tips
You've got a boat, atrailer and a vehicle. So it's finally time to tow, tow, tow your boat! Sorry, couldn't resist. 
Until you're quite comfortable operating your vehicle with a trailer attached, keep a few tips at the front of your mind. They'll help you avoid damaging your boat, your car or someone else's vehicle.
Learn the acceleration and deceleration times under load. Your vehicle will take longer to gain speed and brake when you're hauling a boat. Practice speeding up, slowing and stopping in a safe clear area (like an empty parking lot or a very quiet street).
Evenly distribute weight on the boat as much as possible. You know how a lever works, right? Don't make your boat into one while it's on the trailer.
Make sure you distribute weight as evenly as possible aboard the towed boat by distributing gear - such as fishing rods, electronics, anchor buoys, water toys, cleaning products like boat soap, brush heads, vinyl cleaner and more - around the vessel. You may even have to move an outboard motor, but secure everything so it can't shift.
Turn extra wide... or you'll hit the curb (or maybe a lamp post or car). A trailer takes corners more sharply than the vehicle pulling it, so make wider turns to compensate for this effect (or risk hitting a curb, damaging property, or even taking down posts, pedestrians and other vehicles).
Check the manual for proper towing tire pressure - Your vehicle likely has a different optimal tire pressure for when it is towing vs. unladen. Check the manual, then check the tires and adjust as needed.
Make sure the boat is secure on the trailer. As you're trailering your boat, you don't want to worry about the boat wriggling around or falling off. Make sure it's firmly tied down with boat ratchet straps and trailer straps. 
And In Case You Were Wondering...
If, after all, you want to tow a big boat with a sedan, make it a Porsche Panamera. These lovely four-doors can haul nearly 5,000 pounds and look right sporty doing it.
As you can see, there are a variety of choices for a boater to make. Boating opens up access to vast gorgeous swaths of the planet, allowing us to explore rivers, lakes, bays and oceans.
Investing in the best towing vehicle that can tow your boat wherever you want should be a top priority. Take the time to find the best car or vehicle for towing your boat and be happy with your choice!