The Best Cold Weather Gloves for Boaters, Hands Down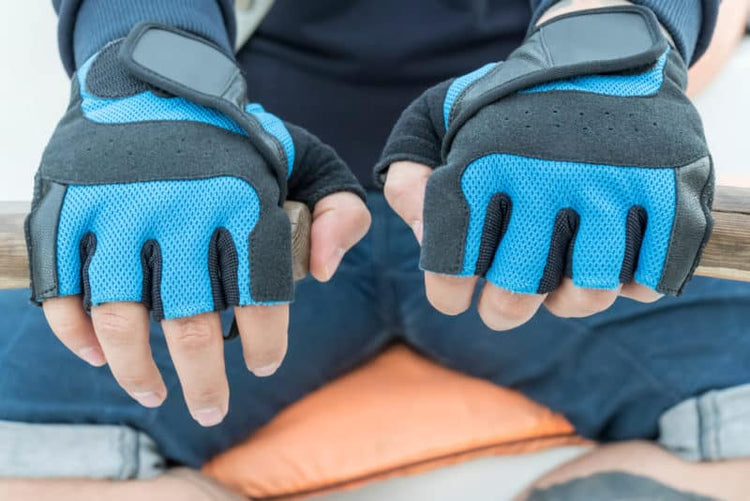 These days I like to do the majority of my boating down south, but I can't help admit that I'm a born-and-bred, tried-and-true Canadian.
And, as a Canadian, you could say I have a little bit of experience dealing with cold climates. In fact, I have a lot of experience.
So that's why I'm here to guide you toward the best cold weather gloves for boating in the winter that you can use when the call of the water is too strong to bear.
When Do You Need Cold Weather Gloves?
If you were ever a fan of ignoring your mother's advice, you're no stranger to avoiding your hat or gloves come wintertime. The fact is, though, that whether you're kayaking or speed boating, keeping warm is essential.
Depending on where you live and boat, sometimes it gets cold, but not too cold to stop you from heading out. In cases like these, especially when the seasons change, it's more important than ever to have some of the best cold weather gloves on hand! 
Consider this: If you're a sailor, you hit the water at relatively high speeds. You can't have the wind nipping at your fingers all day, or before long you won't be able to feel them (or a rigging line to sail properly).
At the same time, if you're a fan of cold weather fishing, you'll need to keep your wits about you. If you're wearing gloves, you can make sure you're hooking and reeling in your prized catch while you can still feel your hands.
Either way, when weather starts to turn, cold weather gloves are crucial. But what goes into making some of the best cold weather gloves out there on the market? Let's check it out. 
Consider the Glove's Construction
Take care of your hands like you take care of your boat. For for the best cold weather gloves for boating, there's just one material you need to keep in mind, and that's neoprene.
Neoprene is a synthetic rubber that's super flexible and holds up extremely well in all types of temperatures. Other materials exist, like Thinsulate and Cordura, which also serve as helpful alternatives (and complements) to Neoprene.
While it doesn't have the same waterproofing, Thinsulate is great for holding in heat (like the inside of a glove), and Cordura is typically used to keep gloves from ripping (like you might find from inexpensive nylon). 
A foamed alternate of Neoprene is typically used for waders and wet suits, but the regular stuff is used to make gloves. If you're considering buying gloves for colder weather when boating, Neoprene is your essential ingredient, while Thinsulate and Cordura serve as nice complements to more casual winter boating.
Aside from a glove's material, consider their variety of construction to help determine which are the best for you.
Fit
While there are loads of options for larger gloves, like those that resemble a skiing glove, most boaters need dexterity.
So you may be looking for a glove on the fitted side. Especially for certain activities like sailing, you'll need a tighter fit that forms to your fingers. This will ensure that you're always on your A-game.
Grip
Another super important consideration is the grip. Some glove models, particularly in the palm, are perfect for sailors who are looking to keep steady as they move about and pull in rigging.
The same applies to Velcro grips on the index and thumb, which allow for maximum versatility (even though they run on the bulkier side).
Cuff
This point goes back to versatility. Not only will the cuff of your gloves showcase whether you can wear a wetsuit while donning these gloves, but you'll be able to tell whether you have to be worried about your hands not being fully protected.
You see, lengthier cuffs on winter gloves mean your hands become more and more insulated. While this might not be great for faster movements, it's ideal for those who simply want to keep warm (like on a frigid fishing trip where you plan on staying still).
Lining
Most of the best cold-weather gloves you'll find have linings that allow the rest of the glove to be waterproof while keeping you warm. Depending on the quality of the glove, you may have the capability to swap out linings when they get wet. Or you may not have to simply because the lining itself is waterproof.
If you plan on spending long times out on the water, these gloves are great for basic boating as they repel wind and rain the best.
The 5 Best Cold Weather Gloves for Boating
Way back on a mid-January day, my friends invited me to join them kayaking down the local river. I didn't know where to start, so I brought my regular gloves. By end of the day, my hands were completely soaked. I had to sit by the fire all evening long just to get feeling back into my numb fingertips.
That's why I don't want you to make the same mistake I did. Especially if you're looking to bring out your Arctic boater. Protect your hands!
Here are some of the best gloves that we recommend along with how they're helpful in specific boat outings and adventures.
Palmyth Neoprene Fishing Gloves
Check Price on Amazon
The best part about these gloves is how versatile they are for fishing trips. Not only do you have finger caps that allow you to freely maneuver objects like rods, cell phones and dock lines, but there are also adjustable Velcro wrist straps so you can get the right fit (without letting in water).
And, of course, the Neoprene provides wind proofing. Keep in mind, though, that this Palmyth model is more for milder climates and not extremely cold conditions.
RAPDOM Gloves
Check Price on Amazon
These RAPDOM gloves are constructed for similar situations, should weather drop about thirty degrees. The liner in these gloves helps keep them breathable, while still performing in much colder temperatures.
If your fishing trip teeters on ice fishing at any given time, these are definitely the gloves for you.
Wind Rider Winter Gloves
Check Price on Amazon
No matter why you find yourself on the boat this weekend, or in the coming winter months, these gloves are the perfect way to ensure that you're keeping warm. 
While they're a basic option without the need for flexibility or dexterity, these cold weather gloves will still keep you warm while providing you with benefits like waterproofing, touchscreen fingertips and even pockets.
Sky one Diving Gloves
Check Price on Amazon
Used for sailing during milder days, these are great all-around winter gloves for those who are a bit more active. 
In coordination with a wet suit, these gloves are fantastic for fishing, surfing or even paddling a kayak. The comfortable fit and protection (thanks to its anti-slip design) make these gloves wearable all winter long.
MRX Boxing and Fitness Sailing Gloves
Like I mentioned, sailors might be the most important boaters when it comes to having the best cold-weather gloves due to their need for grip and dexterity.
These gloves are a great solution to that. They're made from Neoprene and feature a reinforced palm (for maximum grip) and secure closures in the cuff (to keep water from getting in).
Featured Boating Product
Check Price on Amazon - Better Boat's fabric waterproofing spray adds a protective barrier to canvas, polyester, leather, nylon and more. Water beads up and wicks away. Use for bimini tops, shoes, gloves, jackets, cushions, tents and other fabrics to protect and prevent mildew. 
Stay Safe This Winter
Don't forget! It doesn't just take the best cold-weather gloves to make an outfit this winter. If you're out on the boat, always come prepared with the proper headwear, and even a wetsuit if the situation demands.
You don't want to catch a cold, or worse, this holiday season so stay prepared and stay warm!