The Best Lake Fishing Boats for Fun and Serious Angling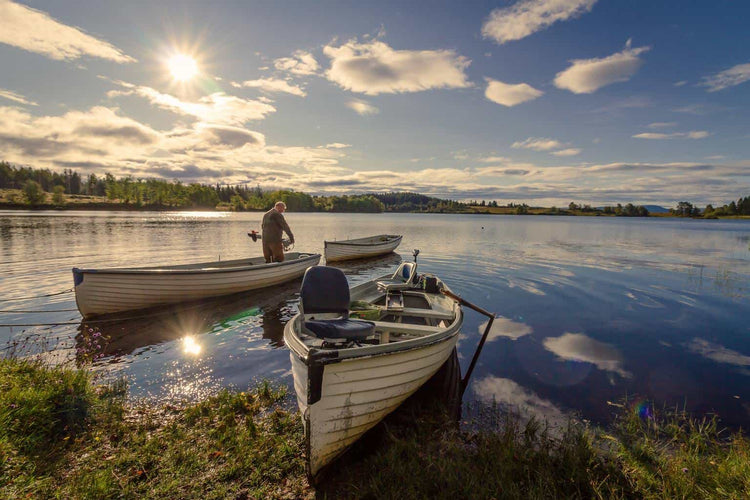 When I was younger, I spent a few weeks out of many summers at Crystal Lake up in Michigan. It's a beautiful lake lined with houses and cabins.
Out on the water, you'll see everything from stand-up paddle boards to kayaks to motorboats during all hours of the day. Fisherman plying the waters pull out lake and rainbow trout, perch, small mouth bass and more.
It's a great lake for fishing, arguably one of the best fishing lakes in Michigan, especially if you have the best lake fishing boat for you. I didn't. I spent most of my time on the sandy shore or a few feet out into the water standing on an old wooden dock. My friends and I would cast lines now and then, but I honestly don't remember ever getting a single bite.
Fortunately, there was plenty more to do, like swimming and watching bad movies we rented by the stack from a video store in nearby Traverse City. Remember video stores? They were great. If you're too young, you missed out. Sorry.
At any rate, I missed out on a lot of great fishing back in those summer days for lack of a lake fishing boat. But I remember watching other folks who had much better luck on their boats. I wish you the same fortune. Maybe I can even help by recommending a vessel or two my younger self would have welcomed.
The first thing to consider is what type of lake, and what type of lake fishing, you'll be doing.
The Best Lake Fishing Boats for Fun and Serious Angling
The Different Types of Lake Fishing
"Lake fishing" is not a catch-all term. The best lake fishing and freshwater fishing boats for one location might not be the ideal choice for another.
Let's briefly look at different varieties of lake fishing and then discuss the vessels that suit each.
Casting from a Lake Fishing Boat
Casting is the type of fishing where you repeatedly cast your baited line out into the water and reel it in. The idea is to simulate the movement of a critter a fish might want to eat.  
Casting should be done from a boat that sits totally still, anchored out with the engine shut off and with as little movement as possible so as to not create surface disturbances that might scare off fish.
On hot days, the fish that you'll be casting for go deep, so you need a long line as well as a boat that you're comfortable using well away from shore. For this reason, a larger boat with a broad flat deck is a good choice for casting.
Trolling from a Lake Fishing Boat
Trolling is the practice of fishing using bait that is pulled through the water at a slow and steady speed, creating the impression of prey that is lazily swimming along.
Proper trolling requires a boat that can stay in motion while creating minimal disturbance.
A small electric motor affixed to a small boat like a Sun Dolphin is a good choice, but you can also use a larger boat so long as its motor can be dialed down to create minimal disturbance and wake as you troll along.
A canoe or fishing kayak also works, especially if there are two anglers aboard, one to paddle and one to mind the line.
Featured Boating Product
| | |
| --- | --- |
|   | Boat anchor kits come with a fluke anchor, chain, rope and shackles. |
Check Price on Amazon - Better Boat's anchor kit comes with a pre-spliced eyelet for easy connection. The heavy-duty fluke-style anchor works in sand or mud and fresh or saltwater. Choose from an 8.5 lb. or a 13 lb. anchor for use with boats 15 to 30 feet in length.  
Still Fishing from a Lake Boat
Still fishing is just what it sounds like: You cast your baited (and usually weighted and floated) line then let it do the rest of the work, patiently waiting for a fish to come along and take a bite as you sit anchored out.
Still, fishing requires patience and planning, as you need to carefully choose the right location and depth based on the season, the time of day, the temperature and, of course, the species you're after.
Any boat that can get you to the right depth and in which you can sit in comfort can serve you well. A deck boat on which you can lounge with a rod tucked into a holder will get the job done.
The Best Lake Fishing Boats for Solo Fishing
If you're heading out onto the lake alone or with just one other person, getting a nice boat for a good price is easy. The smaller the boat, the better.
Granted, if you're going out on Lake Superior or Lake Okeechobee or some other massive body of water, a larger boat might be merited. For most smaller and medium-sized lakes and ponds, a small boat allows for great access close to shore or up into tributary streams where the water is shallow and the fish are plentiful.
For the solo fisherman, or for a pair of anglers who stay close to shore on a calm lake, you can absolutely consider an inflatable dinghy-style vessel like this inflatable Intex Excursion dinghy. These can be had for less than $200, and many can even be outfitted with electric motors if paddling is not your idea of fun.
If you'd like something more formidable, the best lake fishing and freshwater fishing boats for a moderately sized lake are often referred to simply as all-purpose fishing boats.
They usually have a single outboard motor, seating for several people and a shallow draft, especially with the motor raised. They should allow you to seat a couple of friends while being small enough for a single angler to manage with ease.
The Best Lake Fishing Boats for Fishing Parties
Now, for the record, when I say "fishing parties" I don't necessarily mean snacks and drinks and music and that sort of party. I simply mean a group of three or more people who are going lake fishing at the same time (But if you want to party while you fish, go for it).
If you want a cabin boat for lake fishing, the Explorer 685HT is a fine choice. It's not massive, but it does have a berth, galley and a head, and it still offers a broad rear deck great for casting or trolling. 
If you want to fish on a lake with friends or family, however, a pontoon boat or a deck boat is almost always the best choice. These vessels offer enough room for people to move around without knocking into one another.
They can remain stable without disturbing the water much, even as the folks on board shift and shuffle.
Pontoon and deck boats make great platforms for casting, remaining stable as multiple people toss lines into the water (and ideally as several folks fight fish on the way back in).
A pontoon boat in particular is good for use when several people are still fishing in a lake at the same time. The size and shape of a pontoon boat allows you to lower lines into the water without them being so close that there's a risk of tangling. It assures you of a still platform that won't scare fish off by roiling the waters above them.
A Catalina Platinum Cruise pontoon boat is within the price range of most boating families, is small enough to be docked anywhere and can be towed overland with ease. Yet, it still offers plenty of space for a few anglers on deck.
The Star Step IO deck boat from Starcraft Marine is a great choice for the family that loves to fish but that also feels the need for speed. It has an open deck great for casting and enough zip to get your blood moving.
Lake Fishing Boat Accessories
Once you're out on the lake for a day of fishing, the last thing you want is to realize you left an important piece of gear (or your lunch) back on shore.
Plan ahead when you pack your boat. Be sure to pack your boat with a few accessories that will make your outing that much more enjoyable and successful.
Cooler
It's important that you get freshwater fish on ice as fast as you can if you want them to keep. If you bring a cooler with built-in rod holders like this one from ENGEL USA, you can even free up your hands.
Depth/Fish Finder
Give yourself an edge and catch more fish using a bit of technology. A good depth finder helps you pick the right spot. A fish finder gives you even more advantages (many units can do both).
Net
Leaning way over the side of the boat to try to wrangle in a fish with your bare hands is a great way to fall out of the boat. So invest a few bucks in a good fishing net.
Rod Holder Cutting Board
To get a headstart on the scaling and cutting tasks involved in fishing, an onboard cutting board is an excellent accessory to have. Constructed from marine-grade polyethylene, it's UV resistant and fits into your boat's rod holders. It even has a spot for knives.  
Final Thoughts on Lake Fishing
For the record, these days I find myself out on the water in my canoe more often than I join a lake boat-owning friend or rent a boat, and it works just fine.
You just have to be okay with less room and no motor. And a slightly elevated chance of capsizing if you're not careful as you lean into a fight with a determined fish.