Scope Out the 6 Best Marine Binoculars and Focus on Your Favorite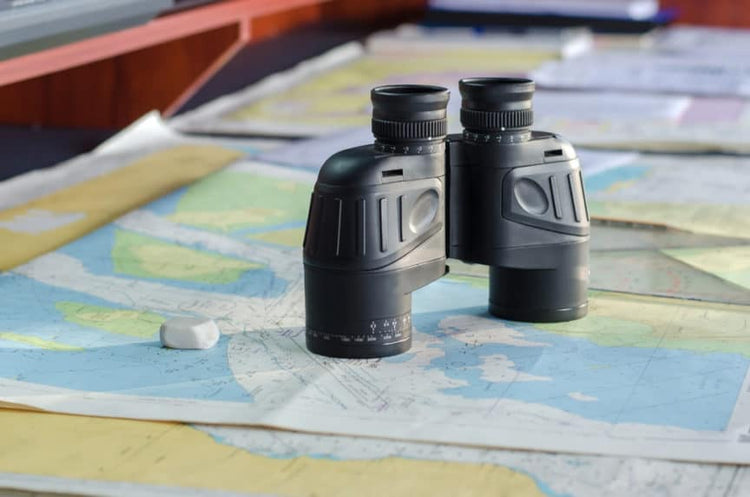 Marine binoculars are a necessity on a boat, kayak or canoe. Adding a layer of fun on the water, they provide a means of birdwatching and even help determine exactly what kind of boat that is out there in the distance.
But more importantly, they provide a safe means to scope out weather and water conditions, so that you can steer clear and wait out a storm (either anchored in a safe harbor or back at the marina). As part of your boating gear collection, it's important to include a pair of the best marine binoculars.
So read on to discover what makes a good set of marine binoculars and scope out one that works best for you.
How Do Marine Binoculars Work?
Just like regular binoculars, marine binoculars work via a series of lenses and prisms. This system brings it all in crisp and clear, as the prisms reverse the image. Without this system, your view would look inverted, reversed and just plain weird.
Two side-by-side tubes are used to gaze through (rather than days of yore when sailors used a single telescope and closed one eye).
Most binoculars are 7x50. This means there's 7x magnification and the lenses are 50mm in diameter. You're probably thinking "Let's up that magnification to see even further." But when dealing with marine binoculars, this doesn't exactly work.
You see, when you increase the magnification, you'll also increase the amount of shaking (due to unsteady hands or the fact that you're on a boat ... a rocking boat). There's no getting around it. Higher power is just going to do that.
For the best non-blurry vision, stick with 7x50. The 50mm lens lets in a lot of light and provides a large opening for marine use.
Components of the Best Marine Binoculars
Marine binoculars, much like standard binoculars, have several features that provide comfort, convenience and great visibility. Between closed and open bridges, porro and roof prisms and center or individual focusing, it can get confusing.
Let's go over the main points so you understand what's best for your boating visionary needs.
Binocular Prisms
Roof Prism: A roof prism is when the glass tubes are in line with each other. It gives a more streamlined look. They're usually longer than the porro prism variety, and they can be more compact and ergonomic. However, most marine binoculars are...
Porro Prism: Porro prism means that the glass tubes are offset. This is the type most people picture when visualizing a pair of binoculars. Porro prism binoculars can provide a greater depth of field and a wider field of vision than roof prism marine binoculars.
Binocular Housings
Open Bridge:  The center part that connects the two tubes (on roof prism binoculars) is open. In other words, you could wrap your hand around it.
Closed Bridge:  The center hinge and focusing dial are enclosed. This allows for a stronger mechanism but doesn't allow you to wrap your hand around it for a good grip.
Binocular Focus Systems
Center Focus System: A center focus system is when the focus wheel is on the binocular's bridge. Most binoculars have this type of focus system.
Individual Focus: Individual focus is when each eyepiece can be focused individually.
Focus-Free: The name says it all. There is no focusing, as the eyepieces react to your eyes. While certainly convenient, this can cause stress on the eyes.
Binocular Frame/Body
Aluminum: The most popular material, aluminum is inexpensive, corrosion-resistant, lightweight and strong.
Magnesium: Has a high strength to weight ration. It's very strong, yet it's lighter than aluminum. 
Polycarbonate: Strong, corrosion-resistant and temperature-resistant, which keeps the frame at a neutral temperature in extreme conditions (like winter boating). Think about wrapping your hands around super cold metal and you'll understand this feature's benefits.
Featured Boat Care Product
Better Boat Cleaning Wipes
Check Price on Amazon - Better Boat Boat Cleaning Wipes make quick work of spills, drips and stains. It's formulated with titanium dioxide to prevent fading and cracking and provide UV protection. It's safe for vinyl, leather and plastic and works great on upholstery, consoles and more.
Features and Options Found on the Best Marine Binoculars
Obviously, standard binoculars would work in a marine setting. As long as you can see, you're good to go, right? Yes. And no. In a marine setting (Hello rocking boat and spraying water), consider a few of the following when picking out a pair of marine binoculars.
Lens Coatings: It's a good idea to choose marine binoculars with a lens coating that reduces glare, increases contrast and makes colors look clear and crisp.
Field of View: Field of view is the width of the image at 1,000 yards without moving the binoculars. Most fields of view are at seven degrees. When the view gets narrower (below six degrees), it's harder to see what you're trying to see. When the view is wider (above eight degrees), it's easier to see, but the view can be less sharp and defined. Stick with a seven-degree field of view.
Image Stabilization: Like the image stabilizer in your digital camera, this means that the binoculars automatically stabilize the image (allowing you to go above the typical 7x magnification). No manual focusing is required. Some even have night vision.
Prisms: Believe it or not, there's a lot of technology in the optical glass prisms used in binoculars.
BAK4 (Barium Crown glass) is the best type, as it transmits light well with less chance of lost light due to internal reflections or imperfections.
BK7, slightly lower in quality than BAK4, is probably the most widely used, as it has excellent light transmission and low internal imperfections.
SK15 falls somewhere in the middle. It has a higher refraction than BAK4 and BK7. Images have high contrast and great clarity.
Floating: You would never intentionally toss your binoculars overboard. But if you've been a boater as long as I have, you'll know the Law of Murphy pretty well. Some of the best marine binoculars are made to float. You can always invest in a floatable strap (check price on Amazon) if yours aren't made to float on their own. I suggest a bright color like orange or yellow; they're much easier to spot in rocking waves out on the ocean.
Waterproof / Fog-proof: This is probably what I'd call the most important marine binocular feature. Water, fog and condensation... need I say more?
Non-slip Grip: Again, when you're on a boat, anything non-slip is the best choice.
Compass: A built-in compass is an awesome marine binocular feature (if only for the cool factor).
Scope Out the 6 Best Marine Binoculars
Now that you know some features and facts, let's check out the best marine binocular brands and models.
1. Bushnell H2O Waterproof / Fog Proof Porro Prism Binocular
Check price on Amazon
Bushnell H2O Binoculars have a Soft Texture grip to absorb shock, which is a great feature to have on a rocking boat.
Bak-4 prism eye cups and multi-coated optics provide great light transmission and clarity. This marine binocular is also O-ring sealed and nitrogen-purged for fog-free use and great views.
Available is also a large center focus knob for easy adjustments.
2. BARSKA Deep Sea 7x50 Waterproof Floating Binoculars
Check price on Amazon
Waterproof and floating, BARSKA Deep Sea Binoculars are perfect for nautical and outdoor use. BAK-4 prism glass provides excellent clarity in this top-of-the-line model, which is also O-ring sealed and dry nitrogen-purged to keep out water and moisture for fog-free viewing.
They also have an internal rangefinder, a compass, multi-coated optics, internal focus and rugged armor for a non-slip grip.
3. Celestron SkyMaster 20x80 Binoculars
Check price on Amazon
When you want to see far and wide, the Celestron SkyMaster is the way to go. An 80mm lens gives maximum brightness in low light and long-range conditions.
Budding astronomers will be able to find Mars with the 20x magnification on this monster. Granted, you don't necessarily need that feature on a boat, but it's certainly cool.
Other features include ultra sharp focus, rubber coating for a firm grip and multi-coated optical lenses.
4. Nikon Oceanpro Global Compass Binoculars
Check price on Amazon
Nikon Oceanpro 7x50mm Global Compass Binoculars have BAK-4 porro prism optics and multi-coated lenses for great light transmission. Designed specifically for the water, they have a 380-degree field of view at 1,000 yards, reducing disorientation often experienced when using binoculars in a moving environment (like on a boat).
The illuminated bearing indicators on the compass appear at the bottom of the screen so as not to hinder your view. One disadvantage to the Ocean pro is its inability to float. Instead, be sure to purchase a floating strap like this Steiner Floating Strap (check price on Amazon).
5. ProMariner Weekender 7x50 Water-Resistant Binocular
Check price on Amazon
ProMariner Weekender Water-Resistant Binoculars have a streamlined slim design, which is great for everyday use.
Attached lens caps mean there's one less thing to lose or fall overboard (always a win-win on a boat). The BAK-4 prism lenses are green-coated for contrast and glare prevention.
6. Steiner Model 575 Marine 7x50 Binoculars
Check price on Amazon
Steiner Model 575 Marine Binoculars have high-contrast optics and Sports Auto Focus so you don't have to manually focus. Ideal for boating, they're waterproof and float.
With a durable polycarbonate frame, they're all around great in low light, heavy glare, rough waves and calm seas. And they even offer ergonomic rubber ridges for a stronger, more secure grip.
Focused On Your Favorite Marine Binocular?
By now, you probably have a good idea of what to look for (pun intended) in marine binoculars. And hopefully, you scoped out a few that fits your boating style and offers several essential features.
Once you hone in on how to handle it, you'll be checking out whatever the weather is doing or becoming a pro birdwatcher and stargazer in no time. See ya on the water!
---