4 Helpful Considerations When Choosing Between the Best Outboard Motors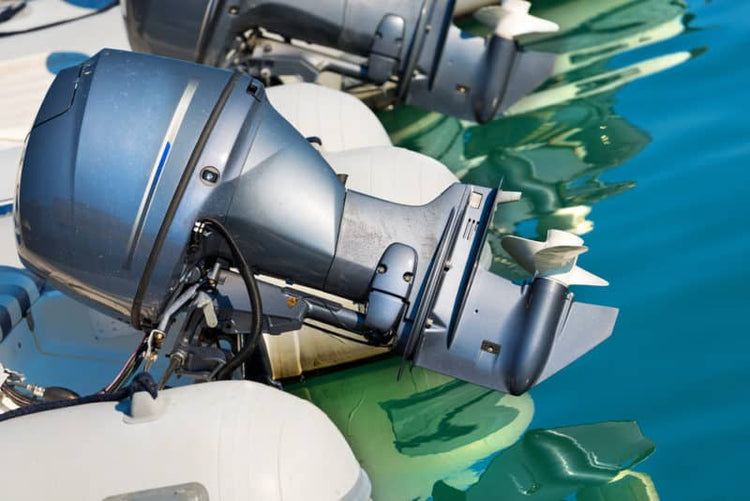 The boat made a glorious launch. Its engine purred to life and it sailed. But only for about five minutes until the motor stopped working.
Our daughter's toy boat had come to a standstill in its makeshift sea (inflatable kiddie pool). So instead, with my daughter teary-eyed, we grabbed Mr. Ben and Mr. Jerry's magical tubs to dissolve the day's worries. 
What would happen, though, if you faced the same situation when you're on a real boat? Not something pleasant, to say the least. In fact, you might be crying, too (and there's no Ben and Jerry's in the middle of the lake - if there is, please tell us where).
This is why you should be double sure before selecting an outboard motor and take proper care so it doesn't let you down.
4 Helpful Considerations When Choosing Between the Best Outboard Motors
As you can see, I've not included price as a determinant in this list. While staying within a budget is always important, taking all the other aspects into consideration and thinking long-term is key to arriving at the best outboard boat motor purchase.
1. Your Boat's Size
Choosing the best outboard boat motor for you is probably as daunting a task as choosing the right boat. Unfortunately, there's no magical formula to arrive at the right choice.
There are a few things to keep in mind when determining the right size. Referring to your boat's size is not only a good consideration to make, it's also a vital one.
A size mismatch between the boat and the outboard motor can result in a string of problems. For instance, if the outboard motor is small in comparison to your boat, it can overwork itself and wear away fast. It could also lead to potential safety issues and a problem with the boat's plane.
On the flip side, a large motor on a small boat causes overheating and burnt spark plugs.
2. The Outboard Motor Type
An outboard motor comes in two varieties: two-stroke and four-stroke. Many boaters believe choosing between two-stroke and four-stroke ultimately depends on your boating lifestyle and expectations. And they are correct.
For instance, if you take your boat on occasional fishing trips, you need a two-stroke motor, which is light, affordable and easy-to-repair.
However, if your expectation out of your boat is a power-packed performance so that it can keep going over long distances, you should opt for a four-stroke motor.
The basic differences between two-stroke and four-stroke motors: Four-stroke motors function on gas alone. Two-stroke engines work with a mix of both gas and oil (added not to the fuel but to the engine itself), which results in better fuel economy.
3. Fuel Injection Types
Outbound motors use one of the three fuel injection systems
: Direct Fuel Injection (DFI), Electronic Fuel Injection (EFI) and carbureted system. One of the primary differences between the three types is the way they operate.
Carbureted systems are the oldest, but they have some disadvantages. They lag behind the DFI and EMI alternatives in terms of fuel economy.
DFI systems inject fuel right into the engine cylinders. Carbureted systems rely on the airflow and fuel amount that enter the engine.
EFI, as you might have guessed, refers to the system that controls the air and the fuel using electronic systems.
Of these three fuel injection types, the carbureted systems are the least expensive. However, when you weigh in all the qualities, both EFI and DFI come out as far better choices.
4. The Horsepower
What's one great way to determine the perfect horsepower for your boat?
Begin by asking yourself a few basic questions
:
What kind of cruising speed do you have in mind?
What kind of fuel cost are you looking at?
How many passengers do you want to carry?
Once you're certain about these, you'll want to consider the size of your boat.
Here's a breakdown of the needed horsepower relative to a boat's size
:
Smaller boats (such as dinghies, canoes and sailboats) for lake boating and smaller bodies of water should find a maximum of 10 horsepower to be enough.
Longer, lighter boats (such as 10-foot and 15-foot fiberglass or aluminum boats) require a 15-20 horsepower range for good power.
Boats in the 15 to 25-foot range need a 75-90 horsepower to indulge in leisurely activities like coastal fishing. However, if you want to go faster and travel further, you'll need nearly 300 horsepower for the same boat lengths.
Boats over 25 feet work well with two outboard motors in the 200-300 horsepower range (rather than a single outboard). This extra power helps you go over a distance quickly and make a quick comeback, something you'll want if you're into fishing.
Outboard Motor Maintenance Tips
Once you've made the purchase, the next step is taking care of your outboard motor so you can get your money's worth. With some basic boat tools, you can prevent some major issues from rising. Here are a few boat maintenance tips for outboard motors: 
Regular Maintenance
Check the fuel line and primer bulb periodically for any signs of wear and tear. This will ensure to catch and avoid any leaks or weak spots beginning to form.
The fuel tanks also deserve your attention. Check to see that there's no corrosion or damage. You should also check for water in the fuel.
Things To Do After Every Boating Trip
Flush out the engine. Even if you've avoided saltwater seas and have only been boating in freshwater lakes, it's important to do this to get rid of dirt or lake algae. 
You can use flush muffs, which fit over the water intakes, or use a simple boat/garden hose with a flush kit hooked up to the engine's built-in attachments.
Check the water flow in the water pump.
Once the flushing is complete, disconnect the fuel line and burn out all the fuel in the carburetor.
Next, turn off the engine and the battery switch if you have one. Check the engine cowling for any signs of a leak. If you find one, consult a mechanic.
If you've been out in saltwater, you may want to use boat de-salt to wash any anything that could cause rust and corrosion.
Spray an anti-corrosive coating once you have wiped down all the parts. You should also use a lubricant on all the moving parts.
Last, cover the engine with a plastic or canvas covering.
Featured Boat Care Product
Check Price on Amazon - Better Boat's Marine Degreaser quickly dissolves streaks from grease and grime. Use it on fiberglass, stainless steel, gelcoat, tires and more. It leaves a high-shine barrier that resists rust, dirt and build-up. 
The 5 Best Outboard Motors for Larger Boats
Over the past few years, the best outboard boat motor options have grown exponentially. With the use of more advanced technology that guarantees more power and reliability, the choice, for all practical purposes, is between good and great.
If you're interested, here's a list of the most impressive five:
This one recently got a complete technical overhaul (which was long due considering it was the first engine update in two decades). It packs features like an impressive decompression mechanism, a vibration isolation mount and an ECU to monitor oil pressure. It's starting US MSRP is $2,150.
This one brings better fuel efficiency with its battery-less EFI. Plus, it leaves no fuel exposed to the air and hence totally removes any chances of ethanol issues that usually come with small carbureted engines. Visit the manufacturer's website to check out all the details, including the price list.
This is the lightest 25 hp outboard available right now. It gives peak performance and excellent fuel efficiency. If you're looking for a reference point, Yamaha F25 uses only 1.8GPH at 5500 RPM. Price begins at $4,829.
According to the manufacturers, an amazing 17,000 hours went into the making of these outboards, and the performance really shows. They're super smooth and weigh the lightest in their range. The MSRP in the US falls between $9,235 and $10,975.
This is the favorite four-stroke outboard for boaters with mid to large-sized boats. From fishing boats to large pontoons, the Yamaha F250 offers a reliable performance that's second to none. Its MSRP is around $24,210.
The  Best Outboard Motors for Smaller Boats
While you'll have to go to a dealer to purchase larger outboard motors, you can get your hands on smaller outboard motors and trolling motors (somewhere under 10 hp) through online sites such as Amazon. Here are a few I recommend.
1.
Hangkai Outboard Motor
While this outboard motor is made for smaller craft like inflatable dinghies, fishing boats and small sailing vessels, it's quite durable. 
The handling is extremely maneuverable, allowing you to steer with a full 360-degrees without needing to change gears to reverse. In addition, it's perfect for both freshwater and saltwater boating!
2.
Mercury 9.9 hp 4-Stroke Outboard Motor with Tiller
Similar in quality to the Mercury 75/90/115, this Mercury 9.9 hp outboard motor does the trick for smaller boats. It's lightweight, which makes it perfect for dinghies, jon boats and even small pontoons.
With a twin-cylinder and four-stroke features, this outboard motor is also super quiet, making it an amazing motor for anglers looking to reel in some fish.
3.
Coleman Powersports 2.6 hp Outboard Motor
The Coleman Powersports outboard motor offers easy cruising and works best as a trolling motor. It's extremely lightweight (under 40 pounds) and also features an easy-start TCI ignition and 360-degree maneuverability.
4.
Sky 3.5 hp Outboard Motor
This single cylinder, 2-stroke outboard motor offers a bit more power than the Coleman Powersports 2.6 hp at a more affordable price.
Highly durable, it offers an anti-corrosive construction that allows you to take it out in freshwater and saltwater.
Final Thoughts
Choosing the right outboard motor is one of the most essential steps to take after you've bought your boat. The best way to go about it is to introspect.
Ask yourself the right questions to gain an understanding of your own needs, expectations and the nature of your boat.
Then, align it to your search for the best outboard boat motor. Once you do that, finding the best outboard motor option will become so much easier. All the best!