Keep up the Pace: The 6 Best Sailing Watches for Time and Tide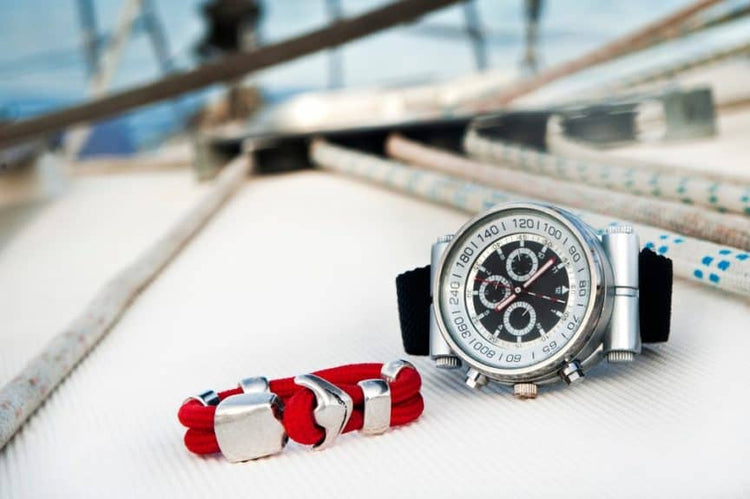 Even if you're not into racing, a sailing watch is a great piece of gear to have on hand (or wrist, as the case may be). You might think any old watch can be used for sailing. For that matter, why do you even need a sailing watch?
More of a Smartwatch (or wearable tech) than your typical run-of-the-mill wristwatch, sailing watches display and record loads of important information while racing or during regattas.
Tides, wind temperature and longitude are all important things to be aware of. And it doesn't matter if you're racing America's cup or you simply own a sailboat, pontoon, sportfishing boat or liveaboard trawler or participate in paddle sports.
The best sailing watches are accurate, dependable and durable. Affordability, function and style come in at a close second. Let's not forget waterproof. The waterproof factor alone puts it high on my list of must-have boating accessories.
Uses for a Sailing Watch
In addition to boating and racing, sailing watches make great fishing kayak companions. In fact, nearly any water-based or outdoor adventure is the perfect scenario for a sailing watch.
Let's take a look at some of the ways they can come in handy.
Accurate timing while racing
Precise navigation on land or water through GPS or a compass
Tide knowledge
Weather information
Features of the Best Sailing Watches
In the days of yore, sailors used sextants, astrolabes and anemometers to measure altitude and wind speed and travel by celestial navigation. Can you imagine packing all of that into a boat gear bag with anchors, air horns, dock lines and fenders (let alone trying to actually use, or pronounce, all of it)?  
Fortunately for us, all of those features (and more) are now combined into one wearable instrument. From the basic time-telling and countdown features to tides, altitude, GPS and weather predicting, the best sailing watches sport multiple functions to keep you safe, informed and on track while out on the water.
Barometer: The barometer measures air pressure. It tells you whether atmospheric pressure is rising or falling, which is helpful in predicting upcoming conditions or storms on the horizon. Most bad weather is the result of a low-pressure system, and a barometer can tell you that.
Chronometer: Sailors used chronometers in the 1700s to accurately navigate their way at sea. Today, they're just as valuable at providing precise measurement of longitude in the water.
Compass: A compass is always a great item to have on a boat. If the rest of your electronic gear fails, you've got reliable navigation. Provided you know how to use said compass (which you should, by the way).
Countdown timer: The countdown timer measures the interval that leads to the start of the race or regatta. Some can turn into a racing chronograph when it reaches zero.
Easy-to-access buttons: Easy accessibility is a great feature to have, especially if you're wearing sailing gloves.
Easy-to-read display: A large face and easy-to-read display come in handy when there's spraying water during races.
Multiple time zones: If you're on an extended sailing excursion, or a round-the-world adventure, it's good to know the different zones. Even if you're just out on the local lake, it's a cool feature to have.
Sports features: Why change out your watch just because you're not sailing? The best sailing watches often have functions for swimming, running and hiking, as well as heart rate monitors.
Tide information: For extended excursions, long races or regattas, it's good to know when the tide is high, low, coming in or going out.
Waterproof features: Obviously, a sailing watch needs to be waterproof. Even if you don't plan to ever get in the water, there's always the Murphy's Law factor as well as heavy rain. Waterproof features include:
Hydro pushers: Buttons can be pushed underwater without water getting into the watch.
Silicone straps: Along with being waterproof, silicone straps are comfortable and rust-free.
The 6 Best Sailing Watches for Time and Tide
Let's take a look at some of the best sailing watches on the market.
1. Freestyle Mariner Tide Sailing Watch
Check price on Amazon
Yes, that same neon pink and purple Freestyle watch you wore in the '80s is available as a sailing watch (without the neon hues). If your focus is on tides (and much of sailing is), then the Freestyle Mariner Tide Sailing Watch is the watch for you. 
It has a sturdy polycarbonate case, a soft silicone strap, a stainless steel buckle and hydro-pushers. It's also water-resistant to 330 feet.
Specifically designed for tides, it can tell you tide direction, time and height for 150 beaches worldwide, along with sunrise and sunset times.
While not available in neon colors, it comes in a couple of colors if you're interested in coordinating with your sailing gear. I'm partial to the red, myself.
2. Garmin Quatix 5
Check price on Amazon
Attractive and sporty, The Garmin Quatix 5 is compatible with Garmin chartplotters, has built-in GPS, a heart rate monitor and preloaded activity modes for other sports like kayaking, running, biking and paddle boarding.
It has Sail Racing Assistance, which includes a virtual starting line, distance to the starting line, a countdown timer and tack assistance. Quatix 5 allows you to receive emails, texts and alerts right on your wrist.
Other features include autopilot control, remote waypoint marking and speed, temperature and wind functions. You can even change bands if you're so inclined.
For the price, the Garmin Quatix is a great blend of computer and sailing watch.
3. Gill Race Water Resistant Sailing Sporty Watch
Check price on Amazon
Hardcore sailors swear by Gill and its line of top-quality apparel and sailing gear. And the Gill Race Sailing Watch is no different.
It's made of carbon-reinforced ABS plastic with a stainless steel case and a flexible strap. Features include time, date, day and a backlight. It's water-resistant to 30 meters and is shock and impact resistant.
Racers will appreciate the countdown timer with synchro and audible alert and alarm sounds.
4. Ronstan ClearStart Watch 40mm
Check price on Amazon
The Ronstan ClearStart Watch is a great starter sailing watch for racing minded sailors. It's affordably priced, compact in size and features a chronograph, a backlight, racing countdowns and SYNC functions.
The large textured buttons and oversized digital display make for easy operation and viewing while underway. It has pre-racing-mindedcing sound signals so that you'll know where you are in the start sequence without having to keep looking at your wrist.
The Race Mode has Multiple Start Sequence features as well as World Sailing 5, 4, 1, 0 Match Racing. It's also shock-resistant and water-resistant to 150 feet, which are always great features to have in a sailing watch.
5. Timex Yacht Racer
Check price on Amazon
The Timex Yacht Racer has a stainless steel case, a silicone strap and is water-resistant to 330 feet. The sporty face has a nautical look and features a classic analog display, scratch-resistant mineral crystal and easy-to-use large buttons.
Among other sailing functions, it has a yacht racing mode and a count-down timer to auto-start chronograph. One really cool feature is the Perfect Date perpetual calendar.
Based on its good looking mix of silver, blue and nautical red and yellow accents, this one is at the top of my wishlist. It's dressy enough to be worn at after-sail events or for day-to-day wear.
6. Tissot Sailing Touch Watch
Check price on Amazon
The Tissot Sailing Touch Watch is stylish and functional for racing or otherwise. It has a stainless steel case, a rubber strap, an analog and digital display, a barometer and a compass. Red nighttime illumination is a really cool feature.
Scratch-resistant and super durable, it's water-resistant up to 330 feet and has a chronometer that tells you speed per distance. The countdown timer can be synchronized with the racing signal to accurately time the race.   
Featured Boating Product
| | |
| --- | --- |
|     |  Metal Polish removes dirt, dust, grime, salt, surface rust and more.  |
Check Price on Amazon - Keep all the metal hardware on your sailboat bright and gleaming with Better Boat's metal polish. It's safe for use on stainless steel, chrome and aluminum to keep railings, masts, cleats and more clean and polished. Use on the boat and at home for appliances, vehicles, motorcycles and more. 
Have you found the perfect sailing watch to add to your sailing or motor boating gear bag? Hopefully, this list has given you some ideas and wishlist options. I'm eyeing that Freestyle Mariner, myself.
---