Sure Footed: The Best Slalom Water Skis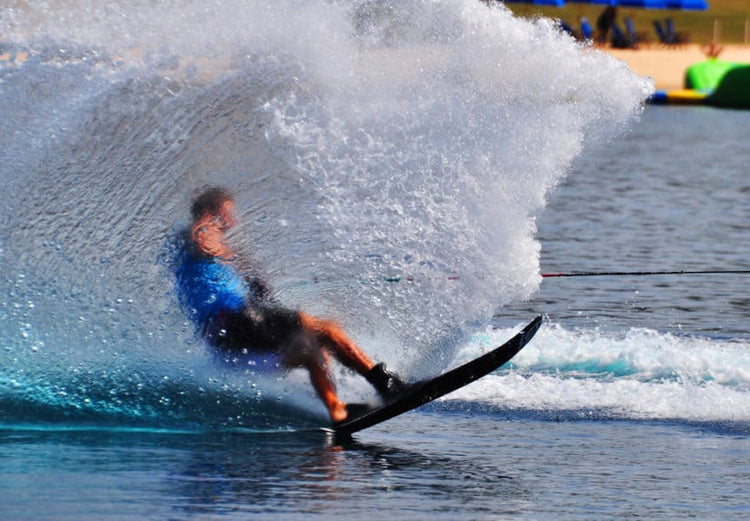 Whether you like your water semi-solid or splashy, the word slalom can mean a couple of things. Even though they share a name and have similar techniques, a zigzagging motion through either poles or buoys, slalom water skiing is not to be confused with slalom snow skiing.
The biggest difference, after the snow/water factor, is that slalom water skiing takes place on one ski. Slalom snow skiing just refers to the technique of skiing through the poles. Then, of course, there's that whole thing with the freezing cold.
With that being said, let's get sunny and talk about slalom water skiing (no offense to the snow bunnies). You can slalom water ski behind ski boats, deck boats and even some pontoon boats. A 22-foot boat with a center-mounted pylon for the rope makes a great slalom ski boat.
Slalom Water Skiing Basics
The dominant foot goes in front
Skis are usually long and narrow
Slalom skiers navigate a course marked with anchor buoys. There's a total of 26 buoys with six turns (three on each side) that create a zigzag pattern through the water. Of course, you can also just ski for the fun of it without setting up a designated course.
Featured Boating Product
| | |
| --- | --- |
|       |  De-Salt Concentrate |
Check Price on Amazon - Better Boat's de-salt concentrate rinses away saltwater, algae, dirt, grime and other debris from inboard and outboard engines as well as water toys, dive gear, fishing equipment, driveways, RVs and more. 
Features of Slalom Water Skis
Slalom water skis are very similar to traditional water skis that you use with two feet. In fact, you can buy regular skis with a binding on one that can be used for slalom. How's that for a two-for-one deal!
Ski Curvature:  Also called the rocker, this is the curve of the ski's base. It's what affects the turning radius of the ski.
Bindings:  Just like a snow ski, the binding holds the boot in place. It can be customized for right or left foot forward positions.
Toe Plate:  The toe plate is located behind the binding. It allows you to drag your back foot in the water for stability and turning.
Edge Bevel:  The edge bevel is the area between the side and bottom of the ski. It's the angle where they blend into each other. This allows the ski to make precise turns.
Stiffness:  You'll want just the right amount of stiffness and softness in a slalom ski. More energy is created with a stiffer ski, but if it's too stiff, it's hard to control. If it's too soft, you won't be able to perform as well. The amount of fiberglass used in construction affects the level of stiffness in the ski.
Sure Footed: The Best Slalom Water Skis
The Best Slalom Water Skis for Beginners
You'll notice that most of these skis come as a pair, rather than one slalom ski. This seems to be the norm from what I can see.
I find this gives you more for your money, as you have the option of using them as traditional water skis or just using one as a slalom ski. Also, many slalom skiers start out on two skis and then drop one.
HO Sports Excel Combo HS/RTS Water Skis
Check price on Amazon
The HO Sports Excel Combo has a tunnel bottom design with adjustable horseshoe bindings. This allows a variety of foot sizes to use them. There's a toe plate on one ski, which is the ski you would use for slalom skiing.
These skis can be used with a trainer bar if you or your kids are just starting out. The multi-use aspect, combined with the stability and dependability of this model, makes them my favorite choice in a beginner slalom ski.
Boot Size: Adult 4.5-13
One or Two Skis: Two
HO Sports Freeride Water Ski Combo
Check price on Amazon
HO Sports Freeride Skis are a great choice in a multi-use model. Inspired by snow skis, they have a flex pattern that lets the rocker bend to make smooth turns.
The front half of the ski has a traditional beveled edge to give stability in the water.This ski is compatible with a trainer bar when using both skis.
The sidewalls are positioned inward (like a wakeboard edge). This allows water to release smoothly off the bottom surface, resulting in less drag and more lift. This also makes it easier to get up and out of the water.
The 67-inch is recommended for 150-200 pounds. The 63-inch is for up to 110 pounds. Choose the 71-inch model if you're over 250 pounds.
Boot Size: 7.5-13
One or Two Skis: One
O'Brien Vortex Combo Water Skis
Check price on Amazon
The wide body and extra wide tips make the O'Brien Vortex a great choice for beginners. Wider skis are easier to get up on the water. A wider surface also means less drag and easier skiing at slower boat speeds. 
Many beginners, myself included, may be intimidated by the thought of zooming across the water (or into the water, as the case may be). 
The fins are bright white, making it easier to find the ski after you've dropped it for slalom skiing. They have a plastic fin, X-7 adjustable bindings and a rear toe plate on one ski.
Boot Size: Men's 4.5-13
One or Two Skis: Two
The Best Slalom Water Skis for Experienced Skiers
Airhead 1300 Water Ski
Check price on Amazon
The Airhead 1300 offers multi-use variety for all skill levels. It's made of a composite material with fiberglass reinforced nylon fins.
The slide-type bindings make it easy to adjust when you've got the whole crew on the lake. They have wide tails with tunnel-shaped bottoms for control, performance and stability. There's even a toe plate on one ski.
I enjoy the colorful design of this ski. I find that bright colors help you spot the ski when you have to turn the boat around to find it floating in the water.
Boot Size: 5-12
One or Two Skis: Two
O'Brien Siege Slalom Ski w/Avid Bindings
The O'Brien Siege Slalom Ski is tunnel concave with an adjustable carve fin, lightweight bindings, an EVA footbed and a front lace system.
An increased rocker provides excellent stability. Small defined bevels allow for faster and easier turns. The lower cut binding gives flexibility and makes it easy to release.
Boot Size: Adjustable binding in three sizes (up to 7, 7-11, and 12+)
One or Two Skis: One
CWB Connelly Big Daddy Water Ski
Check price on Amazon
Known as the Big Guyski, the Connelly Big Daddy is designed for the heavyweights in the group. There's an adjustable front binding, a rear toe strap and an aluminum drop-through fin.
The wide tip and tail and Connelly Tracking System (CTS) make for great starts in deep water. There's a narrow underfoot design and flex pattern for smooth performance.
It has a closed-cell polyurethane resin core. The suggested weight is 220 pounds.
Boot Size: Up to 14
One or Two Skis: Two
O'Brien Celebrity Combo Water Skis
Check price on Amazon
These multi-purpose skis have a padded rear toe plate and X-7 pinch slide bindings for easy adjusting. This makes them comfortable and suitable for the whole family to use.
They're made of a durable composite and have a performance side cut for excellent turning. A dual tunnel gives great control and stability while the flatter and faster rocker reduces drag.
The nylon fins are rounded, which provides traction on the water and eliminates sharp points damaging vehicles and boats.
The pronounced V-entry at the tips allows you to glide easily across the water.
Boot Size: Men's 4.5-13
One or Two Skis: Two
Slalom Water Ski Accessories
If you're thinking of getting into slalom water skiing, check out some of these accessories and gear.
Stearn's Adult Watersports Classic Series Vest
Check price on Amazon
Being on the water means wearing a life jacket. The Stearn's Watersports Classic vest is your basic multi-use life jacket.
It's U.S. Coast Guard-approved for everything from wakeboarding and waterskiing to tubing. The open-sided design has four adjustable front buckles and webbed straps that make it easy to get into and out of. 
It has a durable 200D nylon shell and lightweight PE floatation foam. Universal sizing fits 30-50 chests. The wide size range makes it easy to wear over a cold water wetsuit.
OEM Water Ski Slalom Buoy
Check price on Amazon
If you want to practice your slalom skiing skills with a real course, check out this buoy. It's made of durable PVC and meets the American Waterski Association's specifications for tournaments.
It has a durable rope hold and a 28-inch circumference. I love the bright yellow color. You, and the other boats, won't miss it.
SGT Knots Water Ski Rope
Check price on Amazon
SGT Knots water ski rope is great for beginner to expert skiers. It's made of polypropylene fibers that, like most marine rope, are resistant to mold, mildew, water and UV rays. 
A hollow braid construction method makes it lightweight. The tractor grip handle floats, making it easy to find when dropped. It's 3/8 inches wide and 75 feet long.
Attwood Corporation Pro Swivel Ski Pylon
Check price on Amazon
While not required, a ski pylon is a very handy feature to have on your boat. It helps to keep the ski rope up and away from the prop. If you've ever had to cut a day short because of a chewed-up rope, you'll agree.
The Pro Swivel Ski Pylon from Attwood Corporation has a removable pin arm base and a head that swivels 360 degrees. The stainless steel tube is wide and 34 to 58 inches in height. The base diameter is six inches.  
Whether you're a beginner slalom skier or a seasoned pro, the right pair of slalom skis will make your time on the water fun and exciting.
Hopefully this has given you some tips on choosing the best slalom water skis for yourself or your family. Happy skiing!  
---