Glowing Reviews: The 6 Best Underwater Dock Lights for Fish and Ambiance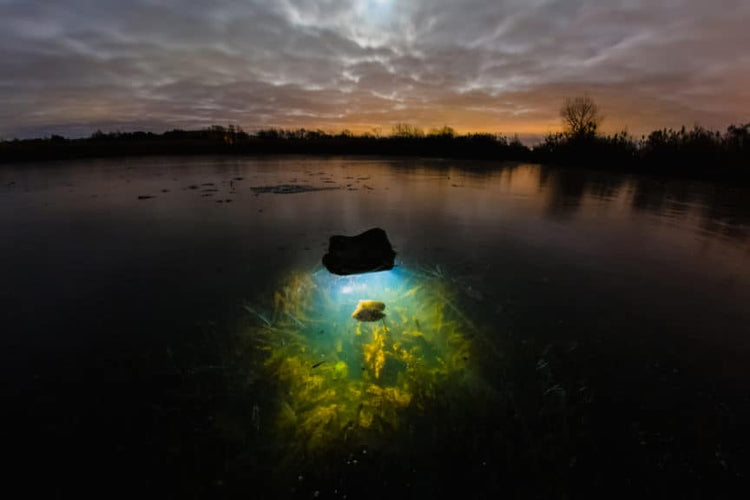 Do you use underwater dock lighting on your boat dock? If not, maybe you should give them a try. 
Underwater dock lights can not only be used as submersible fishing lights to attract bait fish and catch bigger fish, but they also bring in a bit of outdoor ambiance. They can even come in handy on a kayak or a liveaboard boat.
Let's go over some of the fun and useful aspects of the best underwater dock lights.
Where to Use Underwater Dock Lights
While underwater dock lighting is made for docks and fish-finding, it can certainly come in handy in other fresh and
saltwater
situations.
Pontoon and Boat Bottoms: Attach to the sides of your pontoon or deck boat to add a festive touch for on-water parties and entertaining.
Ponds: A fish pond or bigger body of water can easily be decked out with underwater lights to create a fun, and safe, look.
Pools: Underwater dock lights can bring atmosphere to any pool party.
Purpose of Underwater Dock Lights
Yes, manufacturers of underwater dock lighting and submersible fishing lights extol their fish-catching virtues. But there are bunches of uses for these aquatic assistants other than fish and bait. Of course, that is the biggest use, so we'll catch that one first.
Finding Fish and Bait: The light attracts bait fish such as shad and minnows. The presence of the bait fish is followed by trout, bass or flounder that are there to eat the bait. Sort of a mini seafood buffet for the bigger fish. Whether you're trying to catch bait to go out fishing, or just fishing from the dock, underwater dock lights can act as submersible fishing lights and give a helping hand.
Viewing Fish:  So you're not into fishing. Not to worry. Underwater dock lights are a great way to see just what's under the water. No poles or worms required. You'll have your very own aquarium.
Entertainment and Decoration:  You can use underwater dock lights to decorate a pool or lakefront area for special occasions or just because it's Tuesday.
Safety Factors:  Safety comes first around the water. Use underwater dock lights to alert walkers that there's a dock (and hence, water) in the area. This can be very helpful when it's dark and guests are unaware of their surroundings. When kids are around, it really comes in handy.
Navigation and Visibility for Night Boating:  If you're going out for night fishing or star gazing, having a well-lit boarding area is a must.
Features of Underwater Dock Lights
Waterproof
It goes without saying that underwater dock lights need to be waterproof. The more durable the better. You'll want to look for stainless steel, PVC coating, high-rated LEDs with protective layers and other marine-grade components.
Floating or Sinking
Underwater dock lighting comes in floating or sinking versions. With the sinking variety, simply plug in and toss in the water. The floating variety is much the same. It just floats instead of sinking.
Types of Lights
High-Intensity Discharge (HID) Lights are a lot brighter than LEDs. They also generate heat to prevent barnacle growth on the lights. They're usually encased in a covering, which can diminish the light output.
Light-Emitting Diodes (LEDs) are more efficient than other types, but they don't generate heat. This means that they don't clean barnacles and algae off on their own. You'll have to spend time every once in a while with a scraper or scrub brush or risk damage to the light.
They make a great choice for temporary use or for somewhere you won't be leaving them underwater for prolonged periods of time.
Featured Boating Product
| | |
| --- | --- |
|    |  Boat fenders provide safety and durability for docking your boat. They're UV resistant and made of marine-grade material.  |
Check Price on Amazon - Better Boat boat fenders have ribbed reinforced bumpers and durable eyelets to provide a buffer between your boat and the dock. It comes as a set of two and includes an inflatable pump and two replacement filling needles. Use with fender lines for staying power.   
Light Color
Green and white lights are the most common colors found on underwater dock lights. Green travels through the water better, and for further distances, than blue. Green also doesn't produce as much glare as blue light.
White light is brighter above the water, but it does have a tendency to attract bugs, which you may or may not want.
Blue lights work well in saltwater, but it's not as great at attracting fish in freshwater. It's often used for decorative, or mood lighting, purposes. I love the look of a blue light in a waterfall feature.
Glowing Reviews: The 6 Best Underwater Dock Lights for Fish and Ambiance
Green Blob Outdoors Underwater Dock Light
Check price on Amazon
The Green Blob Outdoors Underwater Dock Fishing Light features 15,000 lumens of light and a 360-degree viewing angle. It has LED lights that are designed for continuous use in salt or freshwater.
The self-weighted system eliminates the use of weights. Just toss in and enjoy the view. It plugs into any traditional outlet and has a handy 30-foot power cord.
This is a great choice for ponds, pools and docks as well as fishing boats, pontoon boats and sailboats. Plus, don't you just love that Blob name?
Lumens: 15,000
Light Type: LED
Color: Green
Nite Bite Lights LED Dock Fishing Light
Check price on Amazon
With 15,000 lumens of light, 300 Led lights in one light and a 360-degree coverage area, the Nite Bite Lights provide an attractive aquarium for fish viewing.
Lightweight and easily packable, you can take it to the lake house, on vacation or simply stow in your dock box. Made of marine-grade materials, and an LED rating of IP68, it's perfect for salt or freshwater use.
There's a second protective layer over the top of the LED for even more hardiness. The light hangs straight and level in the water, thanks to the cord grip that centers the power cord on the light.
Lumens: 15,000
Light Type: LED
Color: Blue
Lumitec Lighting Mantis Underwater Dock Lighting Kit
Check price on Amazon
The three-light Lumitec Lighting Mantis Kit has a marine-grade bronze housing with a factory-sealed PVC backing spacer and heat-tempered glass.
Each of the three units puts out a bright 2,000 lumens of light. You can even add a fourth light to the system to add to your underwater decor.
Mount each light about six inches below the waterline with a Zip Mount system that easily attaches to pilings.
Lumens: 2,000
Light Type: LED
Color: Green, Blue or Purple
Deep Glow Underwater Lighting  Green Light
Check price on Amazon
Toss, drop or carefully place in the water. The Deep Glow Underwater Lights automatically right themselves to face the surface. They're environmentally safe and emit ultraviolet-colored light that's up to 60% brighter than most lights.
Designed for rugged and harsh marine environments, it does equally well in saltwater, freshwater and decorative ponds and pools. The HID lights make this a maintenance-free choice since they produce heat that cleans off algae and barnacles.
Lumens: 10,000
Light Type: HID
Color: Green
Hydro Glow DS100  Green Sinking Style
Check price on Amazon
Hydro Glow DS100 is an energy-efficient, sinking-style underwater dock light with high-output LEDs that provide excellent color and clarity.
A weight is required to hold it in place as it floats about three feet below the surface of the water. It also works well for above-water lighting.
Lumens: 100
Light Type: LED
Color: Green
Green Glow Saltwater and Freshwater Underwater Dock Light
Check price on Amazon
The HIB bulb in the Green Glow Dock Light makes it a great choice for saltwater, as the
heat output prevents barnacles
. It's automatic and maintenance-free with a
built-in photocell
that turns off and on nightly.
Lumens: 15,000
Light Type: HID
Color: Green
Found the best underwater dock lighting or submersible fishing light for your dock, pond, pool or boat? Hopefully, you've picked up some tips and features to look for. You'll be catching fish, discovering sea life or entertaining friends and family with outdoor ambiance before you know it.
---