5 Serious Reasons to Upgrade Your Boat Electronics This Season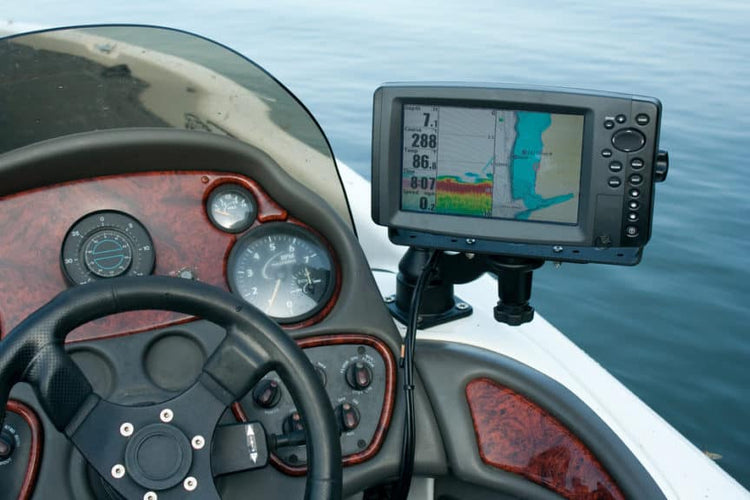 When you think about lugging your old fishing boat out into the water for some quiet nature time, technology may be the farthest thing from your mind. 
But boat electronics for navigation and fishing are constantly evolving. The technological era we're living in makes sure of that. The tech is improving in reliability, durability and accuracy, season after season. 
Even if you just bought new electronics a few years ago, there have been some interesting developments worth checking out. If you haven't invested in any boat electronics yet, well, you're in for an interesting shopping experience.
Why You Should Look at New Boat Electronics
Having spent the majority of my professional career in the boating industry, staying abreast of the current boat electronics is only natural for me. It's something I just do.
Nonetheless, the countless number of GPS/fish finder combo units on the market right now is still mind boggling. If you're new to boating or haven't been shopping for a unit in a while, they might take you by surprise.
When I finally got around to upgrading my fish finder/GPS combo last season, it was time to upgrade from the basics. Previously, I only had simple information such as speed, water depth, water temperature and little fish icons. My fish finder/GPS wasn't as accurate or reliable as it could have been.
Last season, when I decided to upgrade, I was ready to have a more detailed gadget with a faster processor, more accurate readings and, yes, updated GPS maps of my boating region.
After shopping the shows and speaking to company representatives, I strongly suggest that fellow boat owners do the same to discover firsthand the reasons why they need to upgrade.
Boat electronics have advanced rapidly over the past few years and it's now easier than ever to plot your course or find a new fishing hole.
While there's a vast array of navigation and fish finding functions offered by many different manufacturers, here are five key reasons to stay current in the high-tech world of helm hardware.
I'll introduce you to some exciting new pieces of technology for your boat along the way, too.
Featured Boat Care Product
| | |
| --- | --- |
|     |  Boat Soap is 100% biodegradable and marine friendly. Your boat and the fish will thank you.  |
Check Price on Amazon - Better Boat's Boat Soap keeps your boat clean and shiny throughout all seasons. It rinses away dirt, grease, grime and stains and doesn't leave a slippery surface. Simply rinse with a garden hose and nozzle for a non-residue finish. Add an extension rod to your scrub brush or mop head to get to those hard-to-reach places. 
Safe for vinyl, fiberglass, aluminum and painted surfaces, you can even use it on pots and pans. How's that for multi-tasking? 
5 Serious Reasons to Upgrade Your Boat Electronics This Season
1. You'll Find More Fish Using CHIRP Sonar
If you're confused about all of the choices of GPS/Fish finder combo units on the market, you're not alone. I thought long and hard about exactly what it was that I wanted and needed.
While I successfully landed fish and found my way to my favorite boating spots with my old unit, there were many times I found myself saying "I wish I had this" or "I wish I had that."
Once you determine what you'd like to have, the decision-making process is a not-so-confusing experience. If you've been looking at the latest boat electronics, you've no doubt heard of CHIRP (Compressed High Intensity Radiated Pulse) sonar technology.
This is one of the most popular advances in GPS/fishing finding units to date (and certainly a far cry from the basics of my old unit). Introduced in recent years and now offered in many combo models such as Garmin's Striker Series and Lowrance's HDS or Hook Series (plus many others), CHIRP allows the unit to provide more accurate and detailed sonar data of fish, ocean structure and the sea floor.
You'll find it in the more top-of-the-line Garmin GPSMAP 7616xsv with the big 16" screen (check price on Amazon).
You'll also find CHIRP technology in the lower-end systems, like the highly affordable Lowrance Hook devices (check price on Amazon).
You may ask: What's the difference from the 2005 sonar system you've been using?
It's quite simple. Traditional sonar only uses one or two different frequencies to receive data, while CHIRP sonar utilizes a continuous range of frequencies. All the frequencies are returned to the display in one transmission.
With all this data collected, you receive clearer high-resolution images of what lies below the surface, such as excellent target separation and defined arches.
Other benefits of CHIRP sonar include:
Provides more accurate data for much greater depths
Tracks fish more accurately at faster boat speeds
Provides much clearer details of the bottom and structure
Clearly defines individual targets
So, if you're serious about catching fish like I am, CHIRP is the way to go. It offers accurate information, and the combo-style unit still allows GPS functions for navigation.
2. You Can Now Control Boat Electronics with Your Smartphone
When you upgrade to a new GPS/fish finder combo unit, you'll discover like I did that manufacturers are now offering mobile apps for connectivity of boat electronics to personal devices.
Lowrance offers its tablet-friendly HDS Gen 3 Fish Finder/Chartplotter, and Raymarine has introduced its Wi-Fish for its new Dragon Fly Pro Down Vision series.
According to Raymarine, Wi-Fish simply allows you to stream sonar data directly to a smartphone or tablet with the Wi-Fish mobile app that's available for both iOS and Android devices. Some key features of Wi-Fish include:
The ability to zoom in or rewind the sonar data
The saving and sharing data
The versatile use of receiving data anywhere onboard your boat
Additionally, with the ever-changing software (and to stay current on vital waterway data), most manufacturers offer free software upgrades for combo units that are easy to access.
So, when it comes time for an upgrade, alerts are commonly sent via email from the manufacturer with a step-by-step process for installing and getting more up-to-date navigation information.
3. You'll Get a Clearer Picture with Your Boat Electronics
If you're still squinting at your monochrome GPS/fish finder display with little contrast and even less detail, today's high-resolution multicolor displays will be a real eye opener.
Older units commonly used monochrome liquid crystal displays, but today color displays are king. I find them so much easier to read at a quick glance whether I'm determining structure or navigating.
When it comes to a great display, it's all about the pixel count, contrast and backlighting. In simple terms, the more pixels per square inch, the better the clarity and resolution you'll have.
It provides better, all-around detail of structure, improved separation of targets and better split screen images.
4. Technology Has Gotten Affordable Enough for Every Boater
There are certainly advantages to larger displays for boat electronics. They're easier to read, have faster processors and offer a ton of cool features.
However, they come with a higher price tag. If you're not trolling for blue water game fish or cruising the expansive Florida Keys, there are several mid-level combo units that will fit the bill with five-inch screens (or less) and are suitable for small bodies of water. They're lower in cost (usually below $500).
Mid-range combo units from Lowrance, Raymarine, Humminbird and Garmin, to name a few, are all wise choices. Remember though, if you're looking to buy a more compact unit, ensure it has an external micro SD card slot (to load third-party maps) or an external NMEA port to connect external GPS units to broaden your navigation capabilities.
5. Marine Technology Has Gotten Rugged
The marine environment can often be demanding and durability certainly counts. Many manufacturers nowadays offer rugged, reliable units with solid casings and sealants to withstand harsh UV rays, wet weather and the inevitable contact with water.
For more details, take a quick look at the technical specifications of many combo units as they indicate International Protection Marking (IP) ratings. This is an international standard set by the International Electrotechnical Commission (IEC) to determine resistance against dirt, dust and water.
Mishaps can happen on the water, so it's best to know that your expensive combo unit stands a chance after being submerged or getting splashed.
Mounting hardware, especially for smaller helms that don't have the space for built-in units, is another essential component to consider. I realized that swivel mounts are the best choice as they can be easily adjusted for different viewing angles.
While every manufacturer today has its own unique mounting system, RAM Mounts have a solid reputation for its series of styles.
Designed with a patented rubber ball and socket system (with adjustment points at both ends of the arm), it has many mounting options - including drill-down, suction cup, track base and clamp systems - to provide the security you need for your unit.
Further, the company also offers many mounts for smartphones or tablets while on-the-go, which is a great concept if you want to use personal devices with your GPS/fish finder combo unit.
For example, you can check out the RAM Mounts universal suction mount that works for virtually all smartphones.
When shopping the boat shows, your local retail outlet or marine store in your region, the choices can be vast. So, it's always best to determine what type of new functions and features you require.  
With a little research, knowledge and the advanced technology available, it's easy to choose the right tech for your boating activities.
Hope you enjoy this modern boat technology. Welcome to the 21st century!