10 Boat Upgrades to Add Value, Comfort and Style to Your Ride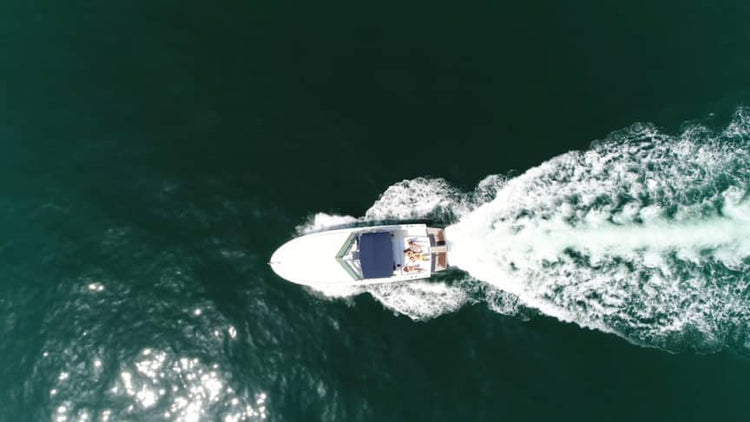 Boat upgrades are all part of the boating lifestyle. 
Everybody wants to get their vessel decked out just right!
You want it all value, comfort, style, fun, function and you want it all to reflect your own personality.
Visit any boat show or marine retailer and the choices for cool boat gadgets and modern upgrades are endless.
Working with a limited budget? You'd be surprised to see that some of the best upgrades are the simplest and most affordable. Many boat upgrades can be done on the cheap and still breathe new life into your prized possession.
Not only that, but some upgrades will protect your investment, extend the boat's life and increase its value.
As I've enjoyed life on the water for many years on a professional and personal basis, I'd like to share some of the boat upgrades I've invested in with great results.
My 10 Favorite Boat Upgrades
1. New Motor
I always cringe when I hear that friends want to upgrade their outboard. That's because, in many cases, a new one costs the same (if not more) than the boat itself (depending on the horsepower, the model and, of course, the boat). Think: in the $10,000+ range for a brand new 115-HP outboard.
If you've got a small boat, even a new 2-HP to 4-HP motor costs between $500 and $1,000 depending on the power and brand quality.
A new 10-HP motor (shown right) starts at $1,000 minimum, and a 20-HP motor starts around $2,000. That's a big deal, and a few simple tips can help you go faster, improve your ride and take better care of your existing engine.
You might not even need an upgrade. Nonetheless, a powerful new motor means more performance, torque, speed and fuel efficiency. It also opens the door to new accessories and, well, new boating opportunities.
Notice that I jumped straight to buying a new motor? That's because it's usually not a good idea to tinker around and try to upgrade your existing engine. The more you futz, the less reliable your engine becomes. N
ow, buying a new engine may be pricey, but it just might offer the best return. It can totally change your whole boating experience. In addition to smooth running characteristics, some benefits of a new mid-range unit include:
A manufacturer warranty
Improved maintenance programs
Improved fuel economy
Lighter weight
Improved corrosion protection
Warning alarms
While the list goes on, a popular selling point is the range of accessories available. These include analog/digital gauges, a range of mechanical controls and a series of high-performing props.
However, if a new outboard isn't in your budget, the used outboard market is a viable choice. Since four-stroke outboard tech has advanced in leaps and bounds since the early 2000s.
A used engine is a far cry from your father's old outboard. It might be an upgrade from what you already have on board, and at a fraction of the cost of a new motor.
You might also consider adding a trolling motor to your ride, which will take the load off the old outboard when you're puttering around in calm waters or hunting for fish.
One great option is the Minn Kota trolling motor shown right (check price on Amazon) but you can read our full guide to choosing the right trolling motor by clicking here.
2. Seat Upholstery
Most of the wear and tear on your boat takes place on your seating upholstery. Water, food, sand, dirt ... you name it ... all take its toll.
Although care is essential, there will come a day when seating upholstery needs to be fixed and, eventually, replaced. If you're not there yet, make sure you've invested in some seat covers to keep the material like new as long as possible. Regular cleaning with marine vinyl protectant and mildew stain remover works wonders as well. 
When it comes time to replace seating upholstery, many boat service experts are available, such as Bentley's Manufacturing in Milwaukie, Oregon, which serves boaters in the U.S. and Canada.
Beyond that, many marine dealerships throughout the U.S. offer boat upgrades on site. And when you're upgrading your seats, this is also a good time to inspect the seat bases.
While many boats nowadays use composite materials, such as the Dura Frame structures found on Bennington pontoon models, some are still backed with plywood, which may be susceptible to wear and water damage over time. Composite is also more stable, sturdier and more secure.
3. Snap-in Carpeting
To me, heavy-ounce, snap-in marine carpeting is the added touch. It's easy on the feet, provides added comfort and has a clean design. Most of all, it gives a great first impression.
Like upholstery, though, it's not food-, dirt- or tear-proof. If you want to replace it, many carpeting kits are available, like this one from Marine Carpeting for do-it-yourselfers at reasonable cost.
 4. Seating Arrangements
Many boats come with an assortment of pedestal bases for various seating and table placements. Most come equipped with two to four bases. But if you have the former, with just two bases, it's not a bad idea to add an additional one.
Mounts are available and provide great options for entertaining, watersports and fishing. To really spruce up your ride, many pedestal seating options are available, such as the Standard Pilot Chair from Wise, for your helm.
The Tempress NaviStyle High Back Seat is a great addition if you'd like to fish in comfort from the bow or stern.
5. Bimini Tops
Many boats come standard with a bimini and for good reason. Yet, if your boat doesn't have one, or if it's damaged and needs to be replaced, companies such as Attwood Marine (check bimini prices on Amazon) or Taylor Made Products offer various styles.
What's more, enclosures, frames, boots and even select stainless steel components are available individually in the event they need to be replaced.
6. Smart Devices and Stereo Systems
These days, media control centers for boating are all the rage. They offer many audio outputs (including Bluetooth) and can be easily controlled via your smartphone. Speakers too, can also be upgraded from various manufacturers.
I find that a wake tower or arch is always a cool feature to add to a boat. If you have a wake tower, Pyle's Marine Wakeboard speakers (check price on Amazon) are great additions to that wake tower.
Or, if you want to upgrade your deck speakers, the 131 Bose flush-mounted speakers (check price on Amazon) are a good choice.
If your current stereo isn't in tune with the 21st century, you can always bring along a portable Bluetooth speaker (check price on Amazon). They can run on batteries or charged via a USB and many are designed for the boating environment.
Running out of power for electronics is a common problem for many on land, never mind the water. So, be sure your boat upgrades list includes built-in USB ports, portable 12V USB devices or even a portable charger for when extra devices need a boost.
A portable battery charger for all devices, powered by solar energy, tends to be the best option for us outdoors types. Just check out this cool solar-powered portable charger on Amazon.
Electronics are the number one necessity these days and rigging your pontoon with the latest tech is a smart move. They add convenience for all members of your family, and provide a piece of mind on the water.
7. Portable Power
Onboard power can be a challenge for any boater and should high on your upgrades list as the last thing you want is a dead engine battery after running onboard systems all day.
This requires a little more power than the device charger I noted above. To prevent this, many opt for a house battery with a selector switch, especially when running amp-drawing systems such as high-end stereo systems, electric coolers or flat panel screens.
Adding a house battery also brings a piece of mind. Using a selector switch is a lot easier (and cheaper and less embarrassing) than calling your marina for a tow.
Of course, another reliable option includes using lithium-ion batteries with their high capacity, lighter weight, and added reliability. Some boaters I know swear by their compact portable generators (check price on Amazon) while beaching or at the dock.
8. Boarding Ramp
Boarding ladders are a common amenity and its goes without saying that they're a handy onboard item. Yet, boarding from the beach or a high dock may present a challenge from time to time.
Boarding ramps such as those offered by JIF Marine Products or Extreme Max (click to see on Amazon) are great additions. They offer easier boarding to and from various areas and make it quick to load gear and coolers. They're also lightweight, conceal under the deck and have non-skid surfaces.
9. New Fence Paneling
This may not be the easiest of do-it-yourself upgrades, but it's a great way to enhance the appeal of your pontoon. In fact, the experts at Pontoon Fence of Elkhart, IN, suggest it's best to use aluminum paneling over vinyl.
While more economical, the company explains that vinyl expands with temperatures where aluminum better resists the marine environment. The company also suggests that while .020 aluminum will do the job, .030 aluminum is more durable.
If this is a project you feel that needs attention, contact your local marina or marine service shop for additional inquiries. Further, this is also the time to inspect other exterior hardware such as railings, gate latches, cleats, ski eyes or pinch guards.
10. Onboard Lighting
There's nothing like the ambience of onboard lighting. As recessed LED lights are common throughout larger yachts, one of the most popular systems used for pontoons are LED lighting strips.
They fit in tight spaces such as below the front of the seat cushions, under counters, and around cup holders or speakers. Being sealed, there's also no need to worry about water intrusion. While some attach to a surface with an adhesive, others are simply drilled in (using a template in a lighting kit) to ensure a secure fit.
Boating companies like Attwood and T-H Marine (view products on Amazon) offer optimum strip lighting kits. What's more, the LED strips operate on existing 12V systems, provide ample lumens, and of course, offer excellent efficiency.    
Bonus Upgrade
Check price on Amazon - While it's not a significant upgrade, installing new cup holders to replace broken, scratched and scuffed ones can really boost the looks of your boat. Better Boat's cup holders hold most sizes of bottles and cans while preventing spills all over your nice clean floor. The arms are adjustable and the bottom section folds up and out of the way.
With a few of these upgrades, you'll feel a real difference in your ride! And not only that, but you'll add value to your vessel. What boater doesn't love that?