How to Choose the Ideal Boat Lift for Your Boat, Dock and Waters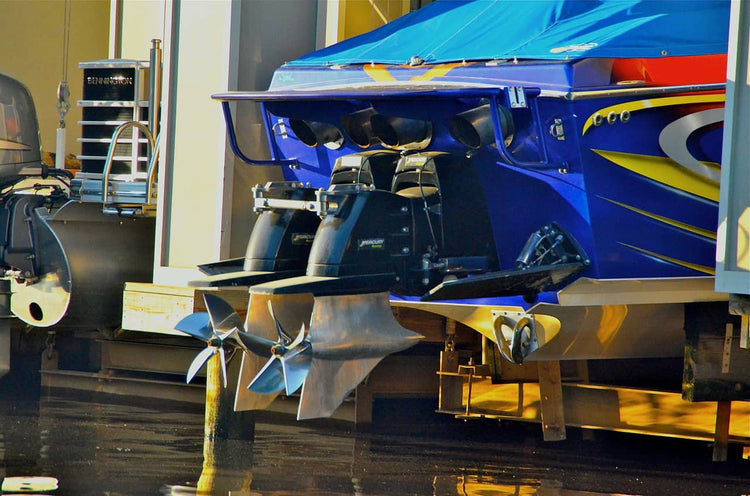 Taking time to clean and polish your boat with boat soap and marine polish at the beginning of every season is a lot of effort.
Depending on your water conditions, you can come across hull blisters, algae growth and even rust and salt corrosion on metal pontoon logs. 
Instead of sitting your vessel in water until the off-season, imagine instead that with the push of a button or the turn of a wheel you could elevate a boat lift above the water line. Just like that, you can significantly protect your investment.
Choosing your boat's lift doesn't have to be complicated. But a lot of factors do need to be considered. Everything from your boat's hull type to the sediment beneath the dock's waters can determine the working components of a boat lift.
If you've ever had your eye on a boat lift but don't know where to start, this is a beginner's guide to help you understand the basics.
The Many Benefits of Owning a Boat Lift
Store Your Boat Year-round
Just think about the convenience of launching your boat directly from its slip. Faster access to the water means more time to play! 
You never have to hitch the trailer, strap down the boat and take it to storage as part of your winterization steps. Plus, year-round storage at your home will save money over time.
Save Time Hauling
Having a boat lift means you never have to haul your boat back and forth from the launch ramp to the storage facility. Not only does this save on fuel driving your boat to the ramp, but also fuel driving your vehicle to the marina.
Protect Your Boat
A lot of things can damage a boat in water: Marine growth and algae, electrolysis in saltwater conditions and even the dock itself can be knocked around in high winds or wakes.
If your boat is up on a lift, you never have to worry about broken lines or loosened ropes inside the boat's slip causing it to become banged up. In saltwater conditions, it also means your hull will need less frequent anti-fouling coats.
The 3 Main Types of Boat Lifts
A lot of factors come into play here. Your boat's beam and weight (with all equipment) need to be taken into account. I would lean towards the safer side and get a lift that can handle more than needed, especially if you plan on upgrading your boat anytime in the future.
Bottom Standing
If you have a fixed dock in shallow water depths, say about 3 to 10 feet, a bottom-standing boat lift is typically what you need. Also called freestanding lifts, they work best in lakes and bodies of water with softer sediments. 
Floating
Floating boat lifts are good for slips with fluctuating water levels. Floating boat lifts will accommodate for the tide's rise and fall. This prevents the weight of your watercraft from bearing down on the structure itself, potentially causing damage. Deep waters practically require floating boat lifts.
Suspended
If you have average water depths, a suspended hoist boat lift is likely the way to go.
Manual or Electric
Boat lifts come in manual and electric models. Electric-operated lifts are much more convenient but require a power source to the dock, which may not be permitted.
If an electric power source is permitted, it needs to be safely maintained. I'd even suggest asking your neighbors for the name of a reliable electrician who can provide these services.
For electric boat lifts, you can have a remote control (buy on Amazon), assuring that your boat will be already in the water when you carry that heavy cooler down. With electricity and a remote combined, you can turn on dock lights at night.
On the other hand, manual boat lifts are more affordable. Their spinner wheels may not be as effortless to operate as an electric winch, but in cases where you can't run electricity to docks, it's still a viable option.
Permits and Rules
Even if you're allowed to work with electricity at your dock, there are still some other things to consider.
Community Docks
Some lakeside or beachside developments have larger community docks. Due to not having the appropriate length of shoreline for an entire neighborhood, they may share a multi-slip dock.
Sometimes a boat lift can considerably heighten the boat above the water line, causing it to block the views of neighboring slips. I don't know about you, but I wouldn't want to have to stare at someone's hull during a beautiful sunset.
You might encounter more height restrictions depending on dock roof styles.
HOA Restrictions
If you reside in a neighborhood with strict Homeowners Association guidelines (HOA), you may want to run this one by the committee.
Even if you already have a private slip under a dock structure, there could be HOA restrictions for boat lifts regarding the type you install and specifics like how far the electrical components need to be from the water line. It's best to not slide this one by or you could get fined.
Featured Boating Product
| | |
| --- | --- |
|     |  Winch Straps |
Check Price on Amazon - Better Boat's winch straps secures boats, jet skis, snowmobiles and more. It has a strong zinc-coated steel hook and webbed polyester with pre-sewn ends. It's 20 feet long and two inches wide. 
Water Conditions
Saltwater or Freshwater
As with anything placed in saltwater, especially metals like those on trailers, it can and will corrode. You have a choice of galvanized steel lifts and aluminum lifts.
Depending on where your slip is located, it's important to have an anti-fouling painted framework as well as components like stainless steel cables.
Stainless steel resists corrosion more efficiently than galvanized steel. Through a hot dip method, galvanized steel takes a zinc bath coating to help resist corrosion. Just like accessorizing a boat trailer, you may need to invest in extra bunk glides for boat cradle lifts.
Water Levels
On Lake Hartwell, a man-made reservoir where water levels remain fairly constant, we may have to pull the dock in after heavy rains, but that's about it. However, the depth of where both your bow and stern rest is still something you'll need to know when choosing and installing a boat lift.
Knowing your water levels, there are two options to consider: Cradle or swing style.
Cradle-style boat lifts act much like the bunks of a boat trailer and secure the boat's hull in place.
Sling-style boat lifts are perfect for shallow waters where you need all the depth you can get. The sling lies flat against the ground, taking up less space than metal bunks and cradles.
Boat Traffic and High Winds
Are you in a cove with heavy swells from boat traffic? You need to consider how rocking your boat will have on a lift. If so, swing lifts aren't the best application. You want something solid and sturdy to take on the boat traffic.
This also goes for high winds too. In the South, we get sudden storms and even tornado watches from time to time. Swing lifts would give boats a wild ride, potentially knocking them into your dock.
Looking to Purchase a Lift?
If you're in the market to purchase a boat lift, check out BoatLiftandDock.com, a website that compares the major featured brands of boat lifts. It's a great starting point for further research.
You can also find a plenitude of boat lifts at boat shows. At boat shows, you have the chance to ask questions and get some answers from dealers and manufacturers such as ShoreMaster, ShoreStation, CraftLander and Davit Master. You might negotiate a little or they may even already have a promotional discount at the show.
Also, keep your eyes peeled while out and about. Chances are you have a shoreside neighbor with a lift that really catches your eye. If you see them hanging around the dock, ask them if they mind giving you a demonstration or answering a few questions. After all, open waters tend to make friendly people!
---