How to Plan Canal Boat Trips (What You Need to Know)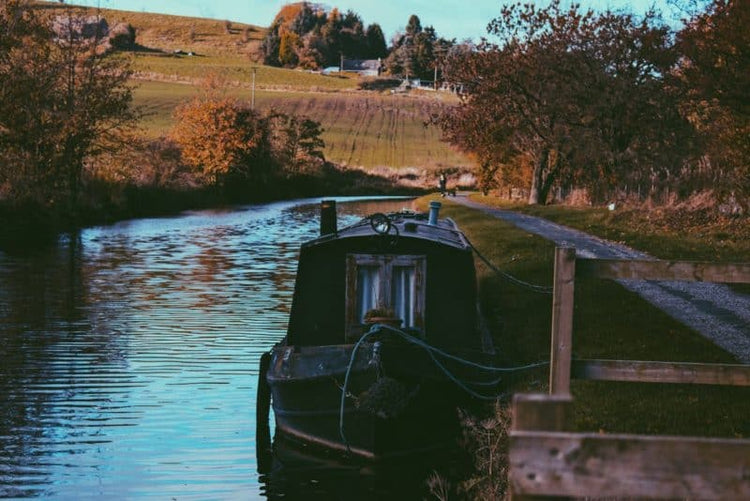 Canal boating is the most fun you can have at the slowest speed possible. No other form of boating moves this slowly. You could walk quicker!
But that's the point. The passage is slow, sedate and beguiling. It hypnotizes as you slip quietly between green and pleasant lands. But relaxing canal boat trips need a carefully crafted plan.
Forward Planning: The Key Things to Do Ahead of Time
Here's what you need for the perfect canal boat trip:
Decide on the Canal You Want to Travel
Whether it's the country where you live or a country you're visiting, there are fabulous canals across the world.
New York has 524 miles of waterways between Albany and Buffalo (go on, admit that you're surprised to hear that).
Amsterdam is famous for its canals.
Germany has unspoiled waterways running through Brandenberg.
The UK has 2000 miles to explore.
France has some of the most beautiful waterways waiting to be discovered.
Because I'm UK based, I thought I'd focus on the network here.
Use a Guide Book
In the UK, there are two main guides widely used by canal boat enthusiasts:
Both guides offer coverage of the UK network and provide similar information, including water points, locks, swing bridges and disposal points.
The Pearson's Guide is a more straightforward book to read. It offers an "At a glance" style with clear maps and brief information about points of interest.
The Nicholson Guides, while less easy to read, offer the same, but contain a higher level of knowledge for the boater.
The Pearson's Guides are better for the novice canal boater.
Using the Internet
The internet offers the most in-depth and updated information. You can find boating apps for almost anything, and canal boat travel is no exception. It's instant!
Some websites and apps act like sat-navs, plotting your progress along canal maps. All modern 21st-century for a mode of transport steeped in tradition and history.
I don't doubt, as the younger generation discovers canal boating, the internet will become the norm (ah, the marching boots of progress).
Using the internet, however, somehow lacks a guidebook's charm. I can hear you all scream at your computers that I'm living in the past, but a canal boat trip is meant to connect with the history and atmosphere of the ancient canal network.
Try and remember that you're traveling along canals that were dug by hand in some cases, two or three hundred years ago.
Staring at a phone screen, as in other walks of life, diverts our attention away from the beauty around us. Plus, it relies on good cell service at all times (often unreliable in remote countrysides).
Because canal boating is a traditional form of transport, I prefer physical guidebooks as they fit the old-fashioned style of travel.
The only website I fully-endorse is the Canal and River Trust. As the charity who runs the canal system, they provide updates on network stoppages.
Boat Safety
Never leave safety on the waters to chance even when traveling at four miles an hour. Canal boat travel lulls you into thinking danger doesn't exist at such a leisurely pace, but accidents happen in the most unexpected places.
Locks are extremely dangerous, especially with the strong flow of water entering the lock chamber. And remember, canal boats can weigh between 15 and 35 tons, so you'll want to avoid falling overboard while in a lock.
Embarking and disembarking the vessel is also dangerous. And more so in wet weather or at night. Keep a bright torch handy to light your way.
It's also a good idea to keep a boat emergency kit. Some basic items should include a well-stocked first aid kit (Check Price on Amazon), along with life jackets and a water ring (especially if you're traveling on tidal rivers).
Lastly, always keep up-to-date charts and always keep your cell phone charged. It could be a lifesaver.
Featured Boating Safety Product
Check Price on Amazon - Better Boat's air horn is a necessary safety feature for boating, camping, running and RVing. Blasts can be heard up to 1/2 mile away. Small and compact, it's easily stored in a kayak, canoe, boat or jet ski. 
So, now that you've decided where you want to go, there are some basic housekeeping rules to follow.
An Essential Step: Engine Checks
Conducting engine checks before you set off is vital for a hassle-free canal boat trip journey.
Check for correct coolant levels
Make sure the alternator belts are tensioned correctly
Check for sufficient oil levels
Tighten hose connectors if necessary
Let the engine warm up before setting off
Some Basic Tools You'll Need
Windlass (Check Price on Amazon):  An L-shaped tool with a square bracket at the end to wind the lock paddle mechanism. You won't be going anywhere without it. The design is so simple it's perfect. As locks and most swing bridges are manually operated, the windlass is a must.
British Waterways Key: This is a universal key that gives you access to waste facilities, electric swing bridges, and water points.
Mooring pins and mallet: Not all canal banks make it easy to moor. So having mooring pins is essential, especially if you're in the middle of nowhere and looking for a mooring.
Obstacles You Might Encounter During Your Trip
Locks
Because the canals cut through hills and valleys, ground levels can rise and fall with the contours of the land. Locks were invented to solve the problem, raising or lowering the level of boats where needed.
As an example: The Caen Hill lock flight has 29 locks, 16 in a sequence, which rise a staggering 72 meters in just 3.2 km.
How to Operate a Lock
The operation of a lock is quite simple: If you're traveling down an incline, the paddles on the gate nearest your approach should be opened to let the water equalize with the canal your boat is in.
When done, the gates are balanced finely to open easily. Once in the lock, close the gates and close the paddles.
Next, you'll open the paddles on the other gates at your bow. This allows water to empty from the chamber into the pound below. The boat will drop as the water drains until you've reached the same level as the pound below.
Again, the doors will open once the equalization is completed. Reverse the process to go uphill.
Water Points
These are marked on the guides and are situated frequently across the network, usually in favorite mooring spots. Make sure you have the British Waterways key handy. Otherwise, you can't operate them.
Swing Bridges
Because many canals cut through swathes of farmland and country tracks, pedestrians need access across the canals. That's where swing bridges come in.
These are an ingenious invention that allows for the bridge to swing open and shut to allow canal boats to pass and pedestrians to cross. You'll need your windlass to operate them as they have a locking nut holding them in place.
Featured Boat Care Product
Check Price on Amazon - Better Boat's Fabric Waterproof Spray offers protection for Bimini tops, outdoor furniture, tents, boat covers and more. Use on canvas, leather, polyester and nylon for high-performance protection.
Where You Can and Can't Travel
Width
Not all canals are the same! Most canals in the south of the UK were built for wide beam crafts to travel, whereas, in the North of the country, canals are typically much narrower, allowing only narrow boats.
Canals were often built on the cheap to save money. If like me, you own a wide beam craft, you'll have to accept that there are unreachable parts of the network.
Length
On some canals, the boat's length also matters. Again, mostly in northern England, locks are restricted to narrow craft no longer than 57 ft in length.
So if you want a boat that can access the entire system, it should be no wider than 6 ft 10 inches and no longer than 57 ft.
However, returning to the start of this piece, if you decide to take your boat abroad, you'll have different restrictions. In France, for example, canals are much broader than UK equivalents, giving you plenty of space to explore.
Rivers
Because most rivers are tidal, extra care is needed when traveling. Canals don't ebb and flow with the tide, and water levels don't dramatically rise. So having safety equipment is vital if you're taking a trip on the river.
They're also much deeper than the canals, which are only four or five feet deep. On the tidal River Thames, stricter rules apply: You must have a VHF radio on board to keep in contact with the lock-keepers and for any distress calls.
Most of the locks are manned on the tidal Thames, so it's vital that you call ahead on the radio to let the lock-keeper know you're coming.  
Often, you have to book passage through, and it's handy for them to know (if you've called to say you're coming and you don't arrive) that you could be in trouble and need help.
Check Price on Amazon - Better Boat's boat soap keeps your boat clean and shiny from bow to stern. Simply rinse with a garden hose and nozzle for a non-slip finish. Hard-to-reach places can be tackled with an extension rod and a mop head.
So What Have We Learned?
First, if you're thinking of coming to the UK and experiencing the history and tradition of the canals, go for it! There's no better way of slipping into history and seeing the UK from a different angle. You'll discover much more traveling at four miles per hour than speeding by car just to arrive at your next accommodation.
Secondly, you learn to appreciate the countryside's diverse wildlife, as well as the different people. And you'll never meet a friendlier bunch of people than canal boaters.
Going so slowly does something to the brain. It unclogs it from stress, and that makes us happier individuals. But remember, canal boating, like all other forms of waterway travel, can be dangerous. Don't approach it with a flippant attitude, and always treat the water with respect. When you hit trouble, you'll be glad you forward planned your canal boat trip.
---