Turn Up the Heat: 6 Cold Water Wetsuits to Keep You Warm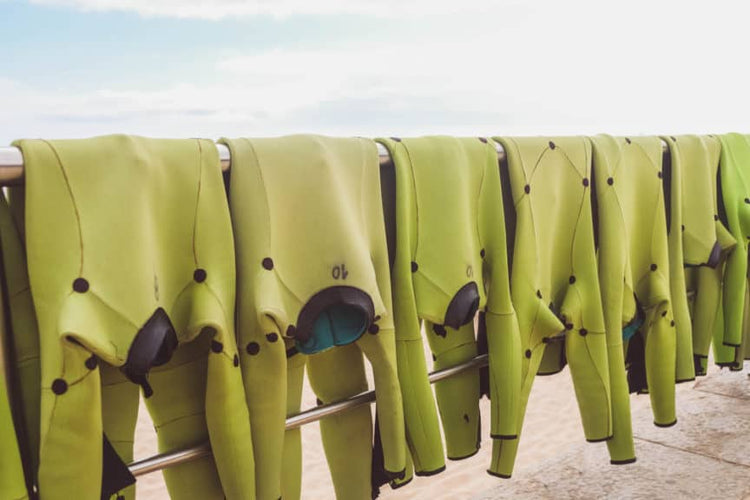 Between surfing, paddleboarding, water skiing, swimming, snorkeling and diving, watersports enthusiasts spend a lot of time in, on and around the water.
That's all great when the weather's warm and sunny. But what's a diehard wakeboarder or kayaker to do when the weather takes a dip? Invest in a cold water wetsuit, of course!
A cold water wetsuit is an excellent way to extend your warm-weather fun into the fall (or even later depending upon your latitude and longitude).
What is a cold water wetsuit, you ask? Read on to get the low down.
How Do Cold Water Wetsuits Keep You Warm?
Cold water wetsuits, just like regular wetsuits, are made out of neoprene, which is basically a wearable piece of insulation. Constructed of small closed air-filled cells, this flexible and stretchy fabric traps a thin layer of water next to your skin.
This water is then warmed by your body heat, thereby keeping you warm and toasty in the water. The thicker the neoprene, the warmer you'll be.
Neoprene ranges from 0.5 to 5+ millimeter in thickness, so you'll want a higher millimeter rating for the ultimate warmth.
Types of Cold Water Wetsuits
Depending on the temperature (and your tolerance level), you have several wetsuit versions to choose from.
Full Wetsuit: Full wetsuits cover the entire body from arms to legs and usually with a high neckline. This is a good choice if there's any chance of getting immersed. It's even great for kayaking.
Shorty Wetsuit: Also called spring suits, a shorty has long or short sleeves, covers the torso and usually ends above the knee. I recommend this on warmer days or when you don't mind a few splashes.
Long John Wetsuit: Long John wetsuits are made of thinner material. They cover the whole body except for the arms and are designed for warmer water. If you're very warm-blooded or in a location that isn't super cold, this may be just what you need.
Top: This is just what it sounds like: the top. It has short, long or no sleeves and can be worn with shorts, swim trunks or a separate bottom wetsuit (mentioned next). There's usually a zipper down the front. This is a great choice because of the ease in donning and doffing (putting it on and taking it off in SCUBA-speak).
Bottom: This is just the bottom (like a pair of shorts but form-fitting and made of neoprene). It has short or full-length legs and can be worn with a rashguard top, a T-shirt or a wetsuit top (mentioned above). I recommend this type for things like fly-fishing or jet-ski riding.
Features of the Best Cold Water Wetsuits
Since wetsuits, in general, are designed to keep you warm, there are several specialty processes used in their construction that makes them suitable for watertight wear.
Flatlock Stitching: Flatlock stitches lie flat against your body. This type of construction is designed for water above 62 degrees as some water may get in.
Glued and Blindstitched: The neoprene pieces are glued and then stitched with a process known as blindstitching. Blindstitching is when the needle doesn't go all the way through the fabric. It comes back out of the same hole it went into. This process makes for a very watertight seal. It's meant for use in water that's 55 degrees and up.
Sealed and Taped: For the ultimate cold water protection, you'll want to choose a sealed and taped wetsuit. The sealed and taped process is where the neoprene is glued and blindstitched and then has an interior seam tape to add durability. This type is meant for water 55 degrees and below.
Zipper: Wetsuits can have back or chest zippers or even be zipperless. Back zippers usually have a long leash that allows you to easily grab to zip and unzip it. You'll want to make sure you have the zipper pulled up all the way, otherwise, you could end up with leaks. 
6 Cold Water Wetsuits to Keep You Warm
1. Henderson Women's Thermoprene Pro Wetsuit
Henderson's Thermoprene Pro Wetsuit has larger neoprene panels, minimal seams and a self-sealing back zipper closure to keep water out.
The interior and exterior have double-glued and double-sewn seams. With hefty 5mm neoprene, you'll stay warm and toasty in this cold water wetsuit.
An Aqua Silk lining is super soft and comfortable and you'll have no problem bending and kneeling with ergonomic Dura Tex stretch knee pads, which also provide exceptional durability.
It also comes in a men's version (check price on Amazon).
Thickness: 5 mm
Type: Full
Zipper: Back
2. O'Neil Women's Bahia Long Sleeve Spring Wetsuit
The O'Neil Bahia shorty wetsuit is made with minimal flatlock seams for a chafe-free fit. It has a back zipper and long sleeves, as well as a mock neck with a double super neck seal that keeps out water.
Ultraflex 2mm neoprene provides warmth for those crisp fall days. When the sun comes out? There's 50+ UPF protection.
Thickness: 2/1 mm
Type: Shorty
Zipper: Back
3. O'Neill Men's Reactor Back Zip Spring Wetsuit
The O'Neill Reactor has short sleeves, a mock neck and durable Krypto knee pads. It's made out of 2mm Ultraflex neoprene and features seamless paddle zones for chafe-free wear while paddling, surfing or swimming.
Smoothskin fabric at the chest and back is wind-resistant, while Fluid flex in the shoulders and sleeves lets you move about with ease.
Thickness: 2 mm
Type: Shorty
Zipper: Back
4. ScubaPro Definition Shorty
With full stretch 2.5mm neoprene, the ScubaPro Definition Shorty is a super soft choice for any chilly water activity you may be doing. It has short sleeves, a mock neck and a back zipper, as well as a plush inner lining for extra comfort and warmth.
ScubaPro's Advanced cut provides great range of motion whether you're wakeboarding, surfing, kayaking or paddleboarding. Shown in the table is the men's version, however, there's a women's ScubaPro Definition Shorty (check price on Amazon) version as well.
Thickness: 2.5 mm
Type: Shorty
Zipper: Back
5. Roxy Women's Pop Surf Long Sleeve Wetsuit Top
If you're looking for a fashionable approach to cold water sports, or need something to wear with a wetsuit bottom, the Roxy Women's Wetsuit Top is a great choice.
It's made of stretchy 1 mm neoprene and has drain holes, Flush Lock 2.0 seals on wrists and a YKK #8 zipper. Coil B-lock stitched seams give extra flexibility.
This top is designed for warmer waters, but if you tend to heat up quickly, it can make a good choice for warmer fall days or high activity levels.
Thickness: 1 mm
Type: Top
Zipper: Front
6. O'Neill Youth Reactor Full Wetsuit
Made of nylon, Spandex, polyester and super flexible neoprene, O'Neill's Youth Reactor Wetsuit is a great choice for the youngster in your life.
Wind-resistant Smoothskin provides insulation and protection from the wind and weather. It has a back zipper with a water-resistant closure. Krypto Knee Padz give protection and abrasion resistance while kneeling on wakeboards and such.
There's even a hidden key pocket, flatlock seams and seamless paddle zones that prevent rash and chafing and allow unrestricted movement.
With a 2 to 2/3 mm, it's designed for waters 58 to 68 degrees.
Thickness: 2 - 3/2 mm
Type: Full
Zipper: Back
Featured Wetsuit Product
 Check Price on Amazon - Better Boat's snap and zipper lube prevents snaps and zippers from sticking. The clear wax formula glides on smoothly, is mess free and won't stain fabrics. Use on jeeps, coolers, wetsuits, tents, covers and more. 
Other Cold Water Wetsuit Accessories
If you're really into the cold water activity, you may want to check out some additional accessories to stay extra warm.
Rashguards
A rashguard is a great choice when it's not super cold out. It works similar to a wetsuit in that it traps a small amount of water inside to keep you warm. Sometimes, just that extra bit of fabric covering your arms is all you need. 
Neoprene Gloves
When you're gripping a ski line or riding a jet ski, cold wind and spray on your hands can really end the fun factor. Well, guess what? They make neoprene gloves that are just as warm and comfy as that cold water wetsuit.
Choose a pair with a textured grip on the palms for a secure hold on that ski line. If you're into sailing, cold water sailing gloves are the way to go.
Neoprene Boots
Who would've thought about wearing boots on the water? I sure didn't. But the same neoprene boots that divers wear can keep your feet just as warm on that wakeboard or waterski.
They usually have soft rubber soles with a textured bottom grip and are about ankle length in height.
Neoprene Hoods
They all say that the best way to keep warm is to wear a hat. Whoever "they" are have a point.
But you can't just wear any old hat while you're zipping around the lake. You'll want a neoprene "hood-type" topping that can be secured to stay on. They're made of soft neoprene that fits over your head and rests on your shoulders.
Features include four-way stretch, anatomical contouring and watertight seals around the face. Divers use these while diving in cold water. If it works for them, it must be great above the water, right?  
Featured Boat Care Product
 Check Price on Amazon - Better Boat's de-salt concentrate breaks down and flushes away salt deposits. Use to flush inboard, outboard and jet engines as well as to clean dive gear, snorkel equipment, patios, decks, outdoor furniture and more. 
We boaters are always thinking of ways to extend the boating season. Whether you want to surf, fly-fish, kayak or jet ski, there's a cold water wetsuit and foul weather gear of some sort with your name on it.
You'll want to take into consideration the wind, air temperature, your level of activity and if/how long you'll be in the water (rather than just getting occasional splashes).
Hopefully you've picked up a few pointers to choose the best one. With that in mind, have fun and stay warm!
---