Raise the Bar: The Absolute Best Boat Davit Systems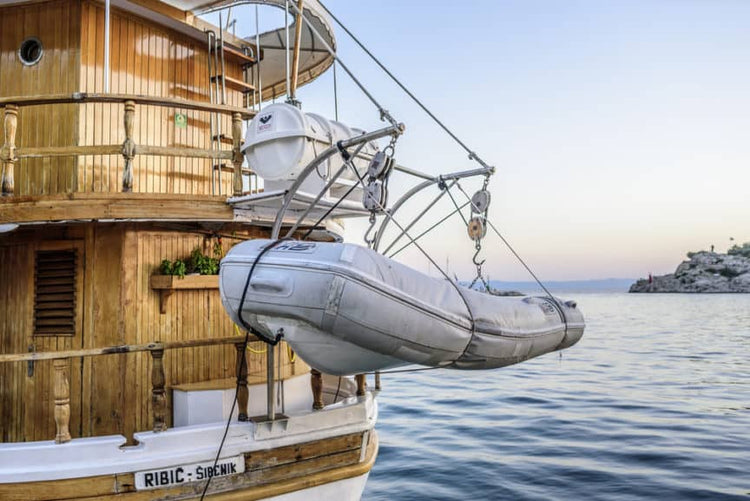 It's a bright beautiful day and the water and weather are perfect. You have the water toys packed and you're motoring out into the big blue.
Wouldn't it be nice to be able to bring your jet ski along with you? What about a small boat to be able to head to shore while your trawler, catamaran or sportfishing boat is moored out?
This is the perfect situation for a boat davit system.
What Is a Boat Davit System?
A boat davit system is a crane-like mechanism used to raise, lower and store small watercraft like dinghies, lifeboats, inflatable boats, fishing kayaks or jet skis on the back (swim platform or deck) of a boat.
Boat davit systems can be attached to sailboats, pontoon boats and power boats. They are also used on concrete seawalls, docks and pilings.
Parts of a Boat Davit System
Boat davit systems come in a wide variety of designs. I was actually surprised to learn how many different ways you can lift a small boat up onto a larger boat.
While boat davit systems may seem like a highly technical machine, they actually consist of two main components: the part that goes on the back of the boat (often the only component) and the part that lifts the boat up.
We'll get into the various types later, but let's go over a few of the main parts. Keep in mind that not every part is used on every type of boat davit system.
Base: Permanently mounted to the boat, either on the swim platform or back of the boat.
Arm: This is what picks up the dinghy, jet ski or small boat out of the water. It can be raised, lowered or removed. Some boat davit systems don't have an arm. We'll get into that below.
Winch: Just like the winch on your boat trailer, it's mounted to the top of your boat and then attaches to the dinghy (which is secured to the swim platform via a snap davit) and pulls it up to a vertical position. Winches are needed for heavy vessels like jet skis.
| | |
| --- | --- |
|     |  Winch Straps |
Check Price on Amazon - Better Boat's winch strap is strong, reliable and UV resistant. It offers a working load of up to 3,333 lbs. and a break strength of 10,000 lbs. It has a zinc-plated steel hook and marine-grade webbed polyester. Use for boats, jet skis, snowmobiles and more.  
Types of Boat Davit Systems
In addition to the more mechanical boat davit systems mentioned above, there are smaller boat davit systems that just consist of latches on the swim platform.
Let's check out a few of the different types.
Snap Davit
A snap davit secures a dinghy (or other small inflatable boats) to a boat's swim platform or back deck. The dinghy snaps into a latch system and then the boat actually hangs off the boat's back, over the water. This type is used for lightweight boats. 
Pivot-Up Vertical Davit
This type of davit system stores the boat in an upright (vertical) position. The weight is equally distributed. This is a good choice for boats that don't have a swim platform.
Pull-On Davit
Inflatable boats and dinghies use pull-on davit systems. You use human power to pull on the boat to place it on the stands that hold it in place. This is best used for lightweight boats.
Lift-Up Davit
Lift davits use the arm and base mentioned earlier. Two arms hold the boat up above the water at the back of the boat. It's a good choice for an aft or stern of a sailboat.
Sling Davit
A sling davit is a fairly simple system. It basically consists of a mesh-like structure (a sling, of sorts) that goes across the bottom of the boat and holds it at an angle off the swim platform. It can easily be taken with you or stored in a dock box with water toys, dock lines, buoys, gear and cleaning products when you leave.
Winch-On Davit
The winch-on davit system can usually hold up to 400 pounds. This is the type you need for jet skis. It mounts on the swim platform. A winch is used to attach it, raising it out of the water. You can easily push off for launching into the water.
Crane Davit
The crane davit is mounted to a dock and can hold much heavier weights (1,000 pounds and up). It consists of a base and an arm (or boom). There's a cable and winch system on the arm that attaches to the front, back or both of the vessel, which can then hoist it up.
A crane davit is a good choice when you want to store your boat out of the water (such as for hurricane preparation or when it won't be in use for a while), yet with easy access to put it back into the water. Crane davits can be operated by pneumatic, electric or hydraulic power.
The Absolute Best Boat Davit Systems
C-Level Dinghy Lift XL for Rigid Inflatable Boat
Check price on Amazon
The C-Level Dinghy Lift is a great choice for rigid inflatable boats (RIBs) that have three internal lifting eyes. The strap attaches to these eyes to lift the RIB into place.
It's lifted by a one-point or two-point system made of stainless steel hardware and buckles and strong 3,800-pound 1-inch nylon webbing.
Adjustable buckles help balance the load, which can be up to 450 pounds.
Type: Lift
Weight Rating: 450 lbs
Best For: <11 ft RIBs, inflatables and dinghies
Dinghy Davits Top Mount Davit System Weaver Mount
Check price on Amazon
The Dinghy Davits Top Mount system is easy to install and lets you take your jet ski with you on your high seas adventures. Install it by through-bolting the plates onto the platform.
It has quick-release pins so that you can remove it at the end of the season, or, heaven forbid, if you sell the boat.
It's rated for 800 pounds, which makes it an excellent choice for jet skis and heavier tenders.
Type: Top mount winch system
Weight Rating: 800 lbs
Best For: Jet skis, inflatable boats, tenders and dinghies
Dinghy Sling Davit for Inflatable Boats
If you need to carry a dinghy but don't want to mount permanent fixtures to your boat deck, this is the davit system for you. It's also an option if you don't have a swim platform.
The Dinghy Sling Davit is made of high-strength stiff webbing that simply holds the dinghy in place. The dingy can be stored at any angle so as not to obstruct your view.
It has long straps for wide beamed boats, which prevents drag on your boat by keeping the vessel out of the water (if you were towing it).
Type: Sling davit
Weight Rating: N/A
Best For: Dinghies, kayaks, SUPs and inflatable boats
SeaLux Marine Products Snap Davits Instant Lock System
Check price on Amazon
The SeaLux Marine Products Snap Davits System is a simple but very useful set-up. Spring-loaded davit fittings lock into a hook that gets attached to the tender or dinghy.
It stores the vessel in a 90-degree position out of the water. It's less expensive than a lift davit system, and it's great for inflatables and RIBs up to 220 pounds.
Type: Snap davit
Weight Rating: 220 lbs
Best For: Dinghies, RIBs and tenders
Pro Hoists Davit Crane Hoist
Check price on Amazon
This 360 swiveling davit is a great choice for bigger vessels that are less than 1,000 pounds. It mounts to the dock and a cable attaches to a boat or jet ski.
There's a manual winch that's used to lift your boat or jet ski in and out of the water. This model can also be mounted to a truck bed if you prefer.
Type: Crane davit
Weight Rating: 1,000 lbs
Best For: Jet skis and small boats
Boat Davit System Accessories
Along with a boat davit system, you may want to look into
jet ski tender chocks (check price on Amazon)
.
Chocks aren't really needed for RIBs and flat-bottomed vessels, but jet skis have more of a V-hull and require some help to stay stable. Unlike the wheel chocks and docks used for your boat trailer, this type of chock system mounts to the deck or roof of your boat, and the jet ski or tender is then set on top for balance and stability. Tie-down straps are used for additional security.
Most chocks are removable if you decide you don't need them anymore.  
Have you nailed down the features and types of boat davit systems best suited for your needs?
Hopefully, this has helped you with any boat davit system questions you might have. Happy Boating!
---