11 Fun Boat Accessories to Create a Floating Party Paradise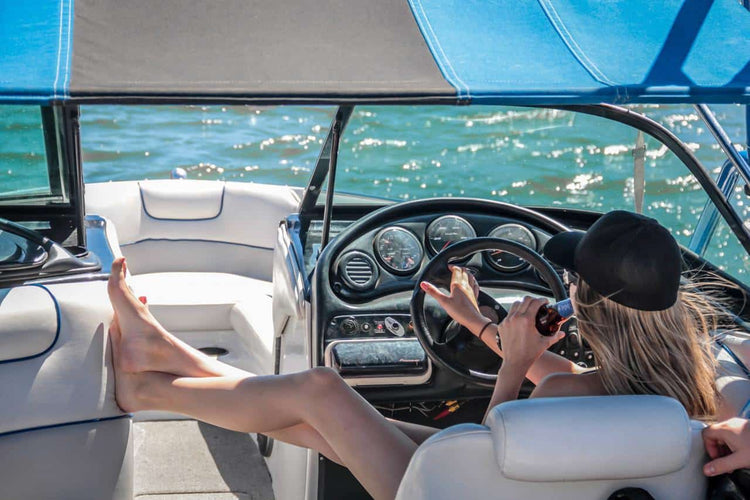 On a beautiful day, what's better than spending time afloat on your boat with friends? A favorite pastime of mine is to take out the boat, submerge the anchor for the day, then swim, eat and drink with my favorite people. 
However, a boat itself doesn't supply enough amenities to entertain for the day. If you're a born entertainer, it's important to stock up on the right boating accessories to create the perfect party on the water for you and your guests.
I've lined up some of my favorite party boat ideas and add-ons to optimize your time on the lake, ocean or bay. And for $299 or less! 
Boys and Grills
Every beach and boat party requires food and drink. While you can always bring pre-made sandwiches, nothing impresses the company more than some quality grillables.
Here are some options for stepping up your aquatic hangout from a floating picnic to a grade-A marine cookout.
My husband and I spend most of our summer on the water. I'm talking full days spent fishing, swimming and simply relaxing on our vessel. So, by the end of one summer, we started getting sick of eating the same old sandwiches every Saturday and Sunday.
Not to mention, the bread always got soggy and the contents never stayed cold during our 12-hour excursions.
After much searching, we invested in a Magma stove and gas grill. This changed our seafaring lives! No mor sub-par mushy sandwiches for dinner for us. 
This grill is truly awesome. The best on the market. It heats up fast and evenly. Plus, its outer shell and handle both stay pretty cool, so you don't need to worry about melting anything other than the cheese on your burgers.
You can buy disposable propane-filled canisters. Each one will last you several days of grilling. Once it's set up, sit back, relax and bite into your freshly-prepared meals on the way.
Just keep in mind that you do need to buy a mount. These are sold separately because you'll need to choose the right one for your boat.The good news is there are tons of different options depending on your preference.
You can get a mount that fits into a fishing rod holder, clamps onto a rail or a flush deck socket mount that connects the grill directly to your boat's deck or swim platform.
I'd also recommend buying a shore stand so that you can BBQ by land or sea.
For those who have larger boats and enjoy hosting multiple guests, the Magma stove and gas grill also comes in a party-sized option, which is a little more expensive, but definitely worth it. The shore stand will support either size.
While I personally prefer Magma's gas grill, some people prefer the good old-fashioned charcoal grill. I find it messier, but I know there are a lot of folks out there who like the taste and process of charcoal-grilled food best.
Regardless of your reasoning, if you prefer grilling with charcoal, Magma still has the perfect grill for your boat. The cousin of the Magma grill above, this grill comes with the same mounting options and a party size as well.
A fun note about Magma products. Magma offers you the chance to submit lifestyle photos of family and friends using their products. In return, you can receive discounts on their grilling products, free gifts and more!
If you throw an amazing boat barbecue, make sure to snap some high-quality pics on your device and submit them to photos@magmaproducts.com. Visit their website for more details.
As I mentioned above, my food never stayed cool after spending a copious amount of non-stop hours on the boat. The worst is when you pull out your beverage and there are either no ice cubes left to cool the drinks or your beer is warm.
This can be a major party foul if you're hosting friends and family afloat. I'd definitely recommend a portable ice maker.
Igloo offers the above-mentioned model, but if you want a larger heavier-duty machine made for marine use, try the Dometic HZB-15S electric refrigerator/freezer. Just keep in mind you'll need a power outlet on your boat to hook up either option and keep things frosty.
Go Float Yourself
You can never have enough legroom on a boat. Boats inevitably become congested throughout the day with coolers, towels, food, fishing poles, personal items and what-not. 
The best way to turn your boat into a lounging paradise is to invest in a tie-up inflatable island for when you anchor your social gathering for the day-long festivities.
I absolutely love this floating island. It has a cooler, six cup holders and a small canopy for those hot sweltering days at sea. While you can buy this float for less without the canopy, it's well worth the extra investment.
It provides plenty of room for six people to lounge about comfortably and prevents overcrowding on the boat as an extra bonus.
Just beware, however, that the canopy can create a sail-like effect, so make sure to tie up to your float unless, of course, you enjoy being taken wherever the wind may blow. 
5. Tahiti Inflatable Floating Island
Much like the product above, this floating island, holds six people comfortably and provides six different holders for your beverages.
The big bonus for this floatable, however, is the two built-in coolers on either side of the lounging chairs.
These coolers are great places to store some of your food and drinks, rather than wasting precious deck space on the boat.
It also has a pretty cool wading pool option, for those who want to enjoy a little cooling off in the water without having to jump overboard.
This floatable will prove invaluable to the boater that plans on anchoring for the day in the bay or lake.
I can't tell you how many times my party and I have gone out early in the day, found the perfect location to set up shop and lay down the anchor. Inevitably, a few hours later, someone has to use the bathroom, we run out of food and beverage or I realize I left an important festivity necessity back at the dock.
That's where the inflatable Kayak comes in.
As mentioned above, deck space is at a premium at sea, so the thought of bringing a kayak or dinghy aboard a small boat isn't an option. The inflatable kayak, however, fits in a tiny backpack and inflates in five minutes or less.
Never be without an exit option for those emergencies at sea!
Leverage Your Beverage
Call me crazy, but I have never been on a boat that had enough beverage holders. When on the water, it's important for your driver to have a place to put his or her water and for the guests to plant their many adult beverages.
| | |
| --- | --- |
|     |  Cup Holders |
Therefore, it's always a good idea to invest in some extra cup holders to ensure there aren't any messy spills and wasted liquidation. Better Boat's cup holders come in a pack of four. The arms are adjustable to hold a variety of cans and bottles, and it folds up and out of the way when not in use.  
This is a great option for people who need a cup holder on the boat, but only sometimes. This little gadget is impermanent. Therefore, you can clip and on and off when desired.
I bought it for my brother who wanted a place for guests to secure their drinks, and he loves it!
Cool factoid - Robocup offers 5 free clamp-on cup holders for people who submit the best photos of their product!
Not going fishing but leisurely hanging on the boat with friends? Then this cool gadget is perfect for your outing. It drops into your fishing rod holder to create the ideal location for your beverage.
This company's contraptions are sure to impress any mariner. Docktail creates custom bars for people who want "easy spill-free service" on their boat.
The custom bars can either be mounted permanently or temporarily in your fishing rod holder. If you want to get really fancy for your fishing party, they even have the option to add a filet table to the bar! 
Light and Sound Shows
No boat extravaganza is complete without the right music and ambient lighting. Lots of boats come with built-in sound systems and lighting.
However, if your system is either nonexistent or you would like to spruce it up, here are a few cool accessories that may be right for you.
I bought this product for my boat because the sound system died after many years of use. I didn't want to spend the cash on a fancy system, and I also didn't want to have to worry about charging up before every outing.
This product was a perfect fit for me.
I was sick of carrying Bluetooth speakers that constantly ran out of batteries (the SolJam uses the sun to replenish its charge). Plus, the sound is excellent. Technology these days!
Chalk this one up to unnecessary but incredibly cool. This product is for those that simply want to impress their guests with the cool boat gadgets. Who wouldn't be impressed with custom light-up cup holders?
They're available in either a 12V version, for easy wiring to your boat or battery-powered for those who only plan to take them out on special occasions and don't want to deal with the wires.
At night, the lights are really pretty and add some "hipness" to your ride.
12. BONUS - Rod Holder Cutting Board
| | |
| --- | --- |
|     |  The Rod Holder Cutting Board provides a durable and stable surface to clean and filet the catch of the day. It adjusts to several angles and even has a tray to store knives.  |
 Check Price on Amazon - Better Boat's rod holder cutting board fits right into the rod holders on your boat. No worries about getting fish scales and what-not all over the deck of the boat or, worse, your kitchen floor. 
If you're not into fishing, it can be used as a traditional cutting board for food items. We don't recommend using it for both duties, though. Your guests probably wouldn't either. 
Grab just a few of of these functional and cool boating items, and your boat will be the place to be.