How Much Does a Narrowboat Cost? A Guide From Basic to Best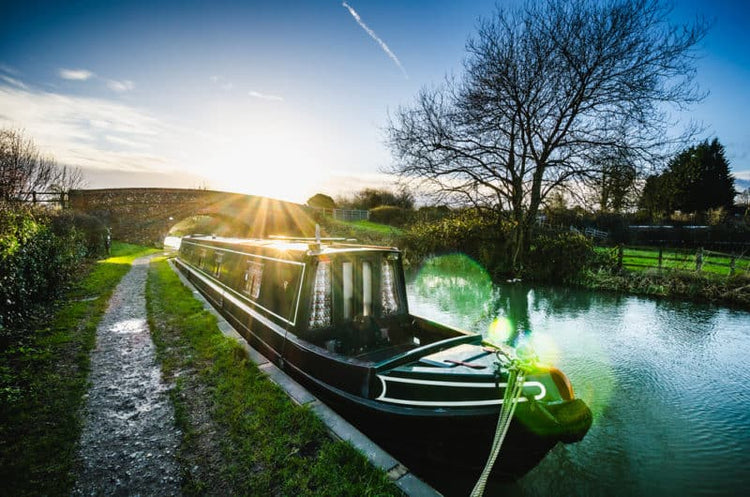 "Believe me, my young friend, there is nothing, absolutely nothing, half so much worth doing as simply messing about in boats." — Kenneth Grahame
This famous quote from The Wind in the Willows conjures images of lazy summer days, willow trees tickling the surface of the fresh water and birds singing. A romantic picture I know, but it's one that resonates with boaters around the globe. There's a magical quality about spending time on the water, be it ocean, river or canal.  
What's it like to own a narrowboat? As their name suggests, they're long and thin, awkward to maneuver and slow. So what is it about narrow boats that capture the small child in us all? (And not just the Brits! The number of Americans and Canadians I've met on British waterways is staggering.)
Well, it's all about giving a nod to the past. Britain is steeped in tradition, especially when it comes to our industrial heritage.
So, if narrowboats have captured your inner child, you may have a few questions about living on one. And, on the practical side, how much is it to buy a narrowboat?
Types of Narrowboats
While there are many variations on a theme, there are three basic styles of narrowboat. Each style comes down to the stern: traditional, cruiser or semi-traditional. 
The Traditional Stern
The traditional stern is the smallest available stern. It usually has a two to three-foot deck area, which allows for more interior living space. Older narrowboat models with a traditional stern typically have a "Boatman's Cabin."
Because canal boats were all about the carrying of goods, families who lived and worked on the canals became confined to the back end of the vessel. They ate, washed and slept in a space no longer than 10 ft and a width of 6 ft 10-inches. The engine is housed inside the boat with this type of stern.
The Cruiser Stern
Cruiser sterns are more modern inventions. Designed to be a more sociable space, cruiser sterns offer 5 to 7 feet of deck space, which makes them popular with leisure boaters and liveaboards alike.
I like to think of them as a decked area for sunny days. It does give you options, especially in better weather since the problem with traditional sterns is there's nowhere to sit outside.
The engine is located in the exterior of the boat and accessed via the hatch. You'll find most narrowboat hire companies use cruiser stern boats.
The Semi-Traditional Stern
Semi-traditional sterns are an amalgamation of Traditional and Cruiser sterns, allowing space and seating in an extended area outside the boat.
Meanwhile, the person steering still has a space more akin to traditional stern narrowboats. It means less cabin area, but the engine's located in the exterior of the boat with hatch access.
Featured Boat Care Product
| | |
| --- | --- |
| | Boat Soap keeps your narrowboat bright and shiny without leaving residue.  |
Check Price on Amazon - Better Boat's Boat Soap is 100% biodegradable and safe for marine environments. Feel free to safely use it to clean algae, scum, debris and waterlines from your boat's deck, hull and other areas. Use with a hose and wash sprayer and an extension rod and a deck brush head for excellent results. 
Narrowboat Layouts
There are two narrowboat layouts, and they generally follow a theme based on the bedroom's location.
Traditional Layout
Traditional layouts have the bedroom at the rear, much like the "Boatman's Cabin" we talked about earlier.
Reverse Layout
Reverse layout boats have a rear galley and a front bedroom. While there are advantages and disadvantages to both layouts, it comes down to personal preference.
Some liveaboarders like the galley at the rear, which makes it easier to access the stern. Others like the idea that the salon has a well-deck that acts as a patio for those long English summers (who am I kidding!).
It also depends on which way you enter the narrowboat. Some enter via bow, so with reverse layouts, this means climbing aboard and walking through a bedroom. Whereas accessing the boat from the stern will mean entering through the galley. Again, it all comes down to preference.
Size Matters
Narrowboats come in many different lengths, although there are more common sizes due to the lengths of the locks on the network. In general, vessels over 70 ft long will struggle to fit.
The most popular sizes are
:
50 ft: This is a "go anywhere" size and great for beginners.
57 ft: Other than a few hundred yards on the Little Ouse River, this is deemed an acceptable length to navigate the entire network of canals. Anything more substantial is subject to lock size restrictions.
60 ft: Should still allow extensive coverage, but you'll have to accept size limitations.
65 ft: This length makes it possible to have a second bedroom onboard.
70 ft: This allows loads more room. It's a compromise between traveling the network or better space onboard.
What size you decide on breaks down to your specific taste and where you'll travel. The boat's size and its accessibility to cruise the canal network aren't determined by canal width, but by the length and breadth of the lock.
It's the reason why I can't take my wide beam boat on certain parts of the canal network.
Okay, now it's time to talk money!
Your Budget: Second-Hand Vs. Brand New
The sky's the limit! You can spend hundreds of thousands on a brand-new boat with bells and whistles. If you can afford it and that's what you want, why not?
But in the real world, where money isn't quite so plentiful, what are the best ways of getting the most for your cash? There are pros and cons to each.
Brand New
Buying brand new ensures you get the boat you want and that you'll be the first to own it. But boy, you'll pay the price. This is an option I looked at, but in the end, I decided that depreciation was a significant concern for me.
That's the downside of buying brand new. Once you set off, just as in a car, the value of your boat dramatically drops.
Second-Hand 
As an example of depreciation, the boat I bought would have set me back £180,000 ($235,000) brand new. So I decided to go second-hand and saved £70,000 (over $91,000).
I think it was a wise decision. It wasn't the exact boat I wanted, but I didn't have to take the hit on depreciation. That brings me to the next con about buying second-hand.
The Compromise
If you decide on a second-hand boat, you're going to need to compromise. There's no getting away from this. Okay, so what's wrong with compromise? By saving a large pile of money, I made my boat the vessel I always wanted without the depreciation.
It's important to manage your expectations when talking about money. Let's break the cost into price bands. A sort of "What to expect for your money."
Speaking of what to expect, Apollo Duck is a great website for second-hand boats. You'll find the largest available selection of used narrow boats and canal craft anywhere.
Up to £30,000 ($40,000) — For this sort of money you'll probably get a smaller boat (remember we talked about sizes?), so something 50 ft or less (and probably in need of TLC).
Don't expect luxury and all mod-cons here. It'll be more like the basics, and it's possible it'll be a project boat. I recommended a reputable marine surveyor before committing financially.
Up to £50,000 ($65,000) — Now we're getting somewhere and can expect a little more. For this budget, expect a larger vessel, possibly with two berths and maybe a cruiser stern.
It'll almost certainly have more home comforts such as a pump-out toilet, an immersion heater for water and central heating.
Up to £100,000 ($130,500) — With this kind of budget, expect the very best. Think: teak decks, marine leather and an electronics package worthy of the space shuttle. Again, you might get a cruiser stern, possibly even bow thrusters, and a more considerable water and fuel tank.
It's quite possible to find a new boat for this budget too. It'll have the latest kitchen units with a built-in cooker. Many boats in this price range also have built-in fridges and freezers.
The inverter will probably be more substantial, meaning it's robust at onboard power management. Expect a bigger engine as well. Smaller boats don't need as much propulsion, but the bigger the boat, the more significant the motor (which is very handy for cruising tidal rivers).
Along with all the highlights of having those top-end features, you'll want to invest in teak cleaner, marine leather cleaner and other marine products to keep that new boat nice and shiny. 
Elton Moss BoatBuilders
Elton Moss BoatBuilders started business in 2003 and have produced nearly 300 vessels. Elton Moss has become one of the most respected names in the industry and has made a name for themselves by creating spectacular narrow boats. Based in Cheshire, this award-winning boat builder is a firm favorite.
>
Polish-based Aqualine Marine is one of the most prestigious boat builders in the industry. They make quality narrow and wide-beam boats that make real statements on waterways.
Aqualine is known for workmanship and attention to detail, but all this excellence comes at a price. They produce some of the highest value boats on the waterways today.
Based near the famous racecourse at Aintree, this boat builder has produced narrowboats since 2010. This family-run business has built quite a following of canal boat enthusiasts and has become synonymous with quality and good design.
This Polish-based company started in 2007 has gone from strength to strength. Polish welders are famed for their skill, so their hulls are incredibly reliable and offer excellent quality. With their impeccable styling, you can't miss the distinctive appearance of a Viking boat.
With 30-years experience in the boat building industry, this Liverpool-based manufacturer has a reputation for building diverse and top-quality boats. They're one of the most popular UK boat builders and have a large customer base.
Featured Boat Care Product
Check Price on Amazon - Better Boat's leather cleaner is great for boat or auto upholstery. It blocks UV rays and prevents the cracking of leather and vinyl seats, cushions and consoles.   
Conclusion
Figuring out how much it will be to buy a narrowboat all comes down to budget and compromise. Cruising the UK waterways doesn't have to be costly. For a limited outlay, it's possible to get a watertight and functioning craft to keep you moving for years to come.
But how much comfort are you used to? These narrow boats are extensions of our homes. In some cases, people buy them to live aboard. So, creature comforts are much more critical, especially if you (like me) desire a permanent life on the water.
I refuse to give up the comforts of home to live like a hermit, eking out an existence on the edges of society. On the contrary, I want the best I can get while still impacting the planet less and having a more eco-friendly way of life. It's possible to achieve this without breaking the bank.
---