How to Paint Your Boat: 9 Steps to Achieve a Slick Glossy Shine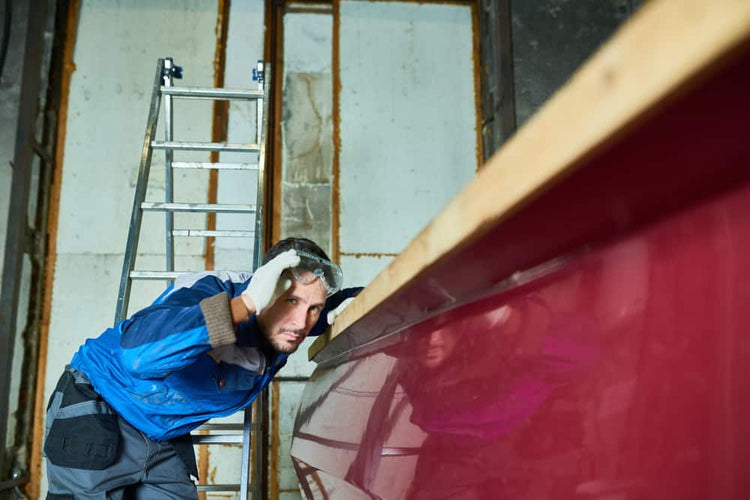 If a man is to be obsessed by something, I suppose a boat is as good as anything, perhaps a bit better than most. - E.B. White
If you agree with this sentiment and wanna give your boat a fresh paint job to make her shine again, this is the place for you.
Boats lead a rough life.We leave them baking in sun, rained on, floating in salt or fresh water and fighting off plants and all sorts of creatures that wanna latch themselves to hulls.
Boats chafe from banging against docks and rubbing on fenders. Boats crash and scrape into trailers and skid up onto the beach. Not to mention the occasional obstacle they hit in the water.
Because o fa boat's rough life, chances are it'll eventually need a new coat of paint at some point in its life, which is a job all boat owners will need to know how to tackle.
So, whether you're patching up small areas or painting the entire boat, here are nine tips to make your new paint job go oh-so-smoothly.
How to Paint Your Boat: 9 Steps to Achieve a Slick Glossy Shine
1. Set Up
This step seems like a no-brainer, but it makes life easier. Gather your painting supplies. Just like painting your home or an antique automobile, it's important to prep the area and the boat for its new paint job.
If you want a paint job to shine for years to come, any painter will tell you that 80 to 90 percent of the work takes place in the preparation phase.
Featured Boat Care Products
| | |
| --- | --- |
|    |   Boat Eraser |
Check Price on Amazon - Better Boat's boat erasers remove dirt, grease, grime and stubborn stains. Simply wet, squeeze and wipe. They're safe for use on decks, upholstery, consoles and more. 
| | |
| --- | --- |
|     |   Hull Cleaner |
Check Price on Amazon - Better Boat's boat soap removes dirt, grease, waterlines and grime from your boat's hull. It restores stained and yellow surfaces to a bright white finish.
Wash down the boat hull with water and boat soap using a scrubbing brush, Scotch-Bright pad or Better Boat boat eraser. This removes any wax buildup and impurities that may make the finish bubble up or look like an orange peel.
While washing the boat, wash down your work area too. It's also a good idea to spray down the area's surface several times throughout the painting process to keep the dust and airborne particles to a minimum.
2. Protect Yourself (and the Environment)
Wear Gloves: Make sure to wear gloves. There's nothing worse than peeling paint and epoxy off your hands for weeks to come. Latex gloves will also help you from absorbing toxins through your skin.
Protect Your Lungs: Avoid breathing in sanding dust and paint and solvent fumes. Don't just wear a dust mask for particulates, use a paint respirator (Check Price on Amazon). Paints have toxins, solvents and chemicals. The less you expose yourself to, the better.
Always make sure to read the paint can's warnings and dispose of paint cans and other chemicals in a way that protects our environment.
3. Prepare the Surface
The time has come to fix the dips, dents and gouges in the hull. Make sure you've purchased products that work well with the paint you've chosen. There are many filler brands on the market.
Here are some favorites, most of which are quick-drying epoxy fillers (excellent on metals and other wood-constructed boats). I also like these because the 1:1 mixing ratio is easy to remember. They also dry smoothly and fast, so work quickly.
Interlux Interfill (Check Price on Amazon) has as several filler variations, some with fast-cure. Interlux offers a lot of boat paints and fillers. Interlux even has a mobile app to help you decide as you're standing in the store aisle. 
AwlGrip AwlFair (Check Price on Amazon) is a premium epoxy compound that can fill gouges, pits, dents or weld seams. It can alo be used above and below the waterline.
EMC2 QuantumFC  is a high-end two-component polyamide-epoxy sealer. It's very easy to apply and works well on a variety of surfaces.
4. Sand
Once you've filled all the dips and dents, allow time for the filler to dry. When it's dry, it's time to sand.
If you've got a wood boat, make sure to do what my Grandpa suggested: Sand with the wood grain. Always with the grain, never against it (Grandpa was an amazing woodworker, so I always follow anything he ever told me). 
Remember you're only scuffing up the gel coat and removing any stains in the paint. A random-orbit sander (Check Price on Amazon) works best for this and will save you a ton of time.
I generally suggest 120-180 grit sandpaper to remove any oxidized gelcoat. For deeper stains, use a finer 220-300 grit sandpaper.
When you're done sanding, think again. Run your hand along the hull and feel for dips and grooves. You can even stretch a thin batten along the hull to double check that the hull is completely smooth.
Add additional epoxy and sand again, this time with a longboard sander (Check Price on Amazon) using 320-400-grit paper. This is a timely process but keep in mind that any impurity in this stage will look worse once the paint dries.
5. Apply Primer
Now that the hull is smooth, it's time to apply primer. Make certain the hull is clean and completely free of any dust, small hairs or debris.
You'll also want to spray down the area around the boat to keep dust from flying in the air. Finally, you're ready to apply an undercoat.
Apply Undercoat
The undercoat should be compatible with the paint you're using.  
Tip: As a rule, two-part paints like Interlux Perfection (check price on Amazon) are much more durable than single-part paints. But for the DIY beginner, they may prove more difficult to work with.
Roll or brush undercoat paint onto the hull.
Tip: Use the same color undercoat or primer as the topside paint (especially when painting over a dark-colored hull). Once finished, head back to your lazy chair and look at your hard work while waiting for it to dry.
Sand Again
Yes, you heard me, more sanding... using the 300-400 grit paper. Check the smoothness again. Find any dips or holes? Apply more epoxy or a second undercoat. Ultimate smoothness = ultimate shine.
Tip: To avoid an orange peel finish - and there's nothing worse than orange peel unless you're dealing with an actual orange - clean the hull with a solvent to remove any oils from your fingertips and hands.
Now you're ready to apply your topside paint.
6.Apply Topside Paint
Now that your hull's reached ultimate smoothness, it's time to apply your topside paint. Before applying your topside paint, put down drop cloths and mask all the boat's areas you don't intend to paint.
Check the temperature to make sure that it is between 55F and 75F with the humidity level below 80 percent to provide optimal curing.
Use a method called "rolling and tipping", which is a fancy way of saying to roll the paint and go back over with a brush. This method works well, but the trick is to only brush in one direction.
Tip:When painting a pontoon boat, you may want to consider using an aluminum anti-fouling paint.
7. Dry & Sand
Yes, more sanding. A beautiful, long-lasting shine is a timely process. You'll want at least 24 hours of drying time before you start to sand. But two to three days is ideal to allow the paint to harden.
Once it's dry, give the hull a very light sanding. Dry, Sand, Paint, Repeat.
Three coats should be plenty and will provide a deep shine once you apply your final topcoat.
8. Apply Final Coat
Finally, time to apply the final top coat! Whether paint or gloss, you'll apply the final coat the same way you've applied the previous coats.
Once you've painted the hull's final coat, you'll enter the waiting game. This is the time when you wait (perhaps not-so-patiently) for the paint to dry.
Most paints harden after two to three days, but to fully cure give it a full three weeks of drying time. There are products such as the previously-mentioned Quantum that cures in one week. Just make sure to follow the instructions from the manufacturer for all the details.
9. Enjoy the Ride
The sun's shining, the coolers are packed, and the boat is ready for her splash! This is the day you've been waiting for so get that boat in the water and take her out for a spin.
For many folks, the word BOAT stands for Bust Out Another Thousand. However, if you regularly maintain your boat you'll save thousands over the lifetime of boat ownership. You can put that money toward your BBQ fund for a picnic on the beach.
Get out there and enjoy the ride!
---