Pump It Up: The Absolute Best Inflatable Water Toys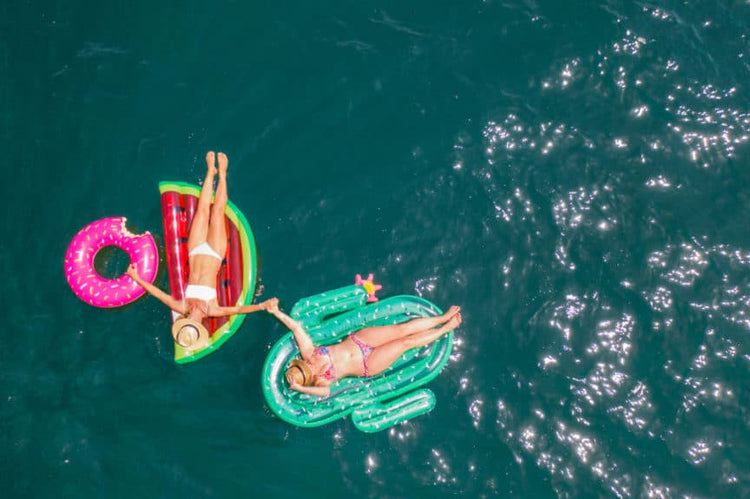 Are you looking for some new ways to enjoy the water when you're out on the boat? Maybe you're tired of that floating water mat you've had for years. Or maybe you're just tired of lugging around big and bulky gear like water skis, wakeboards and all the stuff that goes along with them?
Well, maybe it's time to take a look at inflatable water toys. From towables and floatables to game sets and watersports equipment, there are lots of choices when it comes to inflatable water toys. Plus, you can inflate and deflate as you like for on-board storage and passenger space.
Read on for some ideas on what you can add to your boating toy box.
Features of Inflatable Water Toys
Aside from just searching for the coolest looking or fastest water toy on the market, you'll want to take into consideration things like the fabric, seam construction and the inflation process.
Fabric
Inflatable water toys are typically made out of plastic, vinyl or rubber. Depending upon its use, you'll want a material suited to the toy.
A towable tube needs to be made out of a durable fabric like vinyl. On the other hand, a floating unicorn (yes, they exist) can be plastic since it's not likely going to be towed behind a boat.
Inflation
In days of yore, we had to use lung power to blow up inflatable water toys. Thank you for innovation! Inflatables today have hand pumps, foot pumps and even built-in pumps.
Dual Air Chambers
Dual air chambers are separate channels that inflate and deflate independently of each other. This can be easily seen in those lounge-pads often found in pools.
A lot of sturdy towables have this feature as well. This set-up also works as a safety precaution. If there's an air leak, the whole thing doesn't collapse on the rider or lounger.
Double Laminated Seams
Double laminated seams have an extra layer of protection to prevent rips and tears. This is a real benefit when the towables fly across the water.
One-Way Valves
One-way valves let the air inside while preventing it from leaking before the water toy is fully inflated. If you've ever had a nearly-inflated water toy escape your grasp and go swirling all over the place, you'll appreciate this feature.
Safety Precautions When Using Inflatable Water Toys
They are not life preservers.
Users need to wear life jackets when being towed.
Be aware of surroundings and other boaters when towing or otherwise.
Care of Inflatable Water Toys
To keep inflatable water toys looking and performing their best, there are a few simple steps to follow. This process definitely needs to be done at the end of the season, but it should also be followed to a degree throughout the season.
Deflate and allow to dry after use
Clean with a bleach/water mix: 1 tablespoon of bleach with one gallon of water
Store in a mildew-resistant area. Hanging is best but make sure the item is completely dry before folding to store in a dry box or shed over the winter
The Best Inflatable Water Toys for Floating and Splashing
1. Greenco Giant Inflatable Pizza Slice Float
It's made of
heavy-duty vinyl material
, has
two cup holders
and
bungee straps
on the sides. You can hook up to eight together for a whole pizza party on the water. It also comes with a convenient
repair patch kit
.
Recommended Age: Ages six and up
Inflated Dimensions: 75" L x 61" W (at the widest point)
2. Hoop Shark Inflatable Basketball Set
Check price on Amazon
Take the court to the coast. This water-based basketball set is made of thick material with reinforced seams and a textured surface. It has large bore valves for quick inflation and deflation.
You might want to hook it to the boat with a dock line if you're out on the lake to keep it from floating away. The basketball is included.
Recommended Age: Kids and adults
Inflated Dimensions: 40" tall with a 46-inch bottom diameter
3. Yamadie Inflatable Unicorn
What could possibly be more fun than a floating unicorn with rainbow wings? When it has cup holders, that's when! I love seeing these floats out on the water.
This cute and sturdy PVC unicorn seats six people for your own little party hut. There's also a handy inflation nozzle.
Recommended Age: Kids and adults
Inflated Dimensions: Approximately 15' x 14.5' x 7'
4. Island Hopper 17' Bounce-N-Splash Bouncer
Check price on Amazon
Bouncing on the water is just plain fun. The Bounce-N-Splash is 17 feet long and made of heavy-duty reinforced 1,000 denier PVC. 
It has an interlaced nylon webbing mat with a protective half-inch foam padding around the perimeter. The jumping surface is within a 13-foot diameter.
It uses tube flex features to get great bouncing action, but you won't fly into the air like on a traditional trampoline. It has six anchor-tie D-rings and comes with a repair kit, a storage/carrying case and a six-step ladder for easy access.
It works with most any air inflator. This water bouncer has a 5-year seam, no blow-out limited warranty.
Maximum Weight: Five kids or 1,000 lbs
Inflated dimensions: 36 inches tall with and 17 feet in diameter
5. Uenjoy Inflatable SUP
Check price on Amazon
An inflatable stand-up paddleboard? Yes, it really exists! The Uenjoy SUP is both portable and storable.
At 30 inches wide, you'll have great stability whether you're a beginner or a pro. There are tie-down bungee cords on the top front, a non-slip carrying handle, an ankle leash D-ring and three bottom fins for steering, speed and maneuverability.
It's made of military-grade PVC on the top and bottom for a sturdy and slip-proof standing surface. There's a large air valve for easy inflation.
It comes with a repair kit, an adjustable paddle, a storage bag and an air pump.
Weight Limit: 242 lbs
Inflated Dimensions: 11' L x 30' W x 6' thick
The Best Inflatable Water Toys for Towing
6. SportsStuff Big Mable Towable Tube
Check price on Amazon
This super fun tube can hold up to two riders. Dual tow points allow you to hook up to different points for a variety of riding experiences. Riders can sit facing forward (with the tube attached at the front), or they can kneel (with the tube attached at the back).
It has a full nylon cover to protect the air bladders and a speed safety valve for quick inflation and deflation. It also comes with a Kwik-Connect for easy rope connection.
EVA foam seating pads, foam handles and air-cushioned side walls help keep riders from getting tossed off.
Weight Limit: 340 lbs
Inflated Dimensions: 66' x 69'
7. O'Brien Super Screamer
Check price on Amazon
Up to two riders lay or kneel on this round tube for a super screamin' good time. It uses a quick-connect tow system for easy attaching and detaching.
A lightning valve provides quick inflation and deflation. It's made of 26-gauge PVC with a 420-denier nylon cover to protect the air bladders.
There are two soft EVA deck pads and six handles with EVA knuckle guards for those white-knuckle moments. One awesome feature is pull-up straps that allow you to pull yourself up and out of the water after you've fallen off.
Weight Limit: 340 lbs
Inflated Dimensions: 70' Diameter
8. Island Hopper 5-Passenger Banana Towable
Check price on Amazon
Go bananas on the water! This super fun to ride (and watch) towable holds five riders. It's made of UV-resistant reinforced 1000-denier 30-ounce PVC.
It has durable welded seams, stainless steel pull rings and a steel toggle on the tow harness. It also comes with a convenient nylon storage bag, a foot pump, a repair kit and operating instructions.
Weight Limit: 1,020 lbs
Inflated Dimensions: 17' x 4' 3'
The Best Inflatable Water Toy Accessories
9. Airhead BOB Booster Ball
Check price on Amazon
I've recommended this before, and I'll recommend it again. It's such a great product to keep the tow line out of the water. It reduces drag as well as water splashing in the faces of the riders.
10. Airhead Kwik-Connect Rope
Check price on Amazon
The Kwik-Connect Rope lets you quickly and easily switch from one towable to another. It works as a sort of a neutral party between the towable and the rope.
Attach the prong end to the rope that's connected to the boat, then attach the other end to the towable. This eliminates having to tie and untie the rope from the towable when you're done or want to switch to a different towable. Simply unhook it.
11. Airhead 2-Rider Tube Tow Rope
Check price on Amazon
Designed for one and two-rider tubes, the tow rope is durable and sturdy for all types of tube towing. Made of 16-strand braided polypropylene, it's rated at 2,375 pounds tensile strength.  
There's a six-inch spliced loop at each end. A rope keeper keeps it all tangle-free for storage. The floating factor makes it easy to find if dropped.
Featured Boat Care Product
Check Price on Amazon - Better Boat's waterproof tape is the perfect product to patch, repair and seal leaks and tears in your inflatables. Tape is extra thick and flexible to repair almost anything. It works on everything from vinyl, plastic and rubber to glass, ceramic, plaster, concrete, metal and more.  
Hopefully this has given you some ideas on what to add to your boating toy box. Whether you're towing, floating, bouncing or splashing, inflatable water toys can spice up your day out on the boat. You can even tow with a jet ski.
So don't let the fact that you don't own a boat stop you from enjoying all the fun water toys out there.
---