Take a Load Off: The 6 Best Jet Ski Hoists and Slings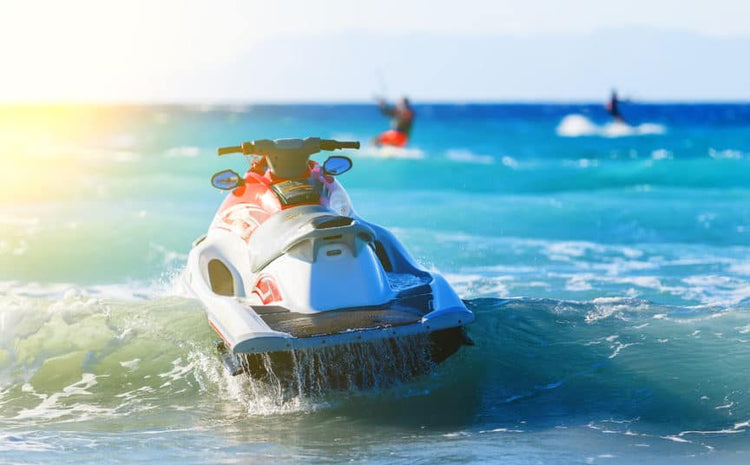 Jet skis are a blast. You can have hours of fun on the water zipping about at breakneck speeds. But when the day is done, and you need to get the jet ski out of the water, it's a challenge.
Jet ski hoists and slings are the ideal tools for the job. They're portable, affordable and enable a single user to lift personal watercraft.
Below are three of the best jet ski hoists and three of the best jet ski slings to consider.
How Much Does a Jet Ski Weigh?
Knowing how much your jet ski weighs is crucial. Personal watercrafts, or jet skis, are designed to be compact and light. That said, the average person is not strong enough to lift one.
The maximum weight your average Joe can lift is around 100 lbs (45 kg). That doesn't sound like a lot, does it?
Jet skis can vary in weight. The lightest jet ski on the market is a Sea-Doo Spark, weighing in at 405 lbs.
The heaviest model is the Kawasaki Ultra 310 LX, which tops out at 1,074 lbs.
So, unless you're an Olympic standard weight lifter, the Kawasaki is roughly ten times the weight an average person can lift. Even the Sea-Doo Spark will leave you struggling.
Ultimately, your hoist or sling needs to be robust enough to withstand that kind of pressure. So be sure to check the maximum load of the product before you purchase.
| | |
| --- | --- |
|     |  Winch Straps |
Check Price on Amazon - Better Boat's winch strap keeps boats and jet skis securely on the trailer or lift. It's made of strong and durable marine-grade webbed polyester with a zinc-coated steel hook. 
Jet Ski Hoist and Sling Considerations
Not all jet ski hoists and slings are created equal. As with everything in life, you get what you pay for. There are some basic features to look out for before you commit to spending your dollars.
Portability
Portability is probably one of the most important considerations. You need a hoist or sling that will get you to the edge of the water. And when I talk about portability, I mean, will it fit into the SUV and is the hoist light enough for me to lift it?
You might laugh, but I once had a dockside hoist that took hours to construct. I used to dread the whole process. And this neatly gets me to the second consideration.
Easy to Construct
The right hoist should be quick to deploy, not a head-scratcher task you spend hours constructing. Whatever your technical abilities are, it's helpful to have a hoist that does not come in thirty parts and requires a certain degree of skill to assemble.
It might come in many bits, which is fine, so long as it's easy to construct.
Maximum Load Capacity
As I've already said, jet skis range in weight, from 400 to 1,200 lbs. If your jet ski is on the bulkier side, buy a sling or hoist that can handle over 500 lbs.
Likewise, if you can afford it and plan to upgrade your PWC in the future, consider shelling out extra dollars for a hoist that can take the extra load. 
Construction Materials
Make sure your sling and straps are constructed from highly durable nylon, and that D-rings are galvanized or vinyl coated to protect against rust.
If you're considering a hoist, ensure the working parts are constructed of either stainless steel or galvanized metal. Also, powder coating is worth looking out for.
The rule of thumb here is to protect the hoist from the elements. The last thing you would want is for something to snap while your prized jet ski was in mid-lift.
Special Tools Required
You may need to keep some basic tools in your car, but a decent jet ski hoist or harness should require minimal use of special tools to construct or operate it. That way, it's a go-anywhere hoist.
Versatility
Try to buy a universal hoist or sling to fit all jet ski makes and models. You can purchase specific hoists that cater to your brand of jet ski, but many slings and harnesses are universal.
Ease of Storage
When the hoist or sling is not in use, it needs to be stored away. Slings have the upper hand because they're small, light and easy to store along with dock lines, fenders and other gear.
If you have a hoist kit that consists of many winches and parts, it's a challenge to hide it away unless you opt for a model that fixes in one position.
The 6 Best Jet Ski Hoists and Slings
This Wave Runner is by far the most complicated to construct of all the hoists featured. That said, once it's complete, it's a comprehensive system of winches, pulleys and wheels to make moving your jet ski easier.
It comes as a kit containing over 33 separate components of which there are multiples of each component. This one also requires the use of lumber (not supplied) to complete your boat lift.
All the metal parts have been hot-dipped galvanized for superior corrosion resistance. This PWC lift is beyond my technical capabilities, but if you have the know-how, it's a great hoist system.
Portable: Yes
Ease of Construction: Difficult
Maximum Load Capacity: 1,200 lbs
This powered hoist is better suited in a permanently fixed position, so it's ideal if you need a hoist to attach to your motor cruiser to lift your jet ski. It also works well if you have a boathouse and need something robust to lift out your jet ski to protect it from water damage.
This hoist is belt-driven and comes with a six-foot control cable, and requires a power socket to connect to, hence the non-portable aspect.
The 48-tooth gear that turns the cable drum is housed in a powder-coated shell for added protection.
Portable: No
Ease of Construction: Medium
Maximum Load Capacity: 1,500 lbs
This Davit crane hoist is truck-mountable, meaning it's portable and enables you to back your truck to the dockside to winch your jet ski.
The beauty of this system is that you can load the ski straight onto your truck in one easy operation. It's also extendable, though the load weight drops to 400 lbs. when it's fully extended.
It swivels, making it highly maneuverable, and it comes with a hand winch. Personally, I would find this the best hoist to use because it's robust when fixed in place but still portable.
Portable: Yes
Ease of Construction: Easy
Maximum Load Capacity: 1,000 lbs
This sling is constructed from vinyl-coated steel and super-durable nylon webbing, making it lightweight, easy to transport and simple to use. Slings have that advantage over hoists.
It's a universal sling, meaning it fits just about any jet ski, providing the weight ratios are correct. The obvious disadvantage of using a sling is that you'll still need a winch, so the added cost of the sling plus the winch may need to be factored in.
However, many docksides and marinas will have a crane or winch that you can use.
Portable: Yes
Material: Nylon + Vinyl Coated Steel
Maximum Load Capacity: 1,600 lbs
This Erickson sling is designed to lift PWCs up to a maximum weight of 1,000 lbs. It has steel bars that clip to your jet ski's sides, which have been coated in durable rubber for added protection. It also helps with increased grip.
Because the bottom of the craft is exposed, it also makes this the ideal sling to conduct any minor repairs. Cost-wise, this sling is an incredible value for the money. It's almost half the price of the Aquacart 4-Tec, so if you're shopping on a tight budget, this is the one to go for.
Portable: Yes
Material: Woven Polyester + Steel + Rubber Coating
Maximum Load Capacity: 1,000 lbs
This Pro Hoists jet ski sling can take the weight of the heaviest jet skis, even the 1,100-lb Kawasaki Ultra 310 LX.
This sling has been designed for use with two or three-seat jet skis over nine feet in length.
The straps attach under the side bumpers at four points. The nylon straps that attach to the support bars are self-leveling. This is useful, especially if you get nervous like me when raising the craft out of the water. It removes the possibility of the PWC from tipping. That said, it's always advisable to lift the jet ski slowly.
Portable: Yes
Material: Nylon + Steel Cradle Bar
Maximum Load Capacity: 1,500 lbs
| | |
| --- | --- |
|      |  Telescoping Paddles |
Check Price on Amazon - Better Boat's mini paddle is a handy piece of gear to have on board a kayak, canoe, jet ski or boat. It collapses down from 35" to 18.75" for easy stowing. Lightweight, compact and durable, paddles have an ergonomic T-grip handle, a high-impact plastic blade and sturdy locking joints. 
Final Thoughts
Whether you're land-based and need to get your jet ski onto a trailer, or you keep your PWC onboard your motor cruiser, a hoist or sling is the only way to get it in or out of the water safely. 
If you have the option, I would always recommend a fixed hoist with a manual or electrically operated system. They're easier to use and bolted into position.
That said, there's no substitute for a portable hoist to get your jet ski in the water when you're on the go.
Cost is another consideration, with some of the fixed hoists priced two or three times that of slings. So, it may be that the budget is the deciding factor here.
One word of advice, it's better to overestimate the load capacity to ensure your PWC is safe. This gives you the option to change your jet ski at a later date and not have to factor in the cost of a new hoist or sling.
---