10 Absolute Necessities for Living on a Boat in a Marina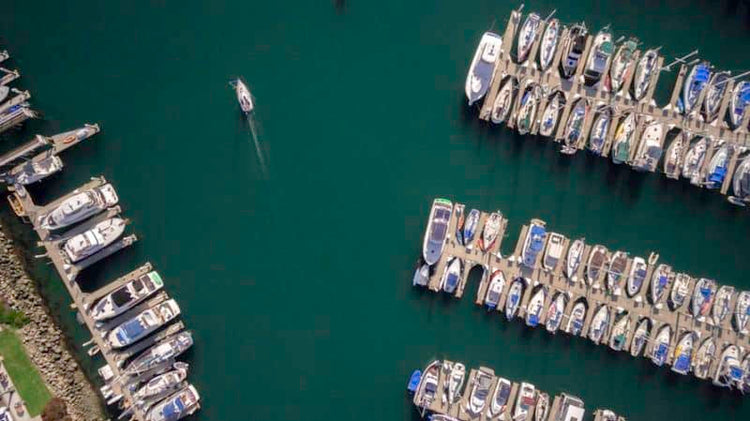 Living on a boat beats living on land. But where you live on your boat matters, too!  
If you've been using a mooring all these years, switching to a marina slip can be an adjustment. It took me a whole season of living on a docked boat at a marina to know what essentials I truly needed to feel safe and comfortable.
But you'll find that a marina is a great place to live once you have all the essential items you need, like a good disposable moisture absorber. With endless boat upgrades to make, don't get caught at the marina without these ten crucial items.
1. High-quality Shore Power Cord
When I first got my boat, I didn't think about electricity at all. With the wind in the sails and sweet mother nature all around, it's easy to forget about technology.
I scoffed at the other boats in the marina with their power cords dangling in the water, constantly plugged in. Until I started sleeping on my boat too, craving late-night Netflix and burning my laptop battery writing in the cabin on a rainy day.
Anywhere you live on a boat, even if it's part-time, shore power is essential. But don't just skimp on any old cord. Get something new, heavy-duty, free of corrosion and high-quality to reduce the risk of complications.
Shore power cords are the number one cause of marina fires, so be safe and be sure to inspect every receptacle for damage before plugging it in.
This Marinco EEL Shore Power Cordset (Check Price on Amazon) is a fantastic option and safe with a jaw-clamp to provide watertight seals. It also has a cord light to let you know you're indeed plugged into the dock.
2. Shower Caddy
Okay, I know this feels like a throwback from freshman year of college, but trust me on this one. There's nothing worse than carrying a pile of loose toiletries to the marina bathroom. It was awkward to drop your shampoo in the hall back in college and it's even worse to drop it on the dock as an adult.
So, if you plan on living on a docked boat at a marina, it's essential to get yourself a fancy shower caddy. I love this Attmu Mesh Shower Caddy (Available on Amazon).
It's mesh, quick-drying and easily folds away when not in use. Plus, there are tons of pockets to hold everything you need.
3. HyperVent
This is #1 on my wish list for the boat right now. Seriously. Like most boat owners, I've struggled with mold, mildew and moisture building up under the bed in the V-berth.
An extra waterproof cushion cover has been a decent temporary fix, but I still have to wipe up the moisture every couple of weeks.
After extensive online research, I came across HyperVent, a super strong woven polymer mat that sits between the mattress and the boat. It separates the two surfaces to prevent condensation so you can sleep safe, sound and mold-free.
When I get the new cushions in, I'm going to protect them with a layer of Hyper Vent. It's expensive but worth the investment to keep your cushions dry and mold-free. Speaking of dry and mold-free ...
4. Dehumidifiers (Yes, Plural)
You can't escape a boat's dampness. You just can't. The best you can do is try to manage it. And there are a few great products out there to help.
In the winter, and in specific areas of the boat (like cabinets and closets), I opt for simple, cheap and easy-to-find DampRid Refillable Moisture Absorber (Available on Amazon). These little buckets manage to get musty aromas out of areas that need some extra love. Go for the fragrance-free product so your delightfully salty boat doesn't end up smelling like suffocating "mountain air."
Another great product is Better Boat's refillable dehumidifier container. Simply insert a refill bag, which contains absorbent crystals and activated charcoal, to absorb excess moisture and leave small spaces smelling fresh. 
| | |
| --- | --- |
|       |  Hanging Bags |
Check Price on Amazon - For quick and easy dehumidifying, hanging bags are great for small spaces like closets, cabinets and bathrooms. They contain the same absorbent crystals and activated charcoal as the refill bags used in the dehumidifier container. 
To tackle larger spaces and extra humid summer days, an electric dehumidifier is your best bet. When you're living on a boat and have items like clothes, bedding and food, it's important to dehumidify the space, especially if you have a cabin shower.
I highly recommend the Eva-Dry Edv-200 (Available on Amazon) for its size and portability. It's a simple electric dehumidifier that draws moisture from your space, but it does lack fancier features like air filters and the power brick tends to run hot.
If you're looking to make more of an investment in a higher-quality product, try the Mitsubishi Oasis 16L Dehumidifier. This baby has it all: LCD display screen, high humidity indicator, washable air purifying filter, mildew guard and a slim shape for easily tucking away in your cabin.
Unlike other dehumidifiers, it works in cold weather and is compatible with a permanent hose attachment to allow the machine to continuously operate.
Another especially awesome and essential feature for boaters living on a docked boat in a marina is "laundry mode" a simple and gentle way to quick-dry a rack of clothes indoors. When this model becomes available in the U.S., I'm going to be all over it!
5. Curtains
This one might surprise you, but curtains are essential when you're living on a boat at a marina. When I saw them on other boats I thought it was weird and unnecessary. It wasn't until I had the sun beaming in my eyes at 5 am that I thought, "hey, those guys are onto something."
If you're living on a boat anywhere, curtains are helpful in offering some morning darkness and afternoon shade from the hot sun. They're especially useful when you're living in a marina because they offer some extra privacy. Never will you be closer to your neighbor than at a marina.
Do yourself (and your privacy) a favor and either buy or DIY some curtains for your portholes.
6. Shade Cover
When you're faced with really hot sunny days at the marina, and curtains just aren't cutting it, opt for a shade cover. Whether it's a bow bimini top (Check Price on Amazon) or a full canopy, you'll appreciate the extra shade on a hot day.
When I had surgery last year, I was so thankful to spend my bed rest on the sailboat at the marina, where I could rest, be outside and have company around me all day.
But the hot summer heat proved to be too much in the afternoon and I was forced to spend a lot more time in the cabin. Had I had a shade cover to put up, I would've been able to be outside all day.
This combination Sailboat Boom Tent and Forward Tarp (Available on Amazon) would've been perfect for my Hunter.
If you have an open bow vessel, Marine Canopy provides both standard and custom-sized tent or canopy-style shade covers to offer instant privacy and shelter. They create a cozy little room for you to snuggle up in protected from wind, rain and sun.
7. Marine Hatch Screens
When you're living on a boat, you want to feel like you're at home. Not camping. Sitting inside a stationary boat with the windows shut can make conditions stuffy (and stinky) real fast.
I love to open hatches and windows and fill the cabin with fresh air while underway. But at night at the marina? You'll be filling your cabin with bugs!
Hatch screens are amazing because you can get plenty of cool fresh air flowing into the cabin while you sleep without getting eaten alive. In my opinion, they're vital to making the liveaboard life comfortable! 
Waterline Design provides a variety of hatch screens, which can be inside-mounted by suction cups or magnets. They also offer Foredeck Hatch Throw Over Mosquito Screens (Available on Amazon)
You can even get this Companionway Hatch Screen Cover (Available on Amazon) to maximize the most airflow throughout the entire cabin!
8. Collapsible Rolling Cart
My slip is at the end of a very long dock, making stuff-carrying laborious and exhausting. While many marinas provide large, plastic carts for hauling belongings from car to boat, boaters inevitably have to return and retrieve the cart, walking all the way back to the entrance. 
When entertaining guests or eager to set sail, this process becomes annoying. I acquired a sweet used folding metal cart like this one (Available on Amazon).
With every intention of spray painting it ocean blue, someone stole it before I even had the chance to walk it down the dock. Perhaps if I kept it folded in a locked dock box, this theft wouldn't have happened! 
9. Dock Box
Dock boxes are to boats what sheds are like to houses. When you need extra storage (which, face it, you do if you're living on a boat), dock boxes have your back.
This is a huge bonus when docking boats at marinas instead of mooring buoys. Dock boxes help make the most of the dock space surrounding your boat.
They're perfect places to store large, awkward and clunky items like beach chairs, spare buckets, extra anchors and fishing gear you don't use every day.
Available in all shapes and sizes, check out West Marine and Taylor Made (Check Amazon for Prices) to find a dock box that works perfectly for you.
I suggest one with a lock (lesson learned) and made of sturdy fiberglass. And purchase one with a flat top to use as extra seating for those sunset happy hours!
10. Dock Steps
Living at a marina means going on and off your boat ... a lot!  And guests going on and off your boat. If you have a sailboat like me, this often means you're in charge of standing on the dock, holding the boat close enough so people get in and out safely. This certainly gets old after a while.
Save yourself the trouble and invest in some Taylor Made Products Step Safe Dock Steps (Available on Amazon). Made of heavy-duty weatherproof plastic, this set of steps has treads for extra non-slip grip. You can also purchase no-slip grip tape for additional security.
What I love about them is they come with pre-drilled holes so you can easily screw the steps right into the dock, making the staircase nice and sturdy (no matter how hard the dock is rocking). Everyone who lives on a boat at my marina has these as their front steps. 
Armed with these ten essential items for living on a docked boat in a marina, you'll be able to transition to the liveaboard life (or from mooring to the marina) in a snap!
---