Let's Get Cooking: Marine Stoves for a Gourmet Galley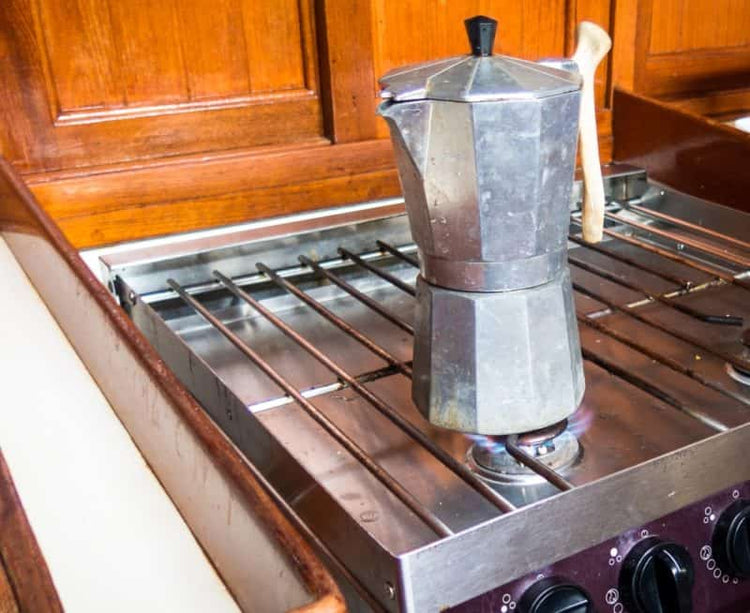 Imagine the scent of bacon, eggs and freshly-brewed coffee wafting through the boat in the morning. When it comes to cooking onboard, most boaters are content to use a good old portable grill. But what do you do when you crave more than hot dogs, burgers and the occasional BBQ chicken? 
If you liveaboard or plan to be on your boat for an extended time, you'll probably want to save a little money and calories by preparing some of your own meals. Dining out while traveling, especially by boat, is wonderful. But sometimes it's nice to just stay put.
If your boat's big enough for a galley (kitchen in boat talk), then you'll wanna brush up on marine stove knowledge. Regardless of how big the galley is, you can find a marine stove to fit your needs for sautéing, baking or just boiling a pot of water.
A wide range (pun intended) of marine stoves are available on the market. Depending on your boat galley's available space, you can find stoves with just a cooktop or with an oven.
Whether you're replacing a current stove or searching for one to add to your home on the water, scroll on down to discover safe and efficient marine stoves for your trawler, cabin cruiser, sailboat or canal boat.
What Makes a Marine Stove Different From a Regular Stove?
While marine stoves bake and fry the same way as regular stoves, they do have some features that make them unique:
Compact in size: One noticeable difference in marine stoves are their size. Boat galleys are not as spacious as the kitchen in your house, so the stove (as well as other appliances) needs to fit into tighter spaces.
Gimbaled: Since boats are nearly always moving, a marine stove must pivot to stay level. This is called gimbaled. The stove has two pivot points that allow it to swing, which keeps pots or pans from sliding off onto the floor. Typically, sailboats have gimbaled stoves. Powerboats usually don't have gimbaled stoves, as they tend to stay steadier than sailboats.
Pot restraints: Metal brackets or clamps go around the pot to hold it in place.
Securely latched doors: Doors are kept shut by secure restraints so they don't just fall open on their own.
Stainless steel: Marine stoves are usually made from non-corrosive materials such as stainless steel, making them less susceptible to rust.
Considerations for Cooking on Board a Boat
Cooking on board, like other actions on a boat, requires new approaches to everyday kitchen practices. First and foremost, keep those knives in a drawer.
Eliminate glass - This one doesn't need an explanation. And don't worry, you don't need to stick with Solo cups and paper plates. A variety of brands make quality acrylic and non-shattering dishes and drinkware. Tervis (check prices on Amazon) is one of my favorites.
Purchase non-slip products - Non-slip is your new best friend. This goes for cutting boards, knives, dishes and anything imaginable.
Allow ventilation - Your boat galley's confined space is going to produce extra heat. Open a window or leave the hatch open for a nice breeze.
Condense food and storage - Your boat galley's limited space also means you'll need to put on your creative thinking cap when it comes to food and accessory storage. 
Combine Cleaning products - The same Better Boat scuff erasers you use on the rest of the boat can be used to remove stains, drips and such from your marine stove. Simply wet, squeeze and wipe. For tough stains, accidental boil-overs and rust buildup, stainless steel scrubbers work wonders on pots and pans. Even 100% biodegradable boat soap can be used for dishwashing chores along with a microfiber cloth. 
Check Price on Amazon - Better Boat's boat erasers have a textured surface and a reinforced core for extra durability to remove shoe scuffs, dirt and stains on upholstery, consoles and walls.
Types of Marine Stove Fuels
I was surprised to discover just how many marine stoves are available. The main differing factor is the type of fuel they use. Combustible fuel, as well as electricity, are two energy sources that provide power for marine stoves.
Alcohol
Alcohol marine stoves, which heat by way of pressurized tanks or non-pressurized burners, come in a wide variety of makes and models.
Alcohol marine stoves are a safe choice. If there's a fire, it can be extinguished with water.
On the downside, alcohol lacks in providing a high level of heat, which puts it on the less efficient side. It's also expensive and gives off an unpleasant odor.
Diesel
Diesel marine stoves are mainly used in commercial boats. Diesel burns very hot and is cheaper than alcohol. However, on the negative side, it can leave soot when burning and puts off a terrible odor.
Electric
Without an open flame, electric stoves are the safest choice out there. Unfortunately, they're also the most expensive because they require a large amount of electricity from generators or marina shore power. But if your boat has an AC genset, you're good to go with an electric marine stove.
Propane
Propane, also known as Liquid Petroleum Gas, has become the fuel of choice for many marine stoves. It has a high heat factor, lights quickly and has no offensive odor.
The major safety factor with propane is that it can ignite and cause an explosion. However, safety features like a propane fume detector (check price on Amazon) should be put in place to alleviate this worry.
The Best Marine Stoves
Let's discuss the different brands and features of marine stoves. Depending on the size of the galley, you can keep it simple or go full-on gourmet if you so choose.
Eno Stoves are available in two-burner gimbaled cooktops, three-burner built-in propane cooktops, wall mount ovens and three-burner stoves.
Features include pot holders, gas shutoffs and raised flame guards surrounding the top, which is also handy for keeping pots and pans where they belong.
Force 10 has made marine stoves for more than 30 years. They make gimballed, built-in and cooktop marine stoves. Two, three, four and five-burner versions are available in gas or electric models.
Features include stainless steel construction, ceramic glass cooktops, thermocouple protection on burners, removable top grates and slide-away oven doors.
Along with cooktops and stoves, Dometic Origo (check prices on Amazon) makes a variety of marine stove accessories such as pot holders, flame spreaders and stove gimbals.
Pressure-free gourmet stoves feature spacious ovens, adjustable oven racks, roasting pans, gimbals and two burners. You can enjoy that Thanksgiving turkey or Christmas ham on the water. Two and one-burner stove tops are also available.
If you're searching for a cooktop, Seaward offers great choices. They make three-burner and two-burner cook tops (check price on Amazon) with marine-grade steel housings and aluminum top burners.
Thermocouple valves shut off if the burners are extinguished. The cooktop heats quickly and the smooth glass wipes clean.
This Dickinson Marine two-burner drop-in propane cook top (check price on Amazon) is quite an efficient stove with a powerful "Triple style" 11,000 and a 7,000 BTU burner. The cooktop is also a breeze to install and includes under-counter brackets.
For a boat with not much galley space, this Avanti 20-inch wide freestanding gas range marine stove (check price on Amazon) is the perfect option.
It might not be ideal for monohull sailboats that tend to sway, as it lacks gimbals (although you could install your own), but it could work for a trawler or more stable catamaran.
It also offers automatic electronic ignition and a glass oven door with a light to check on meals.
What to Cook With Your Marine Stove
They say every meal tastes better on a boat. I would tend to agree. With all this talk of stoves, ovens and cook tops, I'm getting hungry. 
Put that new marine stove to good use and collect a few cookbooks (all available on Amazon):
Hopefully, this post sheds some light on any marine stove questions or concerns you might have. Happy baking, broiling or frying!
---