When It's Time to Sell Your Used Boat: Tips and Tricks to Make It Quick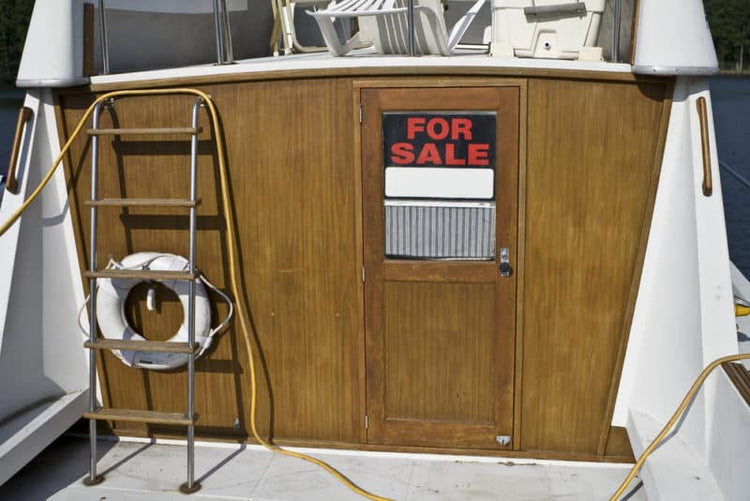 When it's time to upgrade your boat, you know what you have to do. Sell your existing used boat.
Thousands of recreational boats and sailboats come on the market daily, especially at the end of boating season. You want your boat to be one stands out from the rest (for good reason).
It's hard work to sell a used boat. But if done right, selling your boat quickly (and for top dollar) is right around the corner. Check out these tips to help you get the most bang for your buck.
Empty Out Your Used Boat
It's painful and often nostalgic, I know. But once you decide to sell, accept the fact that the boat's no longer yours. It's a mindset more than anything.
I have a friend who has so much "stuff" in his boat that you can't really see the boat at all (I think it's all the stuff his wife won't let him have at home).
Nevertheless, if he ever decides to sell his used boat, he's gonna need a supersized dock cart (check price on Amazon) to haul it all out. Actually, I highly recommend purchasing a dock cart anyway!
Remove Personal Items
This means you, yeah you, my dear friend with all that "stuff" in your boat. Get rid of all your personal items. Why? Because you want to allow the buyer the opportunity to envision the used boat as if they own it. Maybe even live in it.
You want them to picture themselves there, not you. Put it in the dock cart and haul it home, recycle it or give it away to another fellow boater. But under no condition do you leave it in the boat!
Show Empty Stowage Area
Make sure the boat's stowage areas are empty and appear spacious. People want storage areas to stow their stuff. This means PFDs, galley storage, fridge and berths need to appear roomy, airy and clean.
Clean Your Used Boat Till It Shines Like New
A little elbow-grease = more $$$ in your pocket. More $$$ in your pocket = a bigger, newer boat for you.
Make sure the boat runs well and works properly. There's nothing worse than looking at a boat and trying to lift up a hatch, only to find it's stuck. This goes for all the other details, hinges, cleats and pulleys.
Check Price on Amazon - Better Boat's mildew stain remover works to remove stains from vinyl, plastic, fiberglass, tile, grout and canvas. 
Make sure it doesn't smell. Mold and mildew are killers, and if you have a sniffer like me, you smell it a mile away.
Mold is a sign of damage and potential problems for the buyer. Get rid of it, especially black mold that can cause illnesses.
Pet odors? If you sail with a dog or cat (even a well-behaved cat that used the litter box), let's be honest, they stink. Especially cat urine! To remove our critters odors, use a pet deodorizer like Nature's Miracle (check price on Amazon). If you can still smell it, purchase an ozonator (check price on Amazon).
| | |
| --- | --- |
|    |  Bilge Cleaner |
Check Price on Amazon - Better Boat's bilge cleaner emulsifies and eliminates grease, grease, oil, fuel and sludge to keep your bilge functioning as it should. Simply pour in, run the boat and then pump out. 
Clean and Scrub:
Clean bilge pump and pump out the holding tanks
Wax the hull and polish aluminum and chrome 
Use boat soap to clean everything above and below the deck.
Clean the windows with a vinegar and water solution and microfiber cloth for a streak-free view
Freshen carpet and cushions with a carpet cleaner
Remove smells with an ozonator and follow directions carefully (these work great, especially if you had pets onboard)
Engines should shine too. Wipe off the oil and grease, and make this area shine
If you don't have time to do this yourself, hire it out. You won't regret it. It'll be the best money you spend preparing your boat for sale.
| | |
| --- | --- |
|    |  Hull Cleaner |
Check Price on Amazon - Better Boat's hull cleaner removes waterlines, rust, gas, black streaks and more to keep your boat hull bright and shiny. 
Set Realistic Pricing to Sell a Used Boat
The name of the game is to sell your used boat quickly. Why? Empty of most your gear, you can't enjoy it. And you can't sink money into marina fees as it just sits, either.
Buyer's don't want a stagnant boat. The longer it sits, the more questionable it becomes.
Avoid using basic descriptions and buzzwords. Be specific with the accessories the boat has. Don't say the boat simply comes with trolling motor. Instead, list the make and model number and any other identifying features.
Have an engine inspection and marine survey completed and available to buyers. The Society of Accredited Marine Surveyors (SAMS) and the National Association of Marine Surveyors (NAMS) both offer listed professional marine surveyors that will separate your boat from the rest of the pack.
Find comparable prices and locations online. NADA and BoatTrader are the go-to guides for researching selling prices.
But don't forget about boat brokers either. Remember, the location of the boat often determines the selling price, so start a search within your area.
The NADA guide is a great resource to find out what banks will loan to a potential buyer. Some people believe these numbers are somewhat inaccurate so keep this in mind when researching.
BoatTrader allows you to perform a targeted search for comparisons to price your boat accurately. Many recreational boaters place their boats for sale online through BoatTrader. This provides you with an audience of millions of prospective buyers.
This is also a great place to not only sell your boat, but to purchase a brand new one for the next phase of your life.
Brokers
Don't forget to contact brokers. Most of them are comparable in pricing and generally great to work with. They take the work out of it for you.
Ask them about trade value as well. Remember, brokers work for you. Also, with so many boat brokerages around, keep location in mind when contacting them.
Several brokers specialize in specific locations while others specialize in purchases and moving of boats and yachts worldwide. Some of my favorite brokerages are Yacht world and the Boat Broker (who specialize in RVs too). If you're in Alaska, contact Alaska Boat Brokers.
Great Photos Sell Used Boats Faster
It's no secret that great photos make a boat sell quicker. Just like selling a home, a professional photographer is worth their weight in film.
It's not rocket science, but if you don't hire it out, at least make sure you have a wide-angle lens to get the best view of each cabin, galley and head onboard.
Tips for Taking Great Boat Photos:
Clean house and declutter to show off your well-maintained boat.
Turn on all lights and remove curtains from window portholes to avoid shadows and make the cabins appear spacious.
Use high-resolution horizontal photos for better online viewing.
Take photos of your boat out of water (if possible) and get a fellow boater to take shots while cruising underway.
Show it all off! The more the better.
The more high-quality photos the better. Make sure to include helm chairs, refinished areas, bilge pumps (that's why you cleaned it), windlass, life raft, fridge and galley and all the comfy areas the boat has waiting for its new owner.
With thousands of boats available on the market, many of them will be like yours. Great photos are a way to increase your chances of selling quickly and moving away from the pack.
| | |
| --- | --- |
|      |  Exterior Cleaning Kit |
Check Price on Amazon - Better Boat's exterior cleaning kit comes with boat soap, a soap foam gun, two microfiber towels, a large sponge and a boat eraser. 
Final Thoughts
Know why you're selling. The buyer will ask, so you better have an answer ready and not be caught off-guard. Think back to when you bought your first big purchase. Maybe you asked why they were selling, and the seller gave you a sketchy and suspicious answer. Instead, give the potential buyer a reasonable, thoughtful answer. It may make the difference between a sale and the loss of one.
Limit crew ride-alongs during test drives. You want the boat to feel spacious and open. If there are too many people on board it has the potential to feel crowded instead.
Keep location in mind when selling. If you're moored on a lake, make sure to pick a season with optimal selling opportunities.
If you dry-dock, be able to answer why you're in dry-dock. Lakes like Great Salt Lake, Lake Powell and Havasu Lake are subject to water levels rising and falling seasonally, which makes it difficult to participate in year-round boating. Know your lake and know your location!
Bottom line? Boating can provide you with a lifetime of fun boating weekends for your family and friends. Do your homework so the right boat becomes part of your adventures.
---