The Complete Checklist for Choosing Which Boat Is Best for You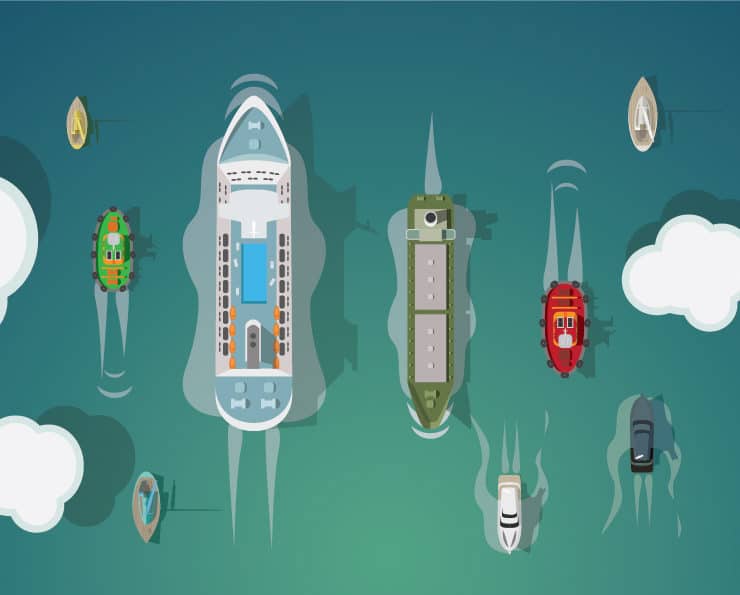 If you're still wondering whether or not getting a boat is a good idea, here's a subtle tip. It is.
Owning a boat is one of the best ways to enjoy more fun and adventure in life. And it need not be nearly as much of an expense or hassle as many people seem to think it is.
When you choose the right boat for yourself and your family, owning it is a pure pleasure, not a burden at all. Now, to be honest, the process of choosing the boat that's best for you can be something of a chore. It's a major decision and a major investment, so you'll want to take the time to make the choice well.
Starting here was a smart first move, if I do say so myself. We'll go through several of the major factors you have to consider when choosing which boat to buy, and we'll even share some specific boat models as examples that might suit certain people or families.
Once you've thought through the types of activities you hope to do aboard your boat, the places you'll take the vessel (lake, river, ocean and so forth) and some basic points like boat size and budget, you'll be in a much better place to choose which boat is best for you.
First off, you want a boat you'll love using each and every time. A smart investment. So, consider this checklist your new best friend when it comes to boat shopping.
The Complete Checklist for Choosing Which Boat Is Best for You
1. Which Boat Is Best for Your Favorite Activities?
You wouldn't use a kayak to pull a water skier, and you wouldn't buy a yacht for stream and river fishing, right? Right. So, instead of first thinking about boats, let's talk about activities.
Which Boat Is Best for Fishing?
If you're a deep sea fisherman, then you need a boat suitable for use on the high seas, of course. That likely means either a center console boat with a permanent roof and optional enclosure attachments or even a cabin cruiser.
If you're headed far offshore, you'll want a boat that can protect you and your fellow fishermen against inclement weather and tall waves (note that center console boats might lack a full cabin, but they have the added benefit of easy range of motion, which is great when you have a strong, active fish on the line).
The Barker 26 Open and Cobia 261CC are both great examples of largely open center console boats. They're also relatively affordable.
On the other hand, a Grand Banks 44 Eastbay cruising trawler may be outside the budget of most people, but it's a dreamboat, so to speak.
For fishing excursions where you head out to sea but won't be too far from shore to simply head in if bad weather threatens, deck boats make ideal platforms for fishing.
They offer plenty of open space so multiple anglers can cast lines at once. This also makes it easy to set up areas to prepare rods and reels, clean your catch (via the help of rod holder cutting boards) and even grill up some fresh fish right there aboard the boat. I love the well-priced Tahoe 2150 for fishing, cruising and fun in general.
If you fish in rivers or calm lakes, then it's hard to beat a classic pontoon boat as a fishing vessel. These boats might not be too fast, but they're stable, great in shallow waters and can accommodate multiple fisherman (and non-fishers along for the outing) at the same time. They're also affordable, especially if you buy used.
Which Boat Is Best for Speed?
If you want a speedboat for the sheer thrill of, well, speed, then you have a surprising number of rather affordable options at your disposal.
For high-speed cruising, pulling a tuber or water skier and for short (and efficient) day trips around the bay, across the lake or upriver, we love the Yamaha SX210, which is about the same price as higher-end SUV - but a lot more fun.
Of course, if you're not really a speed demon but just want to be sure you can pull tubes, skis and wakeboards behind you, a nice pontoon or deck boat can get the job done. You'd be surprised how much speed the modern models can get!
Which Boat Is Best for Multi-day Use?
If you plan to spend nights out on your boat, you need to either buy a motorboat with a cabin, or you need to be ready to make some involved modifications to a pontoon boat with an open-deck design.
While spending the night on a Carver C43 Coupe sounds great, chances are good that you don't want to take out a second mortgage on your home just to have a boat suitable for overnight use.
A pontoon boat with a camper-style enclosure can provide plenty of shelter. You'll just need to be creative in making space where you and the gang can bed down comfortably. In other words, don't think of a boat without a dedicated cabin as necessarily unsuited to overnight use.
Featured Boat Care Product
| | |
| --- | --- |
|     |  Boat Soap makes easy work of any onboard cleaning task.  |
Check Price on Amazon - Better Boat's boat soap keeps your boat clean and shiny whether it's a cruiser, cuddy cabin, trawler, pontoon or sailboat. It's 100% biodegradable and safe for the marine environment. 
Simply rinse off with a hose and nozzle for a residue-free finish. For hard-to-reach places, use an extension rod attached to a scrub brush head or mop for less stress and more clean. 
2. Which Boat Is Best for Your Area?
When I say "your area," I really mean two things. First, you have to consider the climate and weather around where you live - or where you go boating.
Does it get quite cold? Is it often rainy and stormy? Or is the weather mild most days of the year?
Second, I mean the type of water on which you'll primarily use the boat. A pontoon boat may be great for that landlocked lake or lazy river, but not ideal for the choppy waters of the Atlantic near New England, for example.
Cold Weather Boating
If you use your boat off Cape Cod or in the Puget Sound (or the Bering Strait, for that matter) an open-deck boat with a bimini top might not be the ideal craft for you.
Anywhere the temperature tends to plummet and the waves tend to rise merits a boat with at least some fully and permanently enclosed cabin space.
If you don't want a big behemoth of a yacht or cabin cruiser, consider a cuddy cabin boat for environs like these. These are boats where the cockpit tends to be above board, but where at least a small, fully-enclosed berth is available for comfort and shelter as needed. A fine example is the Campion BRA SC.
Lake and River Boats
If you'll usually use your boat in a landlocked lake or a river (that doesn't connect to a larger bay or the sea, that is) then a smaller boat is likely right for you for two reasons.
One, the body of water itself is likely on the smaller side. Two, you'll probably need to haul your boat out of the water and onto a trailer frequently.
There are plenty of boats of various types that can be loaded onto trailers for transport and storage, so don't feel limited by this factor. Just keep it in mind as you consider some of the points above.
3. Which Boat Is Best for Your Budget?
Money, for better or for worse, is often the leading factor in helping a family determine which boat really is best for them. You can get a great brand-new boat for well under $50,000 and often for closer to $30,000.
This is true across several categories, from speedboats to deck boats to pontoon boats. Just keep in mind that the expenses don't stop there.
The faster the boat, the more fuel it will consume, and fueling your boat will certainly be one of the major expenses at play here, and there's no way around it.
Then, there are a few other expenses you can avoid or curtail.
Marina/Dock Costs
Think about the size of your potential boat purchase and where you'll be able to store it. Can you keep it in your driveway or backyard, or will it need to be stored somewhere at an additional cost?
You'll be stuck with docking or harbor fees if your boat is too large to put into the water with a trailer. Consider the one-time purchase of a boat trailer as a net savings if you end up choosing a boat small enough to be handled as such.
And of course, the cost of the trailer itself will vary with the size and the weight of your boat.
Boat Insurance
You don't need to have boat insurance in most states, but take the time to calculate annual and potential lifetime insurance costs against the price associated with one bad boating accident or mechanical failure before you write it off.
Just like with cars, the cost of your insurance will vary based on the age, size, cost and quality of the boat. This is an important thing to factor into your boat purchase. 
Resale Value
Remember, the boat that bests fits your lifestyle and your budget right now might not be the best boat for you in later years. You might want a bigger boat in the years ahead or you might want to downsize, too.
Your boat isn't only an expense, it can also be thought of as an investment, and one you get to enjoy, too. Maintain your vessel well and you can recoup some of its costs later by selling it off again.  
All in all, this checklist should hopefully get the gears in your brain turning. I bet you're thinking about all the different factors at play here now and probably even a few you hadn't considered yet.
Make sure you're able to fully answer the questions above for yourself before you make any sort of purchase. Make sure the boat suits your activities, location and budget. Once you've got those three boxes checked, you're one step closer to boat ownership.