It's a Hot Topic! Choose the Best Winter Boating Clothing for Warmth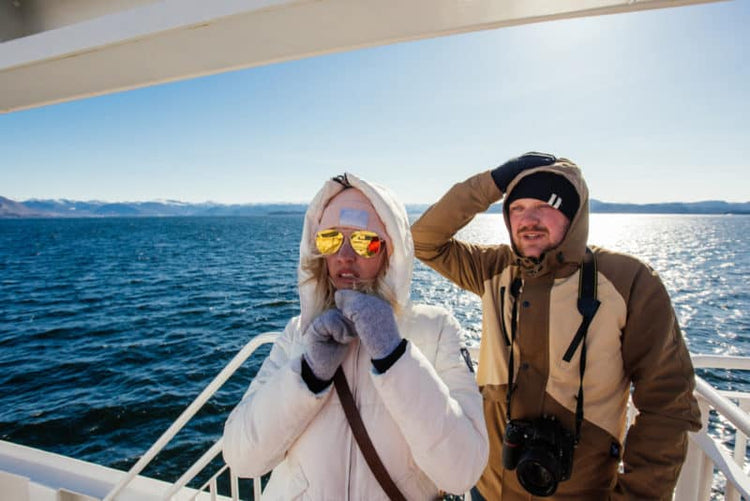 There's no such thing as bad weather, only unsuitable clothing. - Alfred Wainwright
Days are getting shorter and the nights are getting colder. It could be time to pack away those deck shoes and t-shirts and think about winter boating clothing.
There's nothing quite like winter when you're living on a boat. I love the crisp mornings, the cold evenings and the extreme weather. It can be so much fun, but only if you have the right clothing.
Winter Is Coming: Plan Ahead
On a boat, there's limited closet space. I get it. You lack the luxury of a whole new winter wardrobe every year.
So how do you focus your clothing to have space and the practical side sorted? In short, by the quality and being choosy.
Winter boating clothing's expensive on the whole, and you probably don't have space or the money to make mistakes. Look at the body's areas that need most protection from the cold.
Think Head
While scientists have primarily debunked the myth that most body heat escapes through your head, it's still true that unprotected heads will lose heat.
It's funny, but nobody complains of a cold head, do they? Sure, we get cold ears and noses, but a cold head? And yet it gets freezing. Whether it's a beanie hat, full-on flapper or hunting style hat, keeping your head warm is a must in the dead of winter.
The good news is that hats are relatively inexpensive and offer maximum protection against the cold.
Mysuntown Unisex Trooper Hunting Hat (check price on Amazon): This hat covers your face, ears, nose and eyebrows for maximum warmth. It's 100-percent windproof and has faux fur lining, keeping heads warm in the coldest environments.
Traditional Sou' wester (check price on Amazon): One of the best marine hats to keep rain and sea-spray from running down your back, this Sou'wester is warmer still (coupled with a tight-weave synthetic beanie hat for extra comfort).
Balaclava Ski Hood (check price on Amazon): This ski hood's similar to a balaclava. Intended for alpine pursuits, it covers your face to keep you warm on cold days.
Only your eyes are exposed, so it's ideal in windy conditions. It also has a high neck, enabling the wearer to tuck it into a jacket or roll-neck sweater.
Okay, so now you have options for your head, what else do you have to consider? Well, remember the extremities of the body are just as vulnerable to the elements.
Think Hands
A good pair of gloves is an essential winter clothing item. Many people suffer from cold hands in winter and dismiss it as poor circulation when actually it's microcirculation (the smallest blood vessels in the body).
The best way to combat this cold hand microcirculation is to wear gloves. And on a boat, waterproof gloves are essential.
Carhartt Waterproof Insulated Glove (check price on Amazon): These 100-percent polyester gloves have a durable poly-texshell, and fast-dry technology that's designed to keep hands sweat free.
Offering maximum movement, you won't feel impaired while wearing them and your hands stay warm.
FanVince Winter Gloves (check price on Amazon): These smartphone-friendly gloves are made from diving material, so they're incredibly flexible and insulating. They enable you to operate the tiller and controls without loss of function, as well as your touch-screen equipment like the sat-nav.
Ozero Winter Gloves (check price on Amazon): These gloves keep your hands warm at -20° Fahrenheit, so even the harshest winters won't bother you. Made from Deerskin suede, they employ a heat lock system for extreme cold.
Think Body
In scientific tests, the chest is one of our body's most sensitive areas to fluctuate in temperature. To stay warm, a well-insulated coat is essential.
So what are the best options for keeping dry and warm this winter? I looked at the spectrum of quality and prices, especially when you consider marine-grade clothing is massively expensive.
It seems because you own a boat, you must have money to burn, right?
Arcteryx Alpha SV Women's Jacket:
This coat is crafted from Gore-tex and designed for extreme alpine conditions, so it should keep you nice and warm on the boat.
With watertight zippers and breathable material, it keeps you warm without the discomfort of sweating.
Available in three easy-to-spot bright colors, this coat works well in extreme conditions. It retails around $750, so you'll need deep pockets to buy one!
Helly Hansen AEGIR Race Jacket:
Helly Hansen is a famous name in all-weather clothing. When it comes to tough winter coats, they're no exception.
Made especially for the marine industry, this bright red and highly-visible coat is made from 3-ply Helly Tech material, which means it's lightweight and durable. It's not cheap though, retailing around the $600 mark.
This brightly colored jacket is designed for the sea. It offers fleece lining for warmth but allows air circulation to prevent perspiration.
Its hood rolls away into a high collar that protects against sea spray. Retailing around $300, it's the cheapest on the list, but costly for a coat.
Think Feet
Kamic Greenbay Cold Weather Boots (check price on Amazon): These nylon boots with rubber grip soles have a drawstring to stop water from getting in during rough seas. A removable thermal liner also keeps toes toasty warm and dry. Retailing at around $100, these boots are reasonably priced.
Sperry Women's Salt Water Boots (check price on Amazon): These waterproof boots are designed to protect feet against saltwater and extreme cold. It has lace-up fronts with rust-proof eyelets, and durable rubber soles to offer grip on the boat. It retails for around $150.
XIDISO Men's/Women's Anti-Slip Winter Boots (check price on Amazon): At the other end of the price spectrum, these budget boots offer waterproof protection, anti-slip soles and faux fur lining. It retails for around $30, so it definitely won't break the bank.
Think Safety
Living on a boat during winter has obvious pitfalls. Wet decks, excessive water and lots of trip hazards to send you overboard.
So, what do you do if you find yourself in cold sea waters? The heart reacts badly to sudden changes in temperature, so you'll need clothing to keep you insulated and dry, as well as keep you afloat.
Helly Hansen Ocean Alert Drysuit: At almost $1400, it will set your bank balance back, but, and this is the point, it could save your life. You can't put a price on that.
It even has breathable lined socks to keep your feet warm in the most extreme weather.
Typhoon Women's Drysuit (check price on Amazon): This one-zip drysuit's designed for comfortable wear and is easy to slide on. It has breathable inner fleece, inner sock liners and an elasticated waist with side adjusters. At under $500, this one's a great price too.
Kent Immersion Suit: With a removable pillow and protective face mask, this immersion suit's a vital bit of kit. It has mitten-style hand inserts for added warmth and is made from flame-retardant neoprene. At under $300, this is a bargain.
Think Layers
By layering clothes, it's possible to effectively regulate body heat. Adding or removing layers gives you options depending on the temperature. And the closest layer to our dermis? Underwear!
Thermal Underwear (check price on Amazon): Usually in two pieces consisting of a thermal top and leggings, thermal underwear is the ultimate starting point for layering.
Columbia Omni-Heat Stretch Tops (check price on Amazon): Omni-heat technology keeps you constantly warm and dry, which is not an easy task on a boat.
Check Price on Amazon - Better Boat's fabric waterproof spray is the perfect way to protect bimini tops, boat covers, luggage, tents, umbrellas, shoes, coats and more. The protective barrier causes water to bead up and wick away, rather than setting in and potentially causing mold and mildew.
Final Thoughts on Your Winter Boating Clothing
Winter brings challenges. No matter how I sugar-coat the experience. Sure, if you're like me and can easily light your narrowboat's stove to enjoy evening fires as snow falls, or endure force nine gales whipping up a frenzy, it's all exciting and fun. 
Sooner or later, though, you'll have to go outside. And that's when you'll need proper clothing.
Wrapping up warm doesn't need to be expensive. If you have the dollars, spend them. You won't regret buying quality.
But there are alternatives, and purchasing marine winter clothing doesn't need to break the bank. Shop around, look for second-hand bargains and end-of-season sales. Haggle on the price. You'd be surprised what you can get away with if you're bold enough.
But whatever you do this winter, wrap up warm. The coldest weather can be exciting, even exhilarating, but only when you have the proper winter boating clothes.
---