Winter Boating Tips to Enjoy the Water Through the Colder Months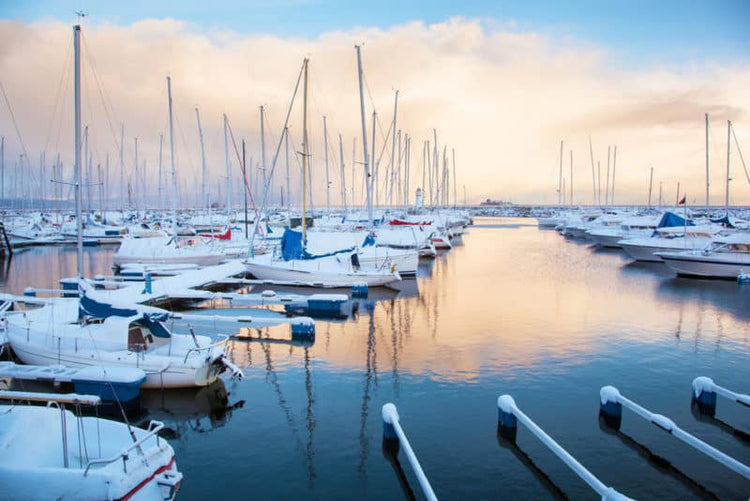 Who said there was a boating season? Boating's a popular activity all across the United States of America. Boaters ply the waters from Miami to Maine, the Gulf to the Puget Sound, from San Diego to Sag Harbor and from the Great Lakes to the 10,000 Lakes. 
In some locations, most folks end their boating season as the cold weather sets in. Miami and San Diego, we're not looking at you, but do go ahead and share your mild winters if you'd like.
While the summertime is peak boating season for most, there's really no reason you can't enjoy your vessel in the spring, summer, fall, and right on into the winter.
Unless your waterways freeze solid, in which case... you probably can't boat into the winter. Sorry.
Yes, Winter Boating Is Fun
You probably shouldn't plan to do much water skiing or tubing while boating during the winter, but many of the same activities you enjoy on the warmer water are very much available to you during the cold season.
Some might be even more enjoyable. Winter boating usually means less crowding out there on the frosty seas (or lakes or rivers), so areas that are too crowded for safe or enjoyable motoring or sailing in the summer are much more easily explored and enjoyed in the winter.
Winter boat sightseeing is a great way to enjoy freedom of movement and to see familiar areas in a whole new light. In fact, you might even be able to open the throttle a bit wider and enjoy some extra knots out there thanks to the less company.
While most boaters might head inland for the winter, fish don't really have that choice. Winter fishing can be enjoyable and productive. Just make sure you adapt your approach to the species on hand in the cooler water and to their potentially different winter habits.
If you're fishing for bass in the winter, for example, you might need to slow down your troll speed and switch up your bait.
Should You Keep Your Boat In the Water During Winter?
Sure, you can cruise at speed, see the sights and even catch fish during winter boating trips. But should you keep your boat in the water in the cold from a financial standpoint?
The short answer is yes, provided you're willing to do added maintenance. The pros to winter boating include more days simply using your boat and avoiding the costs of winterizing and storing the vessel. 
The cons include the added effort needed for proper cold weather boat maintenance, an undertaking that does come with its own costs, but these will usually be less than indoor heated storage expenses.
Featured Boat Care Product
| | |
| --- | --- |
|      |  De-Salt Concentrate flushes the motor of corrosive saltwater. Use on inboard and outboard engines and jet skis. |
Check Price on Amazon - Better Boat's de-salt concentrate breaks down and rinses away salt deposits on boats, decks, furniture, fishing gear, dive equipment and more. Rinse off with a garden hose and nozzle, or use with motor muffs to flush engines. 
Winter Boat Upkeep
Once you've decided to keep your boat in the water during the winter, there are a few steps you need to take to make sure your decision was a good one and to protect your boat through the chilly days and nights.
Keep the Battery Charged
Batteries drain much more quickly in cold weather than in warm. A boat with a dead battery is, as they say in the nautical community, not good.
So, get a trickle charger like the Sunway Solar 12V Battery Trickle Charger (check price on Amazon) and keep your battery topped off at all times even when the motors aren't charging it during use.
Check the Drains, Portholes and Seacocks
At winter boating season's start, and periodically throughout, you should check all drains, seacocks, windows, portholes and so forth for leaks and to make sure all seals are in good shape and plugs are in place.
Water that leaks into the boat from below or from rain can freeze and expand, causing damage and unsafe slick surfaces.
Change the Oil
Even when storing your boat out of the water over winter, best practices would still have you change or empty out the motor oil.
If you're leaving the boat in service, you also need to replace the oil. You should consider doing so with a formula specially made for cold weather.
What to Wear for Winter Boating
First and foremost, let's make this super clear, you always...always wear a personal flotation device when boating in the winter!
Now, as an owner of two kayaks and a canoe who's often out paddling on the water in winter, I'm mere inches away from the surface and subject to frequent frigid splashes.
Admittedly, I suit up a bit more intensely than needed. But at the bare minimum, you need clothing that repels water from the outside yet allows breathability for moisture release (a.k.a.: sweat) from the inside. You absolutely need layers.
My usual getup last winter was a Recover Sport Tee shirt because it wicks moisture well and dries fast (and because these shirts are made entirely out of recycled plastic bottles, which is awesome).
The shirt's under a warm and cozy Cotopaxi Fuego Down Jacket (check prices on Amazon), a super warm but light puffer that packs small and is insulated with water-resistant down.
My outermost layer is a Columbia Caldorado shell jacket for extra windy days when the whitecaps splash or when there's any chance of rain. The shell is 100% waterproof but super lightweight.
I also wear a microfiber BUFF sleeve (check prices on Amazon) that keeps my neck warm and face covered if needed. The DryFlx beanie cap (check prices on Amazon) is warm but light.
Also, don't forget good boating shoes. As you can guess, falling overboard during winter is even less fun than during the summer, and style knows no season (thus my all-season affinity for the Allister Perfed Slip-On from Johnston & Murphy).
Consider ski goggles instead of sunglasses for your winter boating adventures. They'll cut the sun's glare, the water's reflection and keep you warmer.
Winter Boating Safety 101
Winter boating safety is a lot like warm weather boating safety: Manage your speed, keep your eyes ahead and don't fall overboard.
As noted earlier, the use of life jackets is more important during winter boating than in warm weather. When the water's cold enough, you have only ten minutes before you lose consciousness and can't help yourself stay afloat. So PFDs are critical even if you're an amazingly strong swimmer in normal conditions.
Watch out for ice when you're out on the water. Large chunks can lurk largely below the surface (Titanic, anyone?) and watch for ice on docks, decks, mooring lines and wires. Iced lines are harder to work and more prone to break, while icy wires can present a shock hazard.
Keep a phone with good service and/or a transponder with you. Getting stranded at sea in the summer's a drag. Getting becalmed out there in winter is a danger, especially when the seas aren't calm.
Keep an air horn and flares in the event that you need to make yourself seen or heard.
Ready to Motor Out
Is winter boating a safe idea? Sure, if you're a safe boater. And can it be fun? Absolutely. Just remember that tip about not boating after the surface freezes solid. Then it's time to break out the snowmobile. Or just stay home in your PJs for once.