The Best Winter Kayak Clothing for Safety, Warmth and Comfort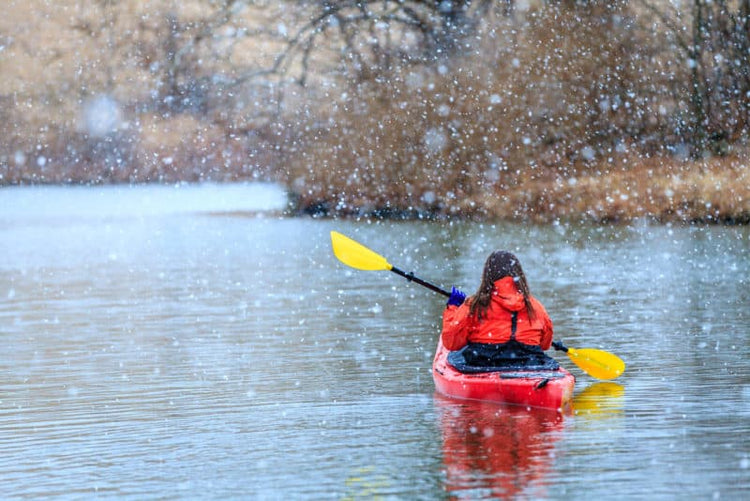 Does kayak season end with winter weather? No, not at all! Instead, it just means switching out a sit-on kayak with a sit-in kayak. And wearing the right warm clothing and gear, of course.
Winter kayaking can be safe, enjoyable and a great way to exercise. I own and love a sit-on-top Malibu Pedalayak (check price on Amazon).
Pedaling and paddling at the same time, I can move across the water fast enough to create a wake (A small wake, sure, but it's a wake!).
The thing about this yak, as with most sit-on-tops, is they offer zero protection from the elements. Water splashing up against the hull's side assures soaked feet and legs, if not your torso too.
Wind blowing across the water will blow against every inch of your body. And if it starts to rain, anyone using a sit-on-top kayak will be soaked from head to toe.
During the warm wee months of late spring, summer and early fall, some splashes from below, drizzle from above or windy gusts are no big deal. But during the winter, full exposure to weather like that is no way to have fun.
Good thing I also have a sit-in style Old Town Castine 140 kayak because where I live in New York, there's plenty of water to enjoy. But man does it get cold!
Trading your sit-on-top for a sit-in yak is only the first step. Here's how I keep warm and stay on the water for enjoyable and safe winter kayaking. 
| | |
| --- | --- |
|     |  Mini Paddles |
Check Price on Amazon - Better Boat's mini paddles collapse down from 35" to 18.75" for compact travel. It's portable, lightweight and durable with a T-grip handle, sturdy locking joints and a high-impact plastic blade. It's perfect for use on kayaks, jet skis, canoes, boats and dinghies.  
Winter Kayak Safety
Winter kayaking isn't inherently more dangerous than kayaking when it's warm. You're no more likely to flip your yak, paddle across another boat's path, get lost, become exhausted or come across any other potential danger. But the repercussions of these potential dangers are more serious when air and water temperatures are cold enough to be a threat to your very life.
Before we talk about the best kayak clothing for winter paddling, let's talk about winter kayak safety.
First and foremost, know your limits and your abilities. Never push yourself farther or harder than you're fully comfortable with when kayaking in the winter. The fallout from becoming exhausted or lost can be quite serious, as is, of course, the danger of ending up overboard.
Next, here's the grim but important 4-1-1 on a human body immersed in cold water: 1-10-1. That's one minute of initial cold shock during which a person will hyperventilate and lose meaningful control of the body. Next, there are 10 minutes during which control is possible before cold water incapacitation sets in. Then, there's one hour before the likely (and extremely dangerous) onset of hypothermia.
Avoid falling into cold water at all costs, but know you'll have time to get back into your yak. Just make sure you've practiced rolling and/or reentering a kayak from the water when it's warmer and not potentially deadly!
In short: know your limits, know where you're paddling (and tell someone) and always, always wear your personal flotation device!
Oh, and wear some great winter kayak clothing, too.
Winter Kayak Clothing
When you're out on the water in winter, your apparel must keep you warm and dry, with the former being incumbent on the latter. Simply put, if you're wet, you're cold. So waterproof gear is a must.
However, even in winter, you can sweat. In fact, sweating under a coat that's too heavy or beneath too many layers is all too common in cold weather. Your body doesn't care if it's the sea, rain or your own sweat that's soaking it when it comes to getting chilled.
Make sure you can remove or add clothing as needed to stay warm without overheating. We'll get to layering soon, but let's start from the ground up, as it were.
The Best Footwear for Winter Kayaking
When it comes to winter kayak footwear, there are two approaches: keep them warm and accept the wet or keep them warm and dry.
If you want to embrace the cold for what it is, go with wetsuit booties. I recommend Neo-Sport Premium 5mm neoprene boots (check price on Amazon), which will keep your feet warm even when sodden (of course) from water in the cockpit. They also allow plenty of flexibility.
To keep your feet dry and warm, use shoes or boots you would trust while jogging in the rain or shoveling snow. I use Columbia Caldorado III waterproof trail runners (check prices on Amazon) all the time when yakking.
But when it's truly freezing out, I switch to my Wolverine Glacier Xtreme insulated boots (check price on Amazon). They're clunky until in place against the footrests, sure, but oh so warm.
Oh, and if you go with dry footwear, get some great socks like the FITS Rugged Crew sock (check price on Amazon).
The Best Pants for Winter Kayaking
Unless you're going with a wetsuit (check price on Amazon), which is fine for winter yakking but maybe not the most comfortable apparel choice, you need to wear good winter kayaking pants.
That means pants to keep, you guessed it, dry. For that, I trust the same pants I use while hiking in the rain, my Columbia OutDry Ex Stretch Pants. You can spray them with a fire hose and they won't let in a drop. They also flex easily with the body's motion.
But while waterproof outdoor pants provide decent insulation, they're not designed to be truly thermal. So add a good base layer, like the HanesTec Comfort Gear X-Temp Active Comfort Tight (check price on Amazon). These thermal leggings provide plenty of warmth and also wick away sweat.
The Best Coats for Winter Kayaking
Choosing the right winter kayak coat is trickier than it seems. You need to keep your core warm, but you don't want a bulky jacket or so many layer sit restricts movement or causes discomfort, especially given that you'll wear a PFD over everything.
A few things to consider... If you choose a waterproof and warm coat that proves too warm, you can't remove it to cool down. And too many layers adds too much bulk.
The best approach is to select a lightweight but waterproof rain shell over warm base layers, or a warm but not overly bulky outer layer and thinner base garments.
My go-to rain shell is usually the Columbia OutDry Ex Rain Shell (check price on Amazon). It's a thin 100% waterproof jacket that allows breathability.
Under the rain shell, I wear a super warm but super soft, flexible and packable Rapha Explore Down Jacket, my favorite puffer for cold weather yakking. With those two jackets layered, all I need is a RYU Vapor Crew Neck Tee that wicks plenty of sweat.
On the other hand, you can go with a warmer waterproof jacket over two base layers. The base layers are usually a long sleeve and a short sleeve garment, each of which offers insulation. Layering this way allows paddlers to remove the inner layers as needed to prevent overheating.
Other Winter Kayak Gear
Don't forget about your hands and your head out there! Waterproof gloves (check price on Amazon) and a warm hat are essential while you paddle in cold water. A good buff for your neck never hurts, especially as it's so readily removable if you start overheating. 
Beyond cold weather paddling apparel and that all-important PFD, also consider bringing along a bright headlamp (check price on Amazon) and/or a flashing beacon. Winter days are shorter, and in the gloom of a gray winter day, visibility can be limited even when the sun is technically shining.
I also always paddle with an air horn and a spare collapsible paddle in the hull. The air horn can keep me safe from large boats in the area, while the backup paddle is pretty self-explanatory!
So Is Winter Paddling a Good Idea?
Is kayaking in the winter a good idea? No. It's a great idea. After all, kayaks were invented thousands of years ago by the ancient Inuits native to the frigid climes of Greenland and the North American Arctic regions.
You'll enjoy more open water, thanks to fewer other vessels. You'll get a great workout. You'll see the area in a new season. And you'll get even more use out of your yak, which was hardly a cheap investment.
With the right apparel for winter on the water, you'll be warm and safe as well. So suit up, grab your paddle and drop in even when the temperature has dropped. You might just see me out there.