The Importance of Deck Boat Covers (and 4 Cover Manufacturers to Buy From)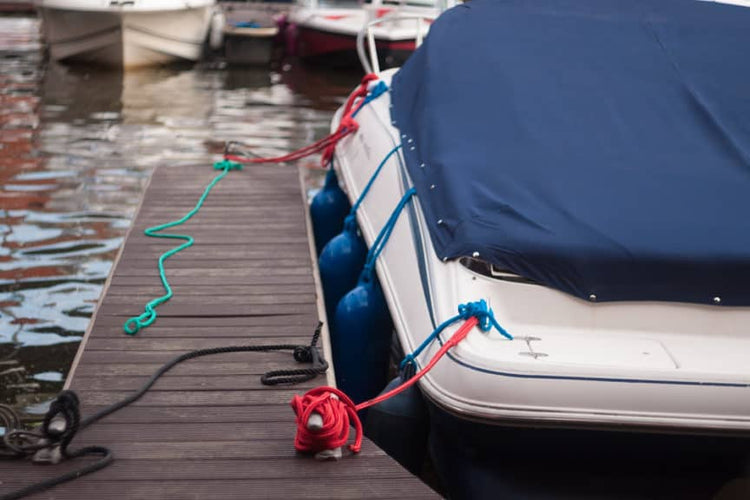 Let me tell you a little story about a friend of mine. He and I are both huge boating enthusiasts and years ago we wanted to invest in deck boats.
We went to boat shows and considered many different models, but we ultimately wanted to launch our boats and host our families out on the water every summer. That led us to the conclusion: we needed deck boats.
While buying my first deck boat, I invested in a deck boat cover. I knew I'd store my boat at a local marina, so I wanted to ensure it was protected from the elements and petty theft. My friend had a drive shed on his property, so he figured he could save a couple of bucks and not buy a deck boat cover. Big mistake.
Years later, his boat had been damaged by mice (who had easy access to his boat's vinyl seats). The interior simply looked more worn and it hurt his boat's resale value when he wanted to upgrade to a newer model. It's an example of how a small investment can cost you if you don't see the value at the time.
Your first concern, always, should be the safety, durability and longevity of your craft.
This is especially true when it comes to deck boats. These are vessels that are perfect for entertaining. You'll be able to host family and friends for years down the road without having wear and tear show on the surface.
That said, let me give you a breakdown (with some examples) of why deck boat covers are useful and types you might like to consider for yourself.
Why Deck Boat Covers Are Valuable
The main purpose of a boat cover is to protect. They're made in different sizes to suit every kind of boat, but they essentially serve to protect the elements of your boat that you care about the most.
When you make an investment the size of a boat, you want to ensure it's protected from all kinds of factors that can damage its quality and overall value. The nature of boating is that you're out in the open, in full view of the water, wind and sun. Your boat will inherently come across these factors, which gradually take their toll on your ride.
A deck boat cover can keep your boat clean (and away from debris that damages the interior). It can protect it from the sun (especially if it's stored outdoors), prevent theft if any folks come sneaking around and keep animals (like mice) out for good.
Basically, a deck boat cover protects your investment. It keeps your deck boat in better condition, for longer, and keeps outside factors from having a negative effect on your fun out on the water.
What to Look for in Deck Boat Covers
It all comes down to a cover's materials. A boat cover performs a few essential duties, which determine the material type you want to work with. These include: repelling water, preventing damage from the sun, traveling well and lasting longer.
The cover you choose to purchase will typically be made from one of four main materials:
Vinyl: Better for waterproofing purposes, but prone to flapping around in high winds
Polyester: Typically considered one of the best options )for UV-protection, specifically)
Acrylic: Not the most waterproof option, but more lightweight and easier for day-to-day use
Canvas: More expensive, but more durable in tough weather conditions
Overall, you want a fabric to be resistant to water, mold and mildew, which could cause your deck boat the most damage in the long run. It also helps to be heat, cold and abrasion resistant, which will typically help depending on your storage situation (if it's at your garage, the marina or somewhere else).
A special consideration should be made if your boat is out all year long. In those cases, you want an ultraviolet-ray-resistant deck boat cover. When it comes to deck boats, when you're dealing with so much space, you want to keep your furniture protected and out of the sun.
If you want to avoid the color on your deck boat from fading, you need a deck boat cover that's both the accurate size and is UV ray resistant.
Not all boat covers are alike. Some are specifically designed for maneuverability, and some aren't meant for transporting and trailering.
You also need to consider weight, especially if you're close to water, as you don't want your cover to pool and become weighed down (trust me, it's not fun to try and lift).
This is where boat cover support poles come in handy. They adjust to heights from 23.5 to 56 inches to support the cover and keep debris, rain and other items from weighing down the cover.
Featured Boating Product
 Check Price on Amazon - Better Boat boat cover support poles have a mushroom top and a sturdy base to keep your boat, kayak, canoe or pontoon boat cover from getting damaged by rain, snow, ice and leaves. The height is adjustable, and it pairs perfectly with boat cover straps.
This might sound like hyperbole, but there's no such thing as a bad deck boat cover.
There is, however, such a thing as a bad cover situation, where your deck boat cover doesn't meet your needs and won't be as effective as it could be. That's why you need a cover tailored to your needs, with the knowledge of how you plan to use and store your boat.
In any event, making an investment to protect your deck boat is honestly never a bad decision.
Deck Boat Cover Manufacturers
What are some of the best deck boat covers out on the market? Let's break them down, so you can make the right choice.
Taylor Made, one of the best boat cover providers in the country, offers a hearty selection of different boat covers and can have a custom-crafted deck boat cover in approximately five days time. 
Specific to deck boat covers, they offer a selection of covers in customized shapes and sizes to accommodate standard seating, steering consoles and inboard and outboard motors.
I highly recommend the Taylor Made Semi-Custom Deck Boat Cover. The cover is made of polyester perfect for resisting the sun's UV rays. Plus, it fits your deck boat quite snugly (especially for one only semi-custom).
Full disclosure: This is the boat cover I went with when it came to protecting my first pontoon boat. All of the essential elements we discussed earlier can be found here: UV color-fast protection, water resistance and shrink and stretch resistance (crucial for bigger boats).

They also offer a warranty for ten years, and their site is easy to navigate. All you have to do is pop in your manufacturer, model and year, and you're all set.

Personally, I went with the Windstorm Elite when it came time to buy.
For a bit more customization, Herculite's offering of deck boat covers can't be beat. They're super lightweight, foolproof (perfect for first-time owners), and are waterproof and mildew-resistant.

The best part is they're custom-ordered to exactly match your boat's measurements. 

Brightent
This boat cover provider is a better option for those who want an affordable option for their boat, but want to have the peace of mind of knowing they're taking steps to protect what matters most.
It's especially good for those who want to store their boat on their own property, as it's sturdy and good for mooring. The only problem with these Brightent Boat Cover models is that they may not meet your measurement needs, which is why a custom option is typically preferred for optimal protection.
Invest In Your Deck Boat Cover Today
When you spend all this money on a boat, you want to make it last. You especially want people to enjoy themselves out on the water, and not have to notice the years of wear and tear your boat has gone through because you didn't want to make an investment.
Invest in the right deck boat cover for you, no matter your budget, and enjoy your boat for years to come!